STORY HIGHLIGHTS
Richard Ben Cramer, author of monumental "What It Takes," dead at 62
Cramer remembered as generous, warm, a little stubborn
"What It Takes" called one of the great books on American politics in 20th century
Cramer's other books included biography of Joe DiMaggio, thoughts on Mideast
(CNN) -- Richard Ben Cramer, the Pulitzer Prize-winning writer whose 1992 book "What It Takes" remains one of the most detailed and passionate of all presidential campaign chronicles, died Monday night, according to his longtime agent, Philippa "Flip" Brophy. He was 62.
The cause of death was lung cancer.
Cramer's work -- and work ethic -- was legendary among reporters. He talked in firm, declamatory bursts in a growl of a voice tinged with cigars and alcohol. He was generous with other writers, dogged in his pursuit of information, and known for idiosyncratically "doing things in his own way, on his own schedule," recalled Brophy.
"He was stubborn, charming and the most brilliant person I knew -- and the warmest," she said.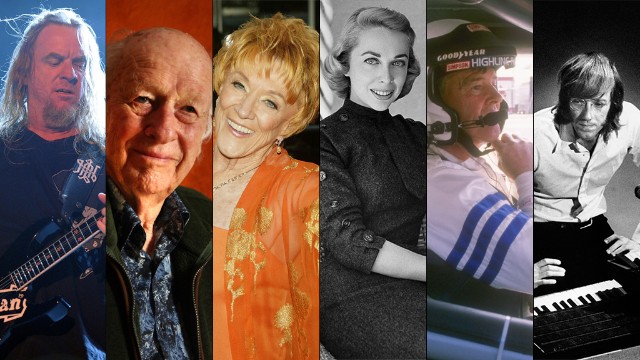 A look back at those we have lost in 2013.
Ray Manzarek, keyboardist and founding member of The Doors, passed away of cancer on Monday, May 20. He was 74.
NASCAR legend Dick Trickle died on May 16 of an apparent self-inflicted gunshot wound. He was 71.
Popular American psychologist and television personality Dr. Joyce Brothers died at 85, her daughter said on May 13. Brothers gained fame as a frequent guest on television talk shows and as an advice columnist for Good Housekeeping magazine and newspapers throughout the United States.
Jeanne Cooper, who played Katherine Chancellor, the "Dame of Genoa City," on "The Young and the Restless," died on May 8. She was 84.
Ray Harryhausen, the stop-motion animation and special-effects master whose work influenced such directors as Steven Spielberg, Peter Jackson and George Lucas, died on May 7 at age 92, according to the Facebook page of the Ray and Diana Harryhausen Foundation.
Grammy-winning guitarist Jeff Hanneman, a founding member of the heavy metal band Slayer, died on May 2 of liver failure. He was 49.
Chris Kelly, one-half of the 1990s rap duo Kris Kross, died on May 1 at an Atlanta hospital after being found unresponsive at his home, the Fulton County medical examiner's office told CNN. Kelly, right, and Chris Smith shot to stardom in 1992 with the hit "Jump."
George Jones, the country music legend whose graceful, evocative voice gave depth to some of the greatest songs in country music -- including "She Thinks I Still Care," "The Grand Tour" and "He Stopped Loving Her Today" -- died on April 26 at age 81, according to his public relations firm.
Actor Allan Arbus poses for a portrait with his daughter photographer Amy Arbus in 2007. Allan Arbus, who played psychiatrist Maj. Sidney Freedman in the M*A*S*H television series, died at age 95, his daughter's representative said April 23.
Folk singer Richie Havens, the opening act at the 1969 Woodstock music festival, died on April 22 of a heart attack, his publicist said. He was 72.
Australian rocker Chrissy Amphlett, the Divinyls lead singer whose group scored an international hit with the sexually charged "I Touch Myself" in the early 1990s, died on April 21 from breast cancer and multiple sclerosis, her husband said. She was 53.
Pat Summerall, the NFL football player turned legendary play-by-play announcer, was best known as a broadcaster who teamed up with former NFL coach John Madden. Summerall died April 16 at the age of 82.
Comedian Jonathan Winters died on April 11 at age 87. Known for his comic irreverence, he had a major influence on a generation of comedians. Here he appears on "The Jonathan Winters Show" in 1956.
Sir Robert Edwards, a "co-pioneer" of the in vitro fertilization technique and Nobel Prize winner, died April 10 in his sleep after a long illness, the University of Cambridge said. He was 87. He is pictured on July 25, 1978, holding the world's first "test-tube baby," Louise Joy Brown, alongside the midwife and Dr. Patrick Steptoe, who helped develop the fertility treatment.
Annette Funicello, one of the best-known members of the original 1950s "Mickey Mouse Club" and a star of 1960s "beach party" movies, died at age 70 on April 8. Pictured, Funicello performs with Jimmie Dodd on "The Mickey Mouse Club" in1957.
Former British Prime Minister Margaret Thatcher, a towering figure in postwar British and world politics and the only woman to become British prime minister, died at the age of 87 on Monday, April 8.
Designer Lilly Pulitzer, right, died on April 7 at age 81, according to her company's Facebook page. The Palm Beach socialite was known for making sleeveless dresses from bright floral prints that became known as the "Lilly" design.
Film critic Roger Ebert died on April 4, according to his employer, the Chicago Sun-Times. He was 70. Ebert had taken a leave of absence on April 2 after a hip fracture was revealed to be cancer.
Jane Nebel Henson, wife of the late Muppets creator Jim Henson and instrumental in the development of the world-famous puppets, died April 2 after a long battle with cancer. She was 78.
Shain Gandee, one of the stars of the MTV reality show "Buckwild," was found dead with two other people in Kanawha County, West Virginia, on April 1. He was 21.
Music producer and innovator Phil Ramone, right, with Paul Shaffer, left, and Billy Joel at the Song Writers Hall of Fame Awards in New York in 2001. Ramone died March 30 at the age of 72.
Writer/producer Don Payne, one of the creative minds behind "The Simpsons," died March 26 at his home in Los Angeles after losing a battle with bone cancer, reports say. He was 48.
Gordon Stoker, left, who as part of the vocal group the Jordanaires sang backup on hits by Elvis Presley, died March 27 at 88.
Deke Richards, center, died March 24 at age 68. Richards was a producer and songwriter who was part of the team responsible for Motown hits such as "I Want You Back" and "Maybe Tomorrow." He had been battling esophageal cancer.
Legendary publisher, promoter and weightlifter Joe Weider, who created the Mr. Olympia contest and brought California Gov. Arnold Schwarzenegger to the United States, died at age 93 on March 23.
Playboy magazine's 1962 "Playmate of the Year," Christa Speck Krofft, died March 22 of natural causes at the age of 70.
Rena Golden, who held top positions at CNN, died at age 51 after battling lymphoma for two years on March 21.
Harry Reems, the porn star best known for playing Dr. Young in the 1972 adult film classic "Deep Throat," died March 19, according to a spokeswoman at a Salt Lake City hospital. Reems, whose real name is Herbert Streicher, was 65.
Bobbie Smith, who as a member of the Spinners sang lead on such hits as "I'll Be Around" and "Could It Be I'm Falling in Love," died on March 16 at age 76. Pictured clockwise from left, Spinners band member Pervis Jackson, Billy Henderson, Jonathan Edwards, Bobbie Smith and Henry Fambrough, 1977.
Sweden's Princess Lilian, the Welsh-born model who lived with her lover Prince Bertil for 30 years before they were married, has died at the age of 97, the Swedish Royal Court said in a statement.
Alvin Lee, the speed-fingered British guitarist who lit up Woodstock with a monumental 11-minute version of his song "I'm Going Home," died on March 6, according to his website. He was 68.
Hugo Chavez, the polarizing president of Venezuela who cast himself as a "21st century socialist" and foe of the United States, died March 5, said Vice President Nicolas Maduro.
Bobby Rogers, one of the original members of Motown staple The Miracles, died on Sunday, March 3, at 73. From left: Bobby Rogers, Ronald White, Smokey Robinson and Pete Moore circa 1965.
Actress Bonnie Franklin, star of the TV show "One Day at a Time," died at the age of 69 on March 1 of complications from pancreatic cancer.
Actor Dale Robertson, who was popular for his western TV shows and movies, died at age 89 on Thursday, February 28.
Richard Street, former member of the Temptations, died at age 70 on February 27. Street, second from the left, poses for a portrait with fellow members of the Temptations circa 1973.
Van Cliburn, the legendary pianist honored with a New York ticker-tape parade for winning a major Moscow competition in 1958, died on February 27 after a battle with bone cancer, his publicist said. He was 78.
Former U.S. Surgeon General C. Everett Koop died on February 25. He was 96. Koop served as surgeon general from 1982 to 1989, under Presidents Ronald Reagan and George H.W. Bush.
Damon Harris, former member of the Motown group the Temptations, died at age 62 on February 18. Harris, center on the stool, poses for a portrait with fellow members of The Temptations circa 1974.
Lou Myers, a stage, film and TV actor who memorably portrayed Mr. Gaines on the comedy "A Different World," died on February 19 at the age of 75.
Los Angeles Laker owner Jerry Buss died February 18 at age 80. Buss, who had owned the Lakers since 1979, was credited with procuring the likes of Earvin "Magic" Johnson, James Worthy, Shaquille O'Neal and Kobe Bryant. The Lakers won 10 NBA championships and 16 Western Conference titles under Buss' ownership.
Country singer Mindy McCready was found dead on February 17 of a self-inflicted gunshot wound, authorities said. She was 37. During her career, McCready landed 14 songs and six albums on the Billboard country charts.
Ed Koch, the brash former New York mayor, died February 1 of congestive heart failure at 88, his spokesman said.
Patty Andrews, center, the last surviving member of the Andrews Sisters, died at her Northridge, California, home on January 30, her publicist Alan Eichler said. She was 94. Patty is seen in this 1948 photograph with her sisters Maxene, left, and Laverne.
Baseball Hall of Famer and St. Louis Cardinals great Stan Musial died on January 19, according to his former team. He was 92.
Baseball Hall of Fame manager Earl Sidney Weaver, who led the Baltimore Orioles to four pennants and a World Series title with a pugnacity toward umpires, died January 19 of an apparent heart attack at age 82, Major League Baseball said.
Pauline Phillips, better known to millions of newspaper readers as the original Dear Abby advice columnist, has died after a long battle with Alzheimer's Disease. She died January 16 in Minneapolis, Minnesota, at age 94.
Aaron Swartz, the Internet activist who co-wrote the initial specification for RSS, committed suicide, a relative told CNN on January 12. He was 26. Swartz also co-founded Demand Progress, a political action group that campaigns against Internet censorship.
Claude Nobs, the founder of the Montreux Jazz Festival, died aged 76 following a skiing accident.
Richard Ben Cramer, the Pulitzer Prize-winning writer whose 1992 book "What It Takes" remains one of the most detailed and passionate of all presidential campaign chronicles, died January 7, according to his longtime agent. He was 62.
Director and stuntman David R. Ellis died on January 7. He directed "Snakes on a Plane."
Tony Lip, who played mob figures in the hit cable show "The Sopranos" and several critically acclaimed movies, died January 4, a funeral home official said. Lip, whose real name was Frank Vallelonga, was 82.
Character actor Ned Wertimer, known to fans of "The Jeffersons" as the doorman Ralph Hart, died on January 2. He was 89.
Pop-country singer Patti Page died on January 1 in Encinitas, California. She was 85. Born Clara Ann Fowler, Page was the best-selling female artist of the 1950s and had 19 gold and 14 platinum singles.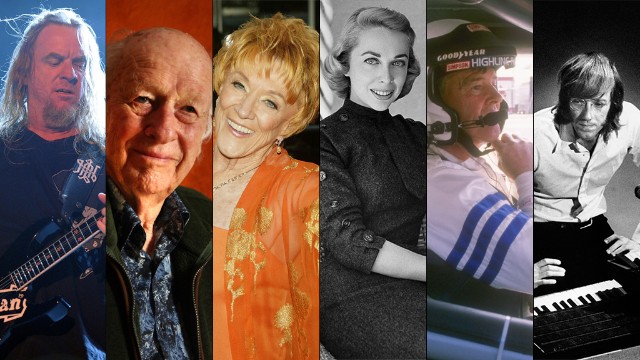 Photos: People we lost in 2013
"He was an unmatched talent who set an enormously high bar for political journalism. I will miss him," said Vice President Joe Biden in a statement. Biden and Cramer became friendly when the author was working on "What It Takes."
CNN senior political analyst Gloria Borger, echoing many, attests to his generosity. She was a cub reporter for the old Washington Star when she was assigned to the Maryland statehouse beat. Cramer, then with The (Baltimore) Sun, took her under his wing.
"I was this new kid on the block, and he'd been around and knew Maryland politics very well, and he was smart and a brilliant writer -- and kind to a new reporter on the beat," she said.
Cramer put all his fury, emotion and eye for detail on the page in such works as "Joe DiMaggio: A Hero's Life" (2000), "How Israel Lost" (2004) and especially "What It Takes," a 1,047-page account of the 1988 presidential race.
"What It Takes" reads like Tom Wolfe on speed, like Theodore H. White left out in the wild. It's fueled by Cramer's determination to find out just exactly why people are crazy enough to run the obstacle course in pursuit of the nation's highest office.
The book contains astute and sympathetic profiles of George H.W. Bush, Michael Dukakis, Joe Biden and particularly Bob Dole. The latter comes across as particularly rich, with his distinctive third-person speaking style and tossed-off "Aghs," all rendered with Cramer's painterly eye.
"Too much political journalism today, even in book form, is geared more toward staff feuds and soap opera and less to what Richard spent so much time in 1988 exploring: what makes these candidates tick, and what drives them to compete in such an arduous -- and yes, at times, ridiculous process," said CNN's chief national correspondent, John King, who covered the Dukakis campaign that year.
Cramer plunged into the day-to-day drudgery of a presidential campaign with a vengeance, and what emerges is half winged exultation, half death march. (Indeed, the strain of doing the book made him very ill, though reports that it nearly killed him were "exaggerations," said Brophy.) In the long history of campaign works, which includes White's "Making of the President" series, Hunter S. Thompson's "Fear and Loathing on the Campaign Trail '72" and John Heilemann and Mark Helperin's gossipy "Game Change," Cramer's tome looms large -- "one of the most important books on American politics in the 20th century," said Michael Pakenham, a former editor at the Philadelphia Inquirer and a Cramer colleague.
The book was hugely influential. "Richard Ben Cramer transformed a whole generation of political reporters with his sweeping chronicle of the 1988 campaign," said Howard Kurtz, host of CNN's "Reliable Sources" and Washington bureau chief for The Daily Beast. "While almost no one could write and report as he did, he set the bar higher for everyone."
Cramer was fascinated as much by the machinery that produced power and hero worship as he was by the people at their center. "He was a journalist who listened and watched particularly well," says Butch Ward, a senior faculty member at the Poynter Institute and another former Inquirer colleague. "He went places most of us aspired to, but he got there."
Such determination didn't often sit well with reviewers. "What It Takes" was criticized as self-indulgent; "How Israel Lost," which painted a bleak picture of Cramer's former Mideast stomping grounds, was knocked as simple-minded. And Cramer's warts-and-all DiMaggio biography, though a bestseller, was slammed for the author's blunt handling of the New York Yankee hero.
Cramer "relentlessly, pulverizingly tells us that the man wasn't worthy of the legend built up around him," Allen Barra wrote in Salon. The review was headlined "Joe Cruel."
Cramer, of course, didn't see it that way.
"I think among older fans there's a sense that I'm somehow messing with their own memories, which was never my intent," he told CNN at the time. "I can understand their annoyance. But to me the life of DiMaggio was always more interesting than the myth."
Cramer was born in Rochester, New York, in 1950, and studied at Johns Hopkins and Columbia's journalism school. He worked at The Sun in the 1970s and then at the Philadelphia Inquirer from 1977 to 1984. He won a Pulitzer Prize for his Middle East reporting in 1979.
As a freelance writer, he wrote a number of well-received profiles, including a Rolling Stone piece on Jerry Lee Lewis, an Esquire cover story on Baltimore mayor (and later Maryland governor) William Donald Schaefer, and a much-talked-about story on Ted Williams, later reprinted as the book "What Do You Think of Ted Williams Now?"
Despite his renown among journalists, he wasn't always an easy sell, recalls Brophy. After she signed him -- "intercepting" him from agency head Sterling Lord because she loved his newspaper and magazine work -- she spent years funneling him book ideas from interested publishers. "He'd say, 'No, no, no, no, no,' and I would say (to others), 'He's really the type of person who needs to come up with his own idea.' "
When he finally had his own idea, it was for "What It Takes," a mammoth undertaking that frightened publishers. "I said, 'Richard, that's a great book idea, but it's not a first book. It's like a 10th book.' And he went, 'Sell it,' " said Brophy. "And I did."
With just four books and a handful of magazine articles over his long post-newspaper career, Cramer operated on his own clock. Sometimes that meant literally, said Brophy. One morning, while researching "What It Takes," he called her at 7:30, saying that he had missed a 7:15 flight. "What time did you get there?" she asked.
"7:20," he replied.
But that was Cramer, agree his friends, an occasionally shambling presence who was also a keen observer, a raconteur, a baseball fan, a master of ceremonies. (He served the latter role at Pakenham's wedding.) Ward imagines him in another time, another place, holding court with some other witty friends.
"It's probably not too much a stretch to imagine Richard sitting at the Algonquin, sharing great thoughts with other people," he said.
Cramer is survived by his wife, Joan Cramer, and a daughter, Ruby. An earlier marriage ended in divorce. According to The Sun, there will be no funeral at Cramer's request.