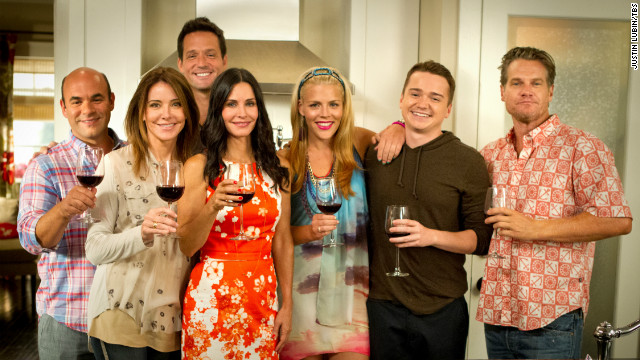 "Cougar Town's" big move from ABC to TBS (like CNN, a Time Warner company) is hardly unprecedented in television history, but the effect of these network switches has varied by show. How will Jules (Courteney Cox) and her drinking buddies fare? Perhaps we can find out by looking back at past series that did the same thing.
After five seasons on Fox, it looked like the end for Matt Groening's increasingly bizarre animated series about the 31st century. But as Professor Farnsworth might say, "Good news, everyone!" DVD and cable rerun success earned it a second chance. Comedy Central has stuck with it for two additional seasons so far, where it has poked fun at topics like "birthers" and the Mayan apocalypse. It won an Emmy for Outstanding Animated Program in 2011.
The CW spun off this series about professional football players and the women in their lives from its successful sitcom, "Girlfriends." After three years on the network, it was canceled, only to be picked up by BET, where it set ratings records. A sixth season (without star Tia Mowry) is set to premiere in March.
For five seasons, psychic Allison DuBois (Patricia Arquette) had dreams that led her to investigate grisly murders, only to learn week after week that that she was not interpreting them correctly. She would often determine who the killer was in the last 10 minutes of the episode. Ratings dwindled over the years, leading NBC to cancel it. (The writers responded by putting Allison in a coma.) The show got a reprieve from CBS, whose production company owned it. Allison got two more seasons of crime-solving, and we even got to see how she died (which is a bit odd, since DuBois is also a real, living person).
This medical comedy plodded along on NBC for years, indulging in fantasy sequences and even a musical episode. ABC, which owned the series, picked it up for an eighth season, the end of which was written as a series finale. However, ABC wanted more. The ninth season might as well have been a spinoff, with an entirely new cast and the occasional appearance from Zach Braff and Donald Faison. It was a short-lived experiment, however, ending after 13 episodes.
Critical darling "Friday Night Lights" was only starting to gain steam two seasons in, when NBC made the unusual move of giving it to DirecTV. DirecTV aired original episodes for three additional seasons, in return for paying some of its production costs. (NBC would run each of these episodes months later.) It has picked up more fans in the years since, and one wonders if this tactic might have saved other short-lived series from the past.
The hit fashion reality show said "auf wiedersehen" to Bravo in 2006, announcing plans to move to Lifetime. Of course, "Project Runway" helped put Bravo on the map, and the network's lawyers weren't too thrilled with the idea. One lawsuit and nearly three years later, Heidi Klum and Tim Gunn started the show's sixth season at its new cable home. Despite multiple spinoffs, however, the show has never retained the same buzz it had during its early years.
Before the "Homeland" years. Showtime tried its hand at launching a sci-fi franchise, spinning off the hit movie "Stargate" into an ongoing series. After five seasons, the (then) Sci-Fi Channel -- eager for a hit -- picked it up and its popularity exploded, earning it a hard-core fanbase and two spinoffs. In 2007, it claimed the record for longest-running science fiction series in North America, only to be surpassed -- barely -- by "Smallville" in 2011.
Taylor Lautner was in kindergarten when the cult vampire/horror series was growing a devoted fanbase on the WB in the '90s. The show -- which introduced the world to the genius of Joss Whedon ("Marvel's The Avengers") and guaranteed post-soaps stardom for Sarah Michelle Gellar -- surprised observers when its production company, 20th Century Fox, relocated it from the WB to UPN after five successful seasons. The last thing WB viewers saw was Buffy's gravestone. The two-year deal gave us a resurrected Buffy, a musical episode, and -- after Gellar decided to depart the series -- a real finale. But don't worry, the saga continues in comic book form to this day.
Perhaps best known for launching the career of Katherine Heigl (pictured here with the cast at a public appearance), "Roswell" came along for the ride with "Buffy" after two seasons on the WB. However, its UPN run only lasted one season.
"Sabrina, the Teenage Witch" became the second sitcom success in a row for star Melissa Joan Hart. After four seasons on ABC, and a guarantee of syndicated reruns, the WB picked up the show, as it matched its female-skewing demographic. It also picked up new friends for Sabrina, including "Punky Brewster" herself, Soleil Moon Frye. "Sabrina" stayed on the air for three additional seasons.
Comedian D.L. Hughley's ABC sitcom was canceled after two seasons, but went on for an additional two seasons on UPN (whose legacy must certainly include picking up shows from other networks), enough for it to ride into syndication glory.
If not for one other show in this gallery, this might be the most successful network jump in TV history. The naval drama couldn't find on an audience on NBC, and it was canceled after one season. CBS took a chance on it and it continued for nine more seasons and 205 more episodes. And that's not to mention its monster hit spinoff, "NCIS."
An anchor for ABC's 1990s "TGIF" lineup, "Family Matters" made Jaleel White's Steve Urkel one of the most popular TV characters of the time. So it's easy to forget that ABC actually canceled the show in 1997, and CBS, eager to start its own successful Friday comedy night, scooped it up for an eighth season, along with the Suzanne Somers-Patrick Duffy series "Step by Step." It lasted just long enough to see Urkel go into space -- by that point one of its least fantastical storylines -- but it was a one-and-done affair for the "Eye Network."
Pre-"Daily Show," Comedy Central was known for this cult series which poked fun at bad movies. Canceled after seven seasons, it got three more on the Sci-Fi Channel.
This might sound familiar: NBC tried this series for one season, but it was a ratings dud. A man by the name of David Hasselhoff gave it a try in syndication. Faster than you could say "Pamela Anderson," it took off. It was one of the most popular series in the world at one point during the 1990s. (Though it can't match the same spinoff success as "JAG." We're looking at you, "Baywatch Nights.")
The sitcom, which made Gary Coleman an international star, already had seven seasons of success under its belt, even though the cast members were starting to get too old for adorable one-liners. Even so, ABC picked up the show after NBC dropped it, and paired it with "Webster" on Friday nights. However, the thrill was gone for Arnold and the gang and the show was soon canceled a second time.
After four seasons on ABC, the show which gave us Danny DeVito, Tony Danza, Marilu Henner, Christopher Lloyd, Judd Hirsch and Andy Kaufman tried one more year on NBC. It racked up Emmy awards over the years, but the ratings weren't enough to give it a sixth season. But we'll always have Latka, and those wild behind-the-scenes stories about "Tony Clifton."
After "The Six Million Dollar Man," ABC saw dollar signs in the exploits of Jaime Sommers, a female cyborg. The show actually did quite well for the network, but was canceled after two seasons anyway. NBC revived it for one more year, but the "Bionic" trend had come and gone. (The less said about NBC's 2007 reboot, the better.)
The first season saw Lynda Carter's Amazon Princess fighting Nazis, which apparently didn't interest ABC enough to renew it for a second season. CBS came to the rescue and the modern-day "New Adventures of Wonder Woman" ran for two more seasons. It was a modest success, but recent attempts to translate a live-action Wonder Woman to the screen have all failed (the CW is currently giving it a shot) -- and Carter's portrayal is still iconic.
Bumbling spy Maxwell Smart and his partner, Agent 99, gave the world memorable gadgets, like the shoe phone, while it won Emmys. NBC called it quits after four seasons, but CBS tried to keep it going. By 1970, audiences' tastes had changed (but Max returned many times, including a 2008 film with Steve Carell).
It's one of the shows that defined 1950s family sitcoms, so few will recall that it lasted only one season on CBS. That network's loss was ABC's gain, as the Beav, Wally and even Eddie Haskell stayed on the air for five more seasons. (That's not to mention the 1980s revival, "New Leave it to Beaver," which ran for four years on the Disney Channel and TBS.)
We're still waiting to hear when exactly its new season will launch this year on Netflix, but this quirky comedy's fanbase stayed with it during its three low-rated seasons on Fox. Needless to say, whenever it does return, you can expect the number of Netflix subscriptions to soar.
Switching networks: The highs and lows
'Futurama'
'The Game'
'Medium'
'Scrubs'
'Friday Night Lights'
'Project Runway'
'Stargate SG-1'
'Buffy the Vampire Slayer'
'Roswell'
'Sabrina, the Teenage Witch'
'The Hughleys'
'JAG'
'Family Matters'
'Mystery Science Theater 3000'
'Baywatch'
'Diff'rent Strokes'
'Taxi'
'The Bionic Woman'
'Wonder Woman'
'Get Smart'
'Leave it to Beaver'
'Arrested Development'