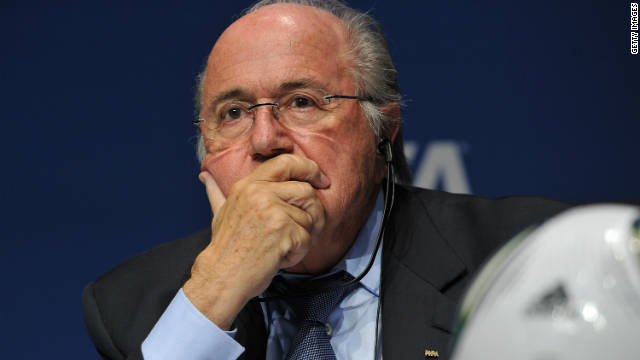 FIFA president Sepp Blatter's 2011 remarks on racism in football -- that on-pitch abuse can be solved with a handshake -- were just one of a series of controversial quotes to be attributed to the head of world soccer.
In 2004, Blatter -- seen here with Brazil star Marta -- angered female footballers with his suggestion for how the women's game could be made more appealing. "They could, for example, have tighter shorts," said the Swiss. "Let the women play in more feminine clothes like they do in volleyball."
In 2010, when England captain John Terry, who is married, was reported to have slept with the partner of his former Chelsea teammate Wayne Bridge, Blatter responded: "If this had happened in, let's say, Latin countries then I think he would have been applauded."
In 2008 Blatter was ridiculed after defending the desire of Manchester United's highly-paid star Cristiano Ronaldo to join Real Madrid. He said: "I think in football there's too much modern slavery in transferring players or buying players here and there, and putting them somewhere." In 2013 he had to apologize to Ronaldo after a bizarre impersonation of the Madrid star.
Blatter performed a U-turn on the use of goal-line technology and apologized to the English Football Association after an incorrect decision during the 2010 World Cup. Despite replays showing a shot from England's Frank Lampard had clearly crossed the line in the last-16 clash with Germany, the goal was not awarded.
Blatter had earlier refused to take action when Thierry Henry's blatant handball denied the Republic of Ireland a place at the 2010 World Cup finals. Even the France striker admitted the fairest solution was to replay the playoff match.
In December 2010, Blatter was heavily criticized for suggesting gay football fans should "refrain from sexual activity" if they wished to attend the 2022 World Cup in Qatar, where homosexuality is illegal. Blatter later apologized and said it had not been his intention to offend or discriminate.
Blatter clashed with fellow members of FIFA's executive committee when he suggested the 2022 FIFA World Cup could be played in January to avoid high temperatures in Qatar. He said the move would "protect the players and also the spectators." Qatar flatly rejected Blatter's suggestion at the time, but FIFA is now reviewing whether to adopt it.
In December 2010 Blatter insisted that FIFA was "not corrupt ... there are no rotten eggs" despite two of his executive committee members -- Amos Adamu, pictured, and Reynald Temarii -- being suspended for accepting bribes in the lead-up to the vote for awarding hosting rights for the 2018 and 2022 World Cups. He called England "bad losers" after losing out to Russia.
Blatter stood unopposed for re-election in July after his former ally Mohamed bin Hammam quit the race days before the ballot after being accused of offering cash for votes. The Qatari, a top FIFA official, has been banned from football.
Blatter faced a criminal investigation after winning the 2002 FIFA presidential election, being accused of financial mismanagement by 11 former members of the ruling body's executive committee, including his 1998 election rival Lennart Johansson, right. However, prosecutors dropped the case due to a lack of evidence.
In January 2013, AC Milan midfielder Kevin-Prince Boateng led his team off the pitch after being subjected to racist chanting. His actions were hailed across the world. But Blatter was more cautious about the issue, refusing to support the move. "I don't think you can run away, because eventually you can run away if you lose a match," he said in an interview with a newspaper in the UAE. "This issue is a very touchy subject, but I repeat there is zero tolerance of racism in the stadium; we have to go against that." Others, like AC Milan president Silvio Berlusconi, have disagreed with him. "I am of the opposite view (to Blatter)," said Berlusconi. "I thanked and congratulated my players for their decision to leave the field."
A controversial leader
Tighter shorts for women?
Applauding infidelity
Football slavery?
Goal-line technology U-turn
Excusez-moi?
"Refrain from sexual activity"
Winter World Cup?
Rotten eggs?
Best of enemies?
Charges dropped
We need to talk about Kevin
STORY HIGHLIGHTS
Sepp Blatter has been criticized for saying players cannot "run away" from racism
FIFA president's comments came after Kevin-Prince Boateng walked off pitch in protest
Ghana international was playing for AC Milan in a friendly against fourth division Pro Patria
Blatter has been president of world football's governing body since 1998
Editor's note: James Montague is the author of When Friday Comes: Football, War and Revolution In The Middle East, a look at Middle East cultures and politics through the prism of football. Follow him on Twitter at @JamesPiotr
(CNN) -- There can't be many people whose image has sat side by side on a front page with Colonel Gaddafi, the now expired former dictator of Libya. But Sepp Blatter, the president of soccer's governing body FIFA, is one of the few to hold this dubious honor.
It was June 2011, and The Sun -- a British tabloid newspaper owned by Rupert Murdoch and known for its cheeky, salacious front pages -- ran one of its most memorable headlines.
"Despot the Difference," it screamed above a picture of Blatter and Gaddafi. "Two deluded dictators continued to cling on to power yesterday as their corrupt regimes crumbled around them."
The ire directed at Gaddafi was obvious. But Blatter? Soccer's administrator in chief had become one of the most hated men in Britain.
Blog: Time for football to tackle racism epidemic?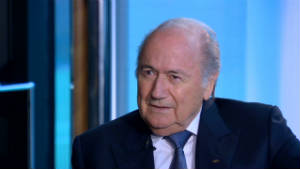 Blatter: 'There is no racism' on pitch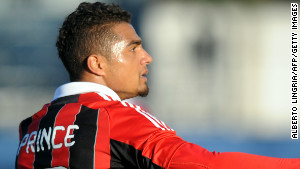 Exclusive: Boateng on racist abuse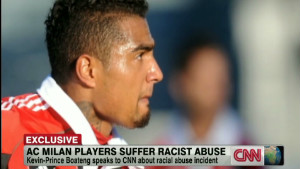 Boateng: We can't ignore racism
A series of corruption scandals within FIFA, his botched re-election campaign -- where his only opponent was barred from standing after another corruption scandal -- and the failure of England's bid to host the 2018 World Cup to attract any interest in FIFA's corridors of power (despite having the best technical report) led to an outpouring of incredulity. Blatter was deemed arrogant and elusive. He became public enemy number two, after Gaddafi.
Just over 18 months on and Blatter has fared slightly better than Gaddafi. But only just. This weekend he was vilified again for refusing to back the principle of AC Milan walking off the pitch when one of the Italian club's black players was racially abused by fans.
It was seized as another example of Blatter's buffoonery and came after comments he made in a 2011 interview with CNN when he seemed to suggest there was no problem with racism in soccer, at least on the pitch.
Read: Boateng makes racism vow
But is this foolishness, myopia or inelegance? I would say the latter of the three. His comments on the AC Milan incident were broadly correct. Whilst Kevin Prince Boateng should be applauded for his "Rosa Parks" moment, enshrining it in law would be highly problematic.
As James Lawton in the British newspaper The Independent wrote this week in a piece criticizing UEFA for its weakness on tackling racism: "Boateng has issued a significant threat, not just of uncomplicated outrage by black players, but situations which would create incentives for all kinds of connivance in the abandonment of vital matches in which one side had taken what looked like an impregnable advantage."
That soccer's governing bodies contributed to the situation by handing out paltry fines for previous transgressions is true too.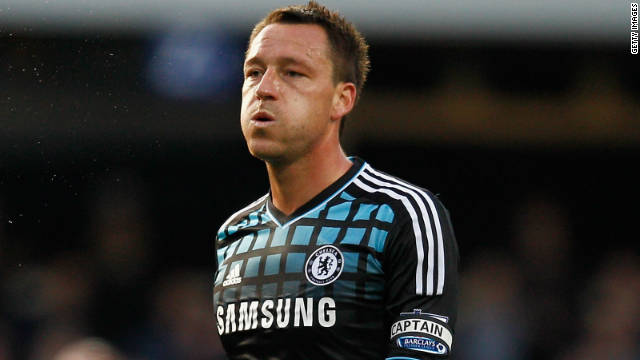 It is now nearly a year since Chelsea lost to QPR 1-0 in an English Premier League game at Loftus Road. During the game it was alleged QPR defender Anton Ferdinand swore at John Terry and made reference to the Chelsea captain's reported affair with the ex-partner of former team-mate Wayne Bridge. Terry is then said to have described Ferdinand as a "f***ing black c***".
In July, Terry was cleared in a London court, where the criminal burden of proof is "beyond all reasonable doubt". But the English Football Association then investigated the case, and using the test of "on the balance of probabilities", came to the conclusion that Terry's defence against claims he racially abused Ferdinand was "improbable, implausible, contrived".
Back in September, Ferdinand had declined Terry's offer of a handshake when QPR met Chelsea at Loftus Road as the feud between the two players rumbled on.
After the FA delivered the independent commission's report on the Terry case, the Chelsea captain's teammate Ashley Cole tweeted: "Hahahahaa, well done #fa I lied did I, #BUNCHOFT***S". The Chelsea and England left-back quickly issued a "unreserved apology" for his tweet through his solicitor.
In 2011 the FA had to deal with another racism case, this time handing Liverpool striker Luis Suarez an eight-match ban and a $63,000 fine after finding the Uruguayan guilty of racially abusing Manchester United defender Patrice Evra.
Suarez and Evra failed to shake hands before the start of an English Premier League game at Old Trafford last season after the Uruguayan had served his ban. However, when United beat Liverpool 2-1 at Anfield in September, the pair did shake hands.
Questions have been raised about UEFA's sanctioning policy. Denmark striker Nicklas Bendtner was fined $126,000 and banned from playing in his side's next competitive game for flashing his sponsored waistband promoting a bookmaker as he celebrated a goal against Portugal in Euro 2012. But that fine eclipsed the $52,000 fine that UEFA handed to the Bulgarian Football Union for its fans' racist abuse of England players during a Euro 2012 qualifier in Sofia in September 2011.
In November 2011, FIFA president Sepp Blatter told CNN that football did not have a problem with racism on the field and any incidents should be settled by a handshake.
The FA's Independent Regulatory Commission heard 473 cases between December 2010 and December 2011, but only two of them ended in "not guilty" verdicts.
Stoke City boss Tony Pulis wants the Football Association to punish Liverpool's Luis Suarez for diving. "It's an embarrassment," said the Stoke manager after a 0-0 draw at Anfield. "The FA should be looking at this."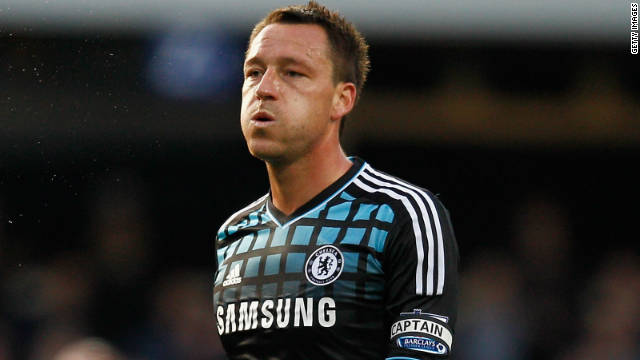 Crime and Punishment in sport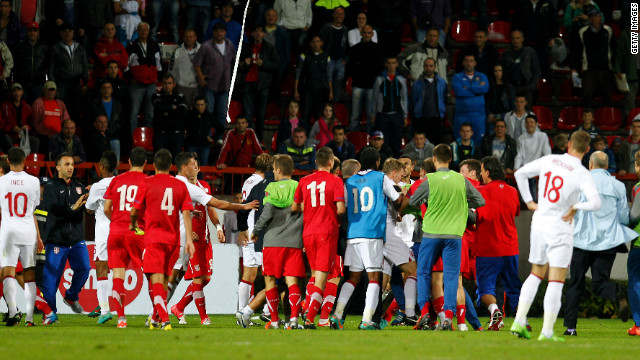 England midfielder Danny Rose claims he was subjected to monkey chants before, during and after the second-leg of their Under-21 Euro 2013 playoff match against Serbia on Tuesday, and had stones thrown at him by the crowd in Krusevac. Fans also ran on to the pitch and scuffles broke out after a 1-0 win secured England qualification for Euro 2013.
The Macedonia FA were fined $26,000 after fans racially abused England trio Ashley Cole, Sol Campbell and Emile Heskey during a qualifying game for Euro 2004.
In September 2011, Bulgaria were fined $55,000 after a small number of fans directed monkey chants at England's Ashley Young, Cole and Theo Walcott during a Euro 2012 qualifier in Sofia.
Russia was hit with a $38,000 punishment after supporters made monkey noises towards Czech Republic defender Theodor Gebre Selassie during Euro 2012
The Croatian FA were ordered to pay a $16,000 fine after their fans were found guilty of "displaying a racist banner and showing racist conduct during the Euro 2008 quarter-final tie against Turkey.
Russia were again in the news for the wrong reasons at Euro 2012 and were fined $39,00 for "the setting off and throwing of fireworks by Russia spectators, displaying of illicit banners and the invasion of the pitch by a supporter," during the Euro 2012 tie against Poland. Russia was also fined $155,000 after clashes between supporters and police during and after their game against the Czech Republic.
Denmark's Nicklas Bendtner was given a one-match ban and a $126,000 fine after he lifted his shirt to reveal a betting company's logo on his underwear while celebrating a goal against Portugal in a Euro 2012 group game.
Porto were hit by a $27,000 fine after their fans were found guilty of subjecting Manchester City forward Mario Balotelli to monkey chants during a Europa League game in February 2012. It took UEFA six weeks to finally hand out a punishment. But questions were raised after UEFA also fined City $40,000 after the club were found guilty of coming back out on to the field of play late after the halftime interval.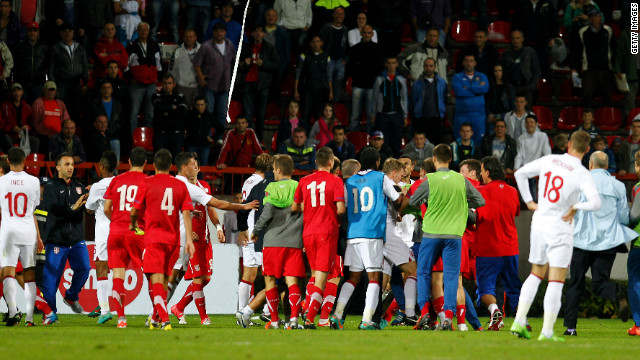 Soccer racism in Eastern Europe
Sure, FIFA is not without its problems, but the sound bites tend to obscure a much wider, more important truth: Blatter's largely positive influence on the game, especially in the developing world.
Read: Fan group calls on club not to sign black players
Whilst he is parodied as an out of touch buffoon haphazardly directing affairs from FIFA's "Death Star" in Zurich, he has arguably done more in the modern era to spread the game globally than anyone else.
This year I interviewed Blatter twice. On both occasions he talked about soccer being more than just a game. That it was also an agent of social change. His first act when elected president in 1998 was to fly into the Gaza Strip and welcome Palestine to the soccer family.
It allowed the Palestinians to organize their own league, push for movement restrictions in the West Bank to be lifted, to build their own national football stadium, start a women's professional league and, in 2011, host their very first World Cup qualifier against Afghanistan.
Sure, the Afghan government were not happy, but the team traveled and played in the West Bank, the first time a team from Afghanistan had done so. It was defacto recognition of both sides of this seemingly intractable conflict.
FIFA became one of a tiny handful of international organizations to recognize the existence of Palestine, a full four years before a U.N. vote almost, but not quite, got to the same point.
The Palestinians have cleverly used soccer as a way of both flying their flag and as a dry run for building and maintaining important civic institutions. Blatter should take credit for kickstarting that movement.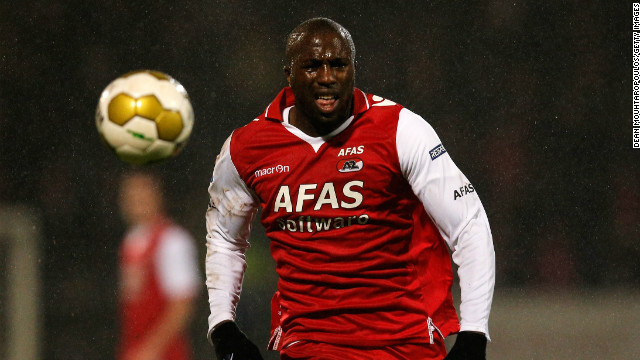 U.S. star Jozy Altidore was subjected to racial abuse during AZ Alkmaar's cup win at Den Bosch in the Netherlands. The match was halted and the crowd were asked to stop the abusive chanting before the action resumed.
AC Milan's Kevin Prince-Boateng walked off the pitch after being racially abused during his side's friendly game with Pro Patria earlier this month. The midfielder was praised for his actions by FIFA president Sepp Blatter.
Serbia was ordered to play one under-21 match behind closed doors and was fined $105,000 by European football's governing body UEFA for racial abuse in a match with England. UEFA president has appealed the verdict of his organization in the hope of seeing stiffer punishments administered.
Chelsea and England captain John Terry was charged by UK police after allegedly making racist remarks to Queens Park Rangers defender Anton Ferdinand in October 2011. Terry was cleared of the charges in a London court in July 2012.
Liverpool's Luis Suarez was banned and fined by the English Football Association after Manchester United's Patrice Evra claimed the Uruguayan racially insulted him during a match, also in October 2011. Suarez flatly denies Evra's claims.
Brazilian World Cup winner Roberto Carlos walked off the pitch while playing for Russian team Anzhi Makhachkala against Krylya Sovetov in June the same year, after having a banana thrown towards him in the closing stages of the match.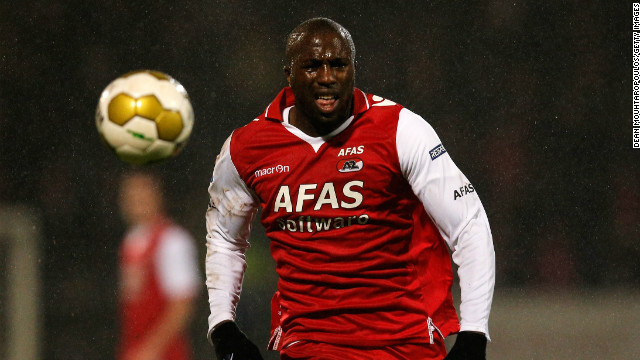 Racism in football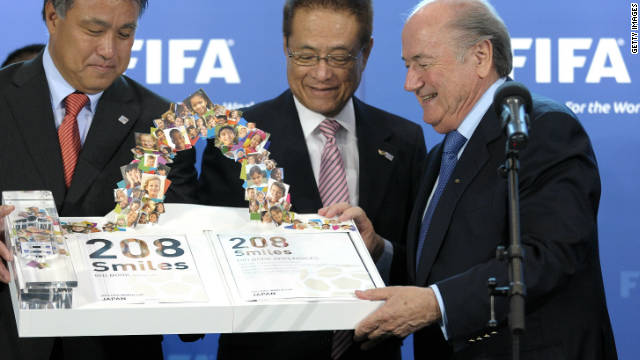 A turbulent period for FIFA began in May 2010. Whilst most of the world's soccer fans were more concerned with Africa's first World Cup finals that June, FIFA was presented with official bid documents by Australia, England, Netherlands/Belgium, Japan, South Korea, Qatar, Russia, Spain/Portugal and the United States for the 2018 and 2022 tournaments. During the ceremony at its Swiss headquarters, FIFA announced dates for inspections of the bidding nations from July-September.
British newspaper Mail On Sunday reveals that English bid leader David Triesman was secretly recorded making comments about alleged attempts by Spain and Russia to bribe referees at the imminent 2010 FIFA World Cup.
Russia's Prime Minister Vladimir Putin meets the visiting FIFA inspection team in Moscow. Qatar is the last country to receive the inspectors in September.
FIFA provisionally suspends Amos Adamu, pictured, and Reynald Temarii three days after Britain's Sunday Times newspaper claimed they offered to sell their World Cup votes. Adamu, head of the West Africa Football Union, denies the charge that he asked for $800,000 to be paid to him directly so four artificial pitches could be built in his native Nigeria. "I am confident that my actions, the full and true extent of which were not detailed in the story published, will demonstrate not only my innocence and integrity, but also my commitment to football and to FIFA," the 57-year-old says in a statement.
Temarii, a former Tahiti international player, is accused of asking for $2.4 million to build a youth academy for the Oceania Football Confederation, of which he has been head since 2004.
"It is a sad day for football," FIFA president Sepp Blatter, pictured here meeting British Prime Minister David Cameron a week earlier, tells reporters in Zurich.
FIFA releases its bid inspection reports, and it's bad news for Qatar. The tournament would be held in the middle of Qatar's summer where temperatures regularly hit 50 degrees Celsius. Despite a hi-tech pitch that included state-of-the-art cooling technology to keep players and fans safe, FIFA gave one part of the bid a "high" risk rating. In the report it stated that hosting the World Cup in June and July would be "considered as a potential health risk for players, officials, the FIFA family and spectators, and requires precautions to be taken".
FIFA confirms the suspension of executive committee members Amos Adamu and Reynald Temarii, along with four additional officials. Ahead of the December 2 ballot to decide the host of the 2018 and 2022 World Cup tournaments, Adamu receives a three-year ban and $11,947 fine and Temarii a 12-month ban and a $5,973 fine. However, the organization rules that there is no evidence to support allegations of collusion between rival bid teams. Adamu plans to appeal.
Issa Hayatou from Cameroon is one of three FIFA officials -- the others Nicolas Leoz from Paraguay and Ricardo Teixeira from Brazil -- who are named in a BBC program which alleges they took bribes from the ISL marketing company who secured World Cup rights in the 1990s. All three had votes voting in the December 2 decisions on the hosts for the 2018 and 2022 World Cups.
The International Olympic Committee announces it will launch an investigation into allegations on BBC's Panorama program that Issa Hayatou, who is also an IOC member, took bribes. Hayatou says he is considering legal action against the BBC. Football world governing body FIFA says the allegations have already been investigated and the matter is closed.
The winning bids for the 2018 and 2022 World Cup finals are announced. Russia wins the bid to host the 2018 tournament, with England garnering just two votes despite a last minute meet-and-greet blitz involving UK Prime Minister David Cameron, David Beckham and Prince William. But the big shock came when Blatter announced that Qatar would host the 2022 World Cup.
After months of speculation, Asian Football Confederation chief Mohamed bin Hammam announces he is to stand against Blatter in FIFA's presidential election. Bin Hammam, a Qatari, was a key figure in ensuring that Qatar won the right to host the 2022 World Cup.
Just a few weeks before FIFA's presidential vote, former FA chairman David Triesman gives evidence at a UK parliamentary enquiry into England's failed 2018 bid. Under the cover of parliamentary privilege Triesman accused FIFA Ex Co members Warner, Nicholas Leoz, Ricardo Texeira and Worawi Makudi of trying to secure cash and privileges in return for their vote. In other evidence submitted to the committee from the Sunday Times, it was alleged that FIFA vice-president Issa Hayatou along with fellow Ex Co member Jacques Anouma has been paid $1.5 million by Qatar for their World Cup vote. All those accused strenuously deny the allegations.
FIFA announces that it will expand its corruption probe to include Sepp Blatter, after AFC president Mohammed bin Hammam claimed Blatter knew about cash payments he was accused of giving to national football association in exchange for pro-Hammam votes during Qatar's 2022 World Cup bid. Blatter maintains that the allegations are "without substance", and is subsequently exonerated by FIFA's ethics committee two days later. Blatter later holds an extraordinary press conference where he tells the world's press: "Crisis? What is a crisis?!"
But FIFA's ethics committee upholds the complaints against Bin Hammam and Warner. Hammam is effectively barred from standing in the election. Warner's football "tsunami" turns out to be an email, which Warner releases to the press, where secretary general Jerome Valcke seems to suggest that Qatar "bought" the right to host the 2022 World Cup. After initially threatening legal action, Qatar withdraws its complaint when Valcke explains he was referring to Qatar's large, and legal, campaign budget, rather than bribes. Warner will face no further action following his resignation and the presumption of his innocence will remain.
Just a few days before the vote, both Warner and Blatter's presidential rival Mohamed Bin Hammam are suspended after fellow Ex Co member Chuck Blazer submits a report alleging that the two men paid $40,000 worth of bribes to secure the support of members of the Caribbean Football Union. Both deny the claims, with Warner promising a "tsunami" of revelations to clear his name.
Despite a last minute attempt by the English FA to postpone the vote - a proposal which garnered just 17 out of the available 208 votes -Sepp Blatter is re-elected for a fourth term as president of FIFA at the 61st FIFA Congress at Hallenstadion in Zurich. He vows to learn from past mistakes and undertake a reform agenda.
Former head of the Asian Football Confederation Mohamed Bin Hammam was banned for life by FIFA after a two-day hearing into bribery allegations.
Chuck Blazer announces he will step down from his role as general secretary of CONCACAF at the end of the year. American Blazer was one of the men who voted on the location for both the 2018 and 2022 World Cups.
FIFA president Sepp Blatter announces the introduction of four new task forces and a "Committee of Good Governance" aimed at reforming the organization and repairing its reputation.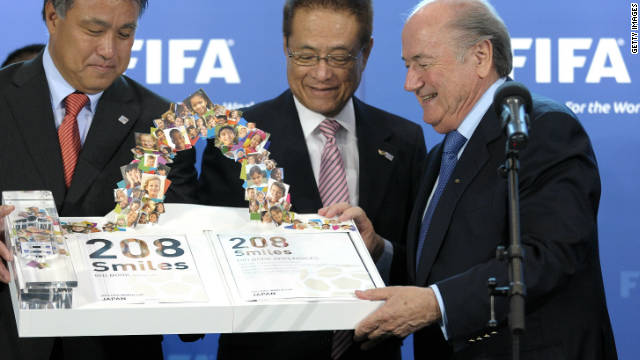 FIFA corruption timeline
The wider point here is that Blatter's tenure as FIFA president has been internationalist in tooth and claw. Under his watch the World Cup was hosted in Asia for the first time in 2002. It is a region that, in 50 years' time, will undoubtedly be the new power center of the world game.
Blatter championed Africa's first ever World Cup, in South Africa in 2010, a remarkable vote of confidence in a country barely two decades out of apartheid.
And, most controversially, Russia and then the Middle East will host their first World Cups in 2018 and 2022 respectively. No one should have been surprised by either move. Both regions are booming and have a deep love of the game. FIFA under Blatter has been aggressively expansionist and hosting a World Cup in England or even the U.S. would have added little new.
Soccer is, now more than ever, a global game and deserves to be shared across the world. Europe may now be the most successful region both in terms of money and success on the pitch but the balance of power is shifting, to South America, Asia, the Middle East and the new Europe.
Blatter recognized that shift and helped to drive it. Given that context it would be absurd to now think that the 76-year-old was someone unconcerned with the issues of racism.
Now there are a new set of pressing challenges. The rise in racism needs to be tackled with financial penalties so stiff that clubs would have no choice but to take the issue seriously.
Greater transparency within FIFA's decision making and finances need to be addressed. The corruption watchdog Transparency International cut its ties with FIFA in 2011 when two of its recommendations -- that the investigator charged with overseeing FIFA would be compromised if he was paid by FIFA and that he should be allowed to investigate old corruption scandals -- were dropped.
The stain of corruption emanating from countries with poor records in transparency and openness is another issue. Why not publish the salaries and expenses of FIFA's leading members to combat that?
But, when his tenure is up, the same question will be asked. Will Blatter leave the game in a better place than he found it? The game has been spread further and deeper than ever before. There is much that still needs reforming in FIFA. But in Africa, Asia and the Middle East he'll be rightly feted for seriously taking the game to the world, no matter what the headline writers think.