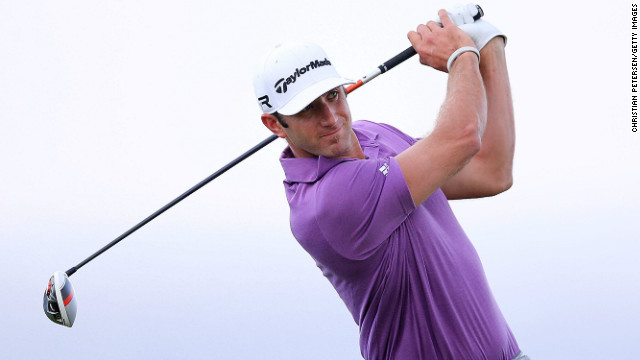 Dustin Johnson won the Tournament of Champions in Hawaii after finishing 16-under-par at the reduced three-round event on Monday. Play was abandoned the previous three days due to high winds.
Masters champion Bubba Watson pretends to tee off as his caddy Ted Scott holds a finger on the ball to keep it from blowing away during Sunday's delayed opening round of the Tournament of Champions.
Charlie Beljan leans into the wind after taking a rehit on a tee shot on Sunday, when play was called off for the third day in a row in the PGA Tour's season-opening event.
Winds reached almost 50 miles per hour at the Plantation Course in Kapalua, Hawaii.
Scott Stallings shields himself from the wind and rain as he attempts to putt on the second hole green on Friday.
The $5.7 million tournament, which features 30 winners from the 2012 season, has been put back to a Tuesday finish with only 54 of the 72 holes potentially to be played.
Joy for Johnson
Blowing Bubba
Beljan's battle
Wind up
A long weekend
Tuesday finish
STORY HIGHLIGHTS
Dustin Johnson leads the PGA Tour's Tournament of Champions in Hawaii
Play was abandoned on Friday, Saturday and Sunday due to strong winds
Johnson leads on 11-under after the field played 36 holes on Monday
Steve Stricker, Bubba Watson and Keegan Bradley all in the chasing pack
(CNN) -- A wind of change blew through Hawaii Monday and thankfully it was gentle enough to allow the PGA's Tournament of Champions to finally get under way.
For three days in a row the 30-strong field, all of whom won a PGA Tour event in 2012, had to sit idly by as play was canceled due to strong winds and driving rain.
It led to the bizarre sight of Rickie Fowler officially starting the new campaign three times, after his first two attempts were derailed by the weather.
But once the action began Dustin Johnson's detailed preparation for the competition showed, as his six practice rounds prior to teeing off in Maui helped him shoot rounds of 69 and 66 to lead on 11-under-par.
Read: PGA Tour season opener ruined by winds
The U.S. Ryder Cup star leads by three shots from fellow countryman Steve Stricker, with 2012 Masters champion Bubba Watson a further shot back.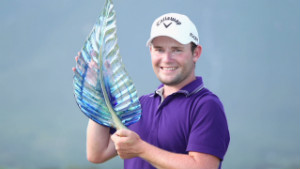 Branden Grace on remarkable wins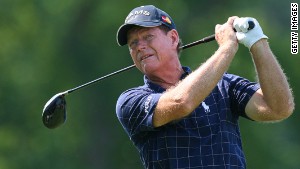 Tom Watson named Ryder Cup captain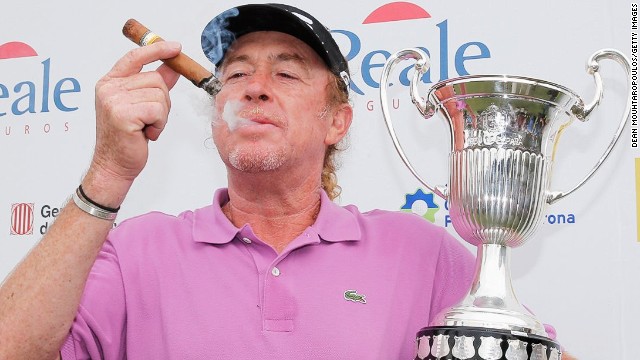 With his trademark victory cigar in one hand, Miguel Angel Jimenez poses with the trophy in the other after winning his home Spanish Open for the first time on May 18, 2014. Having passed 50, he is the European Tour's oldest victor.
Jimenez spent the first four months of 2013 in the gym undergoing a rehabilitation program after suffering a broken leg in a skiing accident. The Spaniard underwent surgery after breaking the tibia at the top of his right leg.
Food and drink are just two of Jimenez's passions in life -- along with his trusty cigar.
Another love of Jimenez's is his Ferrari -- he might be laid back but the need for speed still gives him a thrill.
Jimenez celebrates with a glass of red wine and a cigar after claiming victory at the 2012 Hong Kong Open. He would return a year later to successfully defend his title -- his fourth success at the tournament.
Jimenez and Ryder Cup teammate Lee Westwood toast Europe's victory in the 2010 event at Celtic Manor in Newport, Wales.
Jimenez sprays Jose Manuel Lara of Spain with champagne after his compatriot wins the 2010 Austrian Open.
Jimenez, puffing that trademark cigar, celebrates after winning the French Open in July 2010.
2010 was a big year for Jimenez, who won the first of three titles that season at the Dubai Desert Classic in February.
Jimenez with ex-wife Monserrat after winning the European Tour's flagship PGA Championship event in 2008.
Jimenez won five tournaments in 2004, the last of which was the BMW International Open in Munich, Germany.
In 1997 Jimenez was assistant to team captain Seve Ballesteros as Europe retained the Ryder Cup at Spain's Valderrama Golf Club -- the first time it had been played outside of the U.S. and the UK.
His 1994 triumph at the Dutch Open was his second of 21 titles so far on the European Tour, having won his first in Belgium two years earlier.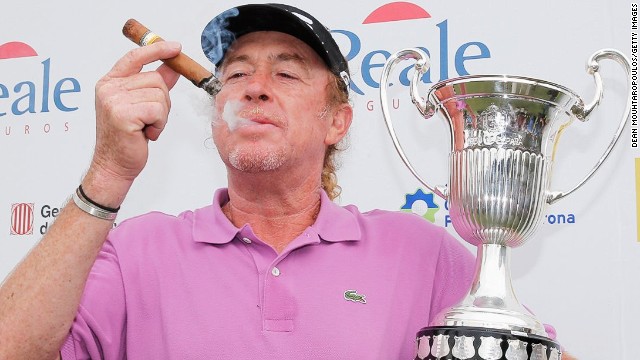 Jimenez: Golf's great celebrater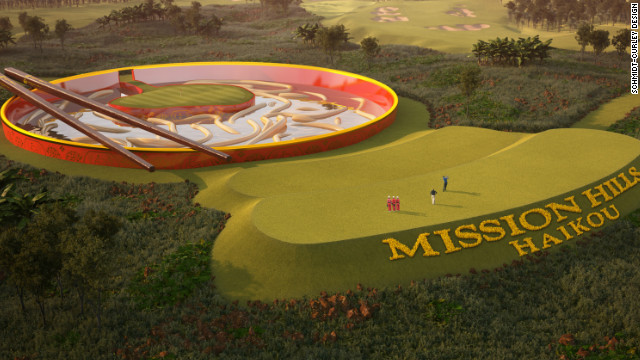 One of the signatures holes on a new fantasy course at Mission Hills in China will see players attempt to hit a green surrounded by a noodle-style hazard complete with chopsticks.
A view from the tee of the shot facing the golfer on the chopsticks and noodles hole.
The Great Wall of China hole will provide a challenge with a difference for the golfers who play the new course.
A sketch of the design work behind a hole on the course, in which a mock-up of the Great Wall of China is threaded throughout its entire length.
A par 5 on the new course is dedicated to the ancient Mayan civilization, but golfers will have their work cut out if they stray off the fairway.
One of the holes is dedicated to the most popular animal in China, the giant panda, and this sketch illustrates the design features.
Work is well under way on the hole named "Panda-monium" ahead of the course opening in 2014.
The Birds Nest Stadium which hosted the 2008 Summer Olympics is the inspiration for one of the greens on the new course.
This year the Mission Hills group hosted a World Golf Championship tournament, the HSBC Champions, on a bunker-laden course at its Shenzhen complex designed by former Ryder Cup captain Jose Maria Olazabal. Ian Poulter is seen here on his way to winning the title.
Conventional golf tests such as the daunting 17th island hole at TPC Sawgrass in Florida often rely on water to provide the challenge with a small green to aim at.
President Barack Obama, his wife Michelle and daughter Sasha tried their hand at mini golf on a holiday in Florida in 2010.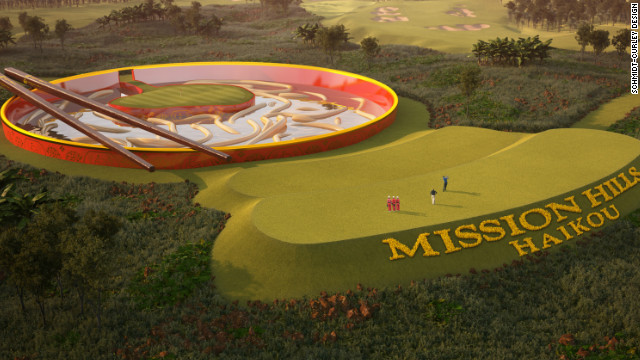 China's crazy fantasy golf course
Johnson now has a further 18 holes on Tuesday to retain his lead and take the first title of 2013. "I hit the ball really well this afternoon," he told the PGA Tour's official website.
"This course is a tough walk and it's really windy out there, but I'm in pretty good shape. I can handle it. I didn't really have an off season; I had a few weeks off but I needed a practice so that why I came out here early and get back into it.
"I've got new irons and a new driver now so I'm pretty pleased with my equipment and I'm pretty pleased with my game right now."
Johnson can feel confident going into the final day given he has triumphed in the last two PGA Tour events that have been shortened to 54 holes.
He added: "I've still got 18 more holes of golf. It wouldn't matter if it was 72 holes or 54. (Tuesday) is still the last round and there's 18 holes to play, so got to get the job done."
Monday's action was very nearly over almost before it began as two golf balls moved on the green due to strong gusts but the wind subsided and play continued the rest of the day.
Johnson missed just three greens in regulation during his double round and he carded only three bogeys in 36 holes.
Johnson's nearest challenger is Stricker despite the veteran struggling with pain in his lower back. The 45-year-old carded rounds of 71 and 67 to give him hope going into the final round.
Read: Golf star Beljan: I thought I was going to die
"Nobody knows if it's a muscle with pressure on the sciatic nerve or if there's a problem with a disk," Stricker said ot the discomfort he felt during his long day.
"My back feels great. I don't feel tight. I don't feel stiff. Just every time I get over to my left side, I'm getting a shooting pain down my leg. I'm not hitting it full strength and I'm just trying to keep it in front of me and play the smart shots."
Watson, who will defend his Masters title when the first major championship of 2013 gets underway in April, is on seven-under, four off the lead, but says Johnson is in top form going into the last day.
"The way he's playing, the way he's striking it, the way he's controlling his golf ball, it's pretty good right now," he said of his Monday playing partner. "And I don't see any different (on Tuesday) from him."
Watson is one shot ahead of 2011 U.S. PGA Champion Keegan Bradley. He is tied on six-under with 2012 FedEx Cup winner Brandt Snedeker.