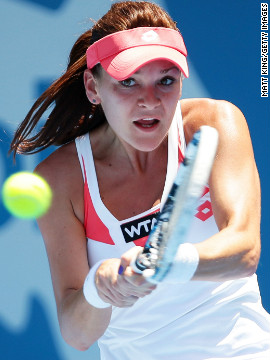 World no. 4 Agnieszka Radwanska claimed temperatures that reached 41.4 degrees in Sydney were "too hot for tennis" at the Apia International tournament. Australia is currently sweltering under its hottest skies for over 100 years.
Officials decided not to suspend play despite scorching heat. Here, world No. 10 Caroline Wozniacki makes use of a fan and an ice towel during a break in her match.
Qualifier Galina Voskoboeva buries her face in an ice towel during a break in her defeat to Germany's Angelique Kerber. The Russian had to take a medical time out after struggling with the heat.
Spaniard Tommy Robredo is used to high temperatures but even he needed to take unusual measures to cope in Sydney.
A young fan takes on water under the shade of their umbrella at Sydney Olympic Park.
'Too hot for tennis'
My number one fan
Ice Age
Water cooler
In the shade
STORY HIGHLIGHTS
Record temperatures hit Australia during tennis tournament in Sydney
Stifling heat of 41.4 degrees make conditions uncomfortable for players
World No. 4 Agnieszka Radwanska claims it was "too hot" to play
Monday confirmed by Australia Bureau of Meteorology as hottest since records began
(CNN) -- The 2013 tennis season may only be in its fledgling stages but already the heat is well and truly on for those preparing for the year's first major.
As the great and good on the men's and women's circuits fine tune their game ahead of the Australian Open that starts in Melbourne on Monday, they are having to contend with stifling temperatures in Sydney.
According to the Australia Bureau of Meteorology, Monday was the hottest day in the country since records began over 100 years ago with an average temperature of 40.3 degrees.
Officials in New South Wales have warned of a "catastrophic" fire threat as strong winds combine with the heat to increase the danger of bushfires spreading out of control.
Read: Murray inspired by friend with cancer
Players had to battle heat that reached 41.4 deg in Sydney, with world No. 4 Agnieszka Radwanska claiming it was "too hot" to play and that officials should have halted proceedings under their extreme heat policy.
But the Pole, along with the other players scheduled on Tuesday, battled through the searing sunshine with the help of regular breaks, ice towels and gallons of liquid.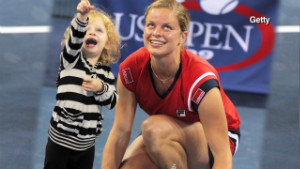 Clijsters reflects on career, family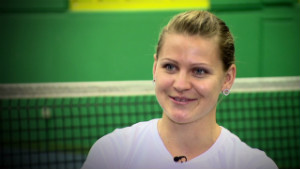 Safarova: 'One of my best matches ever'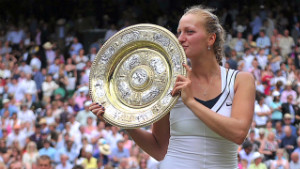 Kvitova: From underdog to world number 8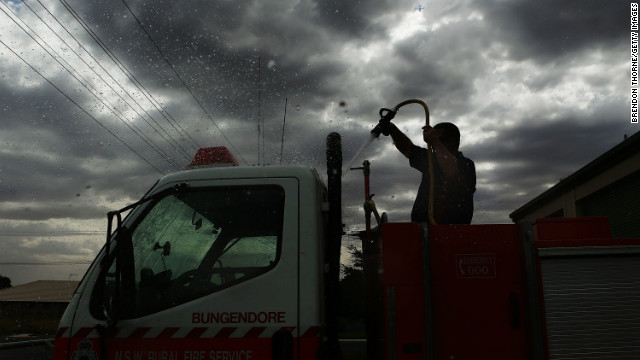 A volunteer Rural Fire Service member from Bungendore RFS washes down a emergency service vehicle on January 8, 2013 in Bungendore, Australia.
Fire hoses from Bungendore RFS sit on shelves on January 8, 2013 in Bungendore, Australia.
Fire fighters battle a grass fire in Oura, near Wagga Wagga in New South Wales on January 8, 2013.
These weather maps are produced from computer models and are used by forecasters to develop the official weather maps, which contain added features such as cold fronts.
Southern states of Australia were hit by soaring temperatures on January 8, 2013, raising the risk of bushfires in the region. Thousands of firefighters were deployed in NSW, Victoria and Tasmania as strong winds fanned flames.
Bondi Beach in Sydney, Australia was packed with people attempting to cool down as temperatures hit 43 degrees Celsius (109 Fahrenheit).
The soaring temperatures, coupled with strong winds, raised the fire risk to "extreme" or higher across 90% of the state.
A lifeguard sign warns beach-goers of the high temperatures at Tamarama Beach in Sydney on January 8.
Tourists cover themselves with towels to protect themselves from the sun on one of the hottest days on record.
Tommy Robredo of Spain rests next to a fan in between games in his first round match against John Millman of Australia during day three of Sydney International at Sydney Olympic Park Tennis Centre.
A pair of Zebras attempts to eat an iced carrot block at Taronga Zoo.
The fire rating reached "catastrophic" in four areas of New South Wales, prompting warnings from Prime Minister Julia Gillard that Tuesday was a "dangerous day."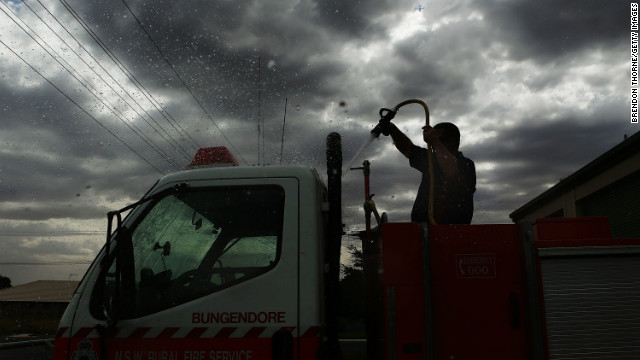 Australia battles bush blazes, intense heat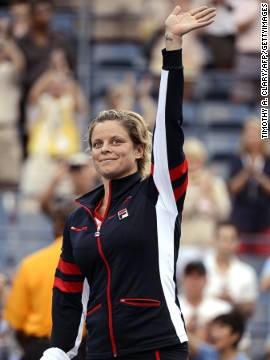 Kim Clijsters retired from professional tennis for a second time at the U.S. Open in September 2012. The Belgian won four grand slam titles in a 15-year career which included a two-year break between 2007 and 2009.
Kim Clijsters with daughter Jada and the 2010 U.S. Open trophy after beating Vera Zvonareva in the final.
Clijsters came out of retirement the previous year, having taken time out to have her first child. She defeated Caroline Wozniacki in the 2009 final after receiving a wild-card entry to the season's closing grand slam.
Clijsters had a love affair with New York. Here she climbs into the family area after the 2005 U.S. Open final after beating France's Mary Pierce 6-3 6-1 to clinch her first grand slam title.
The Belgian suffered a shock 6-7 (3-7) 3-6 loss to Julia Vakulenko in 2007 in what proved to be her final match before retiring for the first time. Clijsters took time away from the sport to raise her family and gave birth to Jada in 2008.
Clijsters defended her Flushing Meadows crown in 2010, avenging her defeat by Russia's Zvonareva in the quarterfinals at Wimbledon -- a loss she told CNN "hurt her the most."
Clijsters enjoys popularity in Australia thanks to ex-boyfriend and male tennis star Lleyton Hewitt. She was overcome with emotion after defeating Li Na of China to clinch the 2011 Australian Open -- the fourth grand slam title of her career.
The daughter of a footballer and a gymnast, Clijsters is renowned for her on-court splits -- an ability which originated from her early years on clay courts but was later transferred to other surfaces.
Clijsters' final singles match was a loss against unseeded British teenager Laura Robson in the second round of the 2012 U.S. Open. She also competed in the mixed doubles competition with Bob Bryan, but they too lost in the second round.
Clijsters put on a series of farewell matches in her homeland to say thank you and goodbye to her hoards of Belgian fans.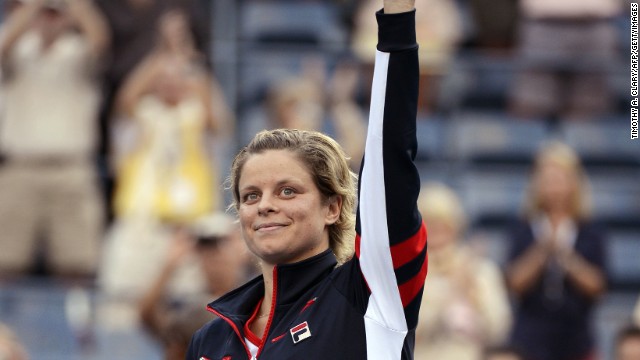 Kim Clijsters' glittering career
"I think this is too hot to play tennis," Radwanska told reporters at a press conference. "Even for players, for ball kids, for even the people sitting out there, I think it's just too hot."
One saving grace for Radwanska was her quick 6-4 6-3 victory over Japan's Kimiko Date-Krumm which meant she was only on court for 68 minutes.
Russia's Svetlana Kuznetsova battled through to a 7-6 1-6 6-2 victory over former world No. 1 Caroline Wozniacki, though both players benefited from a heat break before contesting the deciding set.
Kuznetsova told reporters: "I think it shows you one more time how tough the tennis is right now. How players have to be fit to play in the hot conditions, the windy conditions. We're like iron women almost.
"It was very hot out there. In the second set the heat definitely disturbed me a lot. But the break really helped me before the third set."
The 2011 French Open champion, Li Na of China, was quoted as saying by AFP that she felt like she was "playing in a sauna."
Germany's Angelique Kerber triumphed 6-2 7-5 over Russian qualifier Galina Voskoboeva who took a medical time out because of the extreme heat.
Kerber: "It was unbelievably hot. Usually I practice before my matches, 30 to 35 minutes, today it was just 10 or 15 minutes because I couldn't play more. It's tough to play in these conditions.
"I was trying to focus on the next point and not thinking about the heat, the sun and the weather. The whole match was tough from the first point. I'm happy I won in two sets."
Temperatures were due to cool off for Wednesday's play but by the end of the week the thermometer will be back up to 37 degrees in Melbourne, according to Jenny Harrison from the CNN Weather Center.
She told CNN's World Sport show: "We do see this every couple of years but this is record-breaking heat. Monday has been confirmed as the hottest day across Australia since records began.
"It looks as if Tuesday, once we get the stats in, could be the hottest day and outdo Monday.
"What has happened in the last few hours is a front has come through across the south east of Australia. In literally an hour the temperature in Sydney has dropped more than 10 degrees.
"Melbourne is cooler than that as the front went through there first. But in Melbourne by the end of the week the temperature is going to rise again, getting well above average."