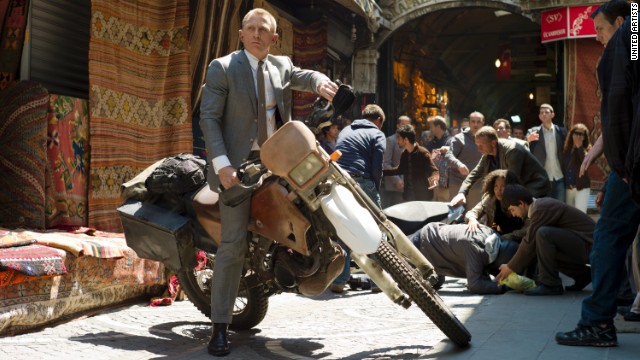 With only nine films nominated for best picture, some critics and fans were left wondering why "Skyfall" didn't make the cut. Critic Tom Charity praised the flick, which was touted by many as the best "Bond" film to date. "It's been a long time since I enjoyed a Bond movie so much,"
Charity wrote on CNN.com
. "By taking a good hard look at itself and going back to first principles, 'Skyfall' pulls off something quite special. This is Bond resurrected, redeemed and reinvigorated, ready to face a new half-century."
Despite grossing more than $1 billion worldwide, Christopher Nolan's "The Dark Knight Rises" also didn't make the cut for best picture. Nolan has yet to be nominated for best director, though "Inception" was nominated for best picture and best original screenplay in 2011. (Nolan's "Memento" was also nominated for best original screenplay in 2000.)
"The Avengers," another big moneymaker, earning more than $1 billion at box offices worldwide, also failed to receive a best picture nod. Writer-director Joss Whedon was last nominated in 1996 for contributing to the screenplay for "Toy Story."
"Django Unchained's" Christoph Waltz, center, was nominated for best actor in a supporting role. His costars, however, were not. The oft-snubbed Leonardo DiCaprio, left, and Samuel L. Jackson, right, didn't receive nods despite garnering critical acclaim as a plantation owner and his loyal slave.
Marion Cotillard received praise for her role as Stéphanie, a killer-whale trainer who suffers a horrible accident, in "Rust and Bone." But it wasn't enough to nab the actress a 2013 nomination.
To the dismay of some critics and CNN.com readers, Javier Bardem wasn't nominated for his role as Silva in "Skyfall." One commenter called Bardem "the best Bond villain to date."
Peter Travers wrote
, "('The Perks of Being a Wallflower') is stolen, head to tail, by Ezra Miller," and other critics agreed. Yet the 20-year-old actor didn't receive a nomination for his role in Stephen Chbosky's big screen adaptation.
In his September review,
Stephen Holden
, who wrote, "Mr. Hawkes is entirely convincing in his portrayal of a man who is by turns vulnerable, wittily self-lacerating, charming and erudite."
John Hawkes stars as Mark O'Brien, a virginal poet who's paralyzed from the neck down, in "The Sessions." Hawkes' performance was praised by critics such as
Quentin Tarantino's "Django Unchained" received five nominations, including best picture -- yet best director wasn't one of them.
After she became the first woman to win an Academy Award for best director in 2010 for "The Hurt Locker," critics seemed fairly certain that Kathryn Bigelow's "Zero Dark Thirty" would earn her another nod. Like "Django," Bigelow's film earned five nominations, including best picture.
"Argo" director and star Ben Affleck wasn't directly acknowledged for his work on the film by the academy, however, the drama picked up a total of seven nominations, including best picture. Alan Arkin was also named in the best supporting actor category.
Tom Hooper's "Les Misérables" didn't earn him a nod for best director, despite the film garnering eight nominations, including one for best picture. Hooper won the Oscar for best director in 2011 for "The King's Speech."
'Skyfall'
'The Dark Knight Rises'
'The Avengers'
Leonardo DiCaprio, Samuel L. Jackson
Marion Cotillard
Javier Bardem
Ezra Miller
John Hawkes
Quentin Tarantino
Kathryn Bigelow
Ben Affleck
Tom Hooper