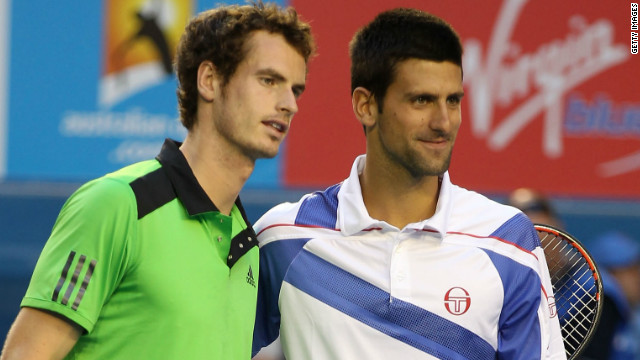 Andy Murray and Novak Djokovic have a growing rivalry at the top of men's tennis.
World No. 3 Murray warmed up for the 2013 Australian Open by winning January's Brisbane International for the second straight year.
Top-ranked Djokovic showed he is in fine form by earlier winning the big-money exhibition tournament in Abu Dhabi and then reaching the final of the Hopman Cup teams event with fellow Serbian Ana Ivanovic.
Djokovic's victory over Roger Federer in the final of the 2012 ATP World Tour Finals gave him the year-end No. 1 ranking for the second season in a row.
Murray beat Roger Federer in the gold medal match at the 2012 London Olympics in August to kickstart a superb run of form.
Murray followed up on his Olympic triumph by beating Djokovic to win his first grand slam title at September's U.S. Open.
Djokovic turned the tables on Murray in a superb Shanghai Masters final in October when he saved five match points before clinching an epic victory.
Federer showed his longevity by winning his 17th grand slam at Wimbledon in July 2012, beating Murray in the final
Djokovic bares his chest after completing his epic six-hour, five-set victory over Rafael Nadal to win the 2012 Australian Open title.
Former world No. 1 Nadal hasn't played since being knocked out in the second round of Wimbledon in July 2012, with his expected comeback this year from long-term knee problems being delayed by illness.
Dynamic duo
Brisbane repeat
Abu Dhabi warmup
ATP champion
Golden Brit
Murray's moment
Shanghai sensation
Forever Federer
Tennis warrior
Can Nadal come back?
STORY HIGHLIGHTS
Novak Djokovic looking to defend his Australian Open title later this month
Andy Murray beat No.1 Djokovic in the final of the U.S. Open last September
Former No.1 Rafael Nadal will miss opening grand slam through injury
Roger Federer goes into his 32nd year as World No.2 behind Djokovic
(CNN) -- They are the "big four" of men's tennis: Roger Federer, Rafael Nadal, Novak Djokovic and Andy Murray.
Between them they have won every grand slam title since the start of 2010, and 30 of the last 31 dating back to 2005.
However, there is a groundswell of opinion that four will become two in 2013, as No. 1 Djokovic and third-ranked Murray continue their ascendance while their older rivals fall away.
"With Nadal being seriously injured and Federer not getting any younger, I see the top two players being Djokovic and Murray, they have time on their side," six-time grand slam champion Becker told CNN ahead of the Australian Open.
Nadal has not played competitively since last year's Wimbledon in July, struck down by recurring knee problems. A stomach virus then prevented the Spaniard's comeback in 2013's opening grand slam in Melbourne, which starts on Monday.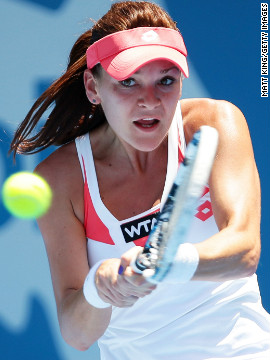 World no. 4 Agnieszka Radwanska claimed temperatures that reached 41.4 degrees in Sydney were "too hot for tennis" at the Apia International tournament. Australia is currently sweltering under its hottest skies for over 100 years.
Officials decided not to suspend play despite scorching heat. Here, world No. 10 Caroline Wozniacki makes use of a fan and an ice towel during a break in her match.
Qualifier Galina Voskoboeva buries her face in an ice towel during a break in her defeat to Germany's Angelique Kerber. The Russian had to take a medical time out after struggling with the heat.
Spaniard Tommy Robredo is used to high temperatures but even he needed to take unusual measures to cope in Sydney.
A young fan takes on water under the shade of their umbrella at Sydney Olympic Park.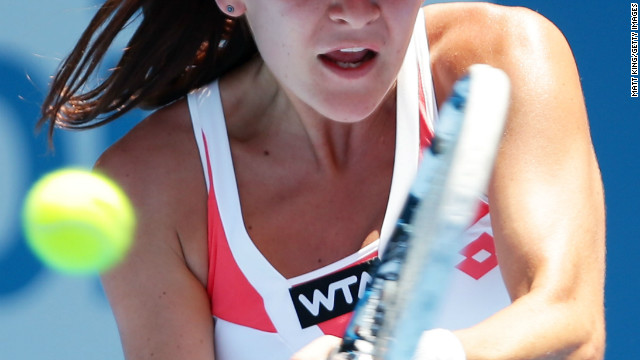 Tennis stars feel the heat in Sydney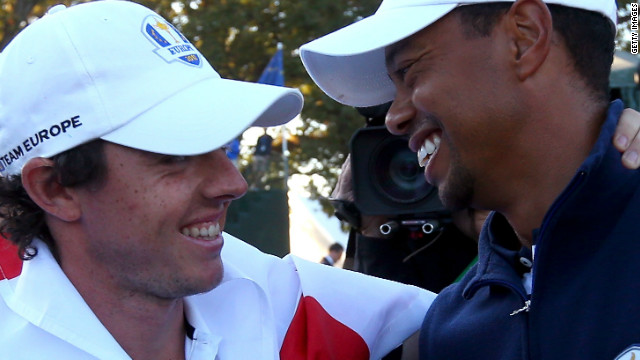 Tiger Woods, right, congratulates Rory McIlroy after Europe's remarkable victory over the U.S. on the final day of the 2012 Ryder Cup in September. The two are big rivals on the golf course, but a friendship has also blossomed this year.
Golf great Nick Faldo has questioned whether they should be so close. Sports psychologist Dan Abrahams says they would benefit from keeping a bit of distance. "In the heat of battle it becomes more difficult to emotionally detach yourself from that person's performance if you're good friends with that person," he told CNN.
McIlroy has admitted idolizing Woods as a boy, but has now usurped him as golf's No. 1. "Once they step on the first tee, those competitive juices are flowing and they're focused either on their own game or beating each other," Abrahams said.
They are following in golf's great tradition of rivalries -- most notably Jack Nicklaus, left, and Arnold Palmer. "The power of the mind and the capability of that mental discipline is what separates the good from the great," sports leadership expert Khoi Tu told CNN. "That might allow them to become friends with people off the course, but not on the course."
Formula One's greatest rivalry was between Alain Prost and Ayrton Senna. "They absolutely detested each other," Tu says. "They were two very different personalities, and often that's one of the features of great sporting rivalries: Fire and ice."
Fernando Alonso, left, has now twice been beaten to the F1 championship by Sebastian Vettel -- who is widely rumored to be his teammate at Ferrari come 2014. "When you get two No. 1 drivers together with no team rules, then the sparks can really fly," Tu says. "It's rare for them to be good mates. They may get along, they may trust and respect each other in a professional capacity, but hanging out is a different issue."
Former world champion Jackie Stewart, seen here playing with the children of F1 rival Graham Hill, was remarkably friendly with his peers, Tu says. "He was incredibly fond of a number of people who drove with him. That partly is because there was a clearer distinction of him being a number one and them being number two drivers."
A new rivalry has grown in tennis this year between U.S. Open and Olympic champion Andy Murray, left, and childhood friend Novak Djokovic, the world No. 1. "People say that Murray and Djokovic are close but I think it's rare," Tu says. "The best sporting rivalries are the ones where there are these very distinct, almost opposite personalities, but they're very close in terms of their competence."
Rafael Nadal, left, ended the tennis dominance of Roger Federer but they have publicly expressed their friendship despite reports of arguments about on-tour issues. "As people get older they've done so much, broken lots of records, I think that competitive edge is slightly dulled," Tu says. "That makes it easier to be friendlier. You can keep your dignity if you're not crying every time you lose to a younger, faster athlete."
Martina Navratilova, left, and Chris Evert had one of the biggest rivalries in women's tennis. "They ended up as good buddies, but that was when the battling had been done," Tu says. "All of the respect and friendship you get in sport comes through competence first -- ' I know how hard it is to be this good, so I respect them for that.' "
Fiery American John McEnroe, left, and ice-cool Swede Bjorn Borg created an iconic tennis rivalry. "When those two collided, at the height of tennis perfection, that's when the audience is really enthused and enthralled," Tu says. "To get that rivalry, they have to leave any friendship on the sidelines."
Sometimes you get two great athletes, but they are too close to be proper rivals -- such as tennis star Serena Williams, left, and her sister Venus. "The great things about sport is the sense of competition, the uncertainty of the outcome, the fairness of the playing field," Tu says. "You might be able to suspend enough of your fraternal or sisterly love to play a decent game of tennis but it won't reach the heights of the rivalries that make the sport."
Muhammad Ali, left, "demonized" Joe Frazier to hype up their fights despite being showed respect outside the ring by his rival. "He came up with the gorilla term to create a spectacle, which he knew was important, but it revved himself up too," Tu says. "He needed to have a real enemy. By the end of the (Manila) fight, he said that Frazier brought out the best of him."
Then there's modern football's greatest rivalry -- Lionel Messi and Cristiano Ronaldo. "I'm not sure Messi is a rival with anyone, he still has that unique joy of just playing," Tu says. "But I think with Ronaldo, the truth is Messi is his nemesis -- and the fact that Messi doesn't care makes it even worse."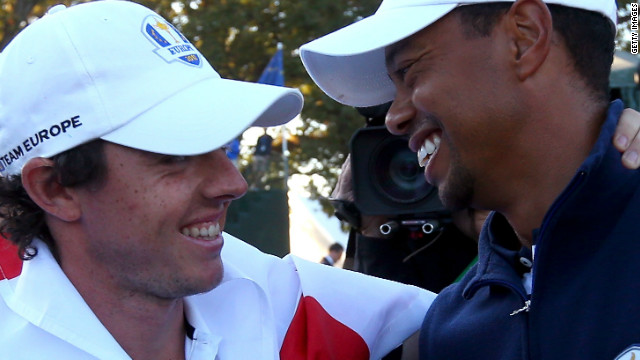 Great sporting rivalries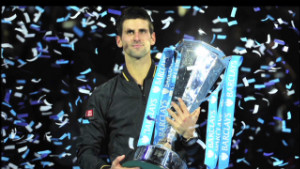 Djokovic finishes season on top
It is the second extended injury layoff of the 26-year-old's remarkable career. After similar problems in 2009 he returned with a vengeance, claiming five more grand slams for 11 in total, including the French Open title last year for a record seventh time
Federer is still going strong in his 32nd year, and during 2012 regained his No.1 spot in the rankings after winning his record 17th grand slam by claiming the Wimbledon title.
Djokovic beat the Swiss maestro in the final of the ATP World Tour Finals in London in November as he went back to the top of the global tree, also beating Murray in their round robin group match.
Federer then upset home favorite Murray in the semifinals, and former world No. 4 Greg Rusedski told CNN that his performances during last season had "defied logic" after appearing to be on the decline in 2011.
Murray, buoyed by his gold medal victory over Federer in the Olympic final and his later U.S. Open success, was expected to beat him again at the O2 Arena, but instead was swept aside in their last four clash.
The Scot had been set to again battle with his longtime friend Djokovic, with whom he had a series of classic matches in 2012.
The first came in the semifinals of the Australian Open, beaten in five sets by the Serbian, who then overcame Nadal in another marathon six-hour encounter -- the longest grand slam final in history.
It was similar fare at Flushing Meadows in September, where Murray turned the tables for his first triumph in the tennis majors, but having to go the full distance after Djokovic battled back from two sets down in the longest final in the tournament's history.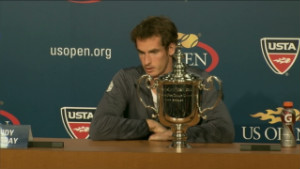 Britain's Andy Murray wins U.S. Open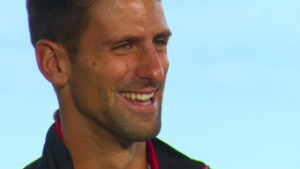 Novak Djokovic under the spotlight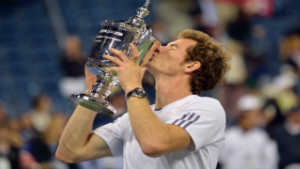 Andy Murray's summer of success
And there was yet more to come at the Shanghai Masters, where the pair contested another final where the standard of tennis was of the very highest order.
Djokovic survived five match points to conjure up another remarkable win, but for Becker it was the signal of a possible changing of the guard.
"It was an absolute classic," the German legend said.
"It used to be Federer versus Nadal, now it's Murray versus Djokovic and they are both only 25 years of age."
Murray told CNN that the reason for such close matches is their familiarity with each other's game.
"We can anticipate what each other is going to do," he said at the Mubadala World Tennis Championship in Abu Dhabi in late December.
The pair have been friends and arch-rivals since entering the junior circuits of the world at 11 years of age and Murray has seen his rival develop to become the best in the world.
Read: Can sports rivals really be friends?
"He has very few weaknesses, great ground strokes, serves well, his returns perhaps the best in the world, moves so well and he now has a lot of belief in himself," Murray said.
Even though it was at his expense, Djokovic was pleased for Murray when he finally snapped his grand slam duck at the U.S. Open because "many people had questioned his qualities."
"It was great to see that and hopefully our rivalry can develop over the next year," two-time Mubadala champion Djokovic said of Murray, who shares the same birth month -- May.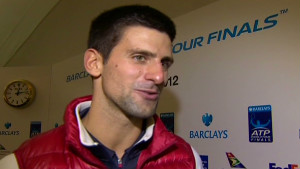 Djokovic beats Federer in ATP final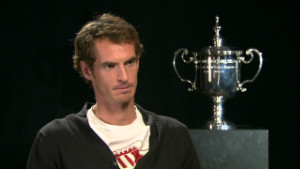 The Andy Murray you don't know
But others believe it would be dangerous to write off Federer and Nadal just yet.
Neil Harman, the tennis correspondent of The Times of London, said he was looking forward to normal service being resumed in 2013.
"It should never be underestimated what Federer has done for the game, and he shows no sign of going away," Harman told CNN. "And I'm looking forward to Nadal returning at his best ."
The rivalry of the big four and their near total dominance of the slams has helped fuel the incredible global interest in tennis despite the economic downturn, with increased prize money, commercial revenues and crowds.
Despite Nadal's absence, record attendances are predicted at the Melbourne Tennis Center over the next fortnight as Djokovic and Murray bid to live up to Becker's prediction and Federer does his level best to prove him wrong.