3 things we don't know about the flu
January 14, 2013 -- Updated 1124 GMT (1924 HKT)
STORY HIGHLIGHTS
Scientists can't predict when a flu season will begin or end
It's not known when flu cases will peak during any season
Scientists use estimates to determine which strains go in a seasonal vaccine
(CNN) -- Scientists and health officials are able to track flu outbreaks down to the county and determine much about an outbreak's severity and how the virus is spreading.
But there's still much that's unknown about influenza. Here are three things we still don't know about the flu:
When flu seasons begin and end. Seasonal flu activity can begin as early as October and continue to occur as late as May, according to the Centers for Disease Control and Prevention. The average flu season lasts for 12 consecutive weeks, or three months. The 2011-2012 flu season began late and was relatively mild, with cases remaining low through February.
In early December 2012, Dr. Thomas Frieden, CDC director, told reporters an increase in cases suggested flu season had begun. "This is the earliest regular flu season we've had in nearly a decade, since the 2003-2004 flu season," he said. However, every flu season is different.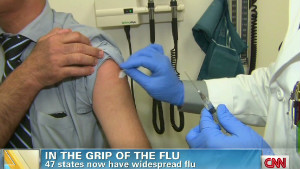 What makes flu outbreak an 'epidemic'?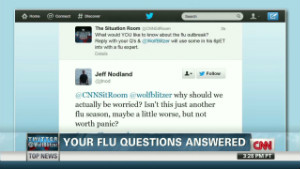 Your flu questions answered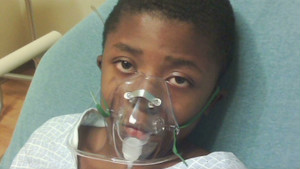 Saving your child's life from the flu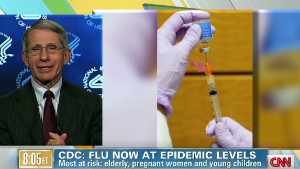 Worst flu season in a decade
Your top 10 flu questions answered
When flu cases peak. Generally, flu activity peaks in January or February, but there are variations. For instance, flu activity peaked twice during the 2009 H1N1 pandemic, once in the spring and again in the fall. The CDC considers the second peak, in October, to be the peak of the 2009-2010 flu season because the April peak occurred after the flu season had ended.
Frieden told reporters on Friday that officials won't know for a week or two if we are over the peak. While it does appear the peak may have hit some areas, such as the South, the flu will likely continue for the next few weeks and the virus is unpredictable.
What to do if you have the flu
What next year's flu strains will be. Seasonal vaccines protect against three influenza viruses that research indicates will be the most common in the upcoming season, according to the CDC. These include one influenza A virus and one influenza B virus. Based on international surveillance and scientists' estimations about which strains will circulate, the viruses in the vaccine can change each year.
Frieden said in December, "This year's strains look to be a great match with this year's vaccine."
The World Health organization recommends specific viruses be included in vaccines, but each country makes its own decision about which to include in vaccines in that nation. In the United States, the Food and Drug Administration determines which viruses will be used.
Within the next few years, vaccines will be available that have room for four strains, officials said Friday, but a four-strain vaccine is not available for the 2012-2013 season.
Had a flu shot? You'll be OK -- maybe

Today's five most popular stories
Part of complete coverage on
Cold & Flu Season
October 1, 2014 -- Updated 2133 GMT (0533 HKT)

A respiratory virus called Enterovirus D68 has sent hundreds of children to the hospital. CNN's Elizabeth Cohen explains.
October 7, 2014 -- Updated 1402 GMT (2202 HKT)

Parents are concerned about sending their children to school amid fears of enterovirus D68.
October 7, 2014 -- Updated 0228 GMT (1028 HKT)
Eli -- a sweet, active, blonde-haired preschooler -- had gone to sleep feeling fine.
September 30, 2014 -- Updated 1413 GMT (2213 HKT)

Health officials are looking for the cause of a neurologic illness that's affected children in Colorado.
September 23, 2014 -- Updated 2015 GMT (0415 HKT)

It sends children to the hospital -- where they often end up in the intensive care unit, struggling to breathe.
September 9, 2014 -- Updated 1933 GMT (0333 HKT)

This type of enterovirus is uncommon but not new. We've seen less than 100 cases in the United States since it was identified.
September 9, 2014 -- Updated 2050 GMT (0450 HKT)

What are the symptoms of Enterovirus D68? When should you take your child to the doctor?
September 5, 2013 -- Updated 1128 GMT (1928 HKT)

Many parents don't realize that the worst asthma day of the year actually occurs in September.
August 13, 2014 -- Updated 1441 GMT (2241 HKT)

As a first-grade teacher, Julie Miller is exposed to a horrifying number of germs on a daily basis.
January 11, 2013 -- Updated 1936 GMT (0336 HKT)

Flu vaccine myths can confuse people trying to decide whether to get a shot. Here are five common myths.
October 14, 2013 -- Updated 1153 GMT (1953 HKT)

Your joints ache, your head feels heavy, you can't stop coughing, you're freezing even as your temperature keeps climbing. What now?
January 9, 2013 -- Updated 2259 GMT (0659 HKT)

What do you need to know when it comes to flu germs? CNN's Lisa Sylvester reports.