Champagne glasses and buttons galore: Obama swag at Inaugural store
January 18, 2013 -- Updated 2151 GMT (0551 HKT)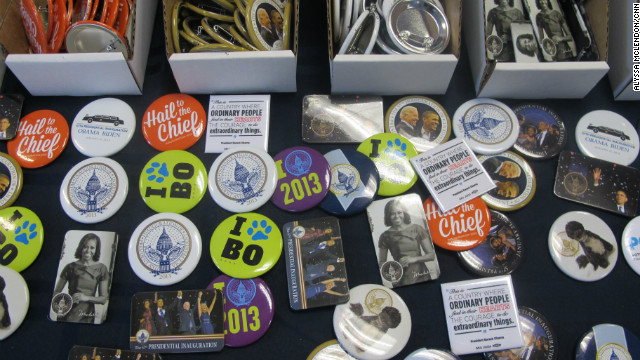 At two for $5, buttons are the most popular item at the store. "Everyone wants a button to have a piece of the day," Marketing Director Meaghan Burdick said.
Only 2,013 Chuck Close-designed Inauguration posters at $100 each are available at the official Obama Inaugural store.
Long-sleeved shirts, throw blankets and tube socks might be handy for outdoor events -- the high temperature on Inauguration Day in 2009 was 30 degrees.
Among some of the everyday items emblazoned with the Inaugural seal are a pencil set for $3, a travel travel mug for $15, and a ruler for $2.50.
Accessories include an Inaugural seal lapel pin for $15.
'A piece of the day'
Limited edition
Warm up
Everyday use
Pinning hopes on Obama
STORY HIGHLIGHTS
The official Inaugural store is in downtown D.C., a short walk from the National Mall
Memorabilia reflects theme of the 57th Presidential Inauguration: "Our People, Our Future"
Customers can snap up shirts, mugs, blankets, buttons and socks
Special-edition poster designed by photorealist Chuck Close goes for $100
Washington (CNN) -- If you are celebrating President Barack Obama's Inauguration this year, there's a button for that.
First dog Bo buttons, first lady Michelle buttons, Joe Biden buttons, "Hail to the Chief" buttons and, of course, Obama buttons litter the tables of the Presidential Inaugural Committee 2013 Official Store.
The retail outlet opened on Friday just blocks from the National Mall, where a throng is expected to gather on Jan. 21 for Obama's official swearing-in to a second term.
The store is appropriately decked out with a blue floor and stars and stripes on the walls for the 57th Inaugural.
Obama's smiling likeness beams through the glass storefront on a special-edition poster designed by photorealist Chuck Close.
A-listers sign up for inaugural celebrations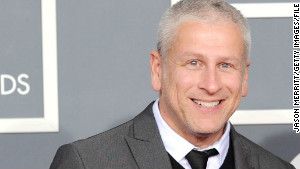 Pastor backs out of inauguration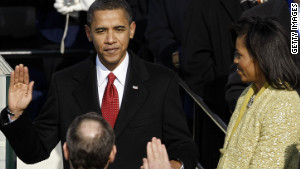 2008: Obama inauguration makes history
Close is a well-known supporter of the Obama campaign and last September he put up for sale 10 tapestries based on different images of the president. Asking price: $100,000 apiece. This time, the Close poster is limited to 2,013 prints and retails for $100.
Buttons are an Inaugural standby and they're always big sellers.
"Everyone wants a button to have a piece of the day," Marketing Merchandising Director Meaghan Burdick said at the store's sneak peek this week.
In 2009, the top five items sold were buttons. This year, they are two for $5 and can be bought on site or online.
Customers can also snap up t shirts, mugs and shopping bags of other memorabilia -- all said to be Made in America.
There are champagne glasses for toasts, and donkey shaped cookie cutters from the Democratic National Convention for politically themed snack preparation.
And if temperatures in Washington ever return to their usual January cold, there are throw blankets. Don't forget an extra pair of socks, too!
To really mark the ceremonial occasion: The official Inauguration medallion set goes for $7,500, but only online.
Beyoncé to perform for inauguration
Burdick said the Presidential Inaugural Committee tried to find creative ways to incorporate the theme of the Inauguration, "Our People, Our Future," into the merchandise.
Run by the committee, proceeds will help fund other events like the Inaugural parade and ball.

Today's five most popular stories
Part of complete coverage on
2013 Presidential Inauguration
January 22, 2013 -- Updated 1453 GMT (2253 HKT)

It was a seemingly wistful moment at the halfway mark of his presidency, before the celebratory parade and the evening's galas.
January 21, 2013 -- Updated 2350 GMT (0750 HKT)

CNN contributors and analysts offered these assessments of the 44th's president's inauguration.
January 21, 2013 -- Updated 2218 GMT (0618 HKT)

Here's a look at the inauguration from your perspective, submitted via iReport.
January 22, 2013 -- Updated 1034 GMT (1834 HKT)

As the nation celebrated the start of another term for President Obama, Republican congressional leaders had a muted, bipartisan response to his second inaugural address.
January 22, 2013 -- Updated 1623 GMT (0023 HKT)

The alternating red and blue yard signs are long gone, and people here have gone back to familiar rhythms of life.
January 22, 2013 -- Updated 1500 GMT (2300 HKT)

President Obama began his second term with a "keeping it real" moment courtesy of youngest daughter Sasha.
January 22, 2013 -- Updated 1456 GMT (2256 HKT)

What a difference four years makes. It's a tale of two terms, marked by battles to come and tasks not yet completed from 4 years ago.
January 22, 2013 -- Updated 1511 GMT (2311 HKT)

Richard Blanco grew up a Cuban immigrant and gay, and says it speaks to America's strengths that he was chosen to read a poem to the nation.
January 22, 2013 -- Updated 1449 GMT (2249 HKT)

President Barack Obama and first lady Michelle Obama spent the evening at more intimate affairs: 30,000 guests at two inaugural balls.

President Barack Obama said Monday in his inaugural speech that the nation must come together to meet the challenges of the day, saying: "We are made for this moment, and we will seize it - so long as we seize it together."
January 21, 2013 -- Updated 1707 GMT (0107 HKT)

Hear President Obama recite the oath of office at his second inauguration.
January 21, 2013 -- Updated 1703 GMT (0103 HKT)

Vice President Joe Biden takes his public oath of office for a second term.
January 22, 2013 -- Updated 1848 GMT (0248 HKT)

An American flag waves at the U.S. Capitol building on Sunday, January 20, as Washington prepares for President Barack Obama's second inauguration. CNN brings you the best images from Washington.
January 21, 2013 -- Updated 1743 GMT (0143 HKT)

Watch presidents from the last 100 years take the oath of office on inauguration day.