Dakar deaths stack up following fatal accident
January 11, 2013 -- Updated 1718 GMT (0118 HKT)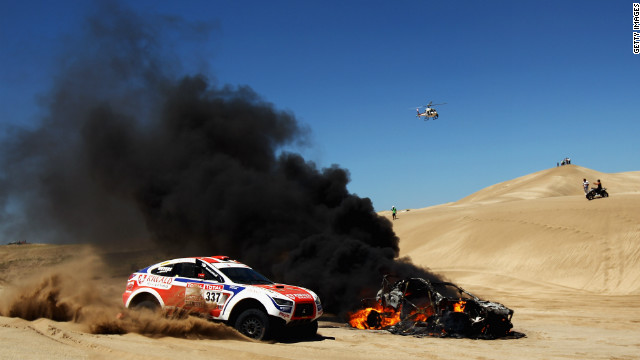 The Dakar rally, which moved from Africa to South America for security reasons in 2009, is notoriously dangerous and has claimed a number of lives in its history, both among competitors and spectators.
The race was the idea of Frenchman Thierry Sabine after he got lost on his motorbike in the desert during the Abidjan-Nice Rally back in 1977. "A challenge for those who go, a dream for those who stay behind," is how Sabine described the inaugural Dakar.
Sabine, French singer Daniel Balavoine, journalist Nathaly Odent, pilot François Xavier-Bagnoud and radio technician Jean-Paul Le Fur were killed in a helicopter accident during the Dakar in 1983. Sabine's ashes were scattered in the desert and his father Gilbert, aided by Patrick Verdoy, took over the race's running.
In 1982, the son of then British Prime Minister Maggie Thatcher was stranded in the desert while competing in the Paris-Dakar Rally. "Being without a radio, I couldn't listen to the World Service and so had no idea of all the drama this was causing back home," Mark Thatcher told the Guardian newspaper in 2004. "I later found out that half of Fleet Street was in Tamanrasset and that the other half was trying to fly down there."
During the 1989 Dakar, Peugeot was fighting for victory with Ari Vatanen (R) and Jacky Ickx both driving identical cars. The former boss of Peugeot Jean Todt, who is now FIA president, became so concerned both might crash he opted to implement team orders. Taking a 10-franc piece out of his pocket, Todt flipped the coin -- with Vatanen winning the toss. Vatanen is pictured with Auriol during 1987 race.
Former motorcycle winner of the Dakar Hubert Auriol became the first driver to win in both the bike and car categories in 1992. That year the race comprised 22 stages and passed through 10 countries -- running from the north to Africa's southernmost tip of Africa -- on its 12,427 kilometer route.
Jutta Kleinschmidt made her first appearance in the Dakar in 1988 in the bike category. Thirteen years later the German -- at the wheel of a Mitsubishi -- became the first woman to win the prestigious car competition.
During the 2005 Dakar, motorbike riders Jose Manual Pérez and Fabrizio Meoni died in consecutive days after separate crashes. That year motorcyclist Cyril Despres dedicated his victory to Meoni and Richard Sainct, who had died a few weeks earlier during the Pharaohs Rally.
Driving a Mitsubishi, the 1997 World Cup skiing champion Luc Alphand won the 2006 Dakar. However his win was overshadowed by the deaths of two young spectators and Australian motorcyclist Andy Caldecott, who died on stage nine.
The Dakar has been canceled just once -- in 2008. After four French tourists were murdered in Mauritania on December 24, 2007, organizers chose not to run the event due to "direct threats against the race issued by terrorist groups." Eight of the rally's 15 stages had been due to pass through Mauritania.
The cancellation of the 2008 Dakar prompted the the 31st edition of the race to be moved to South America. There were victories for Marc Coma in the bike category, Josef Machacek in the quad category, Giniel De Villiers in the car category and Firdaus Kabirov in the truck category.
Last year Stephane Peterhansel of France won an unprecedented 10th Dakar title by the car class for the fourth time. It was the six-time motorcycle champion's first victory since the race left Africa.
Dangerous drive
Founding father
Dakar's dark year
Diplomatic incident
Toss of a coin
Double winner
'Miss Dakar'
Bike deaths
World Cup skiing champion
Terrorism stalks Dakar
South America switch
Historic triumph
STORY HIGHLIGHTS
French motorbike rider Thomas Bourgin killed in crash with police car
The 25-year-old is the third person to die during this year's Dakar Rally
(CNN) -- The Dakar Rally was hit by yet another death as a French motorbike rider was killed following a collision with a Chilean police car.
Thomas Bourgin, 25, was on his way to start the seventh stage of the race when he was hit by the vehicle, which was traveling in the opposite direction.
Bourgin, from Saint Etienne, was found dead at the scene by medical officers.
Dakar Rally hit by deaths following road accident
Moto class:

The motorbikes are split into three separate groups: marathon (unmodified production bikes), super-production bikes and quads.

Car class:

Also split into three: T1 (improved cross-contry vehicles), T2 (cross-country series production vehicles) and Open (vehicles below 3,500 kg).

Truck class:

Often know as "camions" or lorries, it is made up of two categories: T4 (trucks that actually compete) and T5 (the support trucks that cover the route).
An inquiry has been launched into the incident which comes after the deaths of two people following a crash between a taxi and a team support vehicle in the town of Tacna, close to the Chilean border.
A statement on the race's website read: "Motorcycle rider no. 106 Thomas Bourgin (FRA) was the victim of a fatal traffic accident on the link route as he made his way to the start of the day's special stage.
"The accident took place at 08.23 hours local time on the link route on the way up to the Chilean side of the mountain range. The 25-year-old rider collided with a Chilean police car that was travelling in the opposite direction. The exact circumstances of the accident are being subjected to an inquiry.
"The rally's medical teams deployed on the ground were only able to certify the rider's death, probably instant.
"Thomas Bourgin, from Saint Etienne, where he was born on December 23rd 1987, was in 68th place in the overall ranking of his first Dakar. He had realised his passion since 2009 when he took part in the Morocco Rally, followed by a 4th place in the 2011 Africa Race and a 7th place finish in the Tunisia Rally.
"The organisers of the Dakar and everyone involved in it express their great sadness to his family and friends and offer their most sincere condolences."
Since the inaugural race in 1978, 26 competitors have now lost their lives, while more than 50 have died overall. Only 74 of the original 182 participants made it to Dakar in the first year.
Although the race used to be held in Europe with the climax in Senegal, Africa, it was moved to South America in 2009 following threats of terrorism.

Part of complete coverage on
March 15, 2014 -- Updated 0108 GMT (0908 HKT)

The big winners of this Formula One season could be road drivers rather than F1 racers, according to one former world champion.
March 14, 2014 -- Updated 1730 GMT (0130 HKT)

The Williams team welcomes the biggest rule changes to Formula One cars for a generation.
March 13, 2014 -- Updated 1916 GMT (0316 HKT)

Mercedes driver Lewis Hamilton sums up the dawn of a new Formula One era in three juicy words -- weird, mind-blowing and challenging.
March 12, 2014 -- Updated 1216 GMT (2016 HKT)

Formula One is taking another step in its techno evolution this season, which could be more unpredictable than it has been for a long time.
February 24, 2014 -- Updated 2255 GMT (0655 HKT)

Despite being a sport well into its seventh decade, only two women have ever driven in Formula 1 but Susie Wolff hopes to become the third.
February 24, 2014 -- Updated 1736 GMT (0136 HKT)

Jann Mardenborough on the similarities and differences between driving a race on a video game and driving a real F1 car.
February 22, 2014 -- Updated 1226 GMT (2026 HKT)

How Russian president Vladimir Putin helped turn a muddy hole in the ground into a $400 million futuristic grand prix track in Sochi.
February 21, 2014 -- Updated 0013 GMT (0813 HKT)

Vilified by the the international community for his government's attitude on gay rights, Russian president Vladimir Putin has found an ally.
January 22, 2014 -- Updated 1217 GMT (2017 HKT)

CNN's Rosie Tomkins speaks to Caterham F1 owner Tony Fernandes on the team's driver line-up for 2014.
March 13, 2014 -- Updated 1613 GMT (0013 HKT)

He is Formula One's undisputed No. 1, and next season Sebastian Vettel will have proof of that fact emblazoned on his Red Bull.
December 4, 2013 -- Updated 1633 GMT (0033 HKT)

A new era of F1 looms large on the horizon in 2014, but what do the new rules mean for how we watch the sport? Get up to speed here.
October 17, 2013 -- Updated 1056 GMT (1856 HKT)

Explore our interactive of one of F1's most important and complicated pieces of kit.

Today's five most popular stories