Weigh in: Are you getting the flu vaccine?
Join the conversation
CNN iReport
January 14, 2013 -- Updated 1530 GMT (2330 HKT)
STORY HIGHLIGHTS
The flu has been reported in 47 states
Although the spread of the flu has slowed down, widespread activity is still reported
Will you be getting vaccinated? Tell us about it.
(CNN) -- With the threat of the flu spreading across 47 states, every cough or sneeze within hearing range echoes like a warning shot and feels like a threat.
It's not uncommon to see people leave the room, try to shield their faces, wash their hands or even stay home to avoid catching the flu.
Although the CDC believes that the spread of the flu has slowed in some areas, numerous states are still reporting high levels of symptoms and activity.
Because flu season is so unpredictable, officials won't know for another week or two if the outbreak has peaked.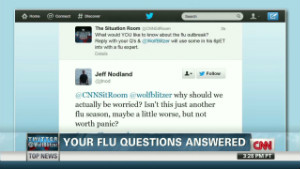 Your flu questions answered
Here on CNN.com, we've reported what to do if you have the flu, discussed the effectiveness of the vaccine, answered your top questions, addressed top flu vaccine myths and 3 things we still don't know about influenza, provided tips for avoiding the flu, offered ways to protect your children and how to protect others from your coughing or sneezing.
Did you get vaccinated? Tell us why, or why not, in the comments below.

Today's five most popular stories
Part of complete coverage on
Cold & Flu Season
October 1, 2014 -- Updated 2133 GMT (0533 HKT)

A respiratory virus called Enterovirus D68 has sent hundreds of children to the hospital. CNN's Elizabeth Cohen explains.
October 7, 2014 -- Updated 1402 GMT (2202 HKT)

Parents are concerned about sending their children to school amid fears of enterovirus D68.
October 7, 2014 -- Updated 0228 GMT (1028 HKT)
Eli -- a sweet, active, blonde-haired preschooler -- had gone to sleep feeling fine.
September 30, 2014 -- Updated 1413 GMT (2213 HKT)

Health officials are looking for the cause of a neurologic illness that's affected children in Colorado.
September 23, 2014 -- Updated 2015 GMT (0415 HKT)

It sends children to the hospital -- where they often end up in the intensive care unit, struggling to breathe.
September 9, 2014 -- Updated 1933 GMT (0333 HKT)

This type of enterovirus is uncommon but not new. We've seen less than 100 cases in the United States since it was identified.
September 9, 2014 -- Updated 2050 GMT (0450 HKT)

What are the symptoms of Enterovirus D68? When should you take your child to the doctor?
September 5, 2013 -- Updated 1128 GMT (1928 HKT)

Many parents don't realize that the worst asthma day of the year actually occurs in September.
August 13, 2014 -- Updated 1441 GMT (2241 HKT)

As a first-grade teacher, Julie Miller is exposed to a horrifying number of germs on a daily basis.
January 11, 2013 -- Updated 1936 GMT (0336 HKT)

Flu vaccine myths can confuse people trying to decide whether to get a shot. Here are five common myths.
October 14, 2013 -- Updated 1153 GMT (1953 HKT)

Your joints ache, your head feels heavy, you can't stop coughing, you're freezing even as your temperature keeps climbing. What now?
January 9, 2013 -- Updated 2259 GMT (0659 HKT)

What do you need to know when it comes to flu germs? CNN's Lisa Sylvester reports.