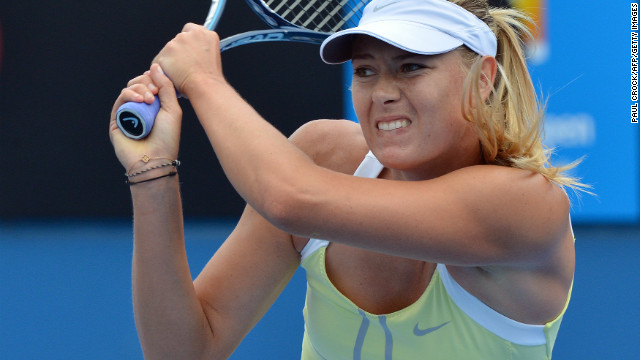 Maria Sharapova hits a return during an exhibition match in the lead-up to the Australian Open. Last year's runnerup decided to play against junior boys after having to pull out of the Brisbane tournament earlier in January.
Russia's world No. 2 blows a kiss during the launch of her new candy brand "Sugarpova" in Melbourne on January 11.
Brisbane title winner Serena Williams (L) watches a volley by Ana Ivanovic of Serbia (R) as they take part in a Kids Day exhibition match in Melbourne on January 12.
Australian Open champion and world No. 1 Victoria Azarenka of Belarus was also practicing ahead of the season's opening grand slam.
Bernard Tomic celebrates winning his first ATP Tour title, beating South Africa's Kevin Anderson in the final of the Sydney International on January 12.
Tomic's fellow Australian Lleyton Hewitt also went into his home grand slam in winning form after beating world No. 7 Juan Martin del Potro to claim the Kooyong Classic title in Melbourne.
Stars warm up for Australian Open
Stars warm up for Australian Open
Stars warm up for Australian Open
Stars warm up for Australian Open
Stars warm up for Australian Open
Stars warm up for Australian Open
STORY HIGHLIGHTS
Maria Sharapova says she is fit for the start of the Australian Open next week
World No. 2 trains against Australian boys after pulling out of Brisbane tournament
She will be one of the favorites in Melbourne with Serena Williams and Victoria Azarenka
Australian men's hopes Bernard Tomic and Lleyton Hewitt win warmup events
(CNN) -- Denied a proper buildup to the Australian Open for the second year in a row, Maria Sharapova has taken out her injury frustrations on some of the host country's most promising young male tennis players.
The planet's highest-paid female athlete will line up in Melbourne for the 10th time next week, confident she has overcome the neck problem that ruled her out of the Brisbane International earlier this month.
The world No. 2, who was hampered by an ankle injury before going on to lose last year's final, will play 105th-ranked fellow Russian Olga Puchkova in her opening match.
"I would have loved to come in with a few matches, but sometimes circumstances don't allow that," she told reporters on Saturday, having earlier presented the global launch of her new candy line "Sugarpova."
"To me I'd rather be going on to the court knowing that I'm healthy. Yes, I might be a little bit rusty, but I'll work my way through it. I'm experienced enough to know the adjustments I have to make in those types of circumstances. I went to Brisbane. I certainly would have loved to step on court and play those matches."
Read: Sharapova's sweet plan for success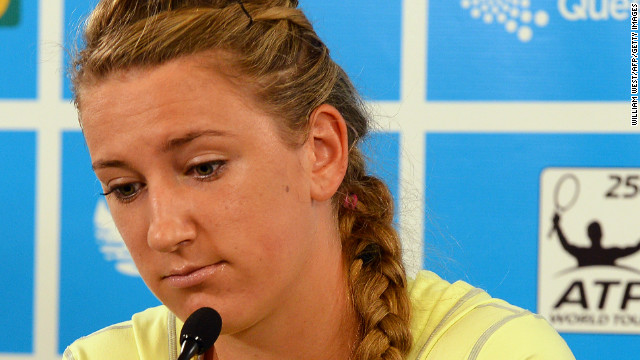 Victoria Azarenka explains her decision to pull out of the semifinals of the Brisbane International tournament, where she was due to face Serena Williams, due to a toe infection.
Williams, who beat the world No. 1 in the final of September's U.S. Open, hits balls into the crowd at Pat Rafter Arena after Azarenka announced her withdrawal.
The American will play Russia's world No. 36 Anastasia Pavlyuchenkova, who defeated 116th-ranked Ukrainian Lesia Tsurenko to reach her fifth WTA Tour final.
Men's No. 1 Novak Djokovic, left, and Serbian playing partner Ana Ivanovic won through to the final of the Hopman Cup teams event in Perth, where they will play Spain's Fernando Verdasco and Anabel Medina Garrigues.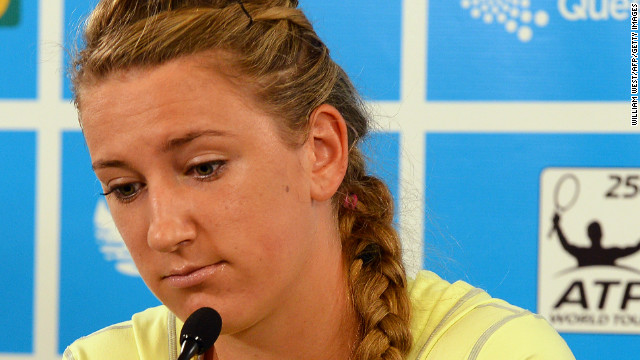 No. 1 Azarenka pulls out of Brisbane semifinal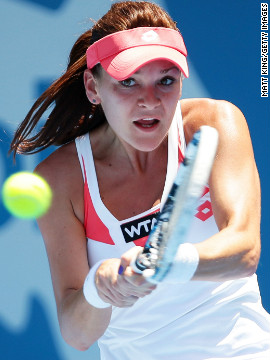 World no. 4 Agnieszka Radwanska claimed temperatures that reached 41.4 degrees in Sydney were "too hot for tennis" at the Apia International tournament. Australia is currently sweltering under its hottest skies for over 100 years.
Officials decided not to suspend play despite scorching heat. Here, world No. 10 Caroline Wozniacki makes use of a fan and an ice towel during a break in her match.
Qualifier Galina Voskoboeva buries her face in an ice towel during a break in her defeat to Germany's Angelique Kerber. The Russian had to take a medical time out after struggling with the heat.
Spaniard Tommy Robredo is used to high temperatures but even he needed to take unusual measures to cope in Sydney.
A young fan takes on water under the shade of their umbrella at Sydney Olympic Park.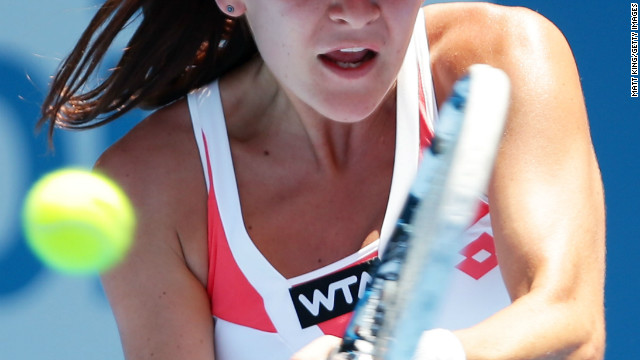 Tennis stars feel the heat in Sydney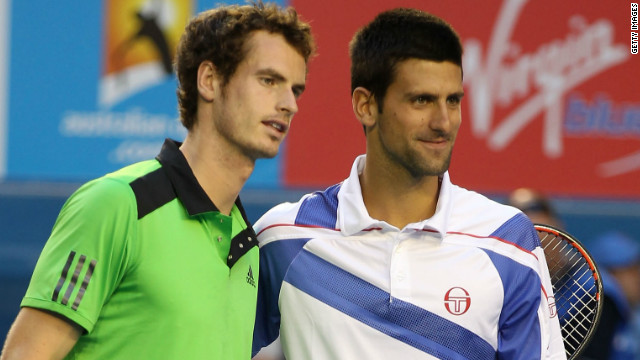 Andy Murray and Novak Djokovic have a growing rivalry at the top of men's tennis.
World No. 3 Murray warmed up for the 2013 Australian Open by winning January's Brisbane International for the second straight year.
Top-ranked Djokovic showed he is in fine form by earlier winning the big-money exhibition tournament in Abu Dhabi and then reaching the final of the Hopman Cup teams event with fellow Serbian Ana Ivanovic.
Djokovic's victory over Roger Federer in the final of the 2012 ATP World Tour Finals gave him the year-end No. 1 ranking for the second season in a row.
Murray beat Roger Federer in the gold medal match at the 2012 London Olympics in August to kickstart a superb run of form.
Murray followed up on his Olympic triumph by beating Djokovic to win his first grand slam title at September's U.S. Open.
Djokovic turned the tables on Murray in a superb Shanghai Masters final in October when he saved five match points before clinching an epic victory.
Federer showed his longevity by winning his 17th grand slam at Wimbledon in July 2012, beating Murray in the final
Djokovic bares his chest after completing his epic six-hour, five-set victory over Rafael Nadal to win the 2012 Australian Open title.
Former world No. 1 Nadal hasn't played since being knocked out in the second round of Wimbledon in July 2012, with his expected comeback this year from long-term knee problems being delayed by illness.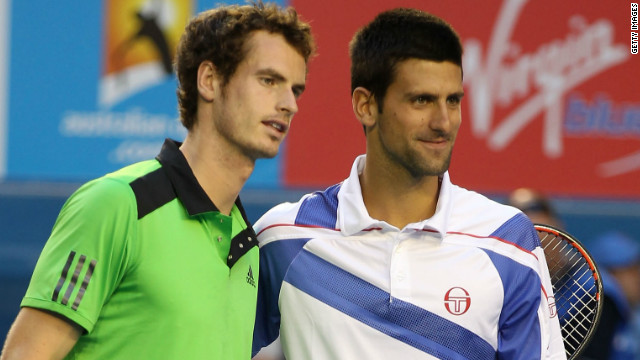 Can Djokovic and Murray dominate men's tennis?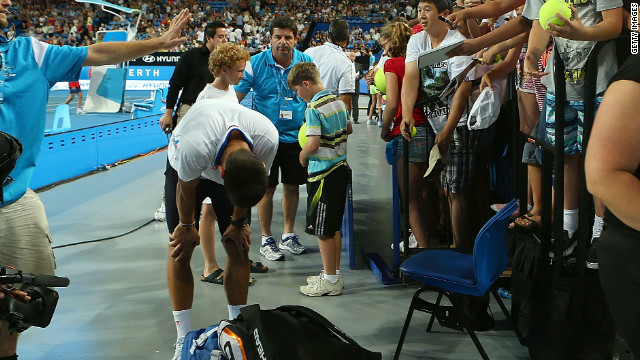 Novak Djokovic composes himself in the aftermath of an incident when a spectator barrier collapsed at the Hopman Cup.
Novak Djokovic goes down on his haunches after an spectator barrier collapsed as he was signing autographs.
Djokovic returned to play with Ana Ivanovic in a mixed doubles match for Serbia against Italy.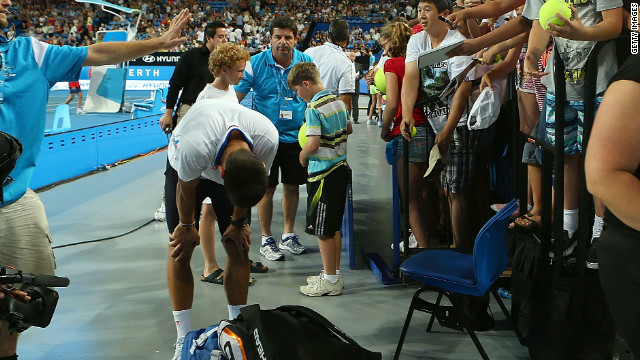 Djokovic hurt after crowd barrier collapses
Instead the 25-year-old, who won the season's opening grand slam in 2008, got into shape with matches against male opposition.
"I think one of them got a wildcard in the main draw," Sharapova said. "One of them was really on top and then I got really mad. I think he had eight set-points and I ended up winning the set.
"I'm not going to tell who it is -- too embarrassed. I don't think he slept well after that one.
"Another one, I think it was Luke Saville, we didn't actually finish. The set took too long."
Defending champion Victoria Azarenka and third-ranked Serena Williams will be among Sharapova's main opposition as she seeks to win her fifth grand slam title, having completed the set at last year's French Open.
Olympic champion Williams has won the last two grand slams, at Wimbledon and the U.S. Open, and beat Sharapova in the final of the season-ending WTA Championships in Turkey.
The American, who has won the Australian Open five times, downplayed suggestions that she could win all four grand slams this year and take her total to 19 -- which would put the 31-year-old equal third on the alltime list.
"That's an incredible goal. It hasn't been done since the '80s," said Williams, who will start against 106th-ranked Romanian Edina Gallovits-Hall in top form following her title in Brisbane.
"I don't know if I can do it. Maybe someone else can. We'll see."
Azarenka pulled out of her Brisbane semi against Williams after needing toe surgery to fix a botched pedicure, but she is hoping to build on the self-belief she gained from winning her maiden grand slam 12 months ago.
"It definitely helped to bring a lot of inner confidence in myself, knowing that I can do it," said the 23-year-old, who will play 54th-ranked Romanian Monica Niculescu.
"That feeling that I had was incredible. Since then, I want to feel it again. This is what motivates me even more every day. It's amazing, when you achieve your dream, your goal, how much more motivated you are after that."
Fourth-ranked Agnieszka Radwanska sent out a warning to the top three by thrashing Dominika Cibulkova 6-0 6-0 in Friday's final of the Sydney International.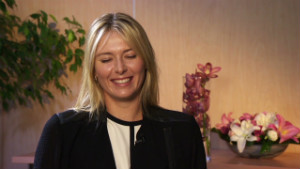 Tennis stars face quickfire challenge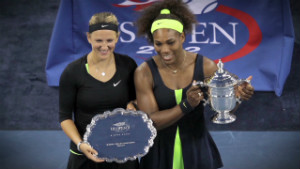 How do you beat Serena Williams?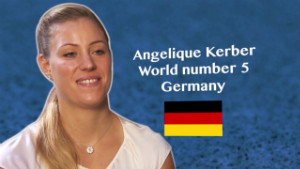 Women's tennis stars talk personal
It was the first "double bagel" in a WTA Tour final since 2006 as Cibulkova was unable to repeat the form that had eliminated top-10 players Petra Kvitova, Sara Errani and Angelique Kerber earlier in the tournament.
Radwanska is now unbeaten in nine matches in 2013, with the Pole having also won the event in Auckland, New Zealand last weekend -- her 11th WTA Tour title.
Meanwhile, Bernard Tomic boosted his hopes of a strong performance in his home grand slam by winning the men's title in Sydney -- his first on the ATP Tour.
The 20-year-old, who had a disappointing 2012 season, will return to the top 50 following Saturday's 6-3 6-7 (2-7) 6-3 victory over 36th-ranked South African Kevin Anderson.
He also beat world No. 1 Novak Djokovic as he won all three singles matches at the Hopman Cup mxed teams warmup event in Perth earlier this month.
"Now that I know what it feels like to win a tournament and it's the best feeling in the world," Tomic said.
"I'm looking forward to Melbourne. I feel unstoppable."
Veteran Australian Lleyton Hewitt is also in form ahead of Melbourne, having won the Kooyong Classic exhibition.
The former world No. 1 beat world No. 7 Juan Martin del Potro on Saturday, having earlier defeated sixth-ranked Tomas Berdych and No. 15 Milos Raonic.
Now back up to 82nd in the rankings after falling out of the top 200, the 2005 Australian Open runner-up will play ninth-ranked Janko Tipsarevic in his opening match.
"I'm extremely happy with how I'm hitting the ball at the moment, and a lot of the pressure's on him," Hewitt said of the Serbian, who has suffered wrist problems since winning the Chennai Open in India this month.