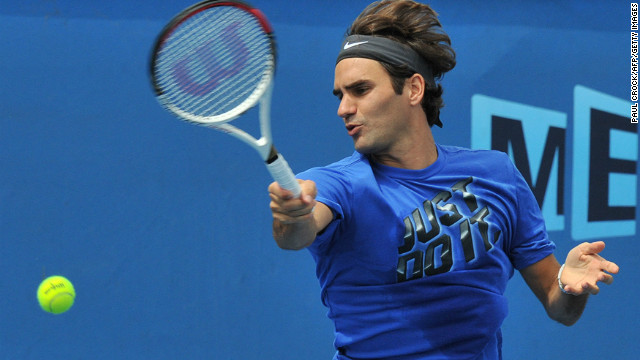 World No. 2 Roger Federer arrived early in Melbourne for January's Australian Open after deciding not to play in any warm-up events.
His wife Mirka, right, sits with their twins while the 17-time grand slam champion played in a Kids Day exhibition on January 12.
Federer, seeking a fifth Australian Open title, plays with cartoon character Sponge Bob at the children's event.
In December, Federer made a tour of South America, playing exhibition matches in Colombia, Brazil and Argentina.
The 31-year-old said he was touched by the appreciation he received from South American fans. Here supporters in Bogota wear masks with his picture.
Federer controls the ball during a soccer-tennis exhibition match with Argentinian Juan Martin Del Potro and former footballer Gabriel Batistuta (both out of picture) at the Bombonera stadium in Buenos Aires.
Federer wore a Brazilian national football team uniform during an exhibition match against German Tommy Haas in Sao Paulo on December 9.
Early bird
Kids stuff
Sponge Rog
Tip o' the hat
Tennis icon
Ball skills
Joga Bonito
STORY HIGHLIGHTS
World No. 2 Roger Federer seeking his fifth Australian Open title in Melbourne
Swiss star has taken a relaxed approach to his build-up to 2013's opening grand slam
He instead opted to play in exhibition tour of South America in December
Novak Djokovic seeking to become first to win three successive Australian Opens
(CNN) -- While much of the talk has been about Novak Djokovic and Andy Murray ahead of this week's Australian Open, Roger Federer has been happy to slide under the radar.
World No. 1 Djokovic won an exhibition in Abu Dhabi and reached the final of the Hopman Cup teams event in Perth despite a surprise defeat to young Australian Bernard Tomic, while third-ranked Murray impressively retained his Brisbane title.
By contrast, Federer, the most successful male player in tennis history, has been largely inactive. His last serious on-court action was an exhibition tour of South America in December.
"It's been very relaxing, the last one and a half months," the 17-time grand slam champion told reporters ahead of his bid for a fifth Melbourne crown.
Read: Sharapova takes on Australian boys
"I arrived really early -- two, three days earlier than in the past -- which has been quite nice.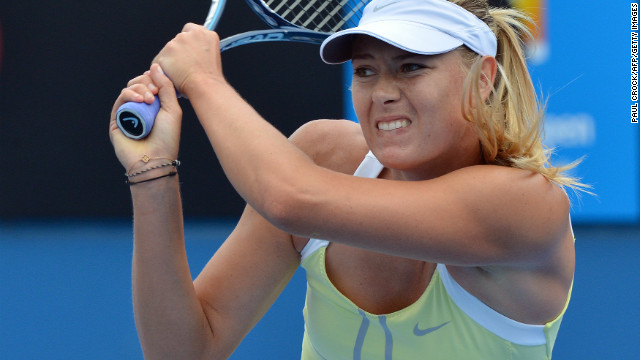 Maria Sharapova hits a return during an exhibition match in the lead-up to the Australian Open. Last year's runnerup decided to play against junior boys after having to pull out of the Brisbane tournament earlier in January.
Russia's world No. 2 blows a kiss during the launch of her new candy brand "Sugarpova" in Melbourne on January 11.
Brisbane title winner Serena Williams (L) watches a volley by Ana Ivanovic of Serbia (R) as they take part in a Kids Day exhibition match in Melbourne on January 12.
Australian Open champion and world No. 1 Victoria Azarenka of Belarus was also practicing ahead of the season's opening grand slam.
Bernard Tomic celebrates winning his first ATP Tour title, beating South Africa's Kevin Anderson in the final of the Sydney International on January 12.
Tomic's fellow Australian Lleyton Hewitt also went into his home grand slam in winning form after beating world No. 7 Juan Martin del Potro to claim the Kooyong Classic title in Melbourne.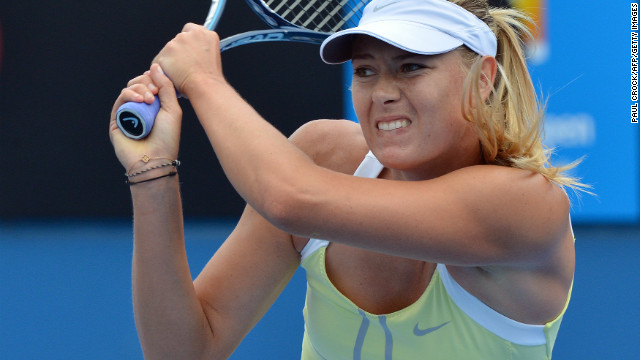 Stars warm up for Australian Open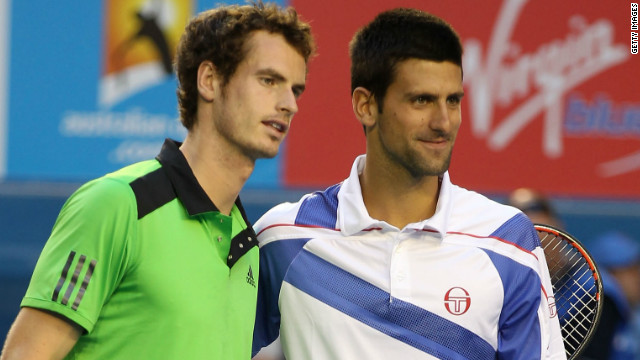 Andy Murray and Novak Djokovic have a growing rivalry at the top of men's tennis.
World No. 3 Murray warmed up for the 2013 Australian Open by winning January's Brisbane International for the second straight year.
Top-ranked Djokovic showed he is in fine form by earlier winning the big-money exhibition tournament in Abu Dhabi and then reaching the final of the Hopman Cup teams event with fellow Serbian Ana Ivanovic.
Djokovic's victory over Roger Federer in the final of the 2012 ATP World Tour Finals gave him the year-end No. 1 ranking for the second season in a row.
Murray beat Roger Federer in the gold medal match at the 2012 London Olympics in August to kickstart a superb run of form.
Murray followed up on his Olympic triumph by beating Djokovic to win his first grand slam title at September's U.S. Open.
Djokovic turned the tables on Murray in a superb Shanghai Masters final in October when he saved five match points before clinching an epic victory.
Federer showed his longevity by winning his 17th grand slam at Wimbledon in July 2012, beating Murray in the final
Djokovic bares his chest after completing his epic six-hour, five-set victory over Rafael Nadal to win the 2012 Australian Open title.
Former world No. 1 Nadal hasn't played since being knocked out in the second round of Wimbledon in July 2012, with his expected comeback this year from long-term knee problems being delayed by illness.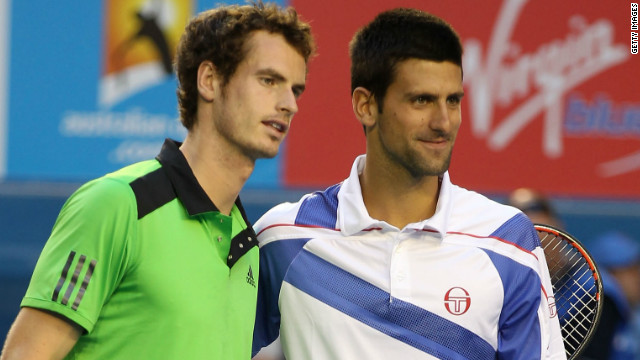 Can Djokovic and Murray dominate men's tennis?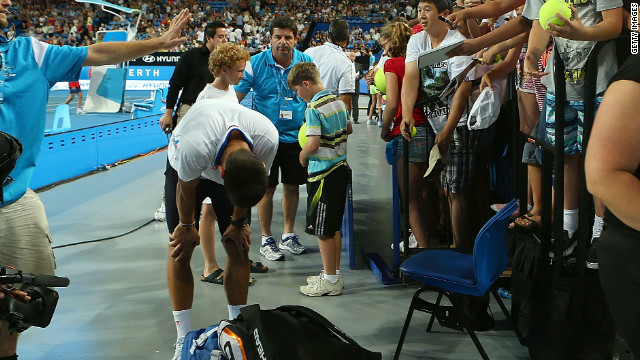 Novak Djokovic composes himself in the aftermath of an incident when a spectator barrier collapsed at the Hopman Cup.
Novak Djokovic goes down on his haunches after an spectator barrier collapsed as he was signing autographs.
Djokovic returned to play with Ana Ivanovic in a mixed doubles match for Serbia against Italy.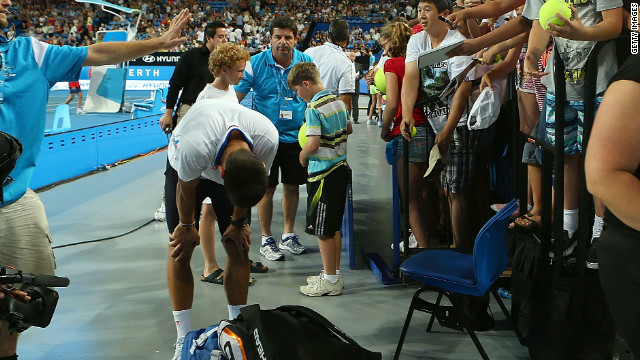 Djokovic hurt after crowd barrier collapses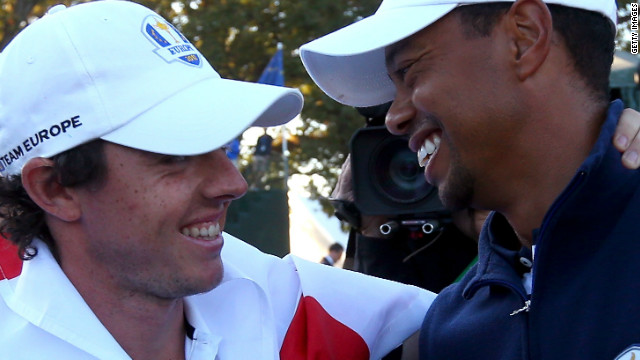 Tiger Woods, right, congratulates Rory McIlroy after Europe's remarkable victory over the U.S. on the final day of the 2012 Ryder Cup in September. The two are big rivals on the golf course, but a friendship has also blossomed this year.
Golf great Nick Faldo has questioned whether they should be so close. Sports psychologist Dan Abrahams says they would benefit from keeping a bit of distance. "In the heat of battle it becomes more difficult to emotionally detach yourself from that person's performance if you're good friends with that person," he told CNN.
McIlroy has admitted idolizing Woods as a boy, but has now usurped him as golf's No. 1. "Once they step on the first tee, those competitive juices are flowing and they're focused either on their own game or beating each other," Abrahams said.
They are following in golf's great tradition of rivalries -- most notably Jack Nicklaus, left, and Arnold Palmer. "The power of the mind and the capability of that mental discipline is what separates the good from the great," sports leadership expert Khoi Tu told CNN. "That might allow them to become friends with people off the course, but not on the course."
Formula One's greatest rivalry was between Alain Prost and Ayrton Senna. "They absolutely detested each other," Tu says. "They were two very different personalities, and often that's one of the features of great sporting rivalries: Fire and ice."
Fernando Alonso, left, has now twice been beaten to the F1 championship by Sebastian Vettel -- who is widely rumored to be his teammate at Ferrari come 2014. "When you get two No. 1 drivers together with no team rules, then the sparks can really fly," Tu says. "It's rare for them to be good mates. They may get along, they may trust and respect each other in a professional capacity, but hanging out is a different issue."
Former world champion Jackie Stewart, seen here playing with the children of F1 rival Graham Hill, was remarkably friendly with his peers, Tu says. "He was incredibly fond of a number of people who drove with him. That partly is because there was a clearer distinction of him being a number one and them being number two drivers."
A new rivalry has grown in tennis this year between U.S. Open and Olympic champion Andy Murray, left, and childhood friend Novak Djokovic, the world No. 1. "People say that Murray and Djokovic are close but I think it's rare," Tu says. "The best sporting rivalries are the ones where there are these very distinct, almost opposite personalities, but they're very close in terms of their competence."
Rafael Nadal, left, ended the tennis dominance of Roger Federer but they have publicly expressed their friendship despite reports of arguments about on-tour issues. "As people get older they've done so much, broken lots of records, I think that competitive edge is slightly dulled," Tu says. "That makes it easier to be friendlier. You can keep your dignity if you're not crying every time you lose to a younger, faster athlete."
Martina Navratilova, left, and Chris Evert had one of the biggest rivalries in women's tennis. "They ended up as good buddies, but that was when the battling had been done," Tu says. "All of the respect and friendship you get in sport comes through competence first -- ' I know how hard it is to be this good, so I respect them for that.' "
Fiery American John McEnroe, left, and ice-cool Swede Bjorn Borg created an iconic tennis rivalry. "When those two collided, at the height of tennis perfection, that's when the audience is really enthused and enthralled," Tu says. "To get that rivalry, they have to leave any friendship on the sidelines."
Sometimes you get two great athletes, but they are too close to be proper rivals -- such as tennis star Serena Williams, left, and her sister Venus. "The great things about sport is the sense of competition, the uncertainty of the outcome, the fairness of the playing field," Tu says. "You might be able to suspend enough of your fraternal or sisterly love to play a decent game of tennis but it won't reach the heights of the rivalries that make the sport."
Muhammad Ali, left, "demonized" Joe Frazier to hype up their fights despite being showed respect outside the ring by his rival. "He came up with the gorilla term to create a spectacle, which he knew was important, but it revved himself up too," Tu says. "He needed to have a real enemy. By the end of the (Manila) fight, he said that Frazier brought out the best of him."
Then there's modern football's greatest rivalry -- Lionel Messi and Cristiano Ronaldo. "I'm not sure Messi is a rival with anyone, he still has that unique joy of just playing," Tu says. "But I think with Ronaldo, the truth is Messi is his nemesis -- and the fact that Messi doesn't care makes it even worse."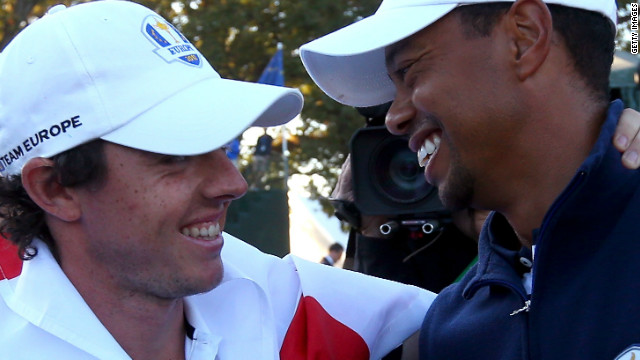 Great sporting rivalries
"I purposely didn't play a lead-up tournament so that I'd be fresh for the beginning, hopefully going deep into the tournament. That's the goal, obviously."
The 31-year-old last won the season's opening grand slam in 2010, and was beaten in the quarterfinals 12 months ago before going on to win Wimbledon for a record-equaling seventh time and surpassing Pete Sampras' milestone of total weeks at the top of the rankings.
"I'm ready to go and eager. That, to me, right now dominates," the Swiss star said. "I think as long as that's the case, that means I love it very much.
"Today I take much more pleasure out of doing the gym work than I ever have. Today things for me make sense. I know why I'm doing them. I know they're necessary."
Read: Will 'big four' become two?
Having surrendered the No. 1 ranking to Djokovic at the end of last season, Federer was revived by his trip to Brazil, Argentina and Colombia -- largely untapped markets for tennis.
"It was one of the most fascinating trips of my life," Federer said. "I was deeply impressed by the atmosphere, by the love for the game, for the appreciation they showed for me showing up."
He will start his 53rd grand slam tournament against 46th-ranked Frenchman Benoit Paire, and as second seed he cannot meet two-time defending champion Djokovic until the final.
"I know I won't win all the tournaments I enter," Federer said.
"But it's important that I enjoy it and I try as hard as I can and put myself deep in the tournaments like I did last year. I play to win every match right now."
Djokovic is one of nine players who have won successive Australian Open titles, and the Serbian is seeking to be the first to make it three in a row.
Read: Djokovic and Murray kept apart
"I like playing here because it's after probably five, six, seven weeks of break with no official tournament," he said at his pre-tournament conference.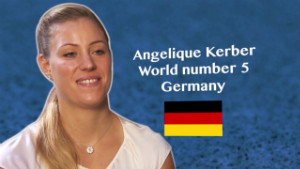 Women's tennis top stars talk personal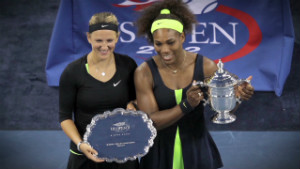 How do you beat Serena Williams?
"So you get time to recover, regroup, recharge your batteries mentally, physically, try to get ready for the new season with four, five weeks of good practice. You come here fresh. You're motivated and inspired to play some good tennis."
The 25-year-old will also start against a Frenchman, playing Paul-Henri Mathieu on Monday, and his run to the final could see him face Federer's 15th-seeded compatriot Stanislas Wawrinka in round four, then Czech No. 5 Tomas Berdych and Spanish No. 4 David Ferrer.
Two-time finalist Murray, who beat Djokovic in the U.S. Open final to win his first grand slam, is in Federer's half of the draw while 2012 Melbourne runner-up Rafael Nadal is not yet ready to make his comeback.
"It is definitely a loss for the tournament, for tennis, for sport in general not to have Rafa playing still on the court. It's been, what, seven months since he's played his last official match," Djokovic said.
"I'm sure if he felt he was ready enough to play this tournament, best-of-five in the Australian summer that can be brutal and difficult to play, then he would come. He probably felt he needs more time to recover. I wish him a speedy recovery."