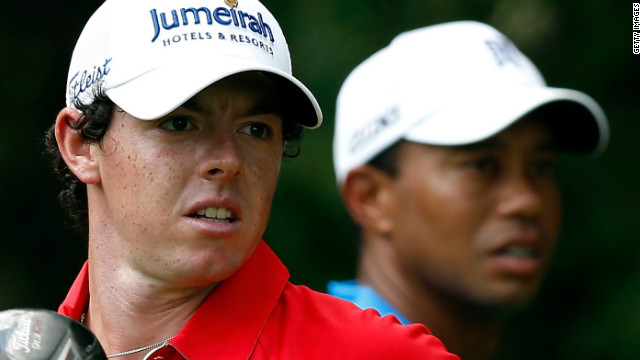 Sports giant Nike now has the two biggest names in golf on their books after Rory McIlroy (L) joined Tiger Woods at their stable.
McIlroy, currently ranked the No. 1 player in the world, has signed a multi-year contract reputed to be worth in excess of $200 million with Nike. The deal catapults the 23-year-old into the top bracket of sporting earners, a stratosphere Tiger knows all about.
Woods signed a deal reportedly worth $40 million with Nike when he turned pro in 1996 and the firm built their golf business around him in the coming years. When he renegotiated in 2000, a five-year deal was said to have earned him $100m. But of late, his star has waned.
Tiger's last major title -- his 14th in total -- came at the 2008 U.S. Open. The following year news of his extra marital affairs broke and he took a break from the game. Nike stood by him, chairman Phil Knight calling it a "minor blip" but the 37-year-old has struggled to recapture his best form since.
Conversely, McIlroy's star is on the rise. After grabbing his first major at the 2011 U.S. Open he took his second at the U.S. PGA Championship last year. He finished top of the money lists on both the PGA and European Tours, matching Luke Donald's feat from the 2011 season.
Despite being rivals on the course Woods and McIlroy's relationship off it has strengthened in recent years. They have been paired together numerous times at tournaments around the world, much to the delight of sponsors, marketers and spectators.
The pair are continually in demand and played an exhibition match in China, dubbed the "Duel at Jinsha Lake", for which they were reportedly paid $2 million. Both players clearly enjoyed each other's company.
Even at the Ryder Cup, after Europe had completed one of the most dramatic comebacks in the competition's history to retain the trophy and stun the U.S. team, a triumphant McIlroy and despondent Woods managed to share a joke.
Stable mates
Mac attack
Company man
Major heartache
Talk of the town
In sync
Double act
Ryder Cup rivals
STORY HIGHLIGHTS
World No. 1 Rory McIlroy and Nike announce bumper sponsorship deal in Abu Dhabi
McIlroy reported to be earning around $200 million over the course of his multi-year deal
Nike now have arguably the two biggest names in golf on their books, McIlroy and Tiger Woods
Editor's note: CNN's original story incorrectly referred to Rory McIlroy's late father. CNN would like to apologize for for the inaccuracy that has now been rectified.
(CNN) -- World No.1 Rory McIlroy has ended months of speculation by confirming a sponsorship deal with Nike that could net him between $200-250 million according to media reports.
The two-time major winner from Northern Ireland joins Tiger Woods at the sports giant, who now have arguably the two biggest names in golf on their books.
At a press conference in Abu Dhabi, where McIlroy will this week play in the HSBC Golf Championship, Nike confirmed their new "multi-year" arrangement with golf's rising superstar but refused to reveal any extra details.
McIlroy told gathered reporters: "I've always associated Nike with the best. I play for titles I don't play for money."
McIlroy is out on his own at the top of the world rankings and the 23-year-old has shown he is capable of emulating Woods' haul of 14 majors.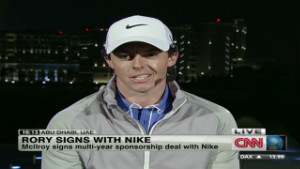 Golfer Rory McIlroy signs with Nike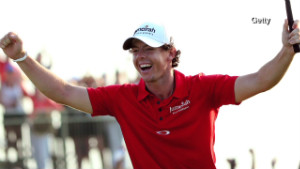 2012: A game changer for McIlroy?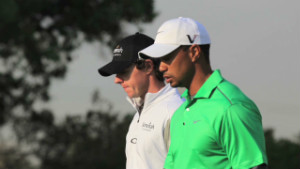 Exclusive: Tiger and Rory's 'bromance'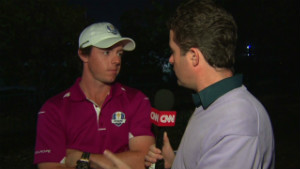 McIlroy discusses his Ryder Cup match
It is a major coup for Nike after they recently dropped cyclist Lance Armstrong, who has been stripped of his seven Tour de France titles for doping offenses.
McIlroy was introduced as a Nike staff player by Cindy Davis, president of Nike Golf, who said the deal signified a "significant moment for our brand and our golf business, and for the career of an extraordinary young athlete."
Read: McIlroy is Tiger's heir apparent
At a stroke, the deal transforms McIlroy into one of the hottest commercial properties in sport.
According to the Forbes list of 2012, McIlroy's deal with Nike will make him the highest paid young sports star in the world, taking him well above the $17.4 million he earned in the year up to July 2012.
Yet he still has some way to go to catch Woods, who raked in total earnings of $59.4 million in the same time period.
Nonetheless, both trail behind the world's top two highest grossing sports stars, boxers Floyd Mayweather Jnr and Manny Pacquiao, who earned $85m and $62m respectively according to Forbes.
Last year, McIlroy won his second major -- adding the PGA Championship to the U.S. Open title he won the year before -- while also becoming world No. 1 for the first time.
"Last year was a big year," he told the audience in Abu Dhabi. "This year, I think I can go to a new level. I'm practicing as hard as ever, with the best company behind me, and hopefully I can win more majors."
"Growing up I always thought all the best athletes in most sports were Nike players and I'm looking forward to joining the Nike family," he added.
McIlroy started testing his new clubs at the Nike factory in Texas late last year and says the transition from his former Titleist equipment has been seamless.
"I was blown away by the research and development that went in, and I'm really excited about the equipment. I'm really confident in the equipment and excited to put it in play this week."
Born in the town of Holywood in 1989, McIlroy was initially taught golf by his father before turning professional in 2007.
Despite his tender age, he believes he has raised his game to a level whereby he would now consider a year without a major triumph as a major failure.
"I guess if I go this year without a major, it will be a bad year," he said. "If I get to the end of 2013 and I haven't won a major, I would be disappointed."
The latest addition to the Nike stable was welcomed in a pre-recorded video by three of the highest-profile sportsmen in the world: England and Manchester United footballer Wayne Rooney, Swiss tennis player Roger Federer and Woods himself.