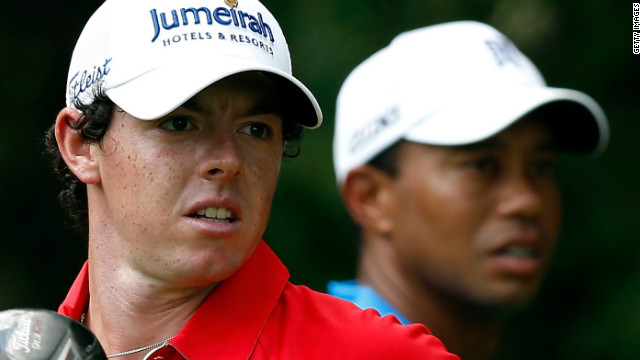 Sports giant Nike now has the two biggest names in golf on their books after Rory McIlroy (L) joined Tiger Woods at their stable.
McIlroy, currently ranked the No. 1 player in the world, has signed a multi-year contract reputed to be worth in excess of $200 million with Nike. The deal catapults the 23-year-old into the top bracket of sporting earners, a stratosphere Tiger knows all about.
Woods signed a deal reportedly worth $40 million with Nike when he turned pro in 1996 and the firm built their golf business around him in the coming years. When he renegotiated in 2000, a five-year deal was said to have earned him $100m. But of late, his star has waned.
Tiger's last major title -- his 14th in total -- came at the 2008 U.S. Open. The following year news of his extra marital affairs broke and he took a break from the game. Nike stood by him, chairman Phil Knight calling it a "minor blip" but the 37-year-old has struggled to recapture his best form since.
Conversely, McIlroy's star is on the rise. After grabbing his first major at the 2011 U.S. Open he took his second at the U.S. PGA Championship last year. He finished top of the money lists on both the PGA and European Tours, matching Luke Donald's feat from the 2011 season.
Despite being rivals on the course Woods and McIlroy's relationship off it has strengthened in recent years. They have been paired together numerous times at tournaments around the world, much to the delight of sponsors, marketers and spectators.
The pair are continually in demand and played an exhibition match in China, dubbed the "Duel at Jinsha Lake", for which they were reportedly paid $2 million. Both players clearly enjoyed each other's company.
Even at the Ryder Cup, after Europe had completed one of the most dramatic comebacks in the competition's history to retain the trophy and stun the U.S. team, a triumphant McIlroy and despondent Woods managed to share a joke.
Stable mates
Mac attack
Company man
Major heartache
Talk of the town
In sync
Double act
Ryder Cup rivals
STORY HIGHLIGHTS
Nike announces multi-year sponsorship deal with golf's world No. 1 Rory McIlroy
Sports firm see McIlroy as heir apparent to Tiger Woods according to experts
Nike to reap the rewards of two of golf's top names competing against each other
Bumper deal catapults McIlroy into one of sports' biggest earners
(CNN) -- He is the heir apparent to Tiger Woods, on the course and off it. By the end of Monday, Rory McIlroy's bank balance will take a step closer to matching that of the most marketable star the sport has ever seen.
A bumper multi-year deal with Nike, reported by various media outlets to be worth over $200 million, will propel the Northern Irishman into a stratosphere inhabited only by the richest men and women in sport.
Though McIlroy may only have two major championships to his name compared to Woods' 14, at 23 he has time on his side as he strives to eclipse the achievements of his new stable mate.
And while Woods hasn't been able to recapture the form he showed prior to news of his extra-marital affairs breaking, Nike's courting of McIlroy is an attempt to pin down a star of the present and future who comes with less baggage, according to a sports business expert.
Read: McIlroy teams up with Tiger at Nike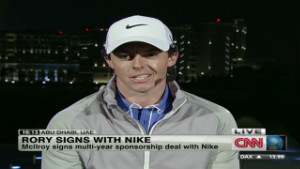 Golfer Rory McIlroy signs with Nike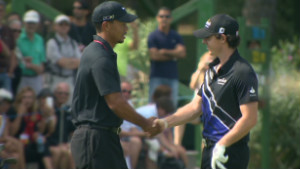 Tiger and Rory's $1.4M battle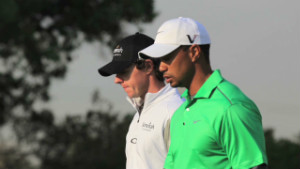 Exclusive: Tiger and Rory's 'bromance'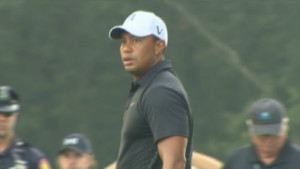 Is Woods intimidated by McIlroy?
"Nike is in a difficult position," Simon Chadwick, professor of Sport Business Strategy and Marketing at Coventry University told CNN, "because their number one golf property historically has fallen on hard times, relatively speaking.
"When Tiger Woods crashed his car into a fire hydrant in 2009, Phil Knight of Nike described it as a minor blip. Commercially that's quite interesting because I think they genuinely believed there was still some sustainability and financial value in the Woods brand heading into the future. But that just hasn't transpired.
"Tiger hasn't won a major since then and his public reputation hasn't recovered to where it was. That's a problem for Nike because what you've got to keep in mind is that Nike essentially built their whole golf business on the back of Woods and for a long time the vast majority of their commercial activity and their marketing was based around him. And it was very successful.
"They used not to have a significant golf business but now they do. The problem is that to a large extent, they've been left high and dry. They now have a global golf business without a credible brand spokesperson.
"So essentially what they've been looking for is an heir apparent, somebody with the same competitive characteristics as Woods but without the baggage, as well as somebody who can conceivably carry the brand into the future. That's why I think the length of the deal is absolutely crucial.
"It seems to me that what they're attempting to do is to build a sustainable business on the back of McIlroy over the next 10 years, just as they did with Woods over the first 13 years of their time together."
What (Nike) have been looking for is an heir apparent, somebody with the same competitive characteristics as Woods but without the baggage
Simon Chadwick, sports business expert
At a stroke, the deal transforms McIlroy into one of the hottest commercial properties in sport.
According to the Forbes list of 2012, McIlroy's deal with Nike will make him highest paid young sports star in the world, taking him well above the $17.4 million he earned in the year up to July 2012.
But he still has some way to go to catch Woods, who raked in total earnings of $59.4 million in the same time period. Both trail behind the world's top two highest grossing sports stars, boxers Floyd Mayweather Jr. and Manny Pacquiao, who earned $85 million and $62 million respectively.
While Nike's outlay on Woods and McIlroy is significant, it will seem like money well spent should their twin titans end up battling it out going down the stretch at many a major tournament in the years to come.
But with both of golf's biggest stars now operating under the same umbrella, even if they don't end up slugging it out for honors on the course, the prospect of both players being available for marketing opportunities is a big draw for Nike, according to Tony Martin, a sport, event and project management consultant at Qatar Atlantic College in Doha.
Boulden: Which Nike star will Rory mirror?
"In many respects this is a coup for Nike as they now have some leverage on the two of the most marketable figures in the world of sport," he told CNN. "Golf fans everywhere are longing for the head to head battles between these two, given their considerable differences in age, style and personalities.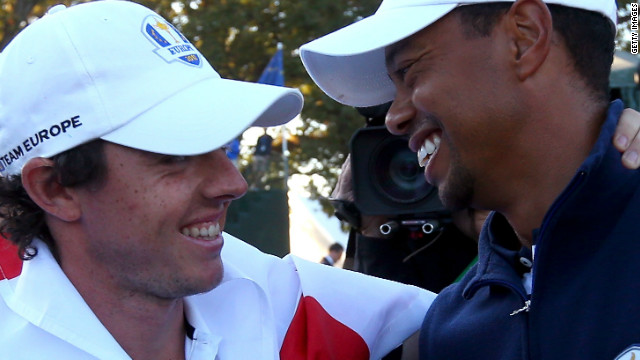 Tiger Woods, right, congratulates Rory McIlroy after Europe's remarkable victory over the U.S. on the final day of the 2012 Ryder Cup in September. The two are big rivals on the golf course, but a friendship has also blossomed this year.
Golf great Nick Faldo has questioned whether they should be so close. Sports psychologist Dan Abrahams says they would benefit from keeping a bit of distance. "In the heat of battle it becomes more difficult to emotionally detach yourself from that person's performance if you're good friends with that person," he told CNN.
McIlroy has admitted idolizing Woods as a boy, but has now usurped him as golf's No. 1. "Once they step on the first tee, those competitive juices are flowing and they're focused either on their own game or beating each other," Abrahams said.
They are following in golf's great tradition of rivalries -- most notably Jack Nicklaus, left, and Arnold Palmer. "The power of the mind and the capability of that mental discipline is what separates the good from the great," sports leadership expert Khoi Tu told CNN. "That might allow them to become friends with people off the course, but not on the course."
Formula One's greatest rivalry was between Alain Prost and Ayrton Senna. "They absolutely detested each other," Tu says. "They were two very different personalities, and often that's one of the features of great sporting rivalries: Fire and ice."
Fernando Alonso, left, has now twice been beaten to the F1 championship by Sebastian Vettel -- who is widely rumored to be his teammate at Ferrari come 2014. "When you get two No. 1 drivers together with no team rules, then the sparks can really fly," Tu says. "It's rare for them to be good mates. They may get along, they may trust and respect each other in a professional capacity, but hanging out is a different issue."
Former world champion Jackie Stewart, seen here playing with the children of F1 rival Graham Hill, was remarkably friendly with his peers, Tu says. "He was incredibly fond of a number of people who drove with him. That partly is because there was a clearer distinction of him being a number one and them being number two drivers."
A new rivalry has grown in tennis this year between U.S. Open and Olympic champion Andy Murray, left, and childhood friend Novak Djokovic, the world No. 1. "People say that Murray and Djokovic are close but I think it's rare," Tu says. "The best sporting rivalries are the ones where there are these very distinct, almost opposite personalities, but they're very close in terms of their competence."
Rafael Nadal, left, ended the tennis dominance of Roger Federer but they have publicly expressed their friendship despite reports of arguments about on-tour issues. "As people get older they've done so much, broken lots of records, I think that competitive edge is slightly dulled," Tu says. "That makes it easier to be friendlier. You can keep your dignity if you're not crying every time you lose to a younger, faster athlete."
Martina Navratilova, left, and Chris Evert had one of the biggest rivalries in women's tennis. "They ended up as good buddies, but that was when the battling had been done," Tu says. "All of the respect and friendship you get in sport comes through competence first -- ' I know how hard it is to be this good, so I respect them for that.' "
Fiery American John McEnroe, left, and ice-cool Swede Bjorn Borg created an iconic tennis rivalry. "When those two collided, at the height of tennis perfection, that's when the audience is really enthused and enthralled," Tu says. "To get that rivalry, they have to leave any friendship on the sidelines."
Sometimes you get two great athletes, but they are too close to be proper rivals -- such as tennis star Serena Williams, left, and her sister Venus. "The great things about sport is the sense of competition, the uncertainty of the outcome, the fairness of the playing field," Tu says. "You might be able to suspend enough of your fraternal or sisterly love to play a decent game of tennis but it won't reach the heights of the rivalries that make the sport."
Muhammad Ali, left, "demonized" Joe Frazier to hype up their fights despite being showed respect outside the ring by his rival. "He came up with the gorilla term to create a spectacle, which he knew was important, but it revved himself up too," Tu says. "He needed to have a real enemy. By the end of the (Manila) fight, he said that Frazier brought out the best of him."
Then there's modern football's greatest rivalry -- Lionel Messi and Cristiano Ronaldo. "I'm not sure Messi is a rival with anyone, he still has that unique joy of just playing," Tu says. "But I think with Ronaldo, the truth is Messi is his nemesis -- and the fact that Messi doesn't care makes it even worse."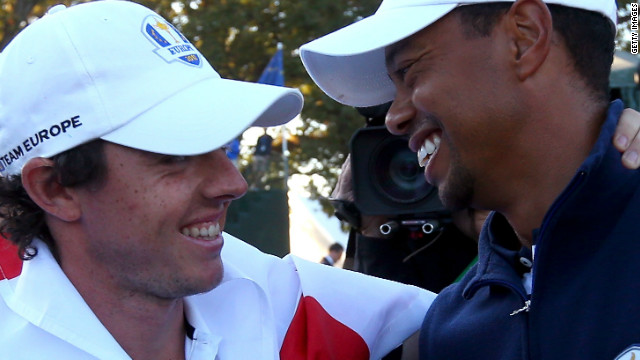 Great sporting rivalries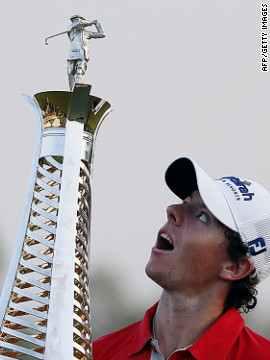 Rory McIlroy capped a sensational year with victory at the Dubai World Championship on Sunday. The Northern Irishman won five tournaments in 2012, including his second major, topped the money list on both the PGA and European Tours and ended the season as the world's No. 1 player.
After a solid start to the season McIlroy's year took off with victory at the Honda Classic in March. By holding off a chasing pack that included Tiger Woods and Keegan Bradley, the 23-year-old became world No. 1 for the first time in his career.
After a mid-season slump, McIlroy roared back to form with an eight-shot victory at the PGA Championship to seal his second major triumph. It was the biggest winning margin in majors history, as he took the record from Jack Nicklaus -- the game's greatest ever player.
McIlroy was almost unstoppable now as he secured victory at the Deutsche Bank Championship to take the lead in the PGA Tour's Fed Ex Cup -- the finale to their regular season.
The following week the 23-year-old was in the winner's circle again, this time taking top honors at the BMW Championship. He became the first player to record back to back victories on the PGA Tour since Tiger Woods in 2009.
McIlroy's friendship with Tiger Woods blossomed during the 2012 season. The two even took each other on at an exhibition tournament in China in front of a huge crowd. McIlroy won by one shot. Both players reportedly shared $3 million for taking part.
If McIlroy was on song in the individual stakes, he more than played his part in Europe's stunning comeback to win the Ryder Cup at Medinah in Chicago. McIlroy nearly forfeited his singles match by missing the start due to confusion over time zones, but earned a vital point for his side by beating Keegan Bradley as Europe eventually came back from 10-6 down to win 14 1/2 to 13 1/2.
McIlroy was watched every step of the way in Dubai by his girlfriend -- tennis star Caroline Wozniacki.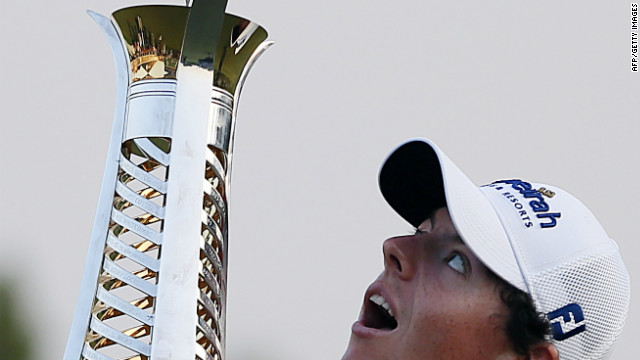 McIlroy on top of the world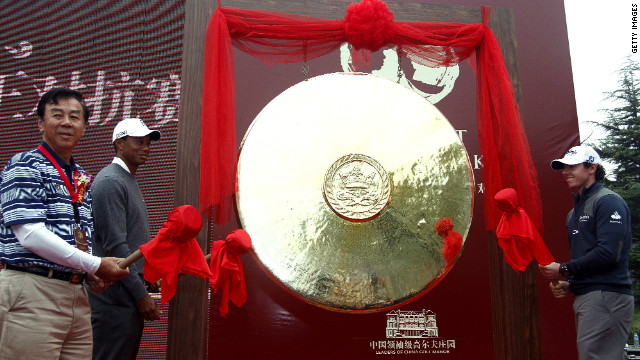 Rory McIlroy and Tiger Woods look on in amusement before banging a ceremonial gong to mark the start of their "Duel at Jinsha Lake."
Both McIlroy and Woods, pictured above, had their handprints immortalized in clay as a lavish ceremony featuring drum majorettes and fireworks preceded their clash in the Chinese city Zhengzhou.
World No. 1 McIlroy cannot keep a straight face as the players pose at the first green, ahead of a clash reported to be paying the pair a combined total of $2 million.
"The scene was barely-controlled chaos," wrote Sports Illustrated's Alan Shipnuck. "Some 3,000 fans streamed across the fairways, with soldiers locking arms in a human fence to keep the throngs off the greens."
A course marshall practices kung fu as she awaits the golfers' arrival.
"On the tee boxes there were so many camera clicks it sounded like machine gun fire," Shipnuck wrote.
Local golf fans talk with one of the models who inhabited the greens in their evening wear in scenes seldom seen on any golf course.
Woods tries to maintain focus as a luxury boat passes by, with the clubhouse car park also boasting a collection of Rolls-Royces, Ferraris, Aston Martins and Maseratis.
Young fans show their support for McIlroy and Woods in a country that is seen as the next great market for golf to conquer.
McIlroy never trailed Woods after starting with a birdie, going on to card a five-under-par 67 -- one less than the world No. 2.
McIlroy awaits his trophy on a day that coincided with the launch of the multi-million-dollar "Golf Villas" to be built around the Jinsha Lake course.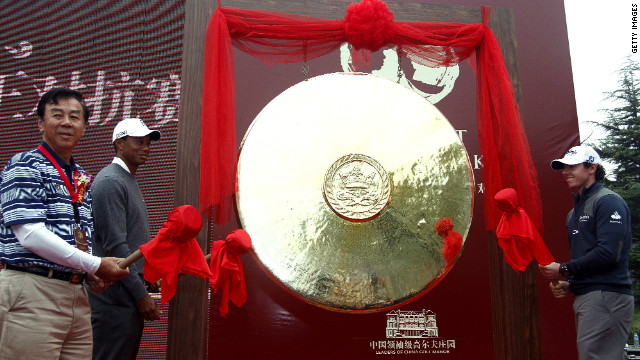 Duel at Jinsha Lake
"Nike will certainly use their leverage to nurture such competition by ensuring their schedules are aligned to foster maximum exposure to such opportunities. When this begins to happen consistently, and I believe it will soon, Nike reaps the unbelievable rewards.
"This deal is not taken lightly and I am sure all of Nike's significant market research is verifying a likeability scale for this young man (McIlroy) that is off the charts."
Just as Nike will hope McIlroy can match Woods' prowess when it comes to bagging majors and green jackets, they could be forgiven for hoping the 23-year-old won't attract any salacious headlines away from the greens.
The sports giant recently dropped disgraced cyclist Lance Armstrong after he was stripped of his seven Tour de France titles for doping offenses, and withstood a barrage of bad press for their client when news of Woods' extra marital affairs broke.
McIlroy's only negative press to date has come via the odd misjudged quote -- which can be explained as a byproduct of his youthful exuberance and refreshing honesty in interviews -- and though he has earned plaudits for keeping his feet on the ground, Martin says there is no guarantee how he'll react if he reaches the level of fame Woods currently orbits.
"Rory represents a much different personality than Tiger and on the surface, epitomizes a safe investment for Nike," he said.
"However like Tiger, he appears to be a marketer's dream. The problem is, no one truly knows how any individual is going to react to all this money, fame and adoration until they have lived with it.
"These superstar athletes live in a fish bowl where their every comment, action and especially reactions are fodder for the media outlets around the world. Already, controversy is circling with regard to Rory's Olympic participation decision and legal issues with previous sponsors."
The first time the world will see Nike's new double act in action will be on Thursday when McIlroy and Woods line up for the HSBC Championship in Abu Dhabi.