FBI: No credible threats to inauguration activities
January 16, 2013 -- Updated 2011 GMT (0411 HKT)
STORY HIGHLIGHTS
The Multi-Agency Communications Center will operate in a D.C. suburb
Representatives from 42 federal and local agencies, including the military, will be involved
In 2009, some people who had tickets weren't able to get into the events
This time, more signage and information on social media, and more volunteers, should help
Washington (CNN) -- As law enforcement agencies finalize security preparations for Barack Obama's second inauguration, an FBI official said Tuesday authorities have "no credible corroborated threats to any of the activities."
Debra Evans Smith, the FBI's acting assistant director in charge of its Washington field office, said the FBI will have specialized personnel ready to go to meet any security challenge.
"We will have our SWAT team, pretty much all of our specialty teams will be available and on standby to include (weapons specialists), our dive team, our intelligence team -- working around the clock -- our hostage negotiators, (and) our special agent bomb technicians will also be available," Smith told reporters.
Washington preps for inauguration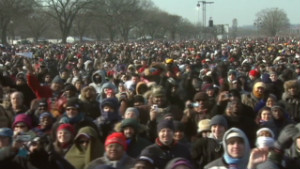 Phone companies prepare for inauguration
Smith made her comments at an event in which the Secret Service showed the news media the Multi-Agency Communications Center known as the MACC, located in a Washington suburb. Representatives from 42 agencies including the Secret Service, FBI, U.S. Capitol Police, Washington's Metropolitan Police Department, U.S. Park Police and the military will work at the MACC during the inauguration and share incoming information about any security issues. The room is filled with screens that will have live video feeds of key locations around the city.
A Secret Service official said it is important to have one place where all the agencies are working together. "They can give us information and then we can ensure that everybody's reading from the same script," said agency spokesman Ed Donovan. "And one of the goals for us is to provide as close to real-time information as we can to all these agencies."
"Obviously there's always some concern that something could go wrong," said Chief Cathy Lanier of the Metropolitan Police Department. "But I feel extremely confident that if something does happen, you have the most capable people in the United States here that will respond and react quickly... but we're hoping that nothing bad does happen."
Your advice for Obama's next 4 years
Donovan noted that there were no major security incidents at the last inauguration although there was a problem with people who had tickets not being able to get into the events. He said this year there will be more signage, more volunteers on site to direct people, and more information on social media sites.
Although security will be tight, authorities hope the public will not hesitate to report any suspicious activity.
"Law enforcement is limited but the public is not," said Smith of the FBI. "And anyone who can provide information that will give us a lead on something that we should know about is really the most important thing that anyone can do in this regard."

Today's five most popular stories
Part of complete coverage on
2013 Presidential Inauguration
January 22, 2013 -- Updated 1453 GMT (2253 HKT)

It was a seemingly wistful moment at the halfway mark of his presidency, before the celebratory parade and the evening's galas.
January 21, 2013 -- Updated 2350 GMT (0750 HKT)

CNN contributors and analysts offered these assessments of the 44th's president's inauguration.
January 21, 2013 -- Updated 2218 GMT (0618 HKT)

Here's a look at the inauguration from your perspective, submitted via iReport.
January 22, 2013 -- Updated 1034 GMT (1834 HKT)

As the nation celebrated the start of another term for President Obama, Republican congressional leaders had a muted, bipartisan response to his second inaugural address.
January 22, 2013 -- Updated 1623 GMT (0023 HKT)

The alternating red and blue yard signs are long gone, and people here have gone back to familiar rhythms of life.
January 22, 2013 -- Updated 1500 GMT (2300 HKT)

President Obama began his second term with a "keeping it real" moment courtesy of youngest daughter Sasha.
January 22, 2013 -- Updated 1456 GMT (2256 HKT)

What a difference four years makes. It's a tale of two terms, marked by battles to come and tasks not yet completed from 4 years ago.
January 22, 2013 -- Updated 1511 GMT (2311 HKT)

Richard Blanco grew up a Cuban immigrant and gay, and says it speaks to America's strengths that he was chosen to read a poem to the nation.
January 22, 2013 -- Updated 1449 GMT (2249 HKT)

President Barack Obama and first lady Michelle Obama spent the evening at more intimate affairs: 30,000 guests at two inaugural balls.

President Barack Obama said Monday in his inaugural speech that the nation must come together to meet the challenges of the day, saying: "We are made for this moment, and we will seize it - so long as we seize it together."
January 21, 2013 -- Updated 1707 GMT (0107 HKT)

Hear President Obama recite the oath of office at his second inauguration.
January 21, 2013 -- Updated 1703 GMT (0103 HKT)

Vice President Joe Biden takes his public oath of office for a second term.
January 22, 2013 -- Updated 1848 GMT (0248 HKT)

An American flag waves at the U.S. Capitol building on Sunday, January 20, as Washington prepares for President Barack Obama's second inauguration. CNN brings you the best images from Washington.
January 21, 2013 -- Updated 1743 GMT (0143 HKT)

Watch presidents from the last 100 years take the oath of office on inauguration day.