Flu vaccine poses no risk to unborn
January 17, 2013 -- Updated 1434 GMT (2234 HKT)
(CNN) -- Fears and misconceptions often surround the flu vaccine: Does it really work? Will it make me sick? Could it hurt my baby?
Researchers from Norway say the last question was a big concern during the 2009 H1N1 pandemic; anecdotal reports of fetal deaths caused many pregnant women to avoid getting vaccinated despite health officials' pleas.
To determine the accuracy of these reports, the Norwegian researchers analyzed data from more than 100,000 pregnancies during the 2009-2010 flu season. Their results were published this week in the New England Journal of Medicine.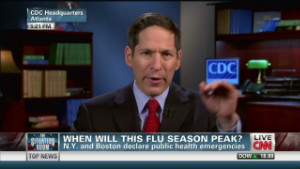 CDC director takes your flu questions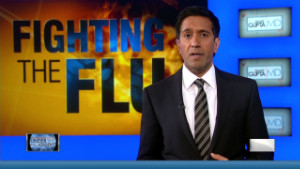 Flu epidemic: What you need to know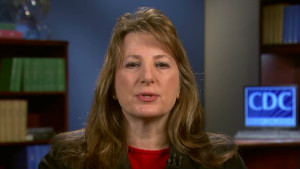 Are we near a flu peak?
The study found no evidence that the influenza vaccine increased the risk of fetal death in pregnant women. But pregnant women who were diagnosed with the flu - whether they had the vaccine or not - had nearly double the risk of fetal death.
The Centers for Disease Control and Prevention recommends all pregnant women get the flu shot (the nasal spray vaccine is not recommended for pregnant women) to protect them from the virus. But during the 2011-2012 flu season, only 47% opted to get vaccinated, according to the CDC.
Pregnant mothers are just trying to do what's right, says Dr. Siobhan Dolan, co-author of March of Dimes' new book "Healthy Mom, Healthy Baby." Their fear often stems from the unknown, she says, which is why studies like the one publishing this week are important.
"At this point we have mounting evidence - data and studies - that show it's not getting the shot that causes the problem, but getting the flu that's the problem," Dolan says.
Even if you are healthy, changes to your immune system during pregnancy make you more likely to get seriously ill, Dolan says. Pregnant women are more likely to end up in the hospital after an influenza diagnosis, according to the CDC.
Respiratory issues can also pose a danger. If a mother is having difficulty breathing, her baby isn't receiving enough oxygen. If you do get the flu, Dolan recommends asking your doctor about anti-viral medications that may help.
The CDC says it's not too late to get the flu shot. The U.S. flu season runs from October to May. Antibodies from the shot will protect you and will be passed on to your baby, providing protection until 6 months of age.

Today's five most popular stories
Part of complete coverage on
Cold & Flu Season
October 1, 2014 -- Updated 2133 GMT (0533 HKT)

A respiratory virus called Enterovirus D68 has sent hundreds of children to the hospital. CNN's Elizabeth Cohen explains.
October 7, 2014 -- Updated 1402 GMT (2202 HKT)

Parents are concerned about sending their children to school amid fears of enterovirus D68.
October 7, 2014 -- Updated 0228 GMT (1028 HKT)
Eli -- a sweet, active, blonde-haired preschooler -- had gone to sleep feeling fine.
September 30, 2014 -- Updated 1413 GMT (2213 HKT)

Health officials are looking for the cause of a neurologic illness that's affected children in Colorado.
September 23, 2014 -- Updated 2015 GMT (0415 HKT)

It sends children to the hospital -- where they often end up in the intensive care unit, struggling to breathe.
September 9, 2014 -- Updated 1933 GMT (0333 HKT)

This type of enterovirus is uncommon but not new. We've seen less than 100 cases in the United States since it was identified.
September 9, 2014 -- Updated 2050 GMT (0450 HKT)

What are the symptoms of Enterovirus D68? When should you take your child to the doctor?
September 5, 2013 -- Updated 1128 GMT (1928 HKT)

Many parents don't realize that the worst asthma day of the year actually occurs in September.
August 13, 2014 -- Updated 1441 GMT (2241 HKT)

As a first-grade teacher, Julie Miller is exposed to a horrifying number of germs on a daily basis.
January 11, 2013 -- Updated 1936 GMT (0336 HKT)

Flu vaccine myths can confuse people trying to decide whether to get a shot. Here are five common myths.
October 14, 2013 -- Updated 1153 GMT (1953 HKT)

Your joints ache, your head feels heavy, you can't stop coughing, you're freezing even as your temperature keeps climbing. What now?
January 9, 2013 -- Updated 2259 GMT (0659 HKT)

What do you need to know when it comes to flu germs? CNN's Lisa Sylvester reports.