STORY HIGHLIGHTS
Chelsea only manages 2-2 draw at home to struggling Southampton
Manchester United and Arsenal progress to fourth round of FA Cup with nervy victories
Barcelona held to a 2-2 draw in Copa del Rey by Malaga
Roma through to semifinal of Coppa Italia
(CNN) -- Rafa Benitez's turbulent reign as Chelsea manager took another battering on the day his supposed successor, Pep Guardiola, agreed a deal to become the new manager of Bayern Munich.
Benitez, who was appointed as Chelsea interim manager in November following the dismissal of Roberto Di Matteo, was left stunned after his team squandered a two-goal lead to draw 2-2 with lowly Southampton.
European champion Chelsea is now 13 points adrift of Premier League leader Manchester United with 16 games remaining and has failed to win any of their past three games at Stamford Bridge.
Guardiola agrees three-year deal with Bayern
A 1-0 defeat by bottom side Queens Park Rangers was followed by a 2-0 loss in the League Cup against Swansea City.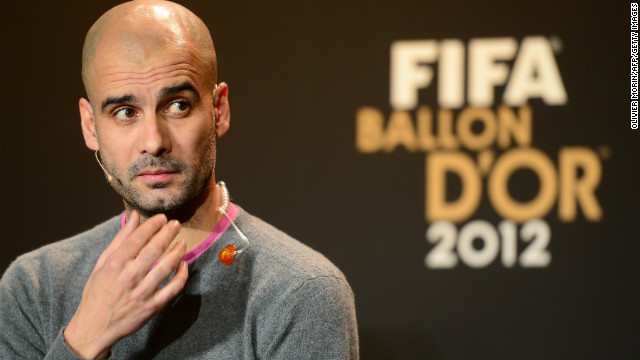 Pep Guardiola has been on a year-long sabbatical in the U.S. after stepping down as Barcelona coach, but he returned to Europe in January for the Ballon d'Or when he was shortlisted for FIFA's world coach of the year award.
When he confirmed he was to end his four-year reign as Barcelona coach, Guardiola gave an emotional press conference.
Guardiola announced his intent to quit at the end of last season just three days after the club's Champions League semifinal exit against Chelsea, drawing 2-2 at home and losing 3-2 on aggregate. He left a remarkable legacy.
He was massively popular at the Camp Nou after four trophy-laden seasons. Here he is thrown in the air by his players after winning the FIFA Club World Cup for the second time in December 2011, having been the first team from Spain to win it two years earlier.
Guardiola congratulates Barca players Cesc Fabregas and Javier Mascherano after winning the Spanish Supercup against Real Madrid at the start of the 2011-12 season.
Guardiola lifts the 2011Champions League trophy after Barca beat Manchester United at Wembley. The 41-year-old has earned a reputation as a coach who prepares meticulously for matches.
Guardiola won the FIFA Men's Football Coach of the Year award in January 2012. "I can't promise you silverware, but I can say that we'll keep on battling to the end and you'll be proud of us," he said after becoming coach four years ago.
In the 2009 calendar year, Guardiola won six trophies in total -- the Copa del Rey, La Liga, the European Champions League, the Spanish Supercup, the UEFA Supercup and the Club World Cup.
Former Barcelona president Joan Laporta shakes hands with Guardiola on June 5, 2008. The Catalan club's 15th coach arrived with the mission to end a two-season trophy drought -- he didn't disappoint.
As a player, Guardiola spent more than a decade in Barcelona's senior team, winning six Spanish titles and one European Cup. He captained Spain to a gold medal at the 1992 Barcelona Olympics and went to the 1994 World Cup.
He joined Barca's famed La Masia youth academy in 1984, and wore the No. 4 shirt until leaving for Italy in 2001.
He had two spells at Serie A side Brescia either side of a brief time at Roma, and is pictured playing against Perugia in 2002.
Guardiola left Europe to join Qatar's Al-Ahly from 2003 to 2005, then joined Mexico's Dorades de Sinaloa for a season before finally hanging up his boots.
Guardiola is pictured here with fellow Spaniard Jose Maria Olzabal at the Ryder Cup after Europe produced a remarkable comeback to win the tournament at Medinah in the U.S.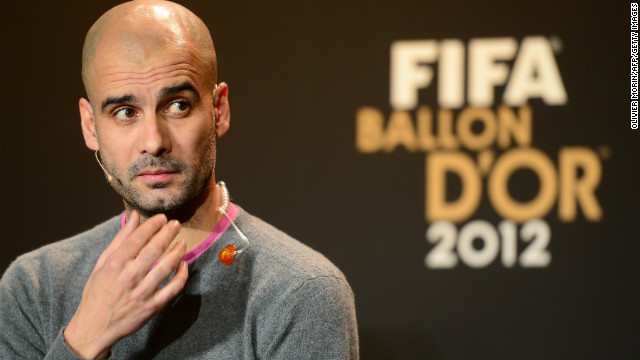 The end of an era: Josep Guardiola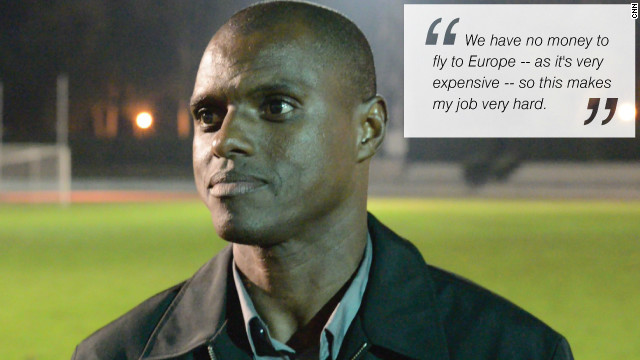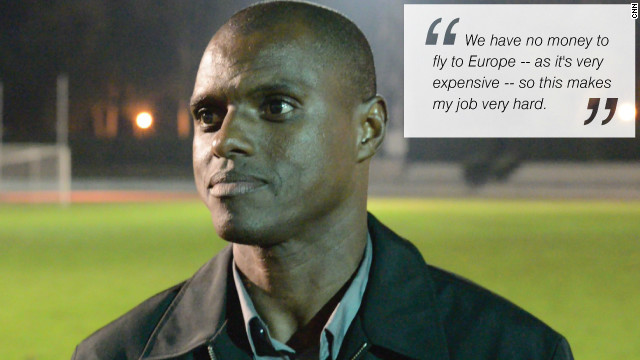 High flyer: Cape Verde's 'Special One'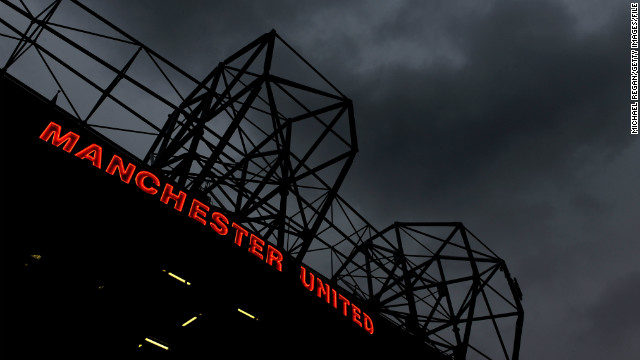 Today Manchester United has an aura of glamor and invincibility. But in 1931 and 10 years later the club's future was in peril.
James Gibson, a wealthy Manchester United supporter who had made his fortune in making uniforms for tram drivers, is credited with saving the club from extinction after taking over in 1931 and helping United navigate its financial troubles.
Old Trafford, home of Manchester United, was blitzed during a raid by the Luftwaffe on March 11 1941. The stadium was obliterated and left the club homeless. All of Gibson's hard work had been undone in a single night. United agreed a deal to play its home matches at Maine Road, home of rival Manchester City, until Old Trafford was rebuilt in 1949.
Gibson and his wife Lillian, had a train named after the football club. Gibson ensured supporters had a far smoother journey to Old Trafford after having steps built up from the local train station to the stadium, while he also had trains make unscheduled stops to help fans make it in time for kick off.
A statue of George Best, Denis Law and Bobby Charlton, which stands outside Old Trafford, depicts three of the club's greatest players. If it wasn't for Gibson, it is arguable the trio would never have pulled on the red of Manchester United.
Matt Busby, who was appointed by Gibson as manager, went on to win the 1968 European Cup, four league titles and two FA Cups. He survived the Munich Air Crash of 1958, where many of his players perished. After his recovery, he helped rebuild the team and lay foundations for the future.
Busby's success has been built on by current United manager Sir Alex Ferguson. It was under Ferguson that United won their19th English League overtaking Liverpool's record of 18.
United have established a buccaneering style of play, which this season has been epitomised by forward Robin van Persie, who is pictured here celebrating with Danny Welbeck. Since joining United from Arsenal in the summer, Van Persie has scored 16 English Premier League goals.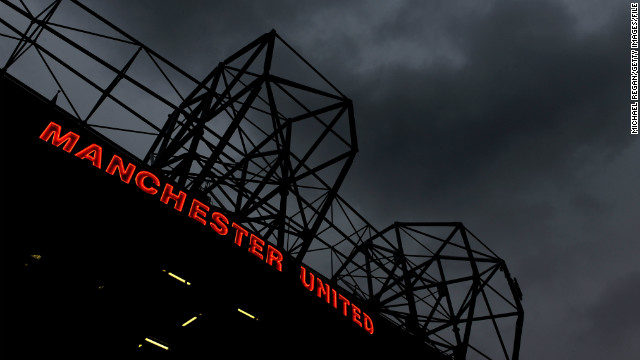 The man who saved Manchester United -- twice
Benitez has managed just one home win in six attempts in all competitions since taking over, while he has triumphed in six of the seven away fixtures.
But few expected Chelsea to drop points against a Southampton team which they had demolished 5-1 in the FA Cup on January 5.
Chelsea suffers home humiliation
New signing Demba Ba and Belgian midfielder Eden Hazard had given Chelsea a comfortable advantage at the break as the Blues dominated.
But Southampton, which has lost just two of its previous 12 league games, refused to accept defeat and launched a stirring fightback.
Substitute Rickie Lambert headed home his 10th goal of the season with 58 minutes gone before Jason Puncheon netted a dramatic equalizer with 15 minutes remaining.
The result leaves Chelsea in third place, six points behind Manchester City and just two ahead of London rivals Tottenham.
James Gibson: The man who saved Manchester United -- twice
Elsewhere, Manchester United booked its place in the fourth round of the FA Cup and a home tie against Fulham following a narrow 1-0 win over West Ham.
Wayne Rooney, who missed a second half penalty, scored the only goal of the game after nine minutes.
Arsenal will play second tier Brighton in the fourth round after edging out Swansea 1-0 courtesy of Jack Wilshere's spectacular strike.
Messi leads Barcelona to new record
Meanwhile, Barcelona was held to a 2-2 draw in the first leg of its Copa del Rey quarterfinal by 10-man Malaga at Camp Nou.
Malaga, which was soundly beaten 3-1 by Barca in La Liga last weekend, took a surprise lead through Manuel Iturra after 26 minutes.
But Barca, which has not lost a domestic game this season, hit back through Lionel Messi and Carles Puyol to lead 2-1 at the interval.
Nacho Monreal, a halftime substitute for Malaga, was then sent off with 15 minutes remaining to leave the visitor facing an uphill task.
But with Barca seemingly coasting to victory, Ignacio Camacho popped up at the death to fire home and ensure the two teams will start level on January 24.
In Italy, Mattio Destro's extra-time strike booked Roma's place in the semifinals of the Coppa Italia.
Destro scored the only goal of the game as Roma recorded a 1-0 win at Fiorentina to set up a last-four clash with Inter Milan.
Valentine's Day comes early for Epinal
In France, Rennes sealed its place in the final of the French League Cup following a 2-0 win over league champion Montpellier.
Julien Feret and Mevlut Erding scored the goals to set up a final clash with Saint Etienne on April 20.