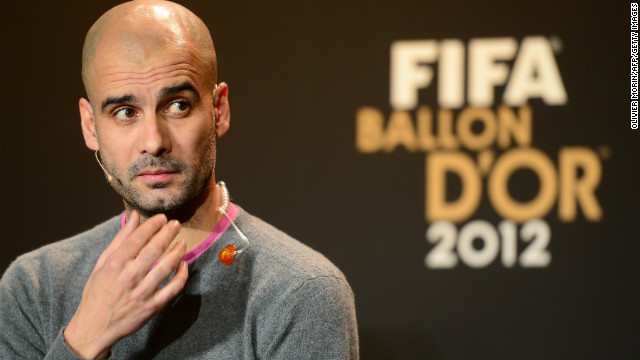 Pep Guardiola has been on a year-long sabbatical in the U.S. after stepping down as Barcelona coach, but he returned to Europe in January for the Ballon d'Or when he was shortlisted for FIFA's world coach of the year award.
When he confirmed he was to end his four-year reign as Barcelona coach, Guardiola gave an emotional press conference.
Guardiola announced his intent to quit at the end of last season just three days after the club's Champions League semifinal exit against Chelsea, drawing 2-2 at home and losing 3-2 on aggregate. He left a remarkable legacy.
He was massively popular at the Camp Nou after four trophy-laden seasons. Here he is thrown in the air by his players after winning the FIFA Club World Cup for the second time in December 2011, having been the first team from Spain to win it two years earlier.
Guardiola congratulates Barca players Cesc Fabregas and Javier Mascherano after winning the Spanish Supercup against Real Madrid at the start of the 2011-12 season.
Guardiola lifts the 2011Champions League trophy after Barca beat Manchester United at Wembley. The 41-year-old has earned a reputation as a coach who prepares meticulously for matches.
Guardiola won the FIFA Men's Football Coach of the Year award in January 2012. "I can't promise you silverware, but I can say that we'll keep on battling to the end and you'll be proud of us," he said after becoming coach four years ago.
In the 2009 calendar year, Guardiola won six trophies in total -- the Copa del Rey, La Liga, the European Champions League, the Spanish Supercup, the UEFA Supercup and the Club World Cup.
Former Barcelona president Joan Laporta shakes hands with Guardiola on June 5, 2008. The Catalan club's 15th coach arrived with the mission to end a two-season trophy drought -- he didn't disappoint.
As a player, Guardiola spent more than a decade in Barcelona's senior team, winning six Spanish titles and one European Cup. He captained Spain to a gold medal at the 1992 Barcelona Olympics and went to the 1994 World Cup.
He joined Barca's famed La Masia youth academy in 1984, and wore the No. 4 shirt until leaving for Italy in 2001.
He had two spells at Serie A side Brescia either side of a brief time at Roma, and is pictured playing against Perugia in 2002.
Guardiola left Europe to join Qatar's Al-Ahly from 2003 to 2005, then joined Mexico's Dorades de Sinaloa for a season before finally hanging up his boots.
Guardiola is pictured here with fellow Spaniard Jose Maria Olzabal at the Ryder Cup after Europe produced a remarkable comeback to win the tournament at Medinah in the U.S.
Time away
End of an era
League of his own
Flying high
A super bond
Cup runneth over
A golden career
Six-time champs
Player turned coach
Barcelona boy
Academy graduate
Italy calling
World class
Golfing fan
STORY HIGHLIGHTS
Former Barcelona coach Pep Guardiola wants to coach in England "in the future"
Guardiola linked with a number of top European clubs
Joined Barca as a 13-year-old and won six La Liga titles and one European Cup
(CNN) -- Like a cat playing with a mouse, former Barcelona manager Pep Guardiola teased his potential Premier League suitors on Wednesday by saying he wants to coach an English club "in the future".
The 41-year-old Guardiola stepped down as Barcelona coach at the end of last season after four years in charge of one of the world's biggest clubs to take a year-long sabbatical.
Even since, the Catalan has been linked with a number of English clubs -- notably Chelsea and Manchester City -- as well as a host of top European teams such as Bayern Munich in Germany and AC Milan in Italy.
"I've always found English football very fascinating, just for the environment, the crowd and the supporters," Guardiola told the English Football Association's website ahead of the FA's 150th anniversary.
"As a player, I couldn't realise my dream to play there but I hope in the future, I have a challenge to be a coach or a manager there and feel the experience of all the coaches and players that have been there.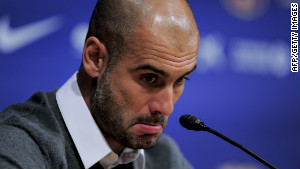 Guardiola to end Barcelona reign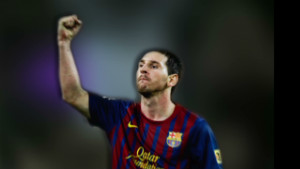 Lionel Messi breaks goal scoring record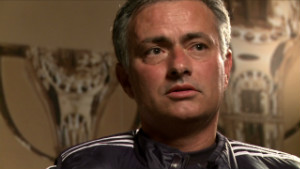 José Mourinho: 'I hate my social life'
"It is unique, to play in that league. I want to feel the supporters, the environment, the media and the style of the players and everything.
"I am still young, just 41, so I hope in the future I could be able to train there and enjoy that."
Read: Real Madrid victory eases pressure on under-fire Mourinho
Guardiola's update on his future plans is likely to make uncomfortable reading for those coaches in charge of Europe's top teams, such as Chelsea interim manager Rafa Benitez and Bayern's 67-year-old coach Jupp Heynckes -- whose contract ends in June.
City boss Roberto Mancini's contract runs until 2017, though there has been speculation surrounding the Italian's future following the appointment of former Barcelona vice president Ferran Soriano as the English champions' chief executive, who took up his new role in September, and the arrival of former Barcelona technical director Txiki Begiristain as director of football at the Etihad Stadium in October.
Guardiola, who spoke to the FA from New York where he is currently living, joined Barcelona as a 13-year-old and won six La Liga titles and one European Cup as a player with the club.
He won that European Cup, now known as the Champions League, at Wembley as a 19-year-old when Barcelona beat Sampdoria, who Mancini was then playing for.
"I played there as a player when I was 19 and it was my first Champions League as a player, as Barcelona won finally the Champions League," added Guardiola. "It was a huge honor to play there at the old Wembley.
"When I was manager of Barcelona, for our second Champions League in three years in 2011, it was a real pleasure to play in the new Wembley.
Read: Reinventing the wheel: How Guardiola revolutionized football
"I'm a lucky guy, because I had the opportunity to play two finals, both in England at Wembley and that's why my relationship with England is pretty close.
"I would like to say congratulations and happy birthday for the 150 years to English soccer and all of the people around English football.
"Enjoy it, because you deserve that and you have been very important in the development of our beautiful, beautiful game."
As Barca coach, Guardiola presided over an unprecedented treble in his first season in charge, winning the European Champions League, La Liga and the Spanish Cup, having been promoted from his role as coach of the Catalan club's reserve side in May 2008.
In 2011 he won the Champions League again and also a third successive Spanish title, followed by success at the Club World Cup for a second time, winning a total of 13 trophies during his tenure.