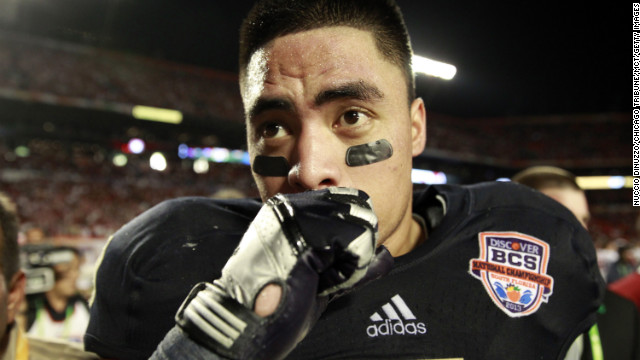 The sports world and the Internet are abuzz as Notre Dame linebacker Manti Te'o says
he was the victim of a "sick joke"
that resulted in the creation of an inspirational story that had him overcoming the death of an online girlfriend at the same time he lost his grandmother. Here, Te'o leaves the field after a 42-14 loss against Alabama in the 2013 Discover BCS National Championship game on Monday, January 7, in Miami Gardens, Florida. See more photos of Te'o:
Te'o makes a play against the Pittsburgh Panthers at Notre Dame Stadium on November 3, 2012.
Te'o reacts after Notre Dame beats Michigan State 20-3 at Spartan Stadium in East Lansing, Michigan, on September 15, 2012.
Te'o, a Heisman Trophy finalist, answers questions from reporters during an informal news gathering at the Marriott Marquis Hotel on December 7, 2012, in New York City a day before the presentation of the winner.
Heisman finalists quarterback Collin Klein, left, of the Kansas State Wildcats, quarterback Johnny Manziel, center, of the Texas A&M University Aggies and linebacker Te'o speak during a news conference before the 78th Heisman Trophy Presentation at the Marriott Marquis on December 8, 2012, in New York City.
Te'o takes the field as part of senior introductions before a game against the Wake Forest Demon Deacons at Notre Dame Stadium on November 17, 2012.
Te'o celebrates his team's 22-13 victory over the University of Southern California Trojans at Los Angeles Memorial Coliseum on November 24, 2012.
Te'o attempts to make a play on the ball against the Alabama Crimson Tide during the 2013 Discover BCS National Championship game on January 7 in Miami Gardens, Florida.
Te'o looks to the scoreboard during a game against the Brigham Young University Cougars at Notre Dame Stadium on October 20, 2012.
Te'o tackles Trey Miller of Navy during their game in Dublin, Ireland, on September 1, 2012.
Te'o is interviewed by ESPN after the game between the Oklahoma Sooners and the Notre Dame Fighting Irish in Norman, Oklahoma, on October 27. The Fighting Irish defeated the Sooners 30-13.
Te'o stretches on November 24, when the Fighting Irish defeated the USC Trojans 22-13 in Los Angeles.
Te'o raises his hand during the third quarter of the Fighting Irish's BCS National Championship game against Alabama on January 7.
Te'o tackles Miami running back Duke Johnson during the Fighting Irish game against the Miami Hurricanes in Chicago on October 6. Notre Dame defeated Miami 41-3.
Notre Dame star Manti Te'o
Notre Dame star Manti Te'o
Notre Dame star Manti Te'o
Notre Dame star Manti Te'o
Notre Dame star Manti Te'o
Notre Dame star Manti Te'o
Notre Dame star Manti Te'o
Notre Dame star Manti Te'o
Notre Dame star Manti Te'o
Photos: Notre Dame star Manti Te'o
Notre Dame star Manti Te'o
Notre Dame star Manti Te'o
Notre Dame star Manti Te'o
Notre Dame star Manti Te'o