Timeline: How the Manti Te'o story unfolded
January 17, 2013 -- Updated 1236 GMT (2036 HKT)
What are your thoughts? Share with us on CNN iReport.
(CNN) -- In four short months, Manti Te'o has ridden an emotional roller coaster that took its first deep dive with the death of his grandmother followed hours later by the ostensible passing of a girlfriend, who seems never to have existed.
It peaked with him finishing as runner-up for the Heisman Trophy then hit a new low with the revelation that the girlfriend was an apparent "catfish," an Internet hoax. Te'o's story broke, making his embarrassment complete.
September 13: Te'o tweets, "I may not hear your voice anymore but I do feel your presence!"
Followers reply with tweets of condolences after "girlfriend" Lennay Kekua's apparent death.
September 16: Te'o tweets, "I know you're there" with a picture of him pointing to the sky.
September 23: Te'o tweets a link to a picture of two beams of light descending on him during the Michigan game and writes: This brought tears to my eyes! The two beams of light! My guardian angels!!! I miss you!!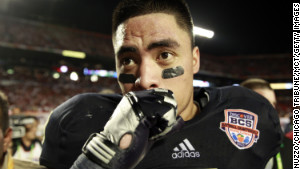 Notre Dame: Te'o caught in 'Catfish' scam
December 6: Te'o receives a phone call while at an awards show from the phone number of his dead girlfriend. The woman says she's not dead.
December 8: Te'o goes to the Heisman Trophy presentation in New York, where he finishes as runner-up to Johnny Manziel.
Before December 25: A person using that number continues to call, but Te'o does not answer.
Christmas break: Te'o discusses the situation with his parents.
December 26: Te'o calls Head Coach Brian Kelly and Defensive Coordinator Bob Diaco and informs them of the situation.
December 27: Te'o meets with athletics director Jack Swarbrick and they discuss the situation.
After December 27: The University hires a nationally known investigative firm to look into the matter.
January 4: The private investigators give Notre Dame their report.
January 5: Swarbrick meets with the Te'o's family.
January 7: Te'o plays in the national championship game.
January 16: Deadspin publishes a story saying Te'o's story about the death of a girlfriend is a hoax.
Notre Dame says Te'o has been the victim of an "elaborate hoax" and a "sick joke."

Today's five most popular stories
Part of complete coverage on
Manti Te'o hoax
January 24, 2013 -- Updated 2025 GMT (0425 HKT)

Manti Te'o has again admitted to lying, marking at least the second time he has acknowledged knowingly spreading falsities in the saga of his fake dead girlfriend.
January 20, 2013 -- Updated 1647 GMT (0047 HKT)

The Notre Dame linebacker told ESPN that he wasn't part of the hoax involving a deceased girlfriend.
January 18, 2013 -- Updated 1628 GMT (0028 HKT)

This may be the strangest twist in a tale overflowing with strangeness. Manti Te'o's deceased girlfriend tweeted late Wednesday night.
January 18, 2013 -- Updated 1446 GMT (2246 HKT)

Te'o is now a meme -- posting pictures of yourself with your arm around an imaginary girlfriend. They call it "Te'oing."
January 18, 2013 -- Updated 1544 GMT (2344 HKT)

Manti Te'o's Twitter bio reads: "Life is a storm.. You will bask in the sunlight one moment, be shattered on the rocks the next. What makes you a man is what you do when that storm comes." The storm has arrived.
January 18, 2013 -- Updated 1604 GMT (0004 HKT)

Oh, the stories we storytellers tell. Like the story of brave Manti Te'o and his doomed girlfriend. We love a good story. We love spinning a good yarn.
January 18, 2013 -- Updated 1446 GMT (2246 HKT)

Was Manti Te'o a hapless victim or a duplicitous co-conspirator?
January 18, 2013 -- Updated 1452 GMT (2252 HKT)

I wouldn't normally pay much attention to a sports star, even a Fighting Irish hero.
January 17, 2013 -- Updated 1236 GMT (2036 HKT)

Here are some of the recent events in the bizarre story of Manti Te'o and a dead girlfriend who apparently never existed:
January 17, 2013 -- Updated 1350 GMT (2150 HKT)

After word broke of a hoax about the death of star Manti Te'o's "girlfriend," it didn't take long for "Te'o" to become the top-trending term on Twitter.
January 17, 2013 -- Updated 1252 GMT (2052 HKT)

As the big game with No. 10 Michigan State approached, Notre Dame linebacker Manti Te'o had a heavy heart after he learned his girlfriend had lost her fight with leukemia.
January 17, 2013 -- Updated 1517 GMT (2317 HKT)

A dog tapping away at a computer keyboard turns to another dog and says, "On the Internet, nobody knows you're a dog."
January 17, 2013 -- Updated 0940 GMT (1740 HKT)

Notre Dame athletic director Jack Swarbrick compared the alleged hoax about a "girlfriend" that ensnared linebacker Manti Te'o with the documentary "Catfish."
January 17, 2013 -- Updated 0422 GMT (1222 HKT)

Notre Dame linebacker Manti Te'o said he was the victim of a "sick joke" that had him and legions of fans believing in a "girlfriend" who may never have existed.