STORY HIGHLIGHTS
Tom Foreman wrote 1,460 letters to President Obama
He did not intend to get in this deep
Letters included a simple request: "Please call"
Foreman is still waiting on Obama's call
Editor's note: CNN reporter and anchor Tom Foreman has been writing a letter each day, every day, to President Barack Obama since he was inaugurated four years ago. This is his last one.
Washington (CNN) -- When President Obama raises his hand, I will put down my pen. Or rather, I will step away from my computer keyboard.
Inauguration Day will signal the culmination of an effort I launched on January 20, 2009, to write a letter to the White House every single day of Barack Obama's first term.
And I do mean every day. Weekends, holidays, when he was on vacation, and when I was on vacation. I wrote in my office, at home, in moving airplanes, cars, trains and even while running through the woods. I wrote early in the morning, in the middle of the day and late at night.
I wrote about things that were important, like unemployment, Afghanistan and women's rights. I also wrote about things that were trivial, like sports, favorite foods and my yearly battle with Christmas lights.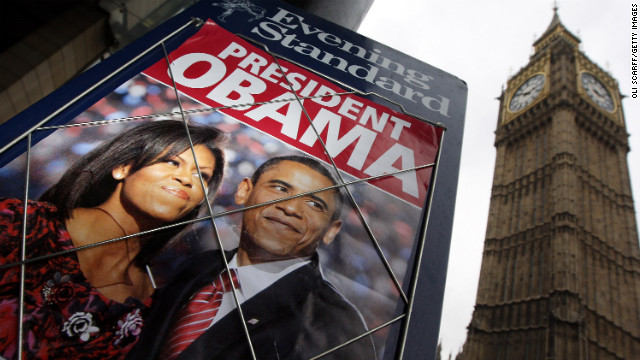 President Barack Obama has become an icon across the United States and the world. His likeness can be found all over the globe on T-shirts, banners and even lattes. Above: Obama in an advertisement for the Evening Standard newspaper in front of Big Ben on November 5, 2008, in London.
HAITI: An "Obama We Love You" sign in Cap Haitien, Haiti.
GERMANY: A caffe latte with the face of Barack Obama made out of cocoa powder sits in a coffee shop in Berlin on November 3, 2008.
FRANCE: A Benetton clothing store window in Paris is covered with posters as part of the launch of a provocative publicity campaign showing altered images of Pope Benedict XVI kissing Egypt's Ahmed el Tayyeb, imam of the Al-Azhar Mosque in Cairo, and Barack Obama kissing Chinese President Hu Jintao.
UNITED STATES: A poster of Obama as Superman on November 5, 2008, on Melrose Avenue in Los Angeles.
INDONESIA: A woman walks past a portrait of Obama at an exhibition in Jakarta, Indonesia, on July 30, 2010.
JAPAN: Fusako Moriya, an employee of Ogawa Studios Co. Ltd., paints an eye on a rubber mask of Obama at the company's factory in Saitama city, Japan, on January 20, 2009.
MYANMAR: Arkar Kyaw paints graffiti on a wall of Obama in Yangon on November 17, 2012.
ITALY: A model displays a dress with a portrait of Obama as part of Italian fashion house Gattinoni Haute Couture's spring-summer collection 2009 during the AltaRomAltaModa on February 1, 2009, in Rome.
AUSTRALIA: "Charlie," a baby saltwater Crocodile, grabs a figurine of Obama at Crocodylus Park on October 18, 2011, in Darwin, Northern Territory.
CHINA: A man wears a basketball sneaker with an image of Obama on November 11, 2009, along a street in Beijing.
PAKISTAN: An activist of Awami Majlis-e-Amal looks through a torn poster of Obama during a protest against the reopening of the NATO supply route to Afghanistan in Quetta on July 13, 2012.
SUDAN: A boy wears a T-shirt with Obama's image in Koch on November 13, 2010.
INDIA: Micro-artist Ramesh Sah shows the nail of his thumb painted with an image of Obama in Siliguri on November 6, 2010.
BRAZIL: A worker of the Condal Carnival Mask Factory inspects a mask portraying Obama in Sao Goncalo, on February 10, 2009.
SOUTH AFRICA: A U.S. soccer supporter cheers before the United States plays Slovenia in a 2010 World Cup tournament match on June 18, 2010, in Johannesburg.
IVORY COAST: A man washes the sign of a butchery named "Maison Blanche" (White House) in Abidjan on November 7, 2012.
RUSSIA: World leaders past and present are depicted on Russian matryoshka dolls at a souvenir stall in Saint Petersburg on June 20, 2012.
SENEGAL: A man unloads a 13-foot tall puppet depicting Obama on December 2, 2008, in Dakar.
TURKEY: Greenpeace activists open a banner depicting Obama on Bosphorus Bridge on April 6, 2009, in Istanbul.
GHANA: Princess Smith, 2, sits with her father, Francis, on July 11, 2009, as they wait for Obama's arrival in Accra.
HOLLAND: A Dutch woman looks at a flower mosaic featuring Obama in Limmen, on May 12, 2009.
CZECH REPUBLIC: An employee of the Jablonex mint checks the quality of a commemorative gold medal featuring Obama on March 31, 2009, in Jablonec nad Nisou.
CANADA: A Canucks fan holds a cutout of Obama before the Canucks take on the San Jose Sharks in Game Five of the Western Conference Finals during the 2011 NHL Stanley Cup Playoffs on May 24, 2011, in Vancouver, British Columbia.
MAURITANIA: A child wearing a T-shirt depicting Obama gathers with other refugees at a water point in the M'bere refugee camp near Bassiknou on May 2, 2012.
COLOMBIA: Blanca, a Colombian amateur painter and fan of Obama, carries a painting while trying to reach the hotel in Cartagena where the president was staying to give him the painting on April 12, 2012.
GREECE: Obama appears on a creation by French designer Jean Charles de Castelbajac during spring/summer 2009 Vodafone Athens Collection shows at the Technopolis in Athens on October 11, 2008.
KENYA: A resident of Kisumu raises a poster bearing Obama's likeness after an HIV/AIDS test on August 26, 2006. Obama urged residents of the area to get tested for HIV and AIDS so they would know their status.
CHILE: A man reads a Santiago newspaper featuring Obama's inauguration on January 21, 2009.
AFGHANISTAN: Afghan journalists pose with cardboard cutouts of Obama and Mitt Romney during an election event at the U.S. Embassy on November 7, 2012, in Kabul.
MEXICO: Members of the international organization OXFAM wear masks of Obama and Brazilian President Dilma Rousseff during a protest in Baja California on the eve of the G-20 summit on June 17, 2012.
POLAND: Two men talk in front of an advertisement for a Polish weekly magazine in Warsaw on January 20, 2009.
VIETNAM: A street vendor walks past a T-shirt shop in downtown Hanoi on November 13, 2008.
THAILAND: Visitors smile as they pose with a wax model of Obama displayed at the Louis Tussaud's Waxworks in Pattaya on November 13, 2009.
TANZANIA: A fabric depicting Obama is displayed in a market in Zanzibar on February 11, 2009.
SRI LANKA: Artist Upali Dias adds the final touches to a bust of Obama in Colombo on November 4, 2008.
SPAIN: A Falla, a gigantic sculpted structure made of cardboard and wood that humorously portrays world leaders, is part of Las Fallas Festival on March 16, 2011, in Valencia.
SLOVAKIA: Americans living in Slovakia celebrate Obama's presidential victory on November 5, 2008, in Bratislava.
GAZA: A Palestinian shopkeeper sits near coffee mugs for sale with pictures of Obama and Hamas leader Ismail Haniya on November 2, 2008, in Gaza City. The mugs read "Hey!!! Come and drink the Palestinian coffee with the flavor of the US Presidential Election."
EL SALVADOR: An employee of the U.S. Embassy moves life-size figures of Obama and Romney at a hotel during preparations for the U.S. election night in San Salvador on November 6, 2012.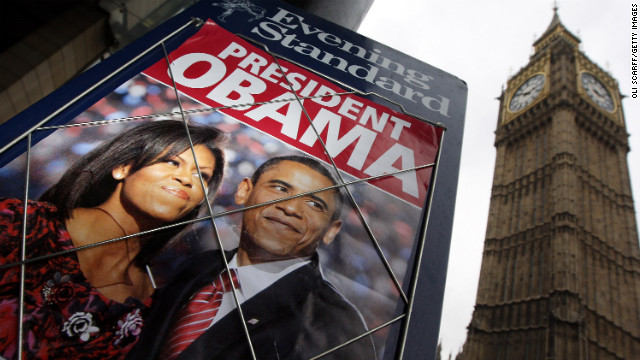 Photos: Obama's face all over the place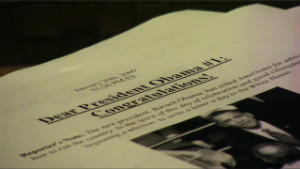 CNN reporter writes 1,300 notes to Obama
The tally: 1,460 letters, well over a half-million words, or enough to fill about seven novels. Laid out as one line of text, these letters would stretch almost 3½ miles or considerably longer than the inaugural parade route.
I did not intend to get in this deep.
Read Tom Foreman's latest letter to Obama ... and all the others
The first letter, written on that cold Inauguration Day four years ago, was a bit of a lark. Some weeks earlier, Barack Obama had suggested he wanted to hear from citizens about how to run the country. I thought it would be funny to post a series of letters for his first 10 days on the AC360 blog. People liked it, I decided to go for a month, and Bob's-your-uncle here we are.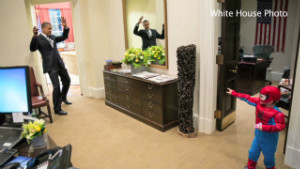 Funny moments from Obama's 1st term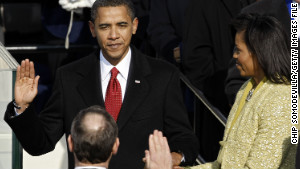 2009: Obama's historic inauguration
The first year was easy. We all have ideas about what we would do if we were in charge. Bad ideas usually, but ideas nonetheless. I prattled on about the economy, security, bipartisanship, foreign affairs and his bowling technique.
The second year grew a bit harder. By thinking every day about the presidency, I became more aware of how many intractable, repetitive issues press down upon any person who takes that job.
In the third year, I surged ahead. Having accepted that my fountain of easy ideas had run dry, I dedicated more serious thought to what I would say. To be sure, the letters became less entertaining, but I liked to imagine that they had more substance, although in retrospect I was probably wrong.
And in this fourth year, I struggled. It seemed many days as if I'd already said everything I had to say and then some. At one point I had considered writing letters to the White House for the rest of my life. The fourth year convinced me that this would be a bad idea. I found myself counting the days to January.
Along the way it occurred to me that being president is probably much harder than most of us suppose. After all, if it is this exhausting just thinking about the job, imagine what it is like actually punching the Oval Office clock. Truthfully, I offered very little advice. More often I presented general notions about how one approaches problems; the same notions I would pass on to anyone in any position who faces daily challenges.
Which, I guess, is pretty much all of us.
I don't know if he ever read a single line. All I know is that in almost every missive, I invited the president to give me a call. He never did. And I don't blame him.
Whether a Democrat or Republican fills that office, answering to the needs of 311 million people is a magnificent and daunting challenge, let alone answering their letters. So I will close my series with the same letter that started it all, by far the shortest of the bunch.
Dear Mr. President,
Congratulations! Watching you on that podium today, surrounded by so many hundreds of thousands of Americans, I could not help but feel inspired by the miracle of democracy and the greatness of our nation. I also have a question: Do you have any idea what you've gotten yourself into?
I know you are busy today, but call when you can.
Regards,
Tom