STORY HIGHLIGHTS
Angel Rangel, the Swansea City player, makes trip to homeless shelter
Spaniard took food to those at local homeless shelter following tweet appeal
Rangel promises to cook his famous Spanish Omelette next time
(CNN) -- When it comes to football players, there are very few who can be held up as respectable role models.
All too often, players are criticized for their off-field behaviour, alleged racist remarks, outbursts on Twitter and end up gracing the front pages of newspapers for all the wrong reasons.
Balotelli on the brink: Sink or swim for 'Super Mario'?
But on a cold Friday night in South Wales with snow sweeping across the country, one football player really did make a difference.
Angel Rangel, the Swansea City defender, who is an integral part of Michael Laudrup's side, had only left home to go for a sandwich with his wife, Nikki.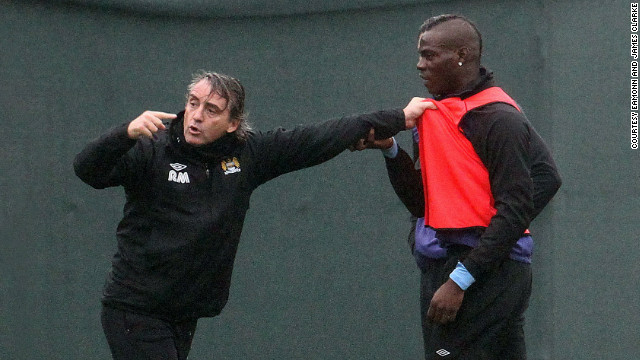 Manchester City manager Roberto Mancini was photographed grappling with his firebrand striker Mario Balotelli during a training run on Thursday, prompting coaching staff to intervene to separate the pair. Mancini later downplayed the tussle, sparked by Balotelli's hostile tackle on a fellow player, as "nothing unusual."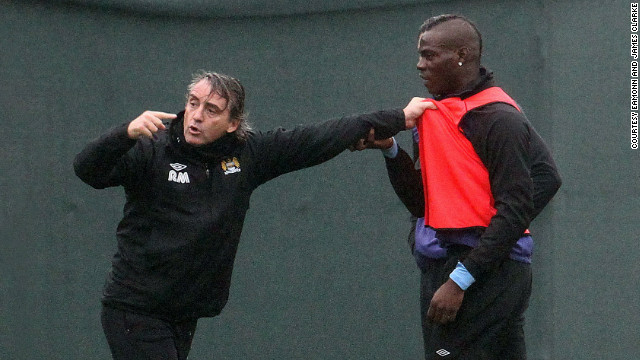 Balotelli's training ground bust up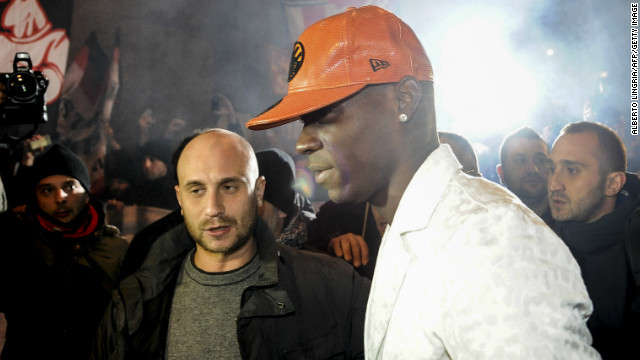 Mario Balotelli was mobbed by fans outside a restaurant as he returned home to Italy to complete his $30 million move from AC Milan to Manchester City.
His future at the English Premier League champions had been in doubt since his training ground bust-up with manager Roberto Mancini in early January, when coaching staff had to intervene to separate the pair. Mancini later downplayed the tussle, sparked by Balotelli's hostile tackle on a fellow player, as "nothing unusual."
Balotelli made his Inter Milan debut in 2007 after being signed by the club at the age of 15. He scored the first goals of his senior career in a Coppa Italia match against Reggina in December of that year.
Balotelli joined Manchester City from Italian club Inter Milan. His relationship with Inter coach Jose Mourinho endured numerous ups and downs. Disciplinary issues littered his time at the San Siro and the situation came to a head in March 2010, when Balotelli was left out of Inter's squad for a Champions League tie after an altercation with Mourinho.
Mancini was Balotelli's first coach at Inter Milan and the pair were reunited in 2010 when the striker joined Manchester City. The start of Balotelli's City career was disrupted by injury, but he finally scored his first Premier League goals in a 2-0 away win at West Bromwich Albion. His joy at netting a brace was short-lived, however, as he was sent off after picking up two yellow cards.
Balotelli became a hit with City's fans, as much for off-field antics as his goalscoring. His stock with the supporters was never higher than in October 2011, when he scored twice in City's 6-1 thumping of neighbors Manchester United at Old Trafford. After scoring the first goal in City's victory, he revealed a t-shirt stating "Why always me?" -- instantly creating one of the most iconic images of the Premier League era. City went to beat United to the English title on goal difference with a dramatic last-gasp victory over Queens Park Rangers on the final day of the season.
Balotelli reminded everyone of his undoubted talent during the 2012 European Championships. He scored three times as Italy reached the final, including both goals in the Azzurri's 2-1 semi win over Germany. Italy lost 4-0 to Spain in the final of the tournament co-hosted by Poland and Ukraine.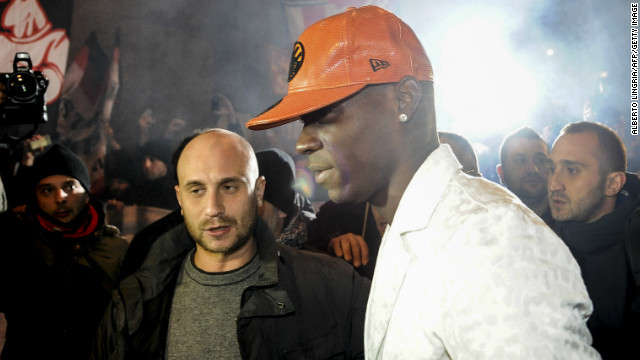 Being Balotelli: The life and times of Mario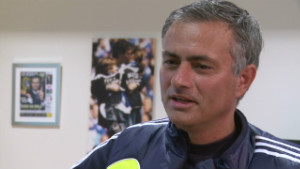 Mourinho on the enigma of Balotelli
Driving in hazardous wintry conditions, Rangel decided to make the journey to his local sandwich shop to have a bite to eat.
It is there that Rangel takes up the story, telling CNN about his gesture as he drove through the city looking for people sleeping rough.
He said: "We went for something to eat in a local sandwich chain and overheard the manager saying they had to throw out bags of sandwiches as they were about to close for the night.
"My wife, Nikki, who is a very caring and charitable person, asked if we could have them for the homeless rather than see them thrown in the bin.
"They agreed and we drove around Swansea for over an hour, but couldn't find any homeless people as it was so cold out on the streets with all the snow.
"We decided to tweet a plea and we were guided to a local charity shelter who looked after the homeless."
Rodgers defends Liverpool's Suarez
That tweet, which went viral, was picked up by a local homeless shelter which invited the pair to the venue.
After giving out sandwiches and talking to the group, Rangel joked he should have hit the kitchen to cook up some of his famous Spanish Omelette.
He added: "They were obviously grateful and after chatting to the charity worker it is something we are going to do on a regular basis. It's the least we can do, especially with it being so could outside at the moment.
"I don't know if we'll be as lucky with the free sandwiches in future, so I may have to cook some of my special Spanish omelettes instead!"
He later wrote on Twitter: "Wow we r amazed at the amount of tweets we r receiving. Thanks a lot but it was just a little gesture we drove for only 1 hour and felt great."
Rangel stated that he did not want the name of the shelter publicly named.
Rangel will now hope to put a smile on lots more Swansea City faces when he takes on Stoke City in the Premier League Saturday.