STORY HIGHLIGHTS
Mauricio Pochettino has been named as the new manager of Southampton
Argentine replaces Nigel Adkins and will take charge of Monday's game against Everton
Pochettino revealed he spoke to Jose Mourinho about taking Premier League job
Alex Ferguson and Rafa Benitez express shock at Adkins' sacking
(CNN) -- Jose Mourinho, the self-anointed 'Special One', has been hailed as the man who convinced Mauricio Pochettino to make the move to the Premier League and take the reins at Southampton.
Real Madrid manager Mourinho, who enjoyed a hugely successful time with Chelsea, gave Pochettino a few words of wisdom on life in the Premier League.
The Argentine, who was appointed Friday following the removal of Nigel Adkins, has previously managed Espanyol in Spain and will take charge of his first game against Everton on Monday.
'I hate my social life,' says Mourinho
"I am very passionate about the Premier League," the 40-year-old told reporters.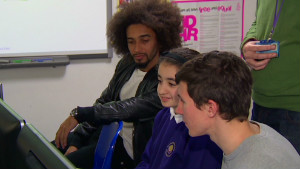 Assou-Ekotto: Education is key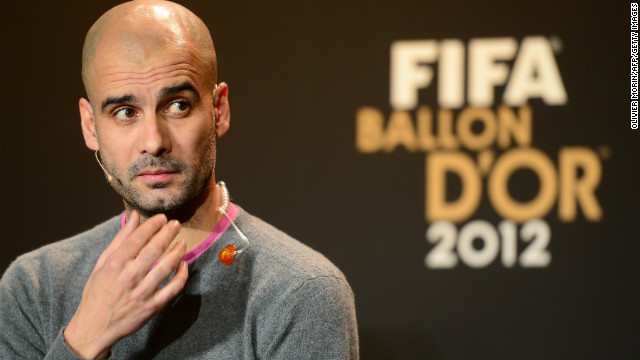 Pep Guardiola has been on a year-long sabbatical in the U.S. after stepping down as Barcelona coach, but he returned to Europe in January for the Ballon d'Or when he was shortlisted for FIFA's world coach of the year award.
When he confirmed he was to end his four-year reign as Barcelona coach, Guardiola gave an emotional press conference.
Guardiola announced his intent to quit at the end of last season just three days after the club's Champions League semifinal exit against Chelsea, drawing 2-2 at home and losing 3-2 on aggregate. He left a remarkable legacy.
He was massively popular at the Camp Nou after four trophy-laden seasons. Here he is thrown in the air by his players after winning the FIFA Club World Cup for the second time in December 2011, having been the first team from Spain to win it two years earlier.
Guardiola congratulates Barca players Cesc Fabregas and Javier Mascherano after winning the Spanish Supercup against Real Madrid at the start of the 2011-12 season.
Guardiola lifts the 2011Champions League trophy after Barca beat Manchester United at Wembley. The 41-year-old has earned a reputation as a coach who prepares meticulously for matches.
Guardiola won the FIFA Men's Football Coach of the Year award in January 2012. "I can't promise you silverware, but I can say that we'll keep on battling to the end and you'll be proud of us," he said after becoming coach four years ago.
In the 2009 calendar year, Guardiola won six trophies in total -- the Copa del Rey, La Liga, the European Champions League, the Spanish Supercup, the UEFA Supercup and the Club World Cup.
Former Barcelona president Joan Laporta shakes hands with Guardiola on June 5, 2008. The Catalan club's 15th coach arrived with the mission to end a two-season trophy drought -- he didn't disappoint.
As a player, Guardiola spent more than a decade in Barcelona's senior team, winning six Spanish titles and one European Cup. He captained Spain to a gold medal at the 1992 Barcelona Olympics and went to the 1994 World Cup.
He joined Barca's famed La Masia youth academy in 1984, and wore the No. 4 shirt until leaving for Italy in 2001.
He had two spells at Serie A side Brescia either side of a brief time at Roma, and is pictured playing against Perugia in 2002.
Guardiola left Europe to join Qatar's Al-Ahly from 2003 to 2005, then joined Mexico's Dorades de Sinaloa for a season before finally hanging up his boots.
Guardiola is pictured here with fellow Spaniard Jose Maria Olzabal at the Ryder Cup after Europe produced a remarkable comeback to win the tournament at Medinah in the U.S.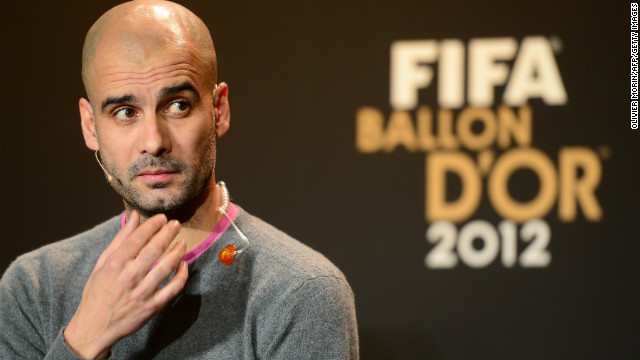 The end of an era: Josep Guardiola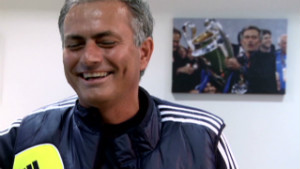 José Mourinho on managing star players
"I have seen many games, the Premier League is an attractive league and I have spoken to people at length about it, people such as Jose Mourinho, who is a good friend of mine.
"He told me the best football in the world is being played here. How the league is structured there's a lot of respect towards the other clubs and that has only convinced me to come here, aside from the project that Southampton have offered me, the chance to work in this league I am very happy about."
The move comes as something as a surprise given Southampton's recent good form, which included a fine comeback to draw 2-2 at Chelsea in its last match.
Adkins, 47, arrived at the club when it was second bottom in the third tier before winning successive promotions to reach the Premier League.
The club is currently 15th with a three-point lead over the teams in the relegation zone.
Flying high: Mourinho mentors Cape Verde's 'Special One'
Executive chairman Nicola Cortese has been criticized by supporters for the ousting of Adkins with fans taking to Twitter to register their disgust.
But journalist Gordon Simpson, who covers the club for the Southampton Echo newspaper, says Cortese's decision will ultimately be judged on results.
"The decision to sack Nigel Adkins has obviously come as a shock to many Saints fans," Simpson told CNN.
"It is not a complete surprise, however. It has been rumoured for some time that the chairman, Nicola Cortese, has been considering a change and there has been a sense for a while at St Mary's that Adkins has been living on borrowed time.
"Adkins is an enormously popular figure with the supporters here, and as you can imagine the news has been largely met with a degree of hostility and sadness.
"The timing is certainly strange, with the club having enjoyed a fine series of results and performances in recent months -- two defeats in 12 Premier League games tells its own story.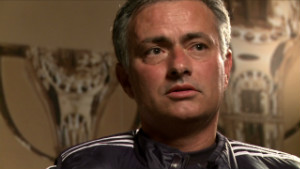 José Mourinho: 'I hate my social life'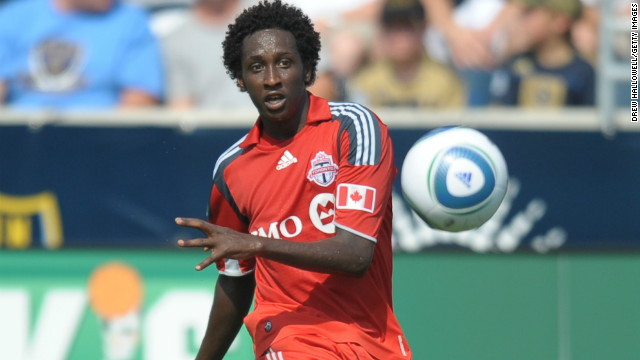 The 2013 Africa Cup of Nations kicks off in South Africa on Saturday. It is one of the world's most exciting tournaments including players who ply their trade in some of Europe's top leagues. Among them is Fuad Ibrahim, a young American striker who once played for the U.S Under-17 and Under-20 teams.
Ibrahim, seen here lining up for Toronto in the MLS, has been chosen to play for the Ethiopia national team at the Africa Cup of Nations.
According to Thomas Rongen, who was then the coach of the U.S. Under-20 team, Ibrahim was one of the most talented young players to come through the national set up. But things did not work out and, after dropping down to the NASL with his hometown club the Minnesota Stars, Ibrahim was released at the end of last season.
Despite being a free agent Ibrahim was contacted by the Ethiopian Football Federation to see whether he would like to play for the country of his birth. After thinking about it, he agreed and joined the team's training camp in Addis Ababa.
As a newcomer, and someone who doesn't speak much of the language, Ibrahim had to win his squad mates over. His first start was against Tanzania, where he scored in a 2-1 victory.
Ethiopia's qualification for the Africa Cup of Nations is not the only football success that the country is enjoying. They have secured four points in their first two 2014 World Cup qualification matches, including a 1-1 draw against South Africa.
The image most people have of Ethiopia is of the devastating famine in the mid-1980s that killed millions of people. Ibrahim's family survived and left for the U.S. in the 1990s for a better life and more opportunities for their young son.
Ibrahim is not the first U.S. soccer star to move abroad. National teams across the world, including Palestine, Haiti and Afghanistan, have tapped into their American diasporas to bolster their squads. Omar Jarun (pictured center, who was born in Kuwait to an American mother and Palestinian father, was raised in Georgia but now plays for the Palestinian national soccer team.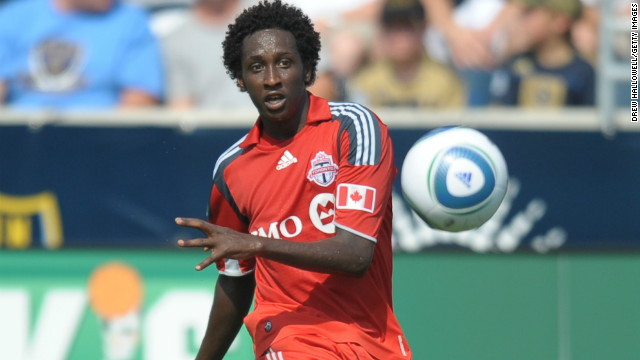 Ethiopia's American boy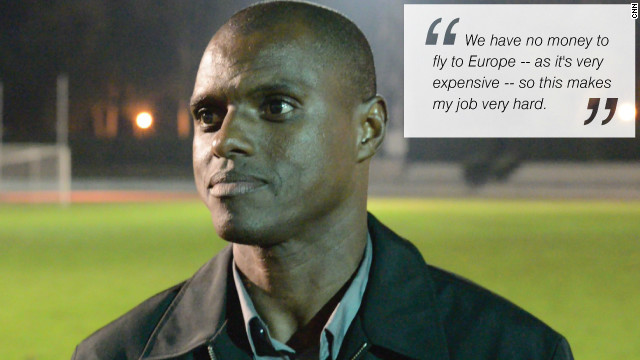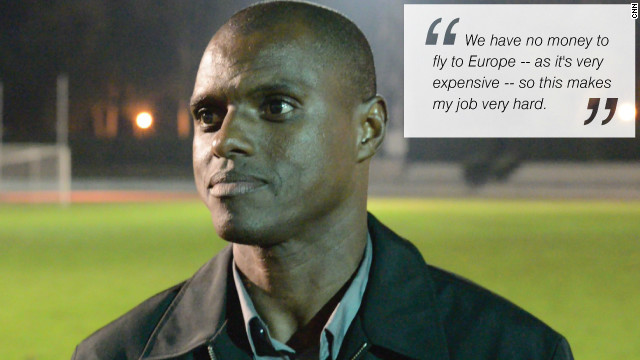 High flyer: Cape Verde's 'Special One'
"Obviously, Cortese's decision will ultimately be judged on results. If the club continues to move forward under new manager Mauricio Pochettino's guidance then he will feel vindicated and supporters will quickly come to accept the change.
"But Saints' season is delicately balanced right now, and if results start to regress then the anger and frustration emanating from much of the fan base will only heighten."
Bielsa
Pochettino, who represented Espanyol and Paris Saint-Germain as a player, won 20 caps for Argentina at international level.
Known for his readiness to use young players, he learnt his trade as a 16-year-old under the watchful eye of current Athletic Bilbao coach Marcelo Bielsa during their time together at Newell's Old Boys in his native Argentina.
While at Espanyol, he took a club struggling at the wrong end of La Liga before establishing them as a competitive mid-table team by using the products of an impressive youth system.
Southampton has a good history of blooding young players with Gareth Bale, Theo Walcott and Alex Oxlade-Chamberlain just a few to have progressed through the ranks in recent years.
Youth
According to David Cartlidge, Spanish football correspondent for Mirror Football, Pochettino's work with the youth players at Espanyol produced excellent results.
"Mauricio Pochettino's work with the youngsters at Espanyol was perhaps his most accomplished work while in Spain," Cartlidge told CNN.
"He understood very well the financial rigours placed upon his club, and reacted by developing a close relationship between them and first team.
"During his four year spell, 23 players were promoted from the youth set-up, the youngest being Paul Quaye, at just 16 years old.
"Not only did he develop players for Espanyol's own gains on the field, but off it too, as several were sold on for considerable profit.
"He would spend hours at Espanyol Sports Complex, going through videos and recording warm-ups to get insight on players.
"But he would also spend time with the young players, working with them just as he did with the first team, making them feel part of things."
Walcott
Meanwhile, former Southampton star Walcott has signed a new long-term deal with Arsenal.
The England international had been linked with a move away from the club, but has put pen to paper following lengthy negotiations.
The 23-year-old told the club's official website: "I have made it clear from the start that I wanted to stay at Arsenal so I am pleased we have agreed a deal that everyone is happy with. What's important now is for the team to realise its potential and win trophies."