STORY HIGHLIGHTS
World Economic Forum has taken "Resilient Dynamism" as the theme of this year's event
European Commission President Jose Manuel Barroso declared that the euro crisis was over
Despite the markets and Barroso's optimism, the global economy is expected to remain sluggish
Editor's note: Isa Soares is a Quest Means Business producer. She is at the World Economic Forum in Davos, and in this analysis piece examines the year's theme: Resilient Dynamism. You can follow her on Twitter. Quest Means Business is presented by CNN's foremost international business correspondent Richard Quest. Follow him on Twitter and watch Quest Means Business on CNN, 1900 GMT weekdays.
(CNN) -- The moment you arrive in Davos, Switzerland, there's an immediate sense of endurance and fortitude. No, it's not coming from the delegates; they have yet to arrive. It's the locals. Here, they battle through adverse weather conditions. Nothing seems to stop them. Through little visibility, snow, ice and mud, no job is too small or too difficult.
It's this dynamism the world's financial and political elite are looking to attain. To inspire and push them along, the World Economic Forum (WEF) has taken "Resilient Dynamism" as the theme of this year's event. No one knows exactly what this means and in many ways, it can be interpreted any way you want.
Quest: U.S. economy to dominate Davos 2013
Meeting at the WEF, the 2,500 participants are looking to improve the state of the world through what Klaus Schwab, the organization's founder, calls "strategic agility and risk resilience." In other words, being well prepared for whatever risks come our way, and strong enough to sustain and recover from the shockwaves.
But in a fast moving world, how do you prepare for an unknown risk? After all, it's hard to plan, with the world looking so different from this time last year.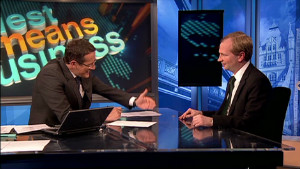 Eurozone's economic outlook for 2013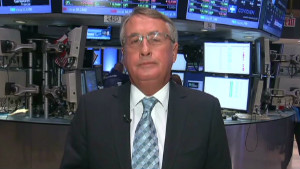 Australian treasurer: Outlook is good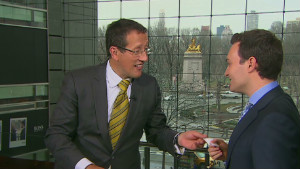 Business cards of the future
Read more: Davos 2013: New year, same old problems?
Europe, which led the global economic crisis and was the talk of Davos last year, has managed to survive. The collapse of the euro has been avoided and Greece, to many people's surprise, is still a part of the eurozone.
European Commission President Jose Manuel Barroso declared that the euro crisis was over just a few weeks ago. Speaking in Lisbon, he said: "I think we can say that the existential threat against the euro has essentially been overcome. In 2013, the question won't be if the euro will, or will not, implode."
Barroso's optimism has been fuelled, in part, by the movements of the world's central banks. The European Central Bank gave Europe its biggest bounce when it offered to buy unlimited bonds (OMTs) of heavily indebted nations such as Italy and Spain. It was without a doubt, Mario Monti's "big bazooka" moment.
Around the world, central banks purchased financial assets to help lift the economy.
Interactive: Is your economic mood up or down?
The Bank of England, the Bank of Japan and the U.S. Federal Reserve all purchased financial assets such as bonds with freshly printed money. In addition to this, they slashed interest rates to near zero or record lows. At such low interest rates, investors began to shift their money into stocks. This is evident right now -- Greece's stock exchange is up more than 37% on the year.
Despite the markets and Barroso's optimism, the global economy is expected to remain sluggish.
The World Bank cut its forecast for global growth last week, projecting an expansion in 2013 of only 2.4%, down from its forecast six months ago of 3%. It pointed out the near-depression level jobless rates in Europe as well as the U.S.
Europe may not be on the edge, but the crisis is far from over; unemployment is soaring, productivity is falling, anger is still raw and governments are still carrying a heavy debt load.
Davos 2013: Follow the action live on CNN.com
The U.S. meanwhile has serious problems of its own. There are real concerns that the world's largest economy may slash government spending, eventually slowing down the economy. In addition, there are worries over its ability to get over its political and budgetary mess.
This is the uncertain risky economic and political landscape facing us all. While I don't expect the great minds of the WEF to provide any clear answers or solutions, I do hope that when it comes to the next crises, they have the resilient dynamism to guide us smoothly through any economic minefields.