Glock's F1 future in doubt after leaving Marussia
January 21, 2013 -- Updated 2214 GMT (0614 HKT)
STORY HIGHLIGHTS
Timo Glock and Marussia have parted company by mutual consent
Financial reasons behind the decision to split
Rookie Max Chilton left as Marussia's only driver
Sebastien Buemi and Vitaly Petrov both potential replacements for Glock
(CNN) -- Timo Glock faces an uncertain future in Formula One after parting company with Marussia ahead of the new season.
The 30-year-old German, who was expected to partner rookie Max Chilton for the 2013 campaign, had been with the team since it began as Virgin back in 2010.
Glock made his debut for Jordan in 2004 before going on to spend two years at Toyota.
But Marussia are in need of a driver who can attract sponsorship to the team, a key factor in the decision to cut ties.
Domenicali: Ferrari 'right' to retain Massa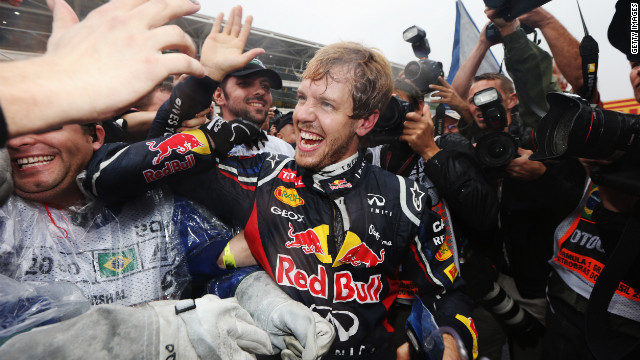 Sebastian Vettel celebrates with his team and admirers after a pulsating race at Interlagos in Brazil. But where does the Red Bull driver rank in the pantheon of F1's virtuosos?
On Sunday, Vettel fought off feisty toreador Fernando Alonso to capture the drivers' title in a dizzying denouement and join an elite band of Formula One world champions.
It is mark of Vettel's greatness that he had come to from behind at Interlagos after a nightmare start on the opening lap when he was hit on the fourth turn and suffered damage to his car. It left Vettel at the back of the grid but by the 24th lap the Red Bull racer had clawed his way back to fifth place.
"Even if he appears to have a car that makes it possible for him, nevertheless he has to do it," said seven-time world champon Michael Schumahcer of Vettel's achievements.
"He's going for it 200% and it's a very tough job," added Schumacher of Vettel's talent. "He managed to pull it out and that is the extra effort that comes from him and to do this so consistently is very special."
The 2012 season demonstrated that if you want to get ahead in F1 make sure you have a good engineer in your team. Arguably there is no better engineer in the sport than Adiran Newey.
"Schumacher had five consecutive titles but that was in a period when Ferrari had influence on tyre development," said former McLaren GP winner John Watson.
"The interesting part is that this championship has been so hard-fought and it didn't really come together until the last races,"said 1978 champion Mario Andretti. "This season has been one of the best in memory. Vettel is one of the rare talents that don't come along very often."
"Vettel is making the most of the best design in F1," added Andretti.who is one of only two American drivers to have won the Formula One title. Here Andretti (R) is seen talking to Stirling Moss, during the championship winning season in 1978.
When Schumacher won his first world title with Benetton in 1994 it was also one of F1's darkest periods. The German won the San Marino Grand Prix in 1994 where both Simtek racer Roland Ratzenberger and three-time world champion Ayrton Senna lost their lives.
Vettel celebrates with Formule One supremo Bernie Ecclestone following his title win in Brazil.
Vettel is now chasing after Frenchman Alain Prost , who won four drivers' titles.
"Fangio is my hero," said former McLaren GP winner Watson. "Why I respect him is that he won five world championships in an era when motor racing was fundamentally a slaughter."
Vettel aims to join Prost next year -- then five-time winner Fangio and Schumacher's magnificent seven are all that are ahead of him in his quest for total greatness.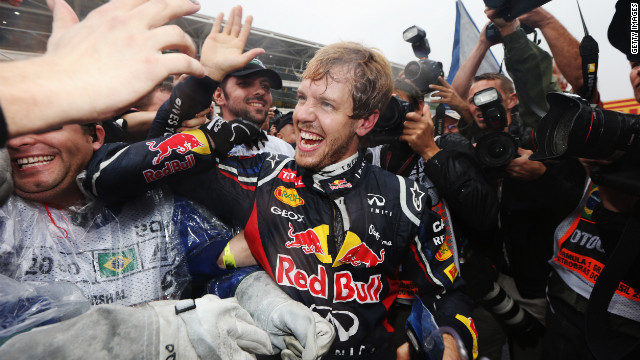 How good is Sebastian Vettel?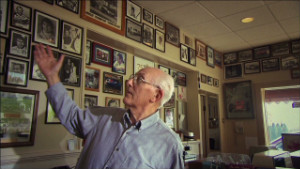 F1's spiritual home in the U.S.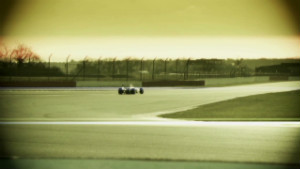 India's F1 story
"I have had three excellent years with the Marussia F1 Team, during which I had the chance to actively participate in building and developing the team in its endeavours to succeed within the Formula 1 World Championship," Glock said in a statement.
"I would like to wish the team good luck in navigating this next period and thank everyone for the great times we shared and the support I have received.
"Although it is not the path I expected to be taking, I am in fact very excited about what the future holds in terms of my own career and I hope to comment on that very soon."
Team principal John Booth revealed that there were financial factors which led to Glock's departure following the team's failure to hang on to 10th place in the constructors' championship.
"Timo is a fantastic driver and he has been a very popular member of the team," he told reporters.
Fangio vs. Senna: Who is the greatest
"Our team was founded on the principle of benefiting from proven experience whilst also providing opportunities for young emerging talent to progress to the pinnacle of motorsport.
"Thus far, this philosophy has also been reflected in our commercial model. The ongoing challenges facing the industry mean that we have had to take steps to secure our long-term future.
"Tough economic conditions prevail and the commercial landscape is difficult for everyone, Formula One teams included.
"We would like to thank Timo for working with us to reach this decision, especially as he had a valid contract, and also for the contribution he has made to our team."
While Glock could yet turn up at Caterham or Force India, Marussia is yet to announce a replacement for the German.
Vitaly Petrov and Sebastien Buemi have both been touted, but the team is not expected to rush into an appointment.