STORY HIGHLIGHTS
Tottenham manager Andre Villas-Boas says Bayern Munich is right club for Pep Guardiola
Former Barcelona coach is to take over at German giants in July 2013
Villas-Boas says Bayern is perfect for Guardiola to continue his football philosophy
Guardiola won 14 trophies in four seasons as coach of Barca before taking year out
(CNN) -- Tottenham Hotspur manager Andre Villas-Boas has told CNN that Bayern Munich is the perfect club for all conquering coach Pep Guardiola to promote his football message.
Guardiola signed a three-year deal with the German giants last week after masterminding an incredible 14 trophies in four seasons with Barcelona.
After deciding to take a year away from the game citing exhaustion, the 42-year-old will return to football in July aiming to add to his two European Champions League triumphs.
And while Villas-Boas, who led Portuguese side Porto to four trophies in his first season as coach aged just 33, was surprised at Guardiola's decision to go to Germany, he thinks it is the perfect vehicle for his counterpart to extol his pure footballing principles.
Read: 'Pep will make Bayern's team better players and people'
"I think in Bayern he will find the right setup to continue, not only to promote his message of football, which is immense, but the way he believes in this game and the way he has changed the nature of the game," he told CNN.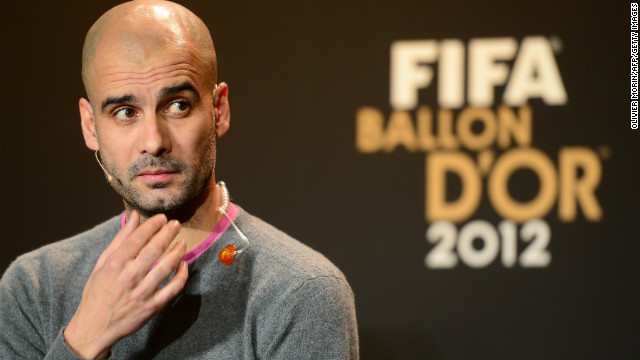 Pep Guardiola has been on a year-long sabbatical in the U.S. after stepping down as Barcelona coach, but he returned to Europe in January for the Ballon d'Or when he was shortlisted for FIFA's world coach of the year award.
When he confirmed he was to end his four-year reign as Barcelona coach, Guardiola gave an emotional press conference.
Guardiola announced his intent to quit at the end of last season just three days after the club's Champions League semifinal exit against Chelsea, drawing 2-2 at home and losing 3-2 on aggregate. He left a remarkable legacy.
He was massively popular at the Camp Nou after four trophy-laden seasons. Here he is thrown in the air by his players after winning the FIFA Club World Cup for the second time in December 2011, having been the first team from Spain to win it two years earlier.
Guardiola congratulates Barca players Cesc Fabregas and Javier Mascherano after winning the Spanish Supercup against Real Madrid at the start of the 2011-12 season.
Guardiola lifts the 2011Champions League trophy after Barca beat Manchester United at Wembley. The 41-year-old has earned a reputation as a coach who prepares meticulously for matches.
Guardiola won the FIFA Men's Football Coach of the Year award in January 2012. "I can't promise you silverware, but I can say that we'll keep on battling to the end and you'll be proud of us," he said after becoming coach four years ago.
In the 2009 calendar year, Guardiola won six trophies in total -- the Copa del Rey, La Liga, the European Champions League, the Spanish Supercup, the UEFA Supercup and the Club World Cup.
Former Barcelona president Joan Laporta shakes hands with Guardiola on June 5, 2008. The Catalan club's 15th coach arrived with the mission to end a two-season trophy drought -- he didn't disappoint.
As a player, Guardiola spent more than a decade in Barcelona's senior team, winning six Spanish titles and one European Cup. He captained Spain to a gold medal at the 1992 Barcelona Olympics and went to the 1994 World Cup.
He joined Barca's famed La Masia youth academy in 1984, and wore the No. 4 shirt until leaving for Italy in 2001.
He had two spells at Serie A side Brescia either side of a brief time at Roma, and is pictured playing against Perugia in 2002.
Guardiola left Europe to join Qatar's Al-Ahly from 2003 to 2005, then joined Mexico's Dorades de Sinaloa for a season before finally hanging up his boots.
Guardiola is pictured here with fellow Spaniard Jose Maria Olzabal at the Ryder Cup after Europe produced a remarkable comeback to win the tournament at Medinah in the U.S.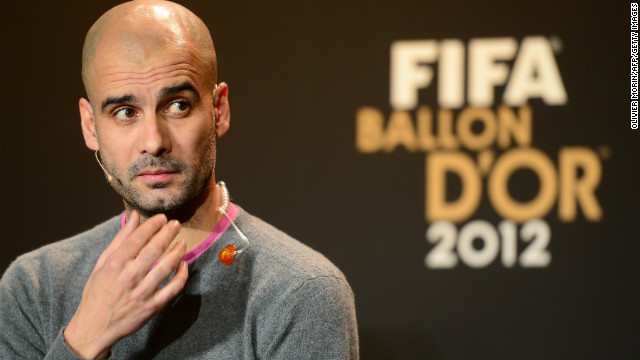 The end of an era: Josep Guardiola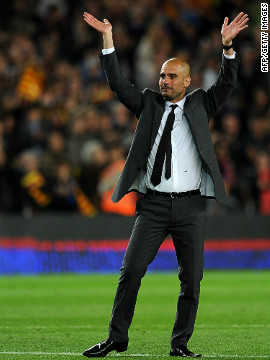 Pep Guardiola waved goodbye to Barcelona on Friday in the only way he knows how -- by winning a trophy. The club's victory in the Spanish Cup final took his haul of trophies to 14 during his four years in charge.
Guardiola is inextricably linked with Barcelona. He was born in Catalonia, and joined Barca's academy in 1984, winning six Spanish league titles and one European Cup before leaving for Italy in 2001.
After a spell coaching Barcelona's 'B' team, in which he delivered promotion to the second tier of Spanish football, Guardiola was handed the top job in June 2008 by then president Joan Laporta (L).
Guardiola's dedication to an approach known as "tiki taka" -- a fluent passing style based around dynamic movement -- was immediately evident, as players like Xavi and Andres Iniesta, both World Cup winners with Spain in 2010, flourished. Guardiola also maximised the use of a young striker called Lionel Messi, who would go on to break all records.
In Guardiola's first season Barcelona won an unprecedented treble as they scooped the Spanish league title, the Spanish Cup and the European Champions League, beating Manchester United in Rome.
By the time 2009 was out, Barca had added the Spanish Supercup, European Supercup and Club World Cup trophies to their cabinet, making it six won in Guardiola's first season. He also retained the Spanish league title in 2010.
Prior to the 2010 season Real Madrid employed Jose Mourinho, the self-anointed 'Special One' as their coach. This intensified the fierce rivalry between the two giants, and provoked a series of disagreeements between two of the game's biggest names.
Despite Mourinho's presence, Guardiola again retained the Spanish league title in 2011 and claimed his second European Champions League crown, as Barca again beat Manchester United, this time at Wembley in London.
But for months there had been rumors that the demands of the job and those he placed on himself were wearing Guardiola down. After Barcelona had relinquished both their league and Champions League titles, he confirmed he was standing down. "The reason is simple: four years is enough," he said. "I'm drained and I need to fill up."
At the press conference to announce Guardiola's departure Barca confirmed his assistant Tito Vilanova would take over as coach. As another disciple of Barcelona's approach, he has a tough task to replicate Guardiola's achievements.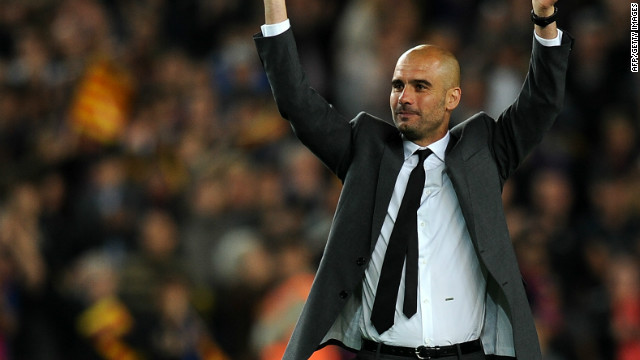 How Pep Guardiola reinvented football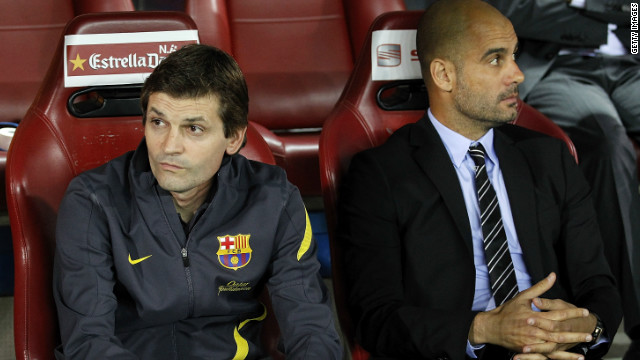 Pepe Guardiola and his successor Tito Vilanova sit in the dug out during the Copa del Rey final win.
Pedro Rodriguez sealed Barcelona's Copa del Rey triumph with two first half goals against Athletic Bilboa.
Lionel Messi celebrates his 73rd goal of the season by Barcelona as they beat Athletic Bilboa 3-0 in the Copa del Rey final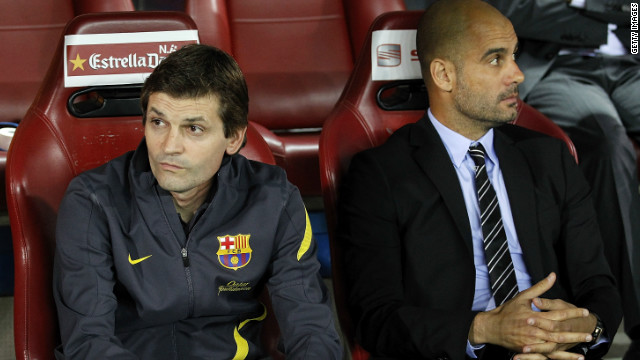 Barcelona say farewell to Guardiola with Copa del Rey win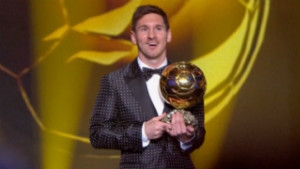 Messi claims fourth Ballon d'Or
Villas-Boas knows all about the pressure at the highest level of management. After swapping Porto for English club Chelsea in 2011 he was sacked by Russian owner Roman Abramovich after just nine months in charge.
Having swapped west London for north, joining Tottenham in July 2012, the 35-year-old is trying to rebuild his reputation, leading his new club to fourth place in the English Premier League.
Speculation was rife that Guardiola would head for England to coach either Villas-Boas's former club Chelsea, Arsenal or Manchester United.
And Villas-Boas says he was shocked when Bayern announced Guardiola would take over from current coach, Jupp Heynckes, at the end of this season.
"I was so surprised that I asked my media adviser from Tottenham if it was true," he added.
"Obviously it's a big, big club, one of the biggest clubs in the world, in a league where we didn't maybe expect Guardiola to go to.
"There's a great respect from all managers towards Jupp Heynckes and what he has achieved in his career."
Guardiola won La Liga, the Spanish Cup and the European Champions League in his first season as Barca manager in 2008-09.
He went on to retain the Spanish League title twice more and add another Champions League triumph in 2009-10.
In his final season Barca only managed to win the Spanish Cup before Guardiola stunned world football by saying he needed time away from the game. His assistant, Tito Vilanova assumed the reins.
Villas-Boas is convinced Guardiola can add to his reputation as one of the finest coaches the game has seen with more trophy-laden years at Bayern,
"Guardiola is obviously going to become one of the greatest managers in football," he said. "He's won, I think, 14 trophies in 16 (competitions) and he's had such an amazing career."