STORY HIGHLIGHTS
FIFA's Jerome Valcke says match-fixing is a disease which could kill football
Valcke spoke to CNN after UEFA president Michael Platini warned of match-fixing's threat
41 South Korean players were handed lifetime bans by FIFA for match-fixing offenses
South African football chief suspended pending a match-fixing investigation
(CNN) -- Match-fixing is a "disease" that could kill football, a top official at the sport's world governing body told CNN on Wednesday.
Earlier this month FIFA handed lifetime bans to 41 South Korean players who had been involved in prearranging matches.
It followed December's suspension of the president of the South African Football Association ahead of an investigation into match-fixing in the country prior to it hosting the 2010 World Cup.
"I really think that it's a disease and a threat which is on a worldwide basis," FIFA's general secretary Jerome Valcke told CNN in an exclusive interview.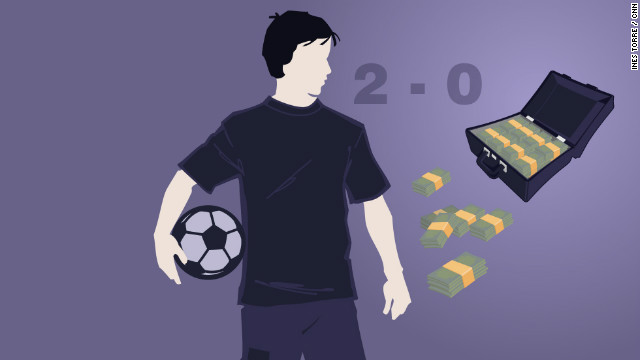 The Secret Footballer says in the early days of in-play betting players used to make money by manipulating elements of the match such as who would win the first throw in.
Former Southampton man Claus Lundekvam has insisted that whilst he and the other players knew what they were doing at the time was illegal, it was never considered more than a bit of fun. Players, he claims, would bet on anything from who would get carded to the recipient of the first throw-in. En route to away matches everything was fair game for a flutter, he says, except for the score.
Lars Bohinen enjoyed eight successful years in the Premier League, and played alongside Lundekvam at international level for Norway. He explains that whilst he heard talk of spot-fixing, he never fully bought into the idea. It is only now, years after his retirement, that he considers that gambling talk between the players was more than a harmless joke. He also believes that there is far more addiction amongst top-flight players than people see. "You could sense it from the way they gambled", he says.
For former Arsenal and England captain Tony Adams holds the matter of addiction amongst professioanl footballers much more seriously. After overcoming drug and alcohol problems he fouded the Sporting Chance Clinic, dedicated to help other sportsmen and women do the same. The Professional Footballers' Association and ex-Gunner Paul Merson are also patrons.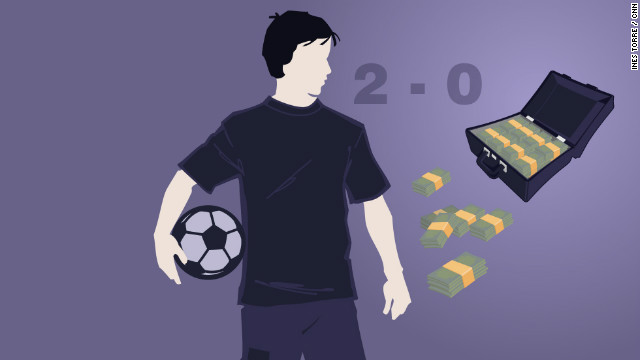 Match-fixing in football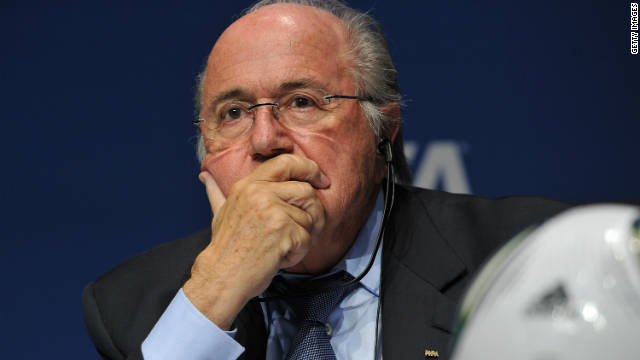 FIFA president Sepp Blatter's 2011 remarks on racism in football -- that on-pitch abuse can be solved with a handshake -- were just one of a series of controversial quotes to be attributed to the head of world soccer.
In 2004, Blatter -- seen here with Brazil star Marta -- angered female footballers with his suggestion for how the women's game could be made more appealing. "They could, for example, have tighter shorts," said the Swiss. "Let the women play in more feminine clothes like they do in volleyball."
In 2010, when England captain John Terry, who is married, was reported to have slept with the partner of his former Chelsea teammate Wayne Bridge, Blatter responded: "If this had happened in, let's say, Latin countries then I think he would have been applauded."
In 2008 Blatter was ridiculed after defending the desire of Manchester United's highly-paid star Cristiano Ronaldo to join Real Madrid. He said: "I think in football there's too much modern slavery in transferring players or buying players here and there, and putting them somewhere." In 2013 he had to apologize to Ronaldo after a bizarre impersonation of the Madrid star.
Blatter performed a U-turn on the use of goal-line technology and apologized to the English Football Association after an incorrect decision during the 2010 World Cup. Despite replays showing a shot from England's Frank Lampard had clearly crossed the line in the last-16 clash with Germany, the goal was not awarded.
Blatter had earlier refused to take action when Thierry Henry's blatant handball denied the Republic of Ireland a place at the 2010 World Cup finals. Even the France striker admitted the fairest solution was to replay the playoff match.
In December 2010, Blatter was heavily criticized for suggesting gay football fans should "refrain from sexual activity" if they wished to attend the 2022 World Cup in Qatar, where homosexuality is illegal. Blatter later apologized and said it had not been his intention to offend or discriminate.
Blatter clashed with fellow members of FIFA's executive committee when he suggested the 2022 FIFA World Cup could be played in January to avoid high temperatures in Qatar. He said the move would "protect the players and also the spectators." Qatar flatly rejected Blatter's suggestion at the time, but FIFA is now reviewing whether to adopt it.
In December 2010 Blatter insisted that FIFA was "not corrupt ... there are no rotten eggs" despite two of his executive committee members -- Amos Adamu, pictured, and Reynald Temarii -- being suspended for accepting bribes in the lead-up to the vote for awarding hosting rights for the 2018 and 2022 World Cups. He called England "bad losers" after losing out to Russia.
Blatter stood unopposed for re-election in July after his former ally Mohamed bin Hammam quit the race days before the ballot after being accused of offering cash for votes. The Qatari, a top FIFA official, has been banned from football.
Blatter faced a criminal investigation after winning the 2002 FIFA presidential election, being accused of financial mismanagement by 11 former members of the ruling body's executive committee, including his 1998 election rival Lennart Johansson, right. However, prosecutors dropped the case due to a lack of evidence.
In January 2013, AC Milan midfielder Kevin-Prince Boateng led his team off the pitch after being subjected to racist chanting. His actions were hailed across the world. But Blatter was more cautious about the issue, refusing to support the move. "I don't think you can run away, because eventually you can run away if you lose a match," he said in an interview with a newspaper in the UAE. "This issue is a very touchy subject, but I repeat there is zero tolerance of racism in the stadium; we have to go against that." Others, like AC Milan president Silvio Berlusconi, have disagreed with him. "I am of the opposite view (to Blatter)," said Berlusconi. "I thanked and congratulated my players for their decision to leave the field."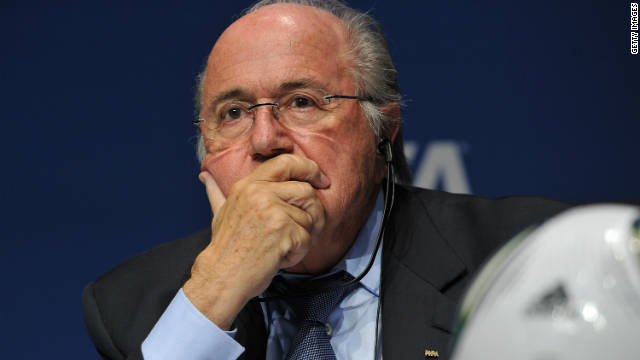 Blatter: A controversial leader
"It's not just about Africa. It is in Asia, it is in Europe, it is in North America, it is in Canada, it is in South America. It's all around the world that this match-fixing, or match manipulation, is active."
Read: Sympathy for the "devil" - In defense of Sepp Blatter
Valcke was speaking after European football chief Michel Platini branded match-fixing the greatest threat to the future of football in an interview with a French radio station.
Platini had warned that football is "dead" if the outcome of matches is prearranged, a statement Valcke echoed by saying the appeal of the sport lies in its unpredictability.
"If you know the end of the party, of the game, then definitely football is dead," he said. "That's the beauty of the game, you never know who will be the winner.
"It can be the team you think would win, but it can also be the other team, the opponent who can make it because it's just played on one goal. So that's why we have to protect football as much as we can."
Valcke warned that the fight against the highly lucrative match-fixing business could take 10 years, and urged anyone with knowledge of such activity to come forward.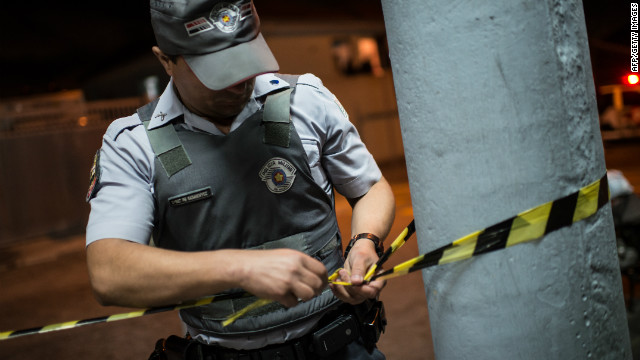 The Brazilian city of Sao Paulo has been battling a crime wave, with 100 police officers dying this year -- prompting security concerns ahead of the 2014 World Cup.
The Brazilian government has implemented programs to control violence in shantytowns around the country. Here an officer patrols one of Rio de Janeiro's favelas.
The South American nation's World Cup bid team has announced that $900 million will be spent on security for the soccer tournament as it tries to appease safety concerns.
Brazilians are passionate about football. Here Corinthians supporters cheer their team's players at at the Cumbica International Airport in Sao Paulo before their departure to December's FIFA Club World Cup in Japan.
While the draw for next year's Confederations Cup was taking place, members of the anti-violence group Paz de Rio protested in Sao Paulo against the increase of the murder rate in Brazil.
Brazilian model Adriana Lima was enlisted to help with the draw for the tournament, which is traditionally staged by the World Cup host as a warmup event and features eight nations.
Rio's iconic Maracana Stadium is still undergoing renovation, but is expected to be ready for when Brazil's five-time world champions begin their defense of the Confederations Cup title next June.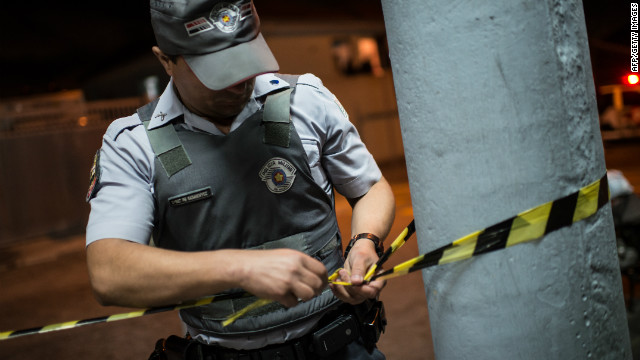 Brazil boosts World Cup security budget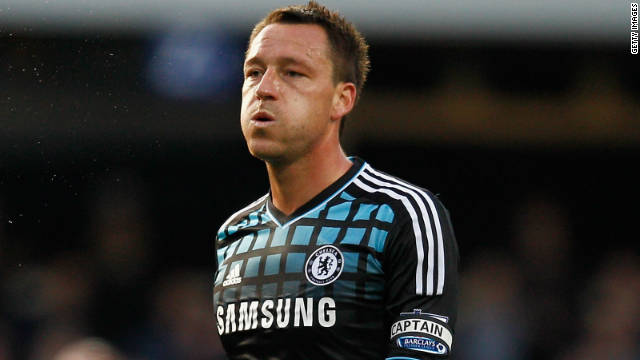 It is now nearly a year since Chelsea lost to QPR 1-0 in an English Premier League game at Loftus Road. During the game it was alleged QPR defender Anton Ferdinand swore at John Terry and made reference to the Chelsea captain's reported affair with the ex-partner of former team-mate Wayne Bridge. Terry is then said to have described Ferdinand as a "f***ing black c***".
In July, Terry was cleared in a London court, where the criminal burden of proof is "beyond all reasonable doubt". But the English Football Association then investigated the case, and using the test of "on the balance of probabilities", came to the conclusion that Terry's defence against claims he racially abused Ferdinand was "improbable, implausible, contrived".
Back in September, Ferdinand had declined Terry's offer of a handshake when QPR met Chelsea at Loftus Road as the feud between the two players rumbled on.
After the FA delivered the independent commission's report on the Terry case, the Chelsea captain's teammate Ashley Cole tweeted: "Hahahahaa, well done #fa I lied did I, #BUNCHOFT***S". The Chelsea and England left-back quickly issued a "unreserved apology" for his tweet through his solicitor.
In 2011 the FA had to deal with another racism case, this time handing Liverpool striker Luis Suarez an eight-match ban and a $63,000 fine after finding the Uruguayan guilty of racially abusing Manchester United defender Patrice Evra.
Suarez and Evra failed to shake hands before the start of an English Premier League game at Old Trafford last season after the Uruguayan had served his ban. However, when United beat Liverpool 2-1 at Anfield in September, the pair did shake hands.
Questions have been raised about UEFA's sanctioning policy. Denmark striker Nicklas Bendtner was fined $126,000 and banned from playing in his side's next competitive game for flashing his sponsored waistband promoting a bookmaker as he celebrated a goal against Portugal in Euro 2012. But that fine eclipsed the $52,000 fine that UEFA handed to the Bulgarian Football Union for its fans' racist abuse of England players during a Euro 2012 qualifier in Sofia in September 2011.
In November 2011, FIFA president Sepp Blatter told CNN that football did not have a problem with racism on the field and any incidents should be settled by a handshake.
The FA's Independent Regulatory Commission heard 473 cases between December 2010 and December 2011, but only two of them ended in "not guilty" verdicts.
Stoke City boss Tony Pulis wants the Football Association to punish Liverpool's Luis Suarez for diving. "It's an embarrassment," said the Stoke manager after a 0-0 draw at Anfield. "The FA should be looking at this."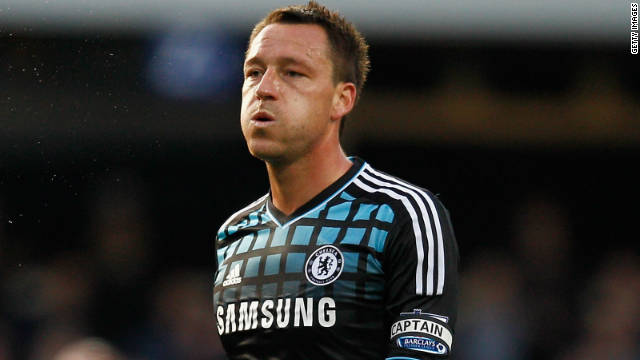 Crime and Punishment in sport
In May 2011 FIFA announced it would donate over $25 million to Interpol over 10 years -- the largest grant the world police organization had ever received from a private body -- with a view to tackling corruption.
"When I was in Rome where we had this meeting with Interpol and 50 of the 53 of the European associations, I heard that the business of match manipulation per year is around 100 billion. I don't know it is in Euros or U.S. (dollars), but whatever, it is 100 billion, it's an amazing figure," Valcke said.
"I think it will be a very, very long fight and it will be very difficult to win. And if we want to win, it is all together. Also I told some media in South Africa, if you are aware of anything you should tell us. We have to fight all.
"All the people who love football should be together towards match-fixing. But it will not be a fight of one day as we have other fights which have been there already. And match manipulation will be another fight that will be there for the next decade."
Former Interpol director Ralf Mutschke replaced FIFA's former head of security Chris Eaton -- who joined a Qatar-based sports security consultancy -- in June last year, tasked with tackling the scourge of match-fixing.
In the past FIFA's own governance has been questioned. Corruption watchdog Transparency International cut its ties with the body in 2011 when two of its recommendations -- that the investigator charged with overseeing FIFA would be compromised if he was paid by FIFA and that he should be allowed to investigate old corruption scandals -- were dropped.
"There is no limit in what we have to do in order to make sure we can eradicate match-fixing one day in our game," Valcke said. "Or at least to make sure that match-fixing is not a threat anymore to our game."