Japan reveals record 2012 trade deficit
January 24, 2013 -- Updated 0504 GMT (1304 HKT)
STORY HIGHLIGHTS
Japan exports fell 5.8% in December from strong yen, China territorial dispute
Imports grew 1.9% in same period; fuels accounted for 34% share
New PM Shinzo Abe maintains call for 2% inflation rate, more spending
Japanese yen has weakened 9% since mid-November, benefiting exporters
Hong Kong (CNN) -- Japan's annual trade deficit rose to a record $78 billion in 2012, according to official data from the Ministry of Finance.
Japan, a nation whose export-driven wealth has traditionally been built on trade surpluses, had a second straight year of trade deficits thanks to a persistently high yen, trouble with trading partner China and weakening demand in the eurozone.
Exports fell 5.8% in December 2012 compared to a year earlier due in large part to a strong yen which makes Japanese exports more expensive overseas.
A protracted territorial dispute with China in the South China Sea has also seen Beijing slow its imports of Japanese goods. Japan's exports to the country plunged 10.8% in December year-on-year.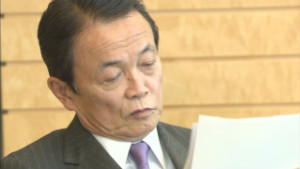 Japan deputy PM in 'die quickly' blunder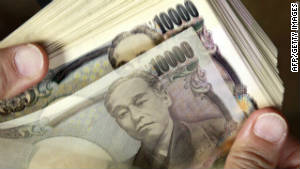 Bold moves from the Bank of Japan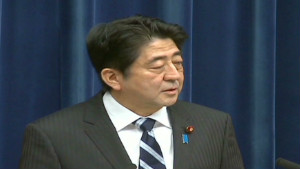 Kickstarting Japan's economy
Imports grew 1.9% over the same period, with mineral fuels including oil accounting for 34.1% -- and the majority -- of Japan's total imports for the year.
Late last year, then-prime ministerial candidate Shinzo Abe campaigned on a mission to turn his country's economy around. His government unveiled $117 billion in new stimulus earlier this month.
"Beating deflation and curbing the yen's appreciation is crucially important," Abe said on January 10 and that a "daring monetary policy is essential."
Earlier this week, the Bank of Japan signed on to Abe's plan to raise inflation to 2%, with the hope of pulling the world's third largest economy out of a two-decade slump of deflation.
Since mid-November, Japan's currency has weakened more than 9% and to a two-and-a-half year low -- boding well for Japan's exporters.
Abe, who served as Japan's premier from 2006 to 2007, was sworn back into the office on December 26.

Part of complete coverage on
April 22, 2013 -- Updated 0647 GMT (1447 HKT)

Twitter resumes -- or "twesumes" -- have been touted as the best way for social media-savvy types to snag a dream job.
April 17, 2013 -- Updated 0800 GMT (1600 HKT)

We live in a three-speed economic world, according to the International Monetary Fund.
April 17, 2013 -- Updated 1627 GMT (0027 HKT)

Women have long dominated the heated discussion around gender equality. But men need to too, says Facebook's Sheryl Sandberg.
April 19, 2013 -- Updated 1053 GMT (1853 HKT)

Security threats from mobile malware are on the rise and nearly 95% of targets operate on the Android operating system, according to a new report from NQ Mobile.
April 15, 2013 -- Updated 2006 GMT (0406 HKT)

Microsoft is working on a touch-enabled smartwatch, The Wall Street Journal says, reporting that the company asked Asian suppliers to ship components for the device.
April 19, 2013 -- Updated 0647 GMT (1447 HKT)

Give your anxious, negative colleagues a chance, and they just might surprise you.
April 17, 2013 -- Updated 1046 GMT (1846 HKT)

In Europe, high-speed rail has come to stand for ease and efficiency where journeys of four hours or less trump airplanes and the hassle of airport security.
April 19, 2013 -- Updated 1812 GMT (0212 HKT)

Infographic: Singapore may be tiny but it is also one of East Asia's most powerful trading hubs.
April 22, 2013 -- Updated 0027 GMT (0827 HKT)

In Hong Kong urban lore, an apartment where a violent death took place can often be bought for as much as 10-30 per cent off the market price.
April 16, 2013 -- Updated 1605 GMT (0005 HKT)

With gold prices officially in a bear market, investors must ask themselves if this is the time to buy?

Today's five most popular stories