Samsung profit soars to $6.6 billion record
January 25, 2013 -- Updated 1117 GMT (1917 HKT)
STORY HIGHLIGHTS
Samsung 2012 Q4 profit soars 76% from year before
Share price slides as company predicts slower 2013 smartphone demand
South Korean tech giant cites price competition, new products as 2013 challenges
Samsung was largest vendor of smartphones in 2012, shipping 213 million units worldwide
Hong Kong (CNN) -- Samsung Electronics posted a profit of $6.6 billion in the last three months of 2012 marking a 76% increase from the previous year.
While this represents a new record quarter for the world's largest maker of smartphones, Samsung's share price had slumped more than 2% by mid-day trading in Seoul after the company predicted consumers will buy fewer smartphones in 2013.
"The furious growth spurt seen in the global smartphone market last year is expected to be pacified by intensifying price competition compounded by a slew of new products," said Samsung in a press release.
"In the first quarter, demand for smartphones in developed countries is expected to decelerate, while their emerging counterparts will see their markets escalate with the introduction of more affordable smartphones."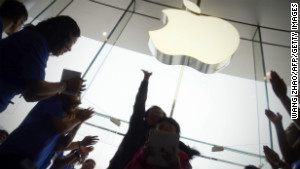 Is Apple losing its bite?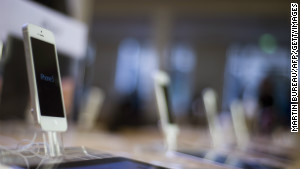 War of the smartphones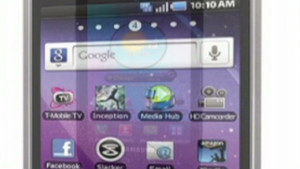 Tokyo court rules in favor of Samsung
Samsung's quarterly earnings release comes one day after Apple, its biggest rival in the smartphone and tablet markets, also announced record quarterly earnings of $13.1 billion in its last quarter.
However, Apple's share price plunged more than 12% after the company missed its revenue estimate by about $200 million. Analysts had expected quarterly revenue of $54.7 billion; Apple announced actual revenue of $54.5 billion. iPhone and iPad sales, which continued to be strong, failed to impress investors who have become used to the tech giant far exceeding its own sales and profit forecasts.
Samsung, which surpassed Apple as the world's largest vendor of smartphones in early 2012, maintained its number one position for the year by shipping 213 million smartphones worldwide, according to Strategy Analytics.
"Despite tough competition in stores and courtrooms, Samsung continued to deliver numerous hit models, from the high-end Galaxy Note2 phablet to the mass-market Galaxy Y," wrote Neil Mawston, executive director at Strategy Analytics, in a press release.
The company added Samsung's 2012 shipment volume was the largest number of units ever shipped by a smartphone vendor in a single year.
Apple followed in second as its global smartphone shipments grew 46% in 2012 sending more than 135 million smartphones around the world. The Finland-based Nokia kept its third place position.

Part of complete coverage on
March 3, 2014 -- Updated 1033 GMT (1833 HKT)

Mobile World Congress spans the full spectrum of untethered gadgetry Explore this year's top trends with Stuff Magazine Editor Will Findlater.
February 28, 2014 -- Updated 1623 GMT (0023 HKT)

Cocoa-nomics: Why chocolate really doesn't grow on trees. CNN returns to Africa's cocoa plantations to examine the fight against child labor.
February 27, 2014 -- Updated 1958 GMT (0358 HKT)

CNN's Maggie Lake speaks to Lego CEO Jørgen Vig Knudstorp about why Lego continues to be a hugely popular toy.
February 27, 2014 -- Updated 2032 GMT (0432 HKT)

A Japanese rocket roared into orbit carrying what NASA calls its most precise instrument yet for measuring rain and snowfall.
February 28, 2014 -- Updated 2003 GMT (0403 HKT)

When you hail yourself as a "passionate advocate" for job-seekers, you probably ought not blast one of those job-seekers in a snide e-mail.
February 26, 2014 -- Updated 2201 GMT (0601 HKT)

Love that chocolate Haagen-Dazs ice-cream? But what about the way its makers treat their farmers? Oxfam reveals the ethics behind the brands.
February 20, 2014 -- Updated 1121 GMT (1921 HKT)

SnapScan is an award-winning app allowing buyers to pay with their smartphone -- no need to worry about carrying cash or lost credit cards.
February 18, 2014 -- Updated 1452 GMT (2252 HKT)

In the wake of recent credit card breaches, CNN's Richard Quest explores the threats of the non-cash economy. Is your money as safe as you think?
February 19, 2014 -- Updated 0833 GMT (1633 HKT)

Like many companies in China, Fu Shou Yuan uses celebrities to attract clients. Except, in this case, they're dead. They're in the funeral business.
February 19, 2014 -- Updated 1255 GMT (2055 HKT)

Coca-Cola is staying afloat as the soda market shrinks, and many point to a marketing strategy around the so-called "secret recipe."

Today's five most popular stories