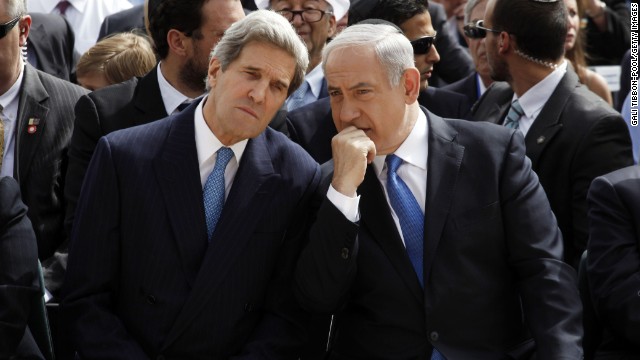 Israeli Prime Minister Benjamin Netanyahu, right, speaks with U.S. Secretary of State John Kerry during the annual ceremony for the Holocaust Remembrance day at the Yad Vashem memorial on April 8, 2013, in Jerusalem.
Kerry speaks to New Hampshire students in 2003 early in his campaign for president. He won the nomination but lost in the general election to President George W. Bush.
Kerry with other military personnel in an unspecified location in the 1960s. During his naval service in the Vietnam War, Kerry was awarded the Bronze Star for saving the life of a serviceman as an officer aboard a patrol boat in the Mekong Delta. In total, Kerry received a Silver Star, a Bronze Star with Combat V and three Purple Hearts for his service in combat. After he was awarded the Purple Hearts for minor injuries, Kerry's request for reassignment Stateside six months early was granted.
Kerry listens to Sen. Ted Kennedy as he speaks to Vietnam veterans during a demonstration by Vietnam Veterans Against the War in Washington in May 1971.
John O'Neill, left, and Kerry, both decorated war veterans and lieutenants junior grade in the Navy and commanders of swift boats that policed the rivers of Vietnam, discussed their opposing views of the Vietnam War with host Dick Cavett, center, on September 24, 1971.
Vice President George H. W. Bush swears in Kerry after he won his first Senate seat, as Kerry's daughters Alexandra, second left, and Vanessa look on in 1985.
Kerry and Rep. John McCain appear on the TV program "Face The Nation" on April 21, 1985.
Kerry addresses the Democratic National Convention in 1988.
Kerry and Vietnamese Deputy Foreign Minister Le Mai, second from right, talk with reporters after the arrival of Kerry, Sen. Hank Brown and Sen. Tom Daschle on November 16, 1992, for talks with the Vietnamese government on the fate of U.S. servicemen still missing after the war.
Kerry looks over a map with Nguen Xuan Phong of the Vietnamese Foreign Ministry while flying over the Mekong River Delta on November 20, 1992.
Kerry prays during an early Mass on January 11, 1994, at the Bei Hai Cathedral in Beijing. He paid his respects to Tip O'Neill, former speaker of the House of Representatives, whose funeral would be held later in the day in Washington.
Kerry stands with congressmen and Vice President Al Gore as President Bill Clinton announces his intent to normalize relations with Vietnam in 1995.
Clinton speaks to Kerry at a Democratic leadership meeting in Washington on August 8, 1996.
Kerry walks the floor of the Democratic National Convention on August 15, 2000, at the Staples Center in Los Angeles.
Kerry and Sen. Joe Lieberman greet supporters on April 18, 2002, on Capitol Hill after the Senate voted to prevent further debate about initiating new oil exploration in the Arctic National Wildlife Refuge in Alaska.
Kerry speaks to local businesswomen on November 17, 2003, in Des Moines, Iowa.
Kerry answers a question from an audience member while former Vermont Gob. Howard Dean listens at a forum of AARP members on November 18, 2003, in Bedford, New Hampshire.
Kerry jokes with Iowa Gov. Tom Vilsack before speaking to supporters at Jerry's Restaurant on December 14, 2003, in Mt. Plesant, Iowa.
Kerry arrives at Waypoint, a center for women, children and families, during a campaign stop on December 22, 2003, in Cedar Rapids, Iowa.
Kerry and a veteran embrace at a town hall meeting at the Black Hawk County Soldiers Memorial Hall on January 13, 2004, in Waterloo, Iowa.
Kerry takes to the ice for a game of hockey with firefighters, the Boston Bruins, members of the U.S. Women's National Team and local high school players on January 24, 2004, in Manchester, New Hampshire.
Kerry travels in a helicopter to a town hall meeting in Jaffrey, New Hampshire, on January 26, 2004.
Kerry and running mate John Edwards wave from their bus at a rally stop on July 30, 2004, in Scranton, Pennsylvania.
Kerry gives a statement during a hearing of the Senate Environment and Public Works Committee on Capitol Hill on October 27, 2009.
Kerry talks to reporters after a closed session about the new START Treaty, a ratification of a nuclear-arms treaty with Russia, in the Old Senate Chamber at the U.S. Capitol on December 20, 2010.
Secretary of State Hillary Clinton testifies before, from right, ranking member Sen. Richard Lugar, committee chairman Kerry and Sen. Barbara Boxer during a hearing before the Senate Foreign Relations Committee on March 2, 2011.
President Barack Obama shakes hands Kerry after announcing his nomination to be secretary of state on December 21 in Washington. If confirmed, Kerry will replace retiring Secretary of State Hillary Clinton early in 2013.
Sen. John Kerry, D-Massachusetts, is sworn in as secretary of state on Friday, February 1.
Kerry gestures to Japanese Foreign Minister Fumio Kishida (R) during their joint press conference in Tokyo on April 14, 2013. Kerry traveled to Asia to discuss nuclear tensions on the Korean peninsula and secured vital support from China to help defuse the weeks-long crisis.
John Kerry through the years
John Kerry through the years
John Kerry through the years
John Kerry through the years
John Kerry through the years
John Kerry through the years
John Kerry through the years
John Kerry through the years
John Kerry through the years
John Kerry through the years
John Kerry through the years
John Kerry through the years
John Kerry through the years
John Kerry through the years
John Kerry through the years
John Kerry through the years
John Kerry through the years
John Kerry through the years
John Kerry through the years
John Kerry through the years
John Kerry through the years
John Kerry through the years
John Kerry through the years
John Kerry through the years
John Kerry through the years
John Kerry through the years
John Kerry through the years
John Kerry through the years
John Kerry through the years
STORY HIGHLIGHTS
NEW: Kerry tells a senator there's no "daylight" between Clinton and him
NEW: China is all over Africa, Kerry says, and we need to be in the game
There'll be "some measure of engagement" in Afghanistan in the future
Hillary Clinton, John McCain and Elizabeth Warren praise Kerry
Washington (CNN) -- Sen. John Kerry, the president's nominee for secretary of state, put America's anxiety over Iran front and center during his confirmation hearing, saying the "questions surrounding Iran's nuclear program" must be resolved.
"The president has made it definitive," Kerry told the Senate Foreign Relations Committee Thursday during what is expected to be an easy confirmation process.
"We will do what we must do to prevent Iran from obtaining a nuclear weapon, and I repeat here today, our policy is not containment. It is prevention, and the clock is ticking on our efforts to secure responsible compliance."
There are sanctions and they are working, he said, noting Iran's currency, the rial, has dropped, and other nations have been cooperating in reducing dependence on Iranian oil.
He said there is hope that progress can be made on the diplomatic front with Iran, which says its nuclear aspirations are solely peaceful. World powers believe Iran wants to build nuclear weapons.
"Iranians need to understand that there's no other agenda here," he said. "If their program is peaceful, they can prove it. And that's what we are seeking."
The longtime Massachusetts senator was asked about and addressed a wide range of issues before the committee, a panel he chaired for the past four years.
Regarding the Arab Spring, he cited the self-immolation of a Tunisian fruit vendor that triggered the first uprising and the revolt in Cairo's Tahrir Square as examples of ferment.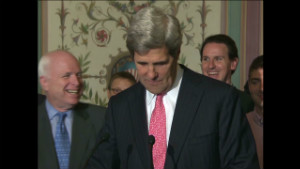 Kerry, McCain rib each other about jobs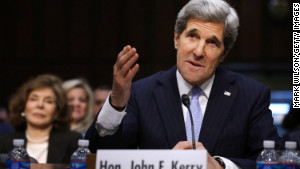 Kerry: Clinton and I agree on Benghazi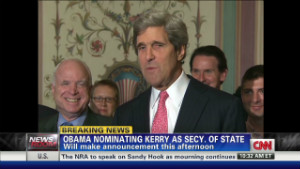 Who is Sen. John Kerry?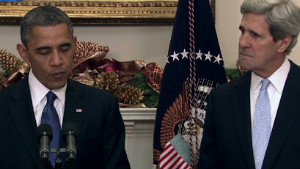 Obama taps Kerry for Secretary of State
The major social cause, he said: "Burgeoning populations of young people hungry for jobs, opportunity, individual rights, and freedom are rebelling against years of disenfranchisement and humiliation."
He said Syria and its president, Bashar al-Assad -- now embroiled in civil war -- was well aware of Syria's youthful population and knew he needed to adjust to it.
"I remember president Assad said to me, 'I have 500,000 kids who turn 18 every year, and I don't have a place to put them. I don't have jobs. I need to be able to change what's happening here.' And, you know, clearly thinking down the road, you know, he wanted to try to find some way to reach out to the West and see if there was some kind of accommodation," Kerry said.
"That never happened. And it's now moot, because he has made a set of judgments that are inexcusable, that are reprehensible." As a result, Kerry said, "time is ticking" and al-Assad is not likely to remain in power much longer.
At the end of his opening remarks, a protester interrupted the proceeding and shouted, "I'm tired over my friends in the Middle East dying," and Kerry addressed that after she was led out of the room.
"When I first came to Washington and testified, I obviously was testifying as part of a group of people who came here to have their voices heard. And that is, above all, what this place is about," he said.
He said the woman was "voicing her concerns about that part of the world.
And, he said, knowing that his fellow senators have traveled there, "I know you heard this kind of thing.
"People measure what we do. And, in a way, that's a good exclamation point to my testimony. "
Sizing up Kerry as secretary of state
Touching on a range of issues
If approved by the committee, Kerry's nomination will go to the full Senate. Before he spoke, outgoing Secretary of State Hillary Clinton, U.S. Sen. John McCain, R-Arizona, and U.S. Sen. Elizabeth Warren, D-Massachusetts, praised Kerry and called for his confirmation.
President Barack Obama nominated Kerry last month.
"Over these many years, John's earned the respect and confidence of leaders around the world. He is not going to need a lot of on-the-job-training," Obama said.
"I think it is fair to say that few individuals know as many presidents and prime ministers or grasp our foreign policies as firmly as John Kerry, and this makes him a perfect choice to guide American diplomacy in the years ahead."
Asked about Afghanistan, Kerry said the first priority is to transition security responsibility to the Afghan forces and "maintain a capacity to prevent the kind of basing for terrorism which took us there in the first place."
"There will be a counterterrorism mission that will continue. President Obama's been very clear about the fact that that the counterterrorism mission will continue beyond 2014. And that the training will probably continue beyond 2014," he said. "So there is going to be, according to the president's own statement, some measure of engagement, but the effort is to have the Afghans in the lead. Continued training of the forces. Build an enduring partnership with Afghanistan. And support an Afghan-led reconciliation. Not a U.S.-led, but Afghan-led reconciliation if it is possible. "
Sen. Bob Corker, a Tennessee Republican, expressed concern about the secretary of defense nominee, former Republican Sen. Chuck Hagel -- disliked by some Republicans and conservatives because of his views.
Corker said Hagel's affiliation with a group called Global Zero is "just concerning." The group is devoted to eliminating nuclear weapons, and Corker doesn't want the U.S. nuclear arsenal to be weakened.
But Kerry said Hagel is "realistic." And the Global Zero initiative "is not talking about today's world."
"It's a goal. It's an aspiration. And we should always be aspirational," he said. "But it's not something that could happen in today's world, and nor could any leader today sit here or in any other chair and promote to you the notion that we ought to be cutting down our deterrent level below an adequate level to maintain deterrence."
He said Hagel is "a strong patriotic former senator, and he will be a strong secretary of defense."
Kerry touched on various other issues, including Latin America, Mali, Somalia, Russia, the plight of women and girls in Asia, and the foreign affairs budget being "less than 1% of the entire budget of government."
The economy
Foreign policy, he said, is shaped and defined by many factors.
They include "food security and energy security, humanitarian assistance, the fighting against disease and the push for development," he said.
He noted the importance of investment, and cited the competitive challenge of China's involvement in Africa.
"China is all over Africa -- I mean, all over Africa. And they're buying up long-term contracts on minerals, on -- I mean, you name it. And there're some places where we're not in the game, folks. And I hate to say it. And we got to get in. But it takes a little bit of resourcing. Believe me, somebody's paying for those folks to be over there. And somebody's investing in their investment of time," Kerry said.
"We have to be prepared, because I think that what we bring to the table is, frankly, a lot more attractive than what a lot of other countries bring to the table. People like to do business with American businesses. People -- we're open, we're accountable. We have freedom of creativity and other kinds of things. And I think that if we can organize ourselves more effectively in this sector we can win."
He also talked about the importance of getting into the clean energy market, calling it a job creator.
Benghazi controversy
Susan Rice, the U.S. ambassador to the United Nations, had been seen as a front-runner for the State Department job, but she withdrew from consideration amid criticism over comments she made on TV talk shows about the killings of Americans in the terrorist attack in Benghazi, Libya, on September 11, 2012.
Kerry immediately became the top candidate. Republicans opposed to a Rice nomination had bandied about Kerry's name, and Senate Minority Leader Mitch McConnell said Kerry would be a "popular choice with the Senate."
But two Republican senators, McCain and Ron Johnson of Wisconsin, raised the Benghazi issue at the hearing Thursday.
Johnson on Wednesday had grilled Clinton about the erroneous initial talking points used to explain the cause of the attack to the public. While it was first said the attack was a spontaneous protest over an anti-Islamic film, the administration later defined the violence as a planned terrorist attack.
"With all due respect, the fact is we had four dead Americans," Clinton said in response to Johnson's repeated questions. "Was it because of a protest or was it because of guys out for a walk one night decided they'd go kill some Americans? What difference, at this point, does it make? It is our job to figure out what happened and do everything we can to prevent it from ever happening again, senator."
Five things we learned from the Benghazi hearings
Republicans have made the phrase "what difference ... does it make" a talking point, and Johnson seized on it Thursday.
"I think it makes a big difference whether or not the American people have the confidence that the president and the administration is being truthful with them," he said. "So, I guess my question is do you agree with that point? Are you willing to work with me or do you basically kind of agree with Hillary Clinton that that's kind of yesterday's news and let's move on."
But Kerry told Johnson that if he was attempting to "get some daylight between me and Secretary Clinton, that's not going to happen here today."
He offered the possibility that the senator and Clinton are "talking past each other."
"I don't think that was the question," Kerry said. "I think that if your question is, should the American people get the truth and does it matter, Hillary Clinton would say yes and I say yes, but that's not what I think she was referring to. I think what she was referring to was sort of the question of, you know, the sequencing and the timing of how particular information came in with respect to the talking points and the public statements that were made.
"And there was a difference of opinion, in my judgment, as to how you saw that versus how she saw that."
Kerry's stellar reputation
Kerry, the 2004 Democratic candidate for president defeated by President Bush, is noted for having the experience, gravitas and relationship-building skills that could help him as Clinton's successor.
He has traveled the globe on behalf of the Obama administration to mend frayed relationships. Most notably, he traveled to Pakistan amid deteriorating relations from a series of incidents, including the raid that killed al Qaeda leader Osama bin Laden.
Obama has praised the senator's "extraordinarily distinguished Senate career" and military service in the Vietnam War. He said Kerry has earned the respect and trust of his Senate colleagues, both Democrats and Republicans, and the president said he's confident the Senate will swiftly confirm the nomination.
Others have echoed the praise for Kerry.
"There are very few people with greater experience over a longer period of time," said Nicholas Burns, a former career ambassador who has served every secretary of state since Warren Christopher, and was most recently undersecretary for political affairs under Condoleezza Rice. "He would be a very, very impressive choice."
"You really need someone who is a renaissance person with a tremendous range of skill, both political and substantive, with a deep reservoir of knowledge," Burns said. "You need someone who can drill several layers deep on foreign policy issues."
Kerry, 69, spent much of his childhood overseas. After graduating from Yale University in 1966, he was deployed to Vietnam as a lieutenant in the U.S. Navy. He was a gunboat officer on the Mekong Delta, earning the Silver Star, the Bronze Star and three Purple Hearts.
Upon his return home in the early 1970s, Kerry gained public recognition as the head of the group Vietnam Veterans Against the War and for his anti-war testimony before the Senate Foreign Relations Committee.
In 1972, he ran his first campaign, a losing effort for a congressional seat in Massachusetts. In 1982 he became lieutenant governor under Massachusetts Gov. Michael Dukakis. Two years later, Kerry won the U.S. Senate seat he has held for five consecutive terms.
Kerry would come to the secretary of state post with a full plate of foreign policy hot spots, including the civil war in Syria, the nuclear antics of North Korea, a looming showdown with Iran over its nuclear program, political chaos in Egypt and the rest of North Africa, and, of course, the Middle East peace process.
Like Obama, Kerry sees the benefit of reaching out to adversaries, like Iran and Syria, and giving them a chance to negotiate. At one point, Kerry spearheaded outreach efforts to Syrian President al-Assad before the administration turned on al-Assad because of his crackdown on protesters.
But he also has called for arming the Syrian opposition and for NATO airstrikes, which Obama's administration has resisted.
Obama's Cabinet: Who's in, who's out?
CNN's Joe Sterling and Holly Yan reported from Atlanta. CNN's Jessica Yellin reported from Washington