STORY HIGHLIGHTS
Eden Hazard sent of on Wednesday for kicking a ball boy
The Chelsea player was attempting to retrieve the ball from under the ball boy
Hazard was given a straight red for the kick during a match with Swansea
The Belgian has since apologized privately and publicly
Editor's note: Alex Thomas is an anchor on CNN International's World Sport show, broadcast daily at 0500, 1700 and 2230 GMT. Follow Alex on twitter: @alexthomasCNN
(CNN) -- Seventy eight years after Gene Sarazen's albatross at The Masters became golf's "shot heard around the world" football has its own version, except there was no glory in Eden Hazard's kick heard all over the globe. And it has left another dent in the sport's battered image.
When Sarazen holed his second shot, over water at the par-five 15th, it helped him win the Augusta title and launch the tournament's global appeal.
In 1935, the news of Sarazen's achievement would have traveled far slower than the seconds it took Hazard's moment of madness to become a social media talking point across the planet.
Chelsea were trailing in their League Cup, generally regarded as the third competition in English soccer, semifinal second leg in Swansea, with less than 15 minutes remaining.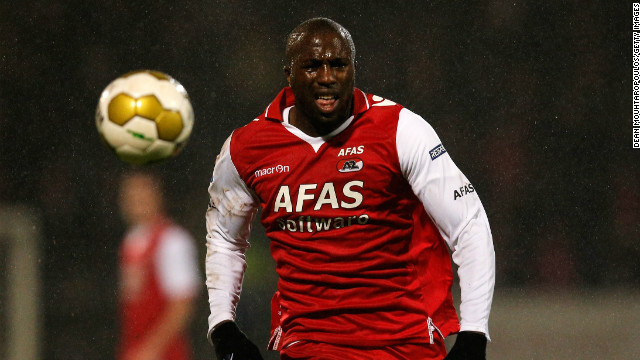 U.S. star Jozy Altidore was subjected to racial abuse during AZ Alkmaar's cup win at Den Bosch in the Netherlands. The match was halted and the crowd were asked to stop the abusive chanting before the action resumed.
AC Milan's Kevin Prince-Boateng walked off the pitch after being racially abused during his side's friendly game with Pro Patria earlier this month. The midfielder was praised for his actions by FIFA president Sepp Blatter.
Serbia was ordered to play one under-21 match behind closed doors and was fined $105,000 by European football's governing body UEFA for racial abuse in a match with England. UEFA president has appealed the verdict of his organization in the hope of seeing stiffer punishments administered.
Chelsea and England captain John Terry was charged by UK police after allegedly making racist remarks to Queens Park Rangers defender Anton Ferdinand in October 2011. Terry was cleared of the charges in a London court in July 2012.
Liverpool's Luis Suarez was banned and fined by the English Football Association after Manchester United's Patrice Evra claimed the Uruguayan racially insulted him during a match, also in October 2011. Suarez flatly denies Evra's claims.
Brazilian World Cup winner Roberto Carlos walked off the pitch while playing for Russian team Anzhi Makhachkala against Krylya Sovetov in June the same year, after having a banana thrown towards him in the closing stages of the match.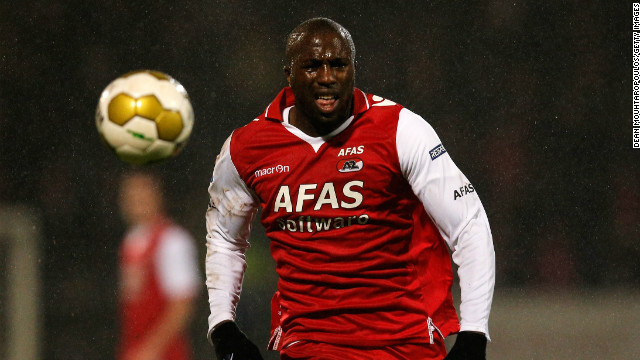 Racism in football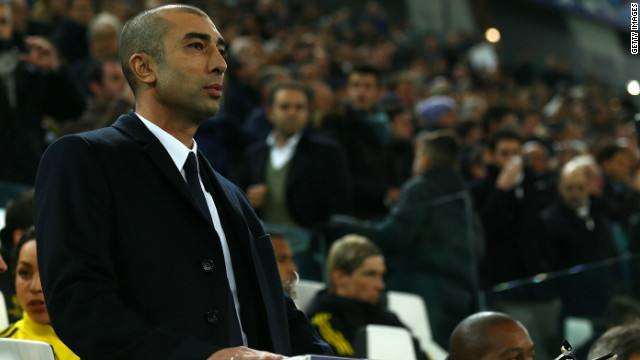 Roberto Di Matteo's tenure as Chelsea manager came to an end after Tuesday's 3-0 defeat to Juventus. Di Matteo was sacked despite leading Chelsea to European Champions League and English FA Cup glory just six months earlier.
Di Matteo enjoyed a successful playing career at Chelsea in the 1990s before returning to the club as Andre Villas-Boas' assistant manager in 2011. He took interim charge of the team following Villas-Boas' sacking in March this year.
After beating Tottenham Hotspur in the semfinals, Di Matteo led Chelsea to an FA Cup triumph by beating Liverpool 2-1 in the final.
Di Matteo's crowning glory came in May, when Chelsea defeated Bayern Munich on penalities to win the European Champions League. The historic success, Chelsea's first in the competition, was one of the reasons why club owner Roman Abramovich gave Di Matteo the manager's job on a full-time basis.
Chelsea suffered a set back early in the 2012-13 season when a Radamel Falcao-inspired Atletico Madrid beat Di Matteo's team 4-1 in the European Super Cup final.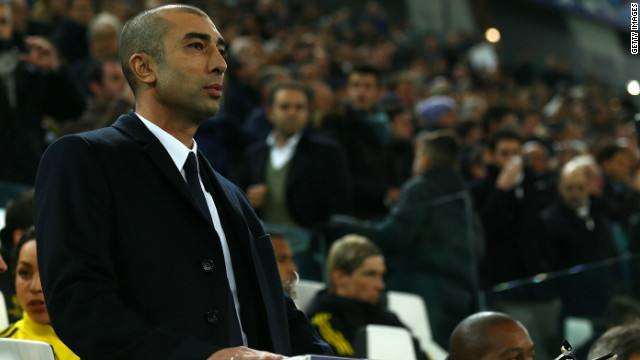 Roberto Di Matteo's time at Chelsea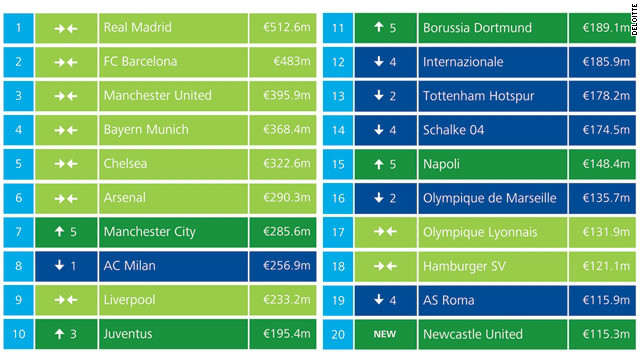 Real Madrid ($650.5 million) and Barcelona ($613 million) lead the way at the top of the chart by some considerable distance over English champion Manchester United ($502.4) . The top six places remain unchanged from last year.
Real Madrid star Cristiano Ronaldo has become an integral part of the club's success both on and off the pitch with the Spanish giant leading the Football Money League table for the eighth year in a row.
Leo Messi's goals and success has been key to Barcelona's ability to draw in fans and broadcasters at will. It is the fourth year in a row that the club has finished second in the Football Money League table behind arch-rival Real Madrid.
Robin van Persie, a $38 million summer signing, has helped Manchester United reach the top of the Premier League as it looks to wrestle the title back from rival Manchester City. United, which has recently signed a record shirt deal with General Motors, has been tipped to overhaul the top two over the coming years.
Bayern Munich, which recently appointed Pep Guardiola as its new manager for the 2013/14 season, remain in fourth position. The German giant reached the Champions League final last season where it was beaten by Chelsea.
Last year's European Champions League finalists Bayern Munich and Chelsea remain in fouth and fifth but it is Manchester City which has surged up the table. The English champion was 12th last year but is now up to seventh with revenue of $362.4 million.
European Champions League holder Chelsea is fifth in the money list. The London club has spent big money in recent years including the $80 million purchase of Spain striker Fernando Torres.
Borussia Dortmund leads the average attendance count with 79,900, beating Manchester United into second place. The matchday experience at Bundesliga clubs has seen attendances rise across the board with safe standing and cheaper tickets both key to its success.
.Arsenal stays sixth in the table despite it's failure to win a single trophy since 2005. The club has also seen big name departures with Cesc Fabregas joining Barcelona and Robin van Persie moving to Manchester United
Manchester City's Premier League title win catapulted the club up the Football Money League table and into seventh position. City's revenue grew to $452.6 million, the largest absolute and relative growth of any Money League club.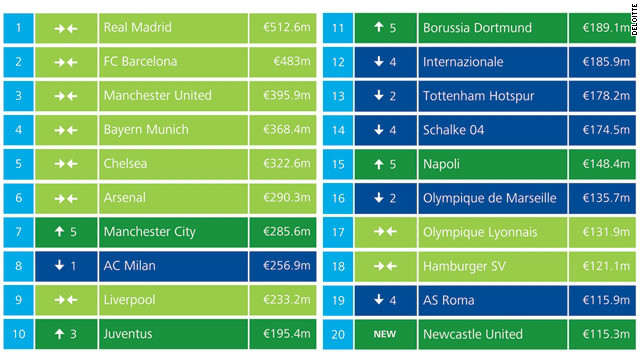 Spain dominates football's rich list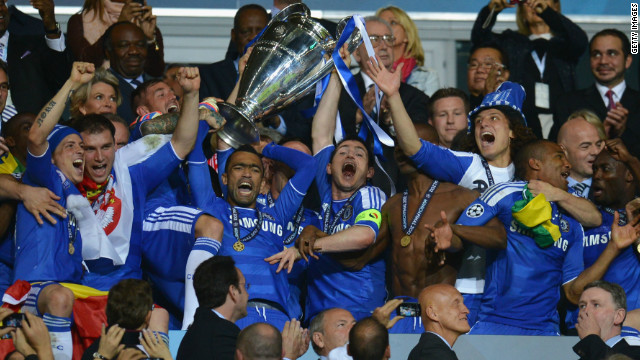 Chelsea's players lift the Champions League for the first time after their dramatic win over Bayern Munich.
Bayern Munich's supporters packed their home Allianz Arena to see their heroes take on Chelsea.
Thomas Mueller celebrates his opening goal for Bayern Munich with just seven minutes remaining.
Didier Droga proved Chelsea's hero with a goal in normal time and the penalty shootout winner.
Arjen Robben is left stunned after his penalty effort is saved by Petr Cech and he cannot convert the follow up.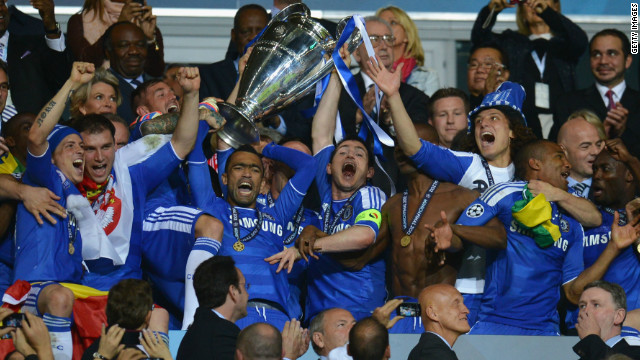 Chelsea win Champions League for the first time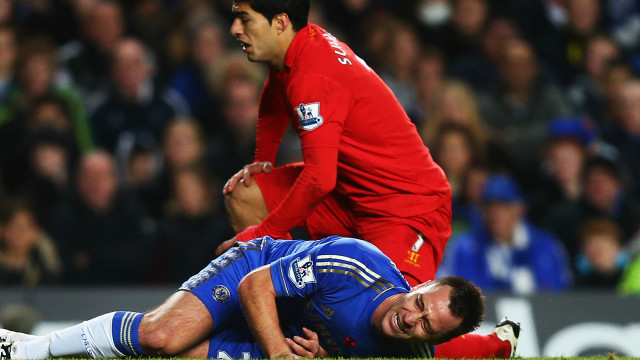 Chelsea captain John Terry is injured after going down in a tackle with Liverpool striker Luis Suarez.
The veteran defender left Stamford Bridge on crutches after a short-lived return to the Chelsea line-up, and will have a knee scan on Monday.
Terry had put Chelsea ahead in the 20th minute on his return from a four-match domestic ban for racially abusing Queens Park Rangers defender Anton Ferdinand last season. It was his 50th career goal for Chelsea.
Suarez joined Manchester United's Robin van Persie at the top of the EPL scoring charts with his eighth this season, earning Liverpool's sixth draw in 11 league outings.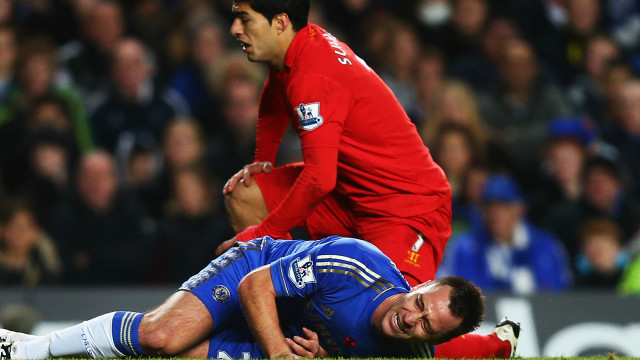 Terry injured on Chelsea comeback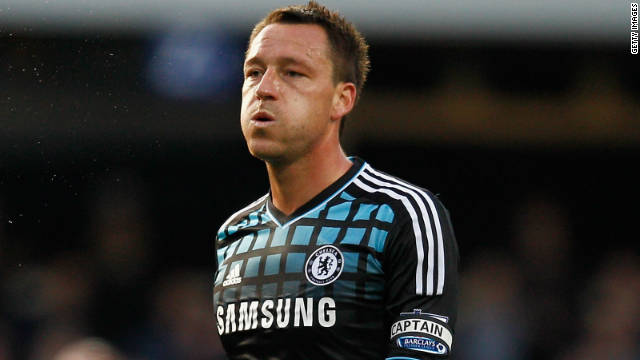 It is now nearly a year since Chelsea lost to QPR 1-0 in an English Premier League game at Loftus Road. During the game it was alleged QPR defender Anton Ferdinand swore at John Terry and made reference to the Chelsea captain's reported affair with the ex-partner of former team-mate Wayne Bridge. Terry is then said to have described Ferdinand as a "f***ing black c***".
In July, Terry was cleared in a London court, where the criminal burden of proof is "beyond all reasonable doubt". But the English Football Association then investigated the case, and using the test of "on the balance of probabilities", came to the conclusion that Terry's defence against claims he racially abused Ferdinand was "improbable, implausible, contrived".
Back in September, Ferdinand had declined Terry's offer of a handshake when QPR met Chelsea at Loftus Road as the feud between the two players rumbled on.
After the FA delivered the independent commission's report on the Terry case, the Chelsea captain's teammate Ashley Cole tweeted: "Hahahahaa, well done #fa I lied did I, #BUNCHOFT***S". The Chelsea and England left-back quickly issued a "unreserved apology" for his tweet through his solicitor.
In 2011 the FA had to deal with another racism case, this time handing Liverpool striker Luis Suarez an eight-match ban and a $63,000 fine after finding the Uruguayan guilty of racially abusing Manchester United defender Patrice Evra.
Suarez and Evra failed to shake hands before the start of an English Premier League game at Old Trafford last season after the Uruguayan had served his ban. However, when United beat Liverpool 2-1 at Anfield in September, the pair did shake hands.
Questions have been raised about UEFA's sanctioning policy. Denmark striker Nicklas Bendtner was fined $126,000 and banned from playing in his side's next competitive game for flashing his sponsored waistband promoting a bookmaker as he celebrated a goal against Portugal in Euro 2012. But that fine eclipsed the $52,000 fine that UEFA handed to the Bulgarian Football Union for its fans' racist abuse of England players during a Euro 2012 qualifier in Sofia in September 2011.
In November 2011, FIFA president Sepp Blatter told CNN that football did not have a problem with racism on the field and any incidents should be settled by a handshake.
The FA's Independent Regulatory Commission heard 473 cases between December 2010 and December 2011, but only two of them ended in "not guilty" verdicts.
Stoke City boss Tony Pulis wants the Football Association to punish Liverpool's Luis Suarez for diving. "It's an embarrassment," said the Stoke manager after a 0-0 draw at Anfield. "The FA should be looking at this."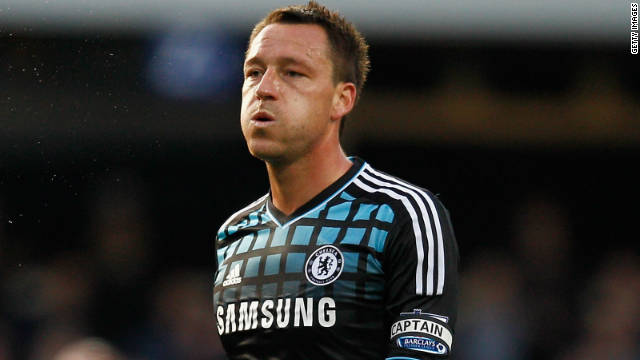 Crime and Punishment in sport
Read: Chelsea's Hazard sent off for kicking ball boy
The ball went out of play and, when a ball boy took his time retrieving it, Hazard went to fetch it himself. When the boy fell on the ball, the player tried to kick it out from under him and was sent off for violent conduct.
More astonishing than the incident itself was the debate about whether or not Hazard had done anything wrong. Many people tried to defend the Belgian international.
Let's quickly put that to bed. The 17-year-old ball boy was a child, a volunteer helping out at a professional football match, and he was kicked by an adult player. Hazard was wrong.
Now, that's not the same as saying there were no mitigating circumstances because there were. The ball boy later admitted he was wasting time and that was clear to see at the time.
Read: Eden Hazard - right or wrong?
Hazard was anxious to resume play with Chelsea's place in the competition under threat. He aimed his kick at the ball not the person. The teenager isn't a young child and wasn't badly injured.
Those are the only reasons why Hazard isn't facing the same nine-month ban given to Manchester United icon Eric Cantona who famously launched himself at an abusive fan with a kung fu-style kick in 1995.
Cantona's assault was deliberate and intended to harm whereas Hazard was merely trying to get the ball back. However, Cantona attacked another adult and after severe provocation. Hazard's impatience led to him kicking a minor and if the child had been seriously hurt the police would be investigating.
Chelsea inflamed the situation when the club's official Twitter account immediately defended the player, asking "Has football gone mad?" before later removing the tweet and apologizing.
Well, maybe it has but only because mega rich clubs seem to have lost touch with reality and give the impression they don't need to follow the rules of common decency that the rest of us try to live by.
What is a shame for the London team is that any adulation and respect which stemmed from their fairy tale European Champions League triumph last season has disappeared because of the defensive way they have reacted to criticism since then.
Chelsea's handling of the John Terry racism case and the accusations aimed at referee Mark Clattenburg was poor.
A possible persecution complex appears to be a culture at the club. The Terry and Clattenburg incidents happened before Rafael Benitez's arrival and yet the new manager has adopted the same mindset.
When a simple apology and show of humility would have killed the controversy, a complaint about a "Big Brother society" perpetuates the impression that Chelsea will only ever point fingers and never accept blame.
In this case, good sense did eventually prevail with reports claiming the boy was taken to Chelsea's dressing room, warmly greeted and he exchanged apologies with Hazard. South Wales police have confirmed they are not pursuing the matter.