STORY HIGHLIGHTS
The class-action lawsuit was filed this week
New suit may be one of many after Armstrong's confession on doping
Armstrong admitted last week in an interview that he used performance enhancing drugs
(CNN) -- Rob Stutzman doesn't buy too many books.
But he not only read Lance Armstrong's bestseller "It's Not About the Bike" cover to cover, he also recommended it to several friends.
Now, the public affairs consultant from Sacramento, California, wants his money back, and he wants the disgraced cyclist to pony up.
Stutzman is part of a class-action lawsuit against Armstrong and his book publishers accusing them of peddling fiction as fact.
Joining Stutzman is a Sacramento chef and cycling enthusiast, Jonathan Wheeler, who says he too was moved and inspired by the Armstrong book.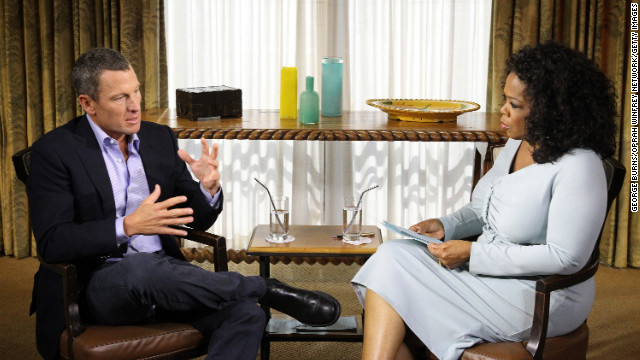 Oprah Winfrey speaks with Lance Armstrong during an interview on the controversy surrounding his cycling career on Monday, January 14, in Austin, Texas. Oprah Winfrey's exclusive no-holds-barred interview with Lance Armstrong, "Oprah and Lance Armstrong: The Worldwide Exclusive," has expanded to air as a two-night event on OWN: Oprah Winfrey Network. The interview airs Thursday, January 17, and Friday, January 18.
Cyclist Lance Armstrong has been stripped of his seven Tour de France wins and banned from the tournament for life, the International Cycling Union announced Monday, October 22. Pictured, Armstrong addresses participants at The Livestrong Challenge Ride on Sunday. He stepped down as chairman of his Livestrong cancer charity on Wednesday, October 17.
Armstrong leads his teammates during the final stage of the 1999 Tour de France.
Armstrong, 17, competes in the Jeep Triathlon Grand Prix in 1988. He became a professional triathlete at age 16 and joined the U.S. National Cycling Team two years later.
In 1995, Armstrong wins the 18th stage of the Tour de France. He finished 36th overall and finished the race for the first time that year.
Armstrong rides for charity in May 1998 at the Ikon Ride for the Roses to benefit the Lance Armstrong Foundation. He established the foundation to benefit cancer research after being diagnosed with testicular cancer in 1996. After treatment, he was declared cancer-free in February 1997.
Armstrong takes his honor lap on the Champs-Élysées in Paris after winning the Tour de France for the first time in 1999.
After winning the 2000 Tour de France, Armstrong holds his son Luke on his shoulders.
Armstrong rides during the 18th stage of the 2001 Tour de France. He won the tour that year for the third consecutive time.
Armstrong celebrates winning the 10th stage of the Tour de France in 2001.
After winning the 2001 Tour de France, Armstrong presents President George W. Bush with a U.S. Postal Service yellow jersey and a replica of the bike he used to win the race.
Armstrong celebrates on the podium after winning the Tour de France by 61 seconds in 2003. It was his fifth consecutive win.
Jay Leno interviews Armstrong on "The Tonight Show" in 2003.
After his six consecutive Tour de France win in 2004, Armstrong attends a celebration in his honor in front of the Texas State Capitol in Austin.
Armstrong arrives at the 2005 American Music Awards in Los Angeles with his then-fiancee Sheryl Crow. The couple never made it down the aisle, splitting up the following year.
Armstrong holds up a paper displaying the number seven at the start of the Tour de France in 2005. He went on to win his seventh consecutive victory.
As a cancer survivor, Armstrong testifies during a Senate hearing in 2008 on Capitol Hill. The hearing focused on finding a cure for cancer in the 21st century.
In 2009, Armstrong suffers a broken collarbone after falling during a race in Spain along with more than a dozen other riders.
Young Armstrong fans write messages on the ground using yellow chalk ahead of the 2009 Tour de France. He came in third place that year.
Armstrong launches the three-day Livestrong Global Cancer Summit in 2009 in Dublin, Ireland. The event was organized by his foundation.
In May 2010, Armstrong crashes during the Amgen Tour of California and is taken to the hospital. That same day, he denied allegations of doping made by former teammate Floyd Landis.
Ahead of what he said would be his last Tour de France, Armstrong gears up for the start of the race in 2010.
Lance Armstrong looks back as he rides in a breakaway during the 2010 Tour de France.
Armstrong finishes 23rd in the 2010 Tour de France. He announced his retirement from the world of professional cycling in February 2011. He said he wants to devote more time to his family and the fight against cancer.
Armstrong's son Luke; twin daughters, Isabelle and Grace; and 1-year-old son, Max, stand outside the Radioshack team bus on a rest day during the 2010 Tour de France.
The frame of Armstrong's bike is engraved with the names of his four children at the time and the Spanish word for five, "cinco." His fifth child, Olivia, was born in October 2010.
In February 2012, Armstrong competes in the 70.3 Ironman Triathlon in Panama City. He went on to claim two Half Ironman triathlon titles by June. He got back into the sport after retiring from professional cycling.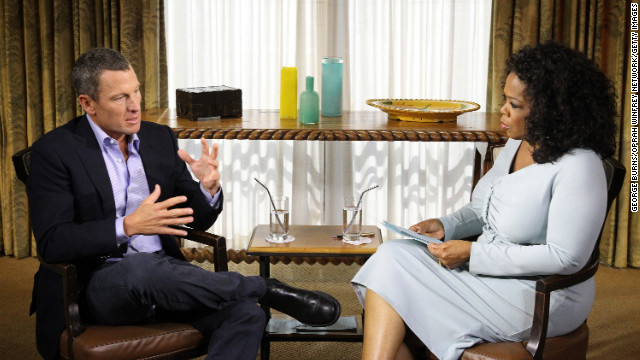 Photos: Lance Armstrong over the years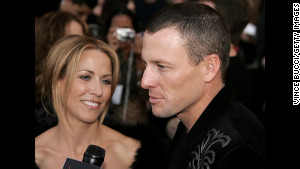 Sheryl Crow on Lance: Truth is best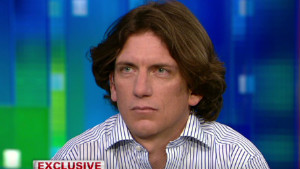 Hamilton: Lance 'never super apologetic'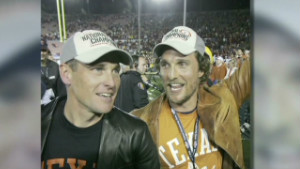 McConaughey on Armstrong: 'I was mad'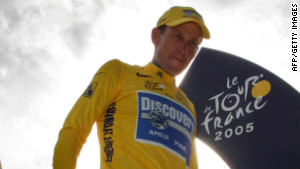 French reaction to Armstrong confession
The lawsuit, filed this week in federal court in California, also mentions Armstrong's other book, "Every Second Counts," and accuses the cyclist and his publishers of fraud and false advertising.
"Throughout the book, Defendant Armstrong repeatedly denies that he ever used banned substances before or during his professional cycling career," the suit said.
And the pair bought the book "based upon the false belief that they were true and honest works of nonfiction when, in fact, Defendants knew or should have known that these books were works of fiction."
The suit may just be the tip of the iceberg.
After years of vehemently denying that he used drugs to boost his performance during his record seven Tour de France wins, Armstrong confessed to Oprah Winfrey last week that he lied.
His virtually tearless admission of doping could likely have litigants lining up against him like cyclists at the start of the Tour de France.
7 lessons Armstrong's confession has taught us
Already several are suing or say they will sue.
The new federal lawsuit does not specify how much Stutzman and Wheeler are seeking.
But it does ask for "any statutorily permissible damages, attorneys' fees, expenses and costs."
In other words, a lot more than the price of the book.
Stutzman, who is a former deputy chief of staff for former California Gov. Arnold Schwarzenegger, said he was duped into reading Armstrong's book, drawn in by the cyclist's compelling life story.
And the lawsuit said he even met Armstrong years before the confession.
"At that time, Stutzman thanked Defandant Armstrong for writing his book and told him it was very inspiring and that he recommended it to friends who were fighting cancer," the lawsuit said. "In response, Armstrong thanked Stutzman."
Had they known Armstrong's accounts were lies, the suit said, they wouldn't have bought the book, or they'd have enjoyed it less.
10 alternative steps to Armstrong's redemption