STORY HIGHLIGHTS
"For the Islamists, a human being is like an ant you squash," Gao resident says
Residents: Once vibrant northern Mali is now a shadow of itself
"Home is not sweet anymore," Timbuktu native says
An offensive led by French troops is aimed at flushing out the militants
Bamako, Mali (CNN) -- There's no shortage of harrowing stories of life under Islamist militants in northern Mali.
Public floggings for smoking a cigarette.
Brutal beatings for working as a radio journalist.
Broken limbs. Broken hearts.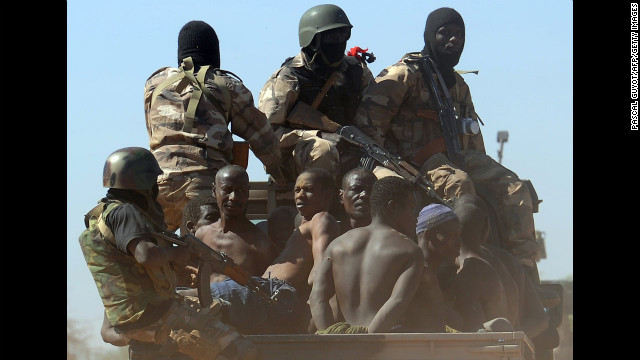 Malian soldiers transport in a pickup truck a dozen suspected Islamist rebels on Friday, February 8, after arresting them north of Gao. A suicide bomber blew himself up on February 8 near a group of Malian soldiers in the northern city, where Islamist rebels driven from the town have resorted to guerilla attacks.
Malians look at the charred motorcycle used by a suicide bomber before he blew himself up near a group of Malian soldiers on February 8. The act marked the first suicide attack in the embattled west African nation since the start of a French-led offensive to oust the Islamists from Mali's north, where they had controlled key towns for 10 months.
A convoy of French army vehicles head toward Gao on February 7. France is mulling over when to hand off its four-week-old intervention to U.N. peacekeepers.
A man searches through the ruins of a building destroyed by French airstrikes in Douentza, Mali, on Tuesday, February 5. The town was retaken by French and Malian troops in January.
A child holds up a machine gun round found in the ruins of a building destroyed by French airstrikes in Douentza, Mali, on February 5.
A child leads a donkey cart past a destroyed Malian army armored vehicle near Douentza, Mali, on February 5.
Malians welcome France's President Francois Hollande as he arrives in Timbuktu on Saturday, February 2. French-led troops are working to secure the area against Islamist militants.
A man sweeps the red carpet at Mali's Mopti airport on January 2 before the arrival of Hollande and Mali's interim President Dioncounda Traore.
French soldiers patrol next to the Djingareyber mosque, on January 31, in Timbuktu, Mali. The city was recaptured on January 28, by French-led forces in their offensive against Islamist rebels who have been occupying Mali's north since last April.
French air strikes destroyed this vehicle outside the northern Malian city of Gao.
Men play boules, a game that was forbidden under Islamist rule. on January Wednesday, 30, in Gao, Mali. Gao, once a key Islamist stronghold, was retaken on January 26 by French and Malian troops.
A Malian soldier tries to disperse looters in Timbuktu, Mali, on Tuesday, January 29. Malian and French forces have been battling Islamist militants to loosen their grip on the country. France was the colonial power in Mali until 1960.
People cheer along a road in Ansongo, a town near the northern Malian city of Gao, as troops from neighboring Niger enter the city.
A man waves a French flag as residents celebrate the arrival of Niger troops on January 29 in Ansongo.
Niger troops enter Ansongo on January 29.
Malian soldiers enter the historic city of Timbuktu on Monday, January 28.
French soldiers flying back from Timbuktu arrive at the French army base camp in Sevare on January 28.
A man prays in the recently liberated town of Douentza on January 28.
Wounded Malian soldiers rest after receiving medical care at the Polyclinique of Kati on Sunday, January 27.
Malian soldiers wait at a checkpoint near Sevare on January 27.
A French soldier walks through the bush in central Mali on January 27.
Malian soldiers wait at a checkpoint near Sevare on January 27.
A Malian soldier stands amid debris Saturday, January 26, in the key central town of Konna, which has been under French and Malian army control since last week. It was taken on January 11 by Islamist groups.
Malian soldiers walk past the bullet-riddled wall of a house in Konna on Saturday, January 26.
A Malian soldier looks at the wreckage of an Islamist rebel's armed pickup truck in Konna.
Ammunition lies on the ground in Konna.
Malian soldiers escort journalists in Konna.
Malian soldiers patrol a street of Diabaly on January 26.
Ali Ag Noh, right, stands with his family in front of his house on Friday, Janurary 25, in the village of Seribala, Mali, after his cousin and brother-in-law, Aboubakrim Ag Mohamed, and a cattle rancher, Samba Dicko, were shot dead on January 24, allegedly by the Malian Army. According to Noh, Mohamed, a Tuareg, and Dicko were shot in the head in Seribala after being accused by two Malian soldiers of being Islamists or aiding Islamists.
Members of the French army arrive at a base camp in Sevare, Mali, on January 25. French and Malian troops advanced on the key Islamist stronghold of Gao after recapturing the northern town of Hombori as the extremists bombed a strategic bridge to thwart a new front planned in the east.
Malian soldiers ride a motorcycle in a street of Merkala, on Thursday, January 24, 2013 as the first of the 6,000 troops pledged by African nations to support France started heading north.
A Malian soldier armed with a machine gun watches a herd of cattle crossing a bridge over the Niger River on January 24. Mali's military offensive against militants controlling the northern half of the country has gathered pace in the past two weeks, with backing from France and other international allies.
A French army convoy travels near Segou, in south-central Mali, is on its way to Diabaly on January 24.
A woman who fled northern Mali sits at a camp for internally displaced persons in Sevare on Wednesday, January 23. The EU announced 20 million euros of extra humanitarian aid to help Malians fleeing fighting, its second such donation in as many months.
A soldier rides on the back of a scooter outside Diabaly on January 23.
Malians walk past a destroyed truck mounted with a machine gun on Tuesday, January 22. The truck was used by militants and destroyed during airstrikes by the French air force.
Malian soldiers patrol Diabaly on January 22.
Malian soldiers walk past destroyed army barracks as they patrol in Diabaly on January 22, 2013.
A French soldier mans his post on January 22 near the city of Diabaly, Mali.
A French soldier stands guard in front of charred pickups used by Islamist rebels in Diabaly, Mali, on Monday, January 21. The Malian military says it has gained control of the town of Diabaly, a key advance in the battle against Islamist militants in the north.
A Malian soldier walks past a army building that was taken by the jihadists before being destroyed during aerial bombing in Diabaly on January 21.
A Malian soldier searches through debris after aerial bombing in the city of Diabaly on January 21.
A French soldier looks around after arriving in Diabaly on January 21.
French soldiers unload military equipment from an aircraft on January 21.
Malian youths look on as French soldiers drive through Niono on Sunday, January 20.
The French Army conducts operations in Mali on January 20.
A Malian soldier holds a machine gun on top of a jeep on the road back from the town of Mopti, Mali, on Saturday, January 19.
French soldiers of the 5th Combat Helicopter Regiment stand with their equipment in front of a helicopter on January 19 at an airbase near Bamako, Mali. French Defense Minister Jean-Yves Le Drian said on January 19 that France now had 2,000 troops on the ground in Mali as part of a drive against Islamist militants holding the north of the country.
French soldiers of the 5th Combat Helicopter Regiment relax on January 19 at the airbase near Bamako.
A French soldier from the helicopter regiment stands guard at the airbase on January 19.
Malian soldiers check the identity of passengers in a bus coming from Mopti on January 19.
French President Francois Hollande, left, speaks with soldiers who are due to leave for Mali, during a meeting in Tulle, France, on January 19.
Malian soldiers sit in a truck on their way to Niono, Mali, on Friday, January 18.
A Malian child looks out from a bus as Malian army soldiers check vehicles and passengers in the city of Niono on Friday, January 18. Malian troops, with help from France and a U.N.-mandated African force, are fighting al Qaeda-linked Islamist militants.
Malian soldiers man a checkpoint in Niono on January 18.
Togolese troops board a plane to Bamako, Mali, on Thursday, January 17, at the Lome airport in Togo. Troops from West African countries are heading to Mali as part of a U.N.-mandated African force to fight the insurgents.
Helmets belonging to soldiers of the Nigerian army are prepared to be sent to Mali at the Nigerian army peacekeeping center near Kaduna, Nigeria, on January 17.
Malian soldiers stand guard as Mali's President Dioncounda Traore speaks to French troops at an air base in Bamako, Mali, on Wednesday, January 16.
A Malian soldier adjusts his weapon as President Traore speaks to French troops at an air base in Bamako on January 16.
French army soldiers stand on armoured vehicles as they leave Bamako and start their deployment to the north of Mali as part of the Serval operation on Tuesday, January 15.
A French flag is hung on a van in Bamako as French troops start a deployment in the north of Mali on Wednesday.
French troops prepare their Sagaie armoured all terrain vehicles from the Licorne operation based in Abidjan, Ivory Coast, at the 101st military airbase near Bamako on Wednesday.
French troops from the Licorne operation based in Abidjan, Ivory Coast, arrive at the 101st military airbase near Bamako on Wednesday to reinforce the Serval operations, before their deployment in the north of Mali.
Malian police patrol in the capital of Bamako on Sunday, January 13.
Malian police patrol Bamako on Sunday.
A British army Boeing C-17 cargo plane from British Brize Norton base lands Sunday at the Evreux military base in France to take supplies to Bamako.
French soldiers prepare cargo for a British plane en route to Bamako on Sunday at the Evreux military base.
A French armored vehicle rolls onto a British army aircraft to be taken to Bamako on Sunday in Evreux.
Workers adjust chains on a vehicle load in the C-17 in Evreux on Sunday.
Internally displaced Malians from Timbuktu chat at a makeshift cafe in Bamako on Sunday.
French President Francois Hollande, right, speaks with members of Malian associations in France during a meeting at the Elysee Palace in Paris on Sunday.
Muslim men protest French military action in Mali outside the French Embassy in central London on Saturday, January 12. About 50 Muslim protesters gathered outside the embassy.
Protesters wave signs outside the French Embassy on Saturday in London.
The interim president of Mali, Dioncounda Traore, speaks after a ministerial Cabinet meeting in Bamako on Friday, January 11. Malian authorities declared a state of emergency throughout the country on Friday as the army launched a counteroffensive against Islamists who were pushing south.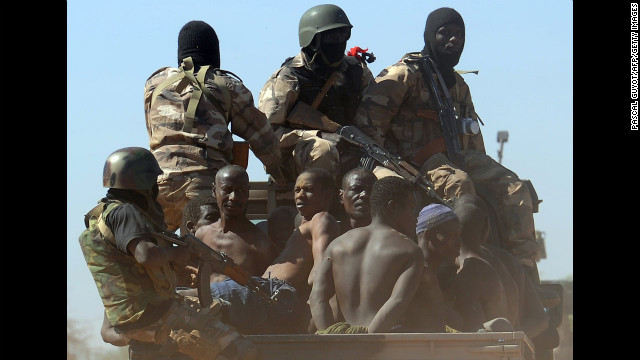 Photos: Fighting Islamists in Mali
"For the Islamists, a human being is like an ant you squash, like an animal you slaughter," said Sedou Sangare, a resident of the northern town of Gao.
Read more: What's behind the instability in Mali?
Gao was once a vibrant community filled with colorful camel caravans lazily strolling down the streets. Bearded men and beaded women mingled freely.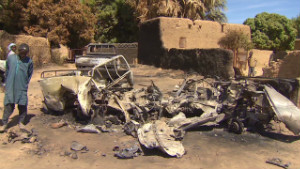 Mali forces push back Islamic militants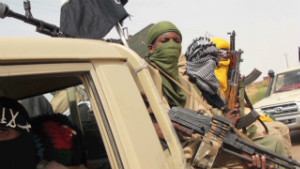 Is al Qaeda close to calling Mali home?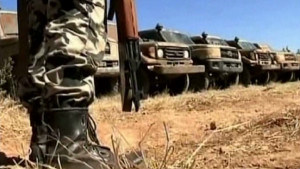 France beefs up troop number in Mali
Then the Islamists rode in on rundown pickup trucks, armed to the teeth.
They banned smoking, television, sports and music -- a major setback for the northern region known for its "Festival au Desert."
They forbade unwed men and women from mixing in public.
An offensive led by France is aiming to stop the militants from expanding their reach to the capital of Mali.
But the north remains under the Islamists' iron grip.
Read more: United States, Italy lend support for French in Mali
'Everybody panicked'
Though Gao has a majority Muslim population, most residents practice a more relaxed form of the religion.
After militants started imposing a stricter form of Islamic law, or Sharia, throngs took to the streets in protest.
"When they declared Sharia, everybody panicked," Sangare said. "Christians, Muslims, everybody fled."
But the protests did not deter the militants, who publicly punished anyone who defied their teachings.
Read more: 'Many deaths' as Malians, joined by French, try to beat back Islamist militants
In August last year, they forced a couple allegedly having an affair into two holes and stoned them to death as terrified residents quietly watched.
Lists of public and cruel punishments grew.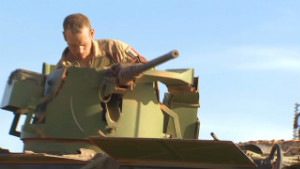 Unrest, tension continue in Mali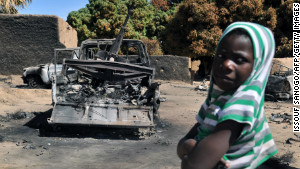 Malian govt. regains control of Diabaly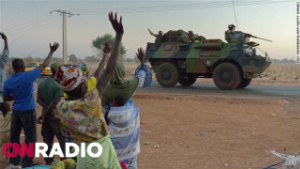 In Mali, echoes of Libyan intervention
Floggings, executions, amputations -- all in full view of aghast residents.
The Islamists compiled a list of unmarried mothers, saying Sharia law condemns relationships outside marriage.
A mayor -- and his people -- displaced
Mayor Sadou Diallo misses residents of his desert town of Gao, most of whom fled to Bamako when militants took over.
About 229,000 Malians have been displaced -- mainly from Kidal, Timbuktu, and Gao, according to the United Nations.
He is one of the displaced. A former respected community leader, trying to rebuild, just like his people.
Residents of the north, once proud of the vibrant desert communities near River Niger, say the region is a shadow of what it used to be.
Read more: France determined to 'eradicate' terrorism in Mali, official says
"Home is not sweet anymore," said Fadimata Alainchar, a charity worker and native of nearby Timbuktu.
A recent visit to her hometown left her shaken.
"When entering the city, the signboard which was: "Welcome to Timbuktu the City of 333 Saints" is now "Welcome to Timbuktu, the gate to the application of the Shariya," she said in a submission to CNN's iReport.
The fabled city includes ancient tombs and wooden structures dating to the 15th century, a major part of its cultural heritage.
And those are not the only changes.
Women who don't cover their bodies in accordance to the militants' Sharia law, are imprisoned or raped, she said. Their husbands, terrified of killings and amputations, don't utter a word.
And gunshots are a common sound.
"If not to disperse women marching, it is to kill dogs that are barking and preventing the insurgents from sleeping," Alainchar said. "Home has changed. Before it was peace, joy and love. Now it is shame, terror and abuse."
Read more: At least 37 hostages killed in Algeria gas plant standoff, prime minister says
"I prefer dying"
Stories of cruel punishments abound.
Radio journalist Malik Maiga faced the militants' wrath when he used his show to warn residents of public stoning or floggings.
Islamists singled him out, beat him up and left him in a cemetery. He survived and is among the displaced in Bamako.
Maiga is not the only journalist targeted. Last week, another radio journalist was killed, leading Gao residents to retaliate by killing a militant leader.
Then there's Suleyman and Muktar, former truck drivers, accused of stealing. Their limbs were hacked off. They are jobless and wander around the capital.
"I prefer dying to being like this," Muktar said. "My hand hurts, my heart aches. I only have God to ask for help."
Mali descended into chaos last year, when junior military members seized power in a coup. Outraged soldiers accused the government of not providing adequate equipment to battle ethnic Tuareg rebels roaming the vast desert in the north.
Tuareg rebels took advantage of the power vacuum after the coup and seized some parts of the north. A power struggle erupted between the rebels and local Islamists, leading the latter to topple the tribe and seize control of two-thirds of northern Mali, an area the size of France.
Hope amid chaos
The crisis in the north has prompted fears that the al Qaeda-linked extremists will set up shop there.
It is "a serious, ongoing threat," U.S. Secretary of State Hillary Clinton warned Wednesday.
The French offensive to help the government in its former colony aims to stop the militants from using the vast desert area as a training ground for international attacks.
"We are in for a struggle. We cannot permit northern Mali to become a safe haven" for terrorists, Clinton said.
International troops from West African nations such as Nigeria are joining the effort to restore some normalcy to the north.
Amid the strife and despair, citizens of the former French colony remain hopeful.
And as French combat helicopters fly overhead, crowds below erupt into cheers.
But in northern Mali, at least for now, there is little to smile about.
CNN's Nima Elbagir and Ingrid Formanek reported from Bamako, and Faith Karimi wrote from Atlanta. CNN's Sarah Brown also contributed to this report