Rehn: No need for UK 'threat' to leave EU
updated 1:20 PM EST, Fri January 25, 2013
STORY HIGHLIGHTS
EU Commissioner Olli Rehn says UK need not "threaten" to leave European Union
Rehn: "It is only to the mutual benefit of Britain and Europe that Britain stays as a member"
UK Prime Minister David Cameron has pledged to hold a referendum on membership
Rehn said threat of the breakup of the euro "has all but disappeared"
Davos, Switzerland (CNN) -- A top European Union official says there's no need for Britain to make threats to leave the union in order to reform its membership.
"In my mind it is only to the mutual benefit of Britain and Europe that Britain stays as a member of the European Union," EU Economic and Monetary Affairs Commissioner Olli Rehn told CNN's Richard Quest.
British Prime Minister David Cameron sparked the debate in a speech Wednesday in which he promised the British people a vote on European Union membership if he wins the next general election in 2015.
"But as I was listening to the speech of Prime Minister Cameron yesterday concerning his policy agenda there are in fact many issues I can agree with and the commission is already working for those including how to increase the competency of European industry, how to complete the single market, how to pursue free trade agreements," Rehn said.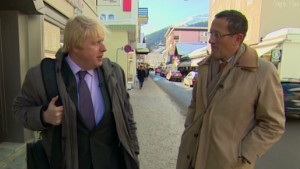 London mayor: EU debate is healthy
"That's all fine ... we work for common interest and growth of Europe. But you don't have to make threats of leaving the union to have a debate on those."
Cameron told CNN's Christiane Amanpour that he has no regrets over the referendum promise, despite unhappiness among some European partners.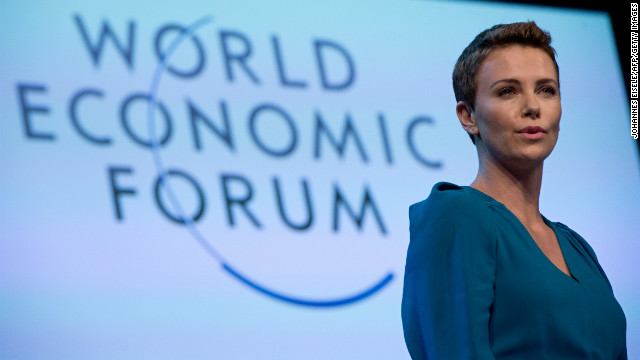 South African actress Charlize Theron picked up the 2013 World Economic Forum Crystal Award for her humanitarian work. The Oscar winner reportedly said: "There is such incredible brain trust in this room I feel I'm getting smarter by osmosis."
Microsoft co-founder turned global philanthropist Bill Gates was in town to promote the Global Fund against HIV/Aids, Tuberculosis and Malaria campaign.
IMF boss Christine Lagarde and Italy's outgoing Prime Minister Mario Monti having a presumably good chat during the forum.
A Davos meeting wouldn't be complete without a good protest. On the second to last day of the forum a Greenpeace activist dressed as a polar bear climbed the roof of a gas station to protest against global oil giant Shell.
Marissa Mayer, CEO of Yahoo!, is all smiles during her session at the World Economic Forum.
British Prime Minister David Cameron gives the thumbs up on during his talk at the annual World Economic Forum. Cameron said that Britain was not turning its back on Europe, after angering his EU partners by announcing plans for a referendum on membership.
German Chancellor Angela Merkel arrives for her session on January 24, 2013.
Former US secretary of state Henry Kissinger both spoke and attended sessions at the forum, as well as doing some obligatory finger pointing.
CNN's Richard Quest ran into London Mayor Boris Johnson on the streets of Davos.
Policemen stand guard on the roof of the congress center in Davos.
CNN's Chief Business Correspondent Ali Velshi endured both freezing temperatures and snow storms whilst reporting from Davos.
The CNN snowman chills out after a hard day at work.
The Swiss resort of Davos first hosted the World Economic Forum back in 1971 when a group of European business leaders met under the partronage of the European Commission and European industrial associations.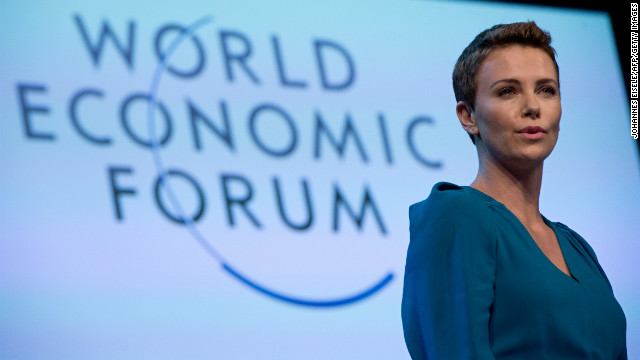 In pictures: Davos 2013
"It's really important that we've set out a plan for how we get change in Europe that will benefit all of Europe, making it more open, more competitive, more flexible, and how we secure Britain's place within that," he said.
The European Union is already changing to meet the needs of the 17 members who are part of the euro single currency, Cameron said. Britain is not in that group.
On the eurozone debt crisis, Rehn said the risk of the breakup of the euro "has all but disappeared thanks to the actions taken by the member states and not least by the European Central Bank.
"However, of course, in the real economy we have a very difficult situation in many countries -- high unemployment, low growth -- and we have to use the better sentiment in the markets and restoration of confidence to bolster growth and job creation," Rehn said. "That's the focus of 2013."