Angola president's daughter 'Africa's first female billionaire'
January 25, 2013 -- Updated 1713 GMT (0113 HKT)
STORY HIGHLIGHTS
Daughter of Angola's president named by Forbes as Africa's first female billionaire
Isabel Dos Santos has widespread business interests in Angola and Portugal
Angola is Africa's second-largest oil producer
The country is one of the most unequal societies in the world
(CNN) -- Businesswoman Isabel Dos Santos, daughter of long-serving Angolan president Jose Eduardo Dos Santos, is Africa's first female billionaire, according to business publication Forbes.
The 40-year-old's investments in publicly traded companies in Portugal, including shares in a cable TV firm, as well her assets in at least one Angolan bank, "have pushed her net worth over the $1 billion mark," said the magazine, known for its annual rich lists.
Her first business endeavor was in 1997 when she opened a restaurant in Angola's capital, Luanda, according to the magazine. Since then, she's expanded her business interests to a number of industries, sitting on the boards of several Angolan and Portuguese companies.
A former Portuguese colony, Angola is the second largest oil producer in the continent. Over the last decade, the southwestern African country has emerged from the wreckage of a 27-year civil war to become one of the continent's major economic players.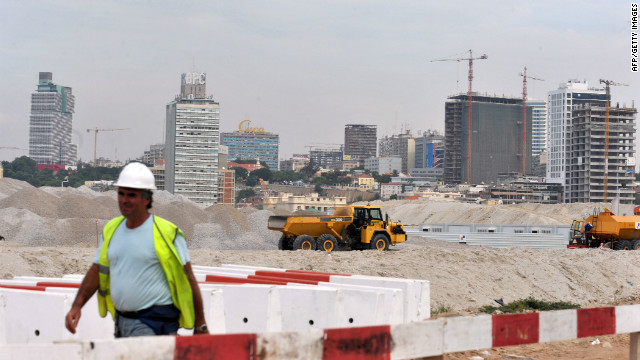 Angola has embarked on a major reconstruction program following the end of a 27-year vicious civil war in 2002. The oil-rich country holds general elections Friday.
Angolan President Jose Eduardo dos Santos, 70, has been in power since 1979. Analysts expect his party, MPLA, to win Friday's elections.
MPLA supporters attend Wednesday the final rally of President dos Santos in Kilamba Kaixi on the outskirts of Luanda, Angola's capital.
Thousands of Angolans take part in a demonstration in Luanda organized by the main opposition party, UNITA, to ask for free and fair elections on May 19, 2012.
UNITA leader Isaias Samakuva (center), delivers a speech during the May 19 demonstration. The opposition has repeatedly expressed concerns about the electoral process.
Dos Santos casts his ballot on September 05, 2008, at the polling station behind the presidential palace in Luanda. MPLA won the last elections with a landslide 82% of the vote.
Resource-rich Angola is the second-biggest oil producer in sub-Saharan Africa, turning out more than 1.9 million barrels per day.
Thanks to its oil reserves, the country has posted impressive economic growth after the end of the war. It is currently the third-biggest economy in sub-Saharan Africa, after South Africa and Nigeria.
But despite the progress made since 2002, Angola remains one of the most unequal societies in the world. In Luanda, millions of people live in crowded shantytowns, like the Boa Vista slum (pictured), in squalid conditions.
Angola, which has a population of some 18 million people, ranks 148th out of 187 countries in the U.N.'s Human Development Index.
A large portrait of the Angolan President is seen in the center of Luanda on January 30, 2010. The Angolan capital was last year named the world's most expensive city for expats.
Earlier this year, Angola celebrated 10 years of the end of its civil war. Here, Luanda residents walk in front of a giant portrait of President dos Santos, with text reading "The Architect of Peace" on April 4, 2012.
Angola was gripped by a brutal civil war for 27 years that led to the death of up to half a million people, according to the U.N., and also left 15.000 landmines behind.
After Portugal's decision to cede power in the African country in the mid-1970s, pro-U.S. UNITA and MPLA, backed by the Soviet Union and Cuba, fought a proxy Cold War for control of the country and its vast resources.
The war ended officially in 2002 when a peace deal was signed following the death of UNITA leader Jonas Savimbi.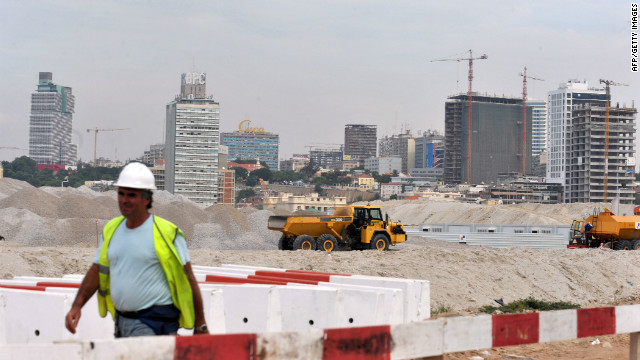 Angola rises from the ashes of 27-year civil war
Read also: Angola's post-war generation
President Dos Santos, who has been in power since 1979, has presided over Angola's post-war economic growth and rebuilding efforts. He won a new term last year when the ruling MPLA party was declared winner of the August 31 elections.
Greased by growing oil revenues and China's credit lines of billions of dollars, Angola's economy rocketed by an average annual growth of 17% from 2004 to 2008 before falling to single-digit figures after the 2008 global financial crisis.
Read also: Where is Angola's oil money?
But despite the heady financial data and the progress made since the end of the war in 2002, Angola still remains one of the most unequal societies in the world. The country, which has a population of some 18 million people, ranks 148th out of 187 countries in the U.N.'s Human Development Index.
Read also: Is oil-rich Angola a development success?
Corruption is also prevalent, with Angola ranked 157th out of 176 countries and territories on Transparency International's 2012 Corruption Perceptions Index.
"Corruption is a major problem and the perception of corruption in Angola by investors is increasing," says Alex Vines, head of the Africa Program at London-based think tank Chatham House.
According to Forbes, Isabel Dos Santos is the biggest shareholder in Zon Multimedia, the biggest cable TV operator in Portugal, owning a 28.8% stake. She also has a 19.5% holding at Banco BPI, one of Portugal's largest publicly traded banks.
Forbes said that in Angola, the president's daughter sits on the board of Banco BIC and is reported to own a 25% stake in the bank.
"There is nothing wrong with the president's daughter being a business entrepreneur as long as she's obtained those contracts in an open and competitive process," says Vines.