5 ways to beat the winter blues
January 25, 2013 -- Updated 2003 GMT (0403 HKT)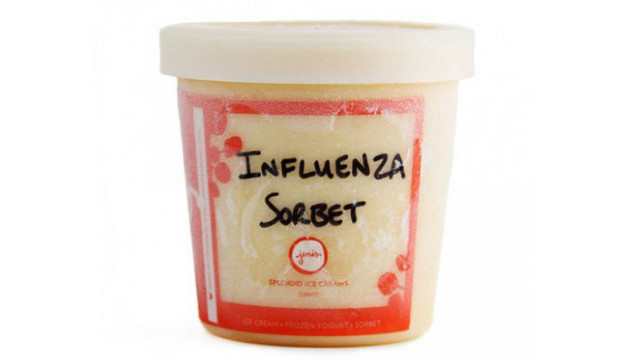 Jeni's Splendid Ice Cream claims its Influenza sorbet comes from a family recipe.
ThermaCELL has created remote-controlled heated insoles for your shoes.
Kellogg's wants you to share what you hope to gain by sticking to your weight loss goals in 2013.
Nest, the smart thermostat that learns from you, can be programmed to align with your schedule.
The Warm Mouse is embedded with infrared heaters to keep your mouse warm and toasty.
Influenza sorbet
ThermaCELL heated insoles
The Gain Project
Nest
WarmMe Warm Mouse
STORY HIGHLIGHTS
Heated mouse aims to keep you warm in the office when gloves aren't an option
"Influenza sorbet" of cayenne, ginger, Maker's Mark, claims to help cure the flu
Nest, the learning thermostat, can be programmed to match your daily activities
Editor's note: Kerry Abner works with Turner Broadcasting's Insights & Inspiration team. Each month, he scouts out innovative trends at the intersection of technology and lifestyle that are changing the way we live. Check out his previous column on ways to start 2013 on the right foot.
(CNN) -- From wireless heated insoles to a flu-fighting sorbet, here are five techie, tasty, positive ways to stay warm and healthy this winter.
1. WarmME WARM MOUSE: Infrared heated mouse
For those of us who work in an office, cold hands are no excuse for typos and gloves can make typing a nightmare. But where there's a will, there's a way, right? Well, here's a spin on one of our most ubiquitous office tools. ValueRays has created a mouse with embedded infrared heaters powered through its USB cord. The product's website says WarmMe is a passive therapy device that helps "ease joint pain" and "promote healthy and flexible joints." Now, if only we can address that other hand that doesn't use the mouse all day.
2. ThermaCELL Heated Insoles: Remote-controlled foot warmers
Got cold feet? No folks, this isn't the answer to your wedding day jitters. These heated insoles from ThermaCELL are designed to help keep your toes warm and make outdoor activities more enjoyable. A wireless remote control allows you to adjust the heat to a desired temperature. They even use rechargeable lithium-ion batteries. In terms of comfort and durability, the lightweight cushions are actually designed to provide additional shock absorption and can run continuously for up to five hours. If layering your socks isn't doing the trick, this sounds promising.
3. Nest: The smart thermostat that learns from you
Smartphone-controlled products like LED lightbulbs and door locks are helping us control our homes with the click of a button. But is there anything worse than waking up in the morning in a freezing cold home? Thankfully, as our everyday appliances get smarter, so can our thermostats. Nest, the learning thermostat, can be programmed to perfectly match your daily activities. Unique presets allow it to "learn" when you're in or out and make changes by itself to make you more comfortable. Of course, you also can operate it from your phone. The product claims to help you save up to 20% on your heating and cooling bills, while ensuring the house is always warm when you get out of bed.
4. Jeni's Splendid Ice Cream: Influenza sorbet
It's hard to even think about being productive when you're suffering from the flu, not to mention having to choke down those bitter remedies stockpiled in your medicine cabinet. Jeni's Splendid Ice Creams says it has created a sweeter "flu-season fix." The Ohio-based company produces Influenza sorbet to fight symptoms such as sore throat, body aches and stuffiness. Inspired by a family remedy, this frozen dessert contains cayenne pepper, ginger, Maker's Mark bourbon, honey and other herbal ingredients aimed at treating those aches and pains of sickness. " 'Cures' whatever ails you," the company's website says. Well, at the least it might help you forget those flu-like symptoms momentarily.
5. Kellogg's: A plan to stick to your New Year's resolutions
You know the story: it's a new year, health and fitness are at the top of your resolutions list, then it all dies down after a month or two. To reverse the trend, the Gains Project by Kellogg's is looking to inspire people by asking "What will you gain when you lose?" The initiative is rooted in the belief that positive thinkers are more likely to see success with weight management efforts. Users are asked to choose a word tied to a positive feeling or milestone -- confidence, passion, joy -- as a way to encourage themselves before they start on their Special K challenge. When you upload your photo and goal to the "What Will You Gain Gallery," you can even watch a motivational video starring you.
Have you tried these products? Would you? Share your thoughts in the comments!

Today's five most popular stories
Part of complete coverage on

CNN Living reflects your life. From advice for modern parents to the freshest news in food: It's all here.
August 7, 2014 -- Updated 1606 GMT (0006 HKT)

Travis and Joyce Miller started producing hickory syrup as an experiment. Demand for the unique flavor has turned into a full-time business.
August 5, 2014 -- Updated 1505 GMT (2305 HKT)

These happy couples kept the campfire flames burning, and turned summer flings into lifetime commitments.
August 7, 2014 -- Updated 1733 GMT (0133 HKT)

Shanesha Taylor says a moment of "desperation" led her to leave her children in a car during a job interview.
July 18, 2014 -- Updated 1555 GMT (2355 HKT)

Bikinis might dominate the beaches, but style editors and trend forecasters say the one-piece is the "fashion-forward" choice this season.
July 30, 2014 -- Updated 1442 GMT (2242 HKT)

Are you ready for this? These guidelines tell you when to wash everything, from sheets and cars to bras and hair.
August 7, 2014 -- Updated 1121 GMT (1921 HKT)

"I am a canvas of my experiences, my story is etched in lines and shading," says tattoo artist Kat Von D. Is this a good thing?