STORY HIGHLIGHTS
English golfer Chris Wood wins Qatar Masters by one shot after spectacular finish
He heads off Spanish veteran Sergio Garcia and South Africa's George Coetzee
The 25-year-old qualifies for next month's WGC-Accenture Match Play in Arizona
Garcia denied a return to top-10 rankings as he tied for second place with Coetzee
(CNN) -- When Chris Wood turned professional in 2009, he came agonizingly close to winning a major title in his rookie season -- but it's been tough going since then.
The English golfer finished tied for third at that year's British Open after missing out on victory at his final hole, having been fifth the previous season as the leading amateur.
Now he has finally tasted success on the European Tour, landing a spectacular eagle on the last hole to claim the Qatar Masters on Saturday.
He headed off veteran Sergio Garcia and South African George Coetzee by one stroke to earn the €310,917 ($418,000) first prize, thanks to a 202-yard six iron over the water that finished 10 feet from the hole.
"There's an enormous weight lifted off my shoulders today. I feel like I can go on and win more," said Wood, whose only other professional win came at the OneAsia Tour-sanctioned Thailand Open last year.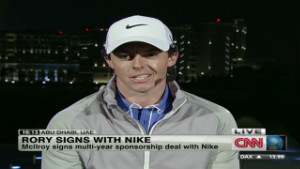 Golfer Rory McIlroy signs with Nike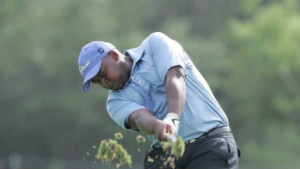 The rise of South Africa's black golfers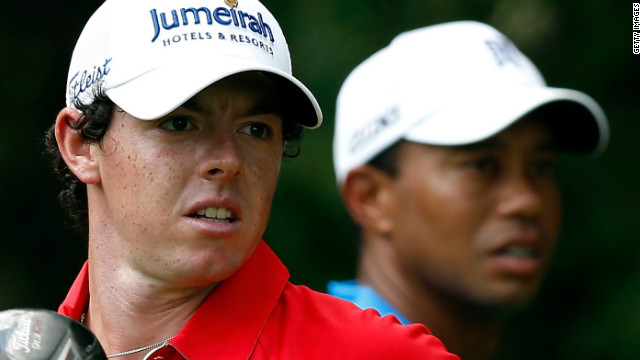 Sports giant Nike now has the two biggest names in golf on their books after Rory McIlroy (L) joined Tiger Woods at their stable.
McIlroy, currently ranked the No. 1 player in the world, has signed a multi-year contract reputed to be worth in excess of $200 million with Nike. The deal catapults the 23-year-old into the top bracket of sporting earners, a stratosphere Tiger knows all about.
Woods signed a deal reportedly worth $40 million with Nike when he turned pro in 1996 and the firm built their golf business around him in the coming years. When he renegotiated in 2000, a five-year deal was said to have earned him $100m. But of late, his star has waned.
Tiger's last major title -- his 14th in total -- came at the 2008 U.S. Open. The following year news of his extra marital affairs broke and he took a break from the game. Nike stood by him, chairman Phil Knight calling it a "minor blip" but the 37-year-old has struggled to recapture his best form since.
Conversely, McIlroy's star is on the rise. After grabbing his first major at the 2011 U.S. Open he took his second at the U.S. PGA Championship last year. He finished top of the money lists on both the PGA and European Tours, matching Luke Donald's feat from the 2011 season.
Despite being rivals on the course Woods and McIlroy's relationship off it has strengthened in recent years. They have been paired together numerous times at tournaments around the world, much to the delight of sponsors, marketers and spectators.
The pair are continually in demand and played an exhibition match in China, dubbed the "Duel at Jinsha Lake", for which they were reportedly paid $2 million. Both players clearly enjoyed each other's company.
Even at the Ryder Cup, after Europe had completed one of the most dramatic comebacks in the competition's history to retain the trophy and stun the U.S. team, a triumphant McIlroy and despondent Woods managed to share a joke.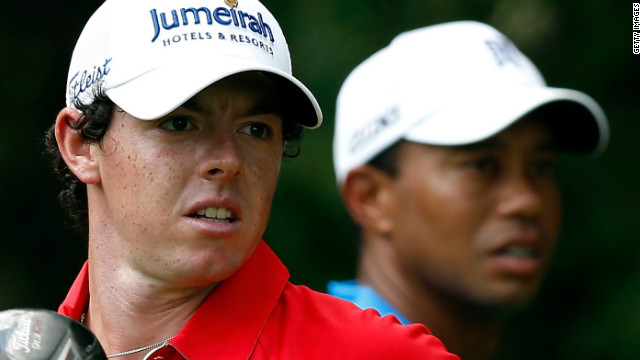 Tiger's heir apparent joins Nike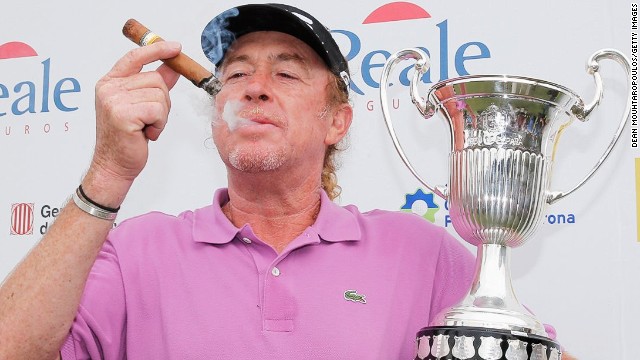 With his trademark victory cigar in one hand, Miguel Angel Jimenez poses with the trophy in the other after winning his home Spanish Open for the first time on May 18, 2014. Having passed 50, he is the European Tour's oldest victor.
Jimenez spent the first four months of 2013 in the gym undergoing a rehabilitation program after suffering a broken leg in a skiing accident. The Spaniard underwent surgery after breaking the tibia at the top of his right leg.
Food and drink are just two of Jimenez's passions in life -- along with his trusty cigar.
Another love of Jimenez's is his Ferrari -- he might be laid back but the need for speed still gives him a thrill.
Jimenez celebrates with a glass of red wine and a cigar after claiming victory at the 2012 Hong Kong Open. He would return a year later to successfully defend his title -- his fourth success at the tournament.
Jimenez and Ryder Cup teammate Lee Westwood toast Europe's victory in the 2010 event at Celtic Manor in Newport, Wales.
Jimenez sprays Jose Manuel Lara of Spain with champagne after his compatriot wins the 2010 Austrian Open.
Jimenez, puffing that trademark cigar, celebrates after winning the French Open in July 2010.
2010 was a big year for Jimenez, who won the first of three titles that season at the Dubai Desert Classic in February.
Jimenez with ex-wife Monserrat after winning the European Tour's flagship PGA Championship event in 2008.
Jimenez won five tournaments in 2004, the last of which was the BMW International Open in Munich, Germany.
In 1997 Jimenez was assistant to team captain Seve Ballesteros as Europe retained the Ryder Cup at Spain's Valderrama Golf Club -- the first time it had been played outside of the U.S. and the UK.
His 1994 triumph at the Dutch Open was his second of 21 titles so far on the European Tour, having won his first in Belgium two years earlier.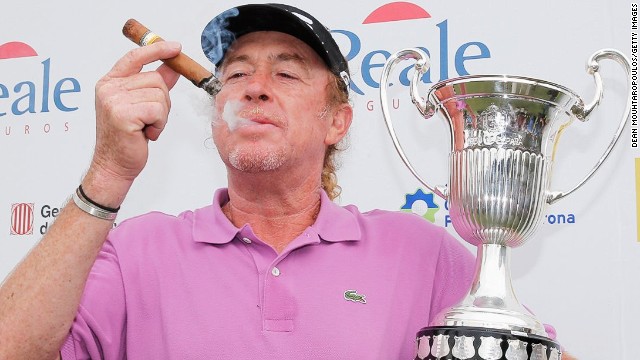 Jimenez: Golf's great celebrater
"I knew it was going to be hard no matter how I played -- winning on The European Tour is not easy.
"I've been knocking on the door in previous times and it's not happened. To get it today, to get my first win, it's such an honor. I'm so pleased."
The 25-year-old had led by three shots going into the final round, but then dropped two off the pace after the opening nine holes to bring back memories of losing tournaments in 2010 and 2011 on the last day.
"I've seen a few mates picking up trophies and I've been waiting patiently for my time. I felt like I was due to win for a couple of years," said Wood, who will qualify for next month's WGC-Accenture Match Play in Arizona after moving from 142nd in the rankings to inside the top 64.
He closed with three-under-par 69 to deny Coetzee his first European Tour success.
The 26-year-old stormed home with a 65, firing an eagle and six birdies to record his 21st top-10 finish.
He finished tied with Garcia on 17-under 271, with the Spaniard -- seeking his 11th European Tour win and first since 2011 -- closing on 66.
"Chris hit a great drive and a great six iron and then a wonderful putt," said Garcia, who would have returned to the world's top 10 for the first time in more than three years if he had won.
"Obviously he's been trying for a while and he deserves it, and after the start he had today, it's quite impressive for him to come back the way he did and win. I gave it my best effort."
World No. 4 Justin Rose, the highest-ranked player in the field and runner-up in Abu Dhabi last weekend, tied for 16th.
Meanwhile, the third round of the PGA Tour's Farmers Insurance Open was delayed by fog on Saturday.
Only a handful of players made it out onto the course before play was suspended, with halfway leader Tiger Woods holding a two-shot advantage after 36 holes as he and most of the field waited for their new tee-off times.