Fear, fury over Hong Kong corporate privacy proposals
January 28, 2013 -- Updated 0443 GMT (1243 HKT)
STORY HIGHLIGHTS
Hong Kong government proposes limiting corporate information available to public
Would remove directors' address, full Hong Kong ID numbers from Company Registry
Journalists, financial firms use it to trace who is running a HK-registered company
Information about wealth of China's elite found by leading news outlets on database
Hong Kong (CNN) -- A change in corporate record-keeping in Hong Kong has turned into a flashpoint for the debate about freedom of information in the Chinese territory.
Many in the city take pride in what they say is a transparent and open financial system, in contrast to the situation across the border in Mainland China.
Now Hong Kong's government has proposed limiting the information that is available to the public about corporate directors "to enhance protection of the privacy of personal information."
The plan would remove directors' residential address and their full Hong Kong identification numbers from the Company Registry.
The information is regularly used by both investigative journalists and financial firms to help trace who is running a Hong Kong-registered company.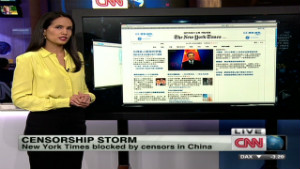 China censors NY Times after Wen story
A petition declaring "Secrecy Breeds Corruption" appeared in the pages of five Hong Kong newspapers Monday morning, followed by the signatures of more than 1,700 journalists, educators and students, who strongly oppose the change.
Information from the database was used in two high-profile stories last year that looked into the wealth of the families of China's ruling elite, which appeared in The New York Times and Bloomberg News. A number of stories on property scandals within Hong Kong also relied on information from the database.
The petition declared the change an "infringement of the public interest," which would have a "great impact on professional and citizen journalists' right to conduct investigative reporting."
It basically undermines our reputation for free markets, transparency and the rule of law.
David Webb, investor-activist
Members of the business community and investors have also voiced concerns about the proposed change. David Webb, a well-known investor activist and editor of Webb-Site.com, says the change would make it harder for investment banks and IPO sponsors to determine a person's real assets.
"It basically undermines our reputation for free markets, transparency and the rule of law," Webb said.
Issues like this one often flame fears in Hong Kong about the interference of the Chinese government in the city's affairs.
Hong Kong, a former British colony, is part of China but maintains freedom of the press, speech and no Internet controls.
Residents are often fiercely vocal in response to anything they see as infringement of these rights.
CNN's Tim Schwarz contributed to this report.

Part of complete coverage on
March 13, 2014 -- Updated 1157 GMT (1957 HKT)

Mobile World Congress spans the full spectrum of untethered gadgetry Explore this year's top trends with Stuff Magazine Editor Will Findlater.
February 28, 2014 -- Updated 1623 GMT (0023 HKT)

Cocoa-nomics: Why chocolate really doesn't grow on trees. CNN returns to Africa's cocoa plantations to examine the fight against child labor.
February 27, 2014 -- Updated 1958 GMT (0358 HKT)

CNN's Maggie Lake speaks to Lego CEO Jørgen Vig Knudstorp about why Lego continues to be a hugely popular toy.
February 27, 2014 -- Updated 2032 GMT (0432 HKT)

A Japanese rocket roared into orbit carrying what NASA calls its most precise instrument yet for measuring rain and snowfall.
February 28, 2014 -- Updated 2003 GMT (0403 HKT)

When you hail yourself as a "passionate advocate" for job-seekers, you probably ought not blast one of those job-seekers in a snide e-mail.
February 26, 2014 -- Updated 2201 GMT (0601 HKT)

Love that chocolate Haagen-Dazs ice-cream? But what about the way its makers treat their farmers? Oxfam reveals the ethics behind the brands.
February 20, 2014 -- Updated 1121 GMT (1921 HKT)

SnapScan is an award-winning app allowing buyers to pay with their smartphone -- no need to worry about carrying cash or lost credit cards.
February 18, 2014 -- Updated 1452 GMT (2252 HKT)

In the wake of recent credit card breaches, CNN's Richard Quest explores the threats of the non-cash economy. Is your money as safe as you think?
February 19, 2014 -- Updated 0833 GMT (1633 HKT)

Like many companies in China, Fu Shou Yuan uses celebrities to attract clients. Except, in this case, they're dead. They're in the funeral business.
February 19, 2014 -- Updated 1255 GMT (2055 HKT)

Coca-Cola is staying afloat as the soda market shrinks, and many point to a marketing strategy around the so-called "secret recipe."

Today's five most popular stories