STORY HIGHLIGHTS
Leo Messi scores four as Barcelona crushes Osasuna in La Liga
Cristiano Ronaldo hits a hat-trick for Real in win over Getafe
Napoli moves to within three points of leaders Juventus in Serie A
Bayern Munich stretches its lead to 11 points at top of Bundesliga
(CNN) -- It was a case of 'whatever you do, I can do better' as Barcelona's Lionel Messi hit four to eclipse Cristiano Ronaldo's hat-trick for Real Madrid and leave his great rival in the shade once again.
Ronaldo had inspired Real to a 4-0 win over Getafe early Sunday, before Messi stole the show to lead Barcelona to a 5-1 thrashing of Osasuna and become the first player to score in 11 consecutive La Liga matches.
Messi, who recently beat Ronaldo to the prestigious Ballon d'Or award to win the prize for a record fourth time in succession, has now scored 33 goals in the league and 44 overall this season.
It was also the fifth time Messi had scored four times in a league game and his 16th hat-trick in the top-flight, allowing him to move 12 clear of Ronaldo in the goalscoring charts.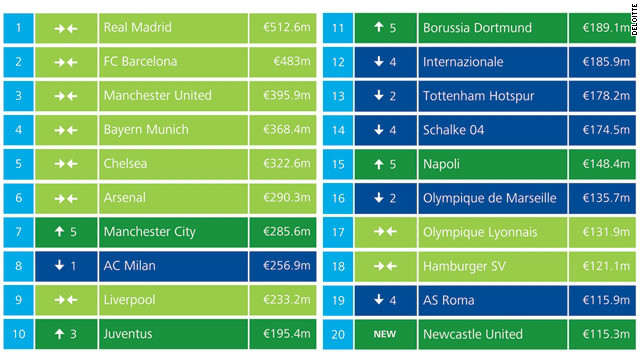 Real Madrid ($650.5 million) and Barcelona ($613 million) lead the way at the top of the chart by some considerable distance over English champion Manchester United ($502.4) . The top six places remain unchanged from last year.
Real Madrid star Cristiano Ronaldo has become an integral part of the club's success both on and off the pitch with the Spanish giant leading the Football Money League table for the eighth year in a row.
Leo Messi's goals and success has been key to Barcelona's ability to draw in fans and broadcasters at will. It is the fourth year in a row that the club has finished second in the Football Money League table behind arch-rival Real Madrid.
Robin van Persie, a $38 million summer signing, has helped Manchester United reach the top of the Premier League as it looks to wrestle the title back from rival Manchester City. United, which has recently signed a record shirt deal with General Motors, has been tipped to overhaul the top two over the coming years.
Bayern Munich, which recently appointed Pep Guardiola as its new manager for the 2013/14 season, remain in fourth position. The German giant reached the Champions League final last season where it was beaten by Chelsea.
Last year's European Champions League finalists Bayern Munich and Chelsea remain in fouth and fifth but it is Manchester City which has surged up the table. The English champion was 12th last year but is now up to seventh with revenue of $362.4 million.
European Champions League holder Chelsea is fifth in the money list. The London club has spent big money in recent years including the $80 million purchase of Spain striker Fernando Torres.
Borussia Dortmund leads the average attendance count with 79,900, beating Manchester United into second place. The matchday experience at Bundesliga clubs has seen attendances rise across the board with safe standing and cheaper tickets both key to its success.
.Arsenal stays sixth in the table despite it's failure to win a single trophy since 2005. The club has also seen big name departures with Cesc Fabregas joining Barcelona and Robin van Persie moving to Manchester United
Manchester City's Premier League title win catapulted the club up the Football Money League table and into seventh position. City's revenue grew to $452.6 million, the largest absolute and relative growth of any Money League club.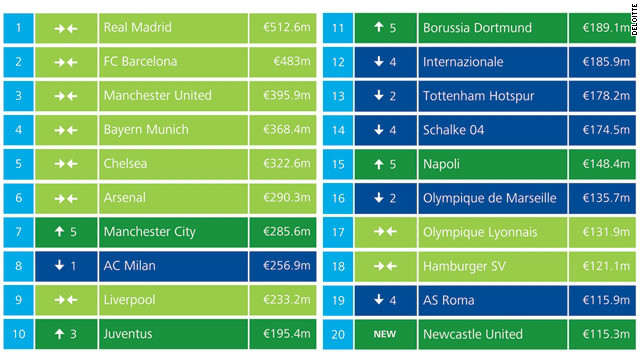 Spain dominates football's rich list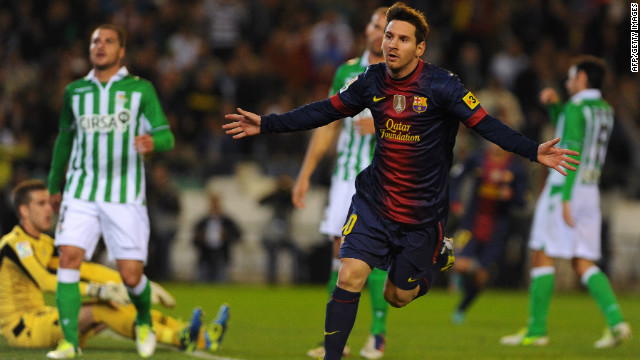 Lionel Messi celebrates after matching Gerd Muller's record of 85 goals in a calendar year, netting in the 16th minute of Barcelona's match against Real Betis in December 2012. Just nine minutes later the Argentina star passed the German's 1972 milestone.
Messi passed Muller with three more possible matches to play in 2012. Then a three-time world player of the year, he went on to win a record fourth Ballon d'Or in January,
The 25-year-old crept within one goal of Muller's record with two goals against Athletic Bilbao in a 5-1 victory in December. Click here to see a map of Messi's first 84 goals of 2012.
Messi made a quick recovery to be fit for the Betis game, having been injured after coming on as a substitute during a Champions League match against Benfica.
Messi enjoyed a stellar 2012. With a hat-trick against Grenada in March, he equaled and broke the all-time goalscoring record for Barcelona in official matches of 232 set by Cesar Rodriguez.
A hat-trick against Malaga in May took Messi to 68 goals for the 2011-12 season, edging him past the record for goals in a European season set by Bayern Munich's Muller in 1972-73.
Muller was one of the most predatory strikers in football history, winning both the World Cup and the Europan Championship with West Germany. Click here to see a comparison of Muller and Messi.
Messi also had a standout year for the Argentina national team. He scored 12 goals for his country in 2012, including a hat-trick against archrivals Brazil in June.
Messi became Barca's all-time leading goalscorer in "El Clasico" matches against Real Madrid in August 2012. His free-kick in that match was his 15th in the fixture against Barca's archrivals.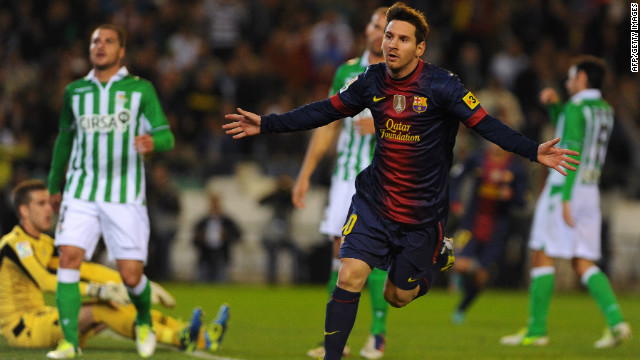 Lionel Messi's record year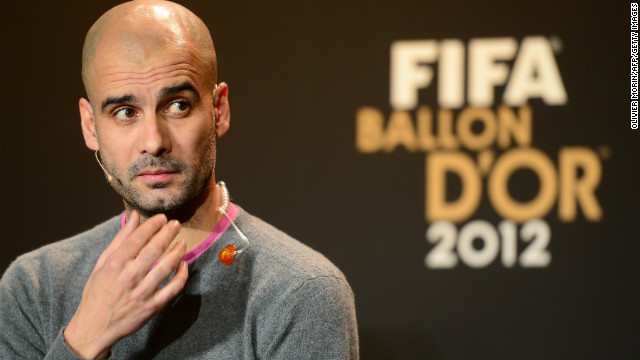 Pep Guardiola has been on a year-long sabbatical in the U.S. after stepping down as Barcelona coach, but he returned to Europe in January for the Ballon d'Or when he was shortlisted for FIFA's world coach of the year award.
When he confirmed he was to end his four-year reign as Barcelona coach, Guardiola gave an emotional press conference.
Guardiola announced his intent to quit at the end of last season just three days after the club's Champions League semifinal exit against Chelsea, drawing 2-2 at home and losing 3-2 on aggregate. He left a remarkable legacy.
He was massively popular at the Camp Nou after four trophy-laden seasons. Here he is thrown in the air by his players after winning the FIFA Club World Cup for the second time in December 2011, having been the first team from Spain to win it two years earlier.
Guardiola congratulates Barca players Cesc Fabregas and Javier Mascherano after winning the Spanish Supercup against Real Madrid at the start of the 2011-12 season.
Guardiola lifts the 2011Champions League trophy after Barca beat Manchester United at Wembley. The 41-year-old has earned a reputation as a coach who prepares meticulously for matches.
Guardiola won the FIFA Men's Football Coach of the Year award in January 2012. "I can't promise you silverware, but I can say that we'll keep on battling to the end and you'll be proud of us," he said after becoming coach four years ago.
In the 2009 calendar year, Guardiola won six trophies in total -- the Copa del Rey, La Liga, the European Champions League, the Spanish Supercup, the UEFA Supercup and the Club World Cup.
Former Barcelona president Joan Laporta shakes hands with Guardiola on June 5, 2008. The Catalan club's 15th coach arrived with the mission to end a two-season trophy drought -- he didn't disappoint.
As a player, Guardiola spent more than a decade in Barcelona's senior team, winning six Spanish titles and one European Cup. He captained Spain to a gold medal at the 1992 Barcelona Olympics and went to the 1994 World Cup.
He joined Barca's famed La Masia youth academy in 1984, and wore the No. 4 shirt until leaving for Italy in 2001.
He had two spells at Serie A side Brescia either side of a brief time at Roma, and is pictured playing against Perugia in 2002.
Guardiola left Europe to join Qatar's Al-Ahly from 2003 to 2005, then joined Mexico's Dorades de Sinaloa for a season before finally hanging up his boots.
Guardiola is pictured here with fellow Spaniard Jose Maria Olzabal at the Ryder Cup after Europe produced a remarkable comeback to win the tournament at Medinah in the U.S.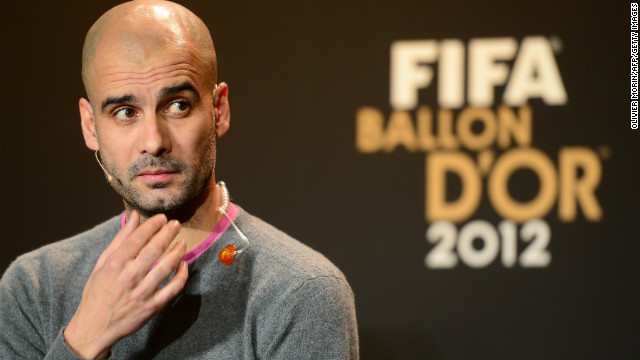 The end of an era: Josep Guardiola
The win for Barcelona means it is now 11 points clear at the summit after nearest rival Atletico Madrid was beaten 3-0 at Athletic Bilbao in Sunday's late game.
It was a perfect day for Barca, which welcomed back striker David Villa to the starting line-up for the first time in two months.
Four goals from Messi and one from Pedro sealed the win, which was made easier by the 27th minute dismissal of Alejandro Arribas for two yellow cards.
Messi sets up 'El Clasico' clash
Meanwhile, Real which hosts Barca in the first leg of the Copa del Rey semifinal Wednesday, moved to within four points of second place Atletico.
After a frustrating first-half, Real scored four times without reply thanks to Ronaldo's treble and a Sergio Ramos strike.
Jose Mourinho's side remain 15 points behind league leaders Barcelona with 17 league games remaining.
Elsewhere, Rayo Vallecano beat Real Betis 3-0 to move into fifth, a place and a point behind the Seville-based side and a Champions League position.
Real Madrid, Barcelona or Manchester United: Which is the biggest club?
Piti got the South Madrid side off to a great start from the penalty spot on four minutes before Andrija Delibasic and Jose Carlos added second-half goals to make it five wins in six for Rayo.
Napoli wins match-fixing appeal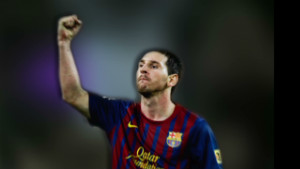 Lionel Messi breaks goal scoring record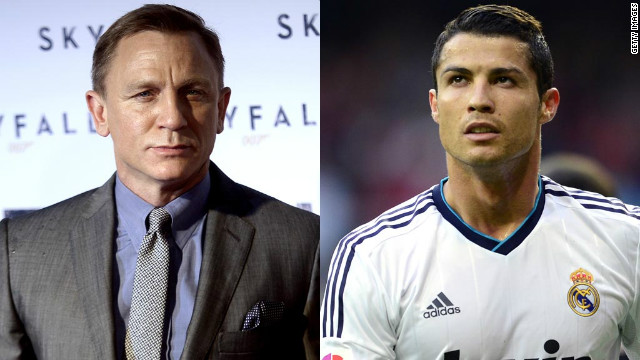 Daniel Craig and Cristiano Ronaldo have both been outspoken in their desire to reclaim a right to privacy. Both men have become frustrated with their treatment in public.
Cristiano Ronaldo and his model girlfriend Irina Shayk enjoy some peace and quiet together but the camera lens is never far away from the pair.
Shayk is a celebrity in her own right having established herself as a leading model. The Russian's romance with Ronaldo has taken her fame to new heights.
"We are just partners," Ronaldo told CNN when asked about his relationship with Shayk. "We have a good relationship, we are almost three years together, I love to be with her, I love her. It's great."
Ronaldo has yet to pop the question to Russian model Shayk but he admits he has thought about marriage. He said: "Not now, but of course in the future, yes. Everyone wants that. I still haven't done that. I don't have the courage."
"In Real Madrid we are always under pressure," Cristiano Ronaldo told CNN. "This is maybe the best club in the world... so we have a lot of pressure and we know that the fans, the Madrid city... everyone wants 'La Decima' (a 10th European Cup). "
Ronaldo has nothing but praise for Real coach Jose Mourinho: "Well, my relationship with him is perfect. I don't ask for nothing better. In terms of coaching I'm sure 100%... 200% that he is the best. He shows every country who's the best because he wins all the leagues."
Ronaldo will be up against Barcelona's Lionel Messi for the Ballon d'Or with the Argentine having won the prize on each of the past three occasions. Both men were on target twice during the last El Clasico match which finished 2-2 at the Camp Nou.
Ronaldo has scored 160 goals in 164 appearances for Real Madrid since his move from Manchester United in 2009. His determination to win is always evident, even when it comes to beating his girlfriend at swimming in their own pool. He said: "Sometimes you have to give her an opportunity to be happy, but I win because I don't like to lose."
Ronaldo last won the Ballon d'Or in 2008 after helping lead Manchester United to the Champions League crown with victory over Chelsea in Moscow. In the 2007-8 season, he scored 42 goals as United also won the English Premier League title.
While Ronaldo has enjoyed great club success with Manchester United and Real Madrid, he has yet to win a major tournament with Portugal. "I'm not saying Portugal doesn't have the capacity to win the World Cup or Euro, but its more tough... its difficult, because you don't have 100 players to choose," sai the Portuguese star.
Ronaldo insists he'd relish the opportunity to talk to his critics and listen to their opinions on why they believe he is arrogant. He told CNN: "People who call me arrogant, I'm interested, not with all of them, but most of them. One day I would like to sit with them and have a chat to see in which way they think I'm arrogant."
When he finishes his football career, Ronaldo wants to become an actor.
Ronaldo tells CNN's Pedro Pinto in an exclusive interview that he believes his perceived 'arrogance' has made him less popular than his chief rival Lionel Messi. "You know, sometimes I'm a victim of that because they don't know the real Cristiano," said the Real Madrid forward.
Cars are one of Ronaldo's great passions. In 2009, while at Manchester United, Ronaldo was lucky to esacpe injury after crashing his Ferrari.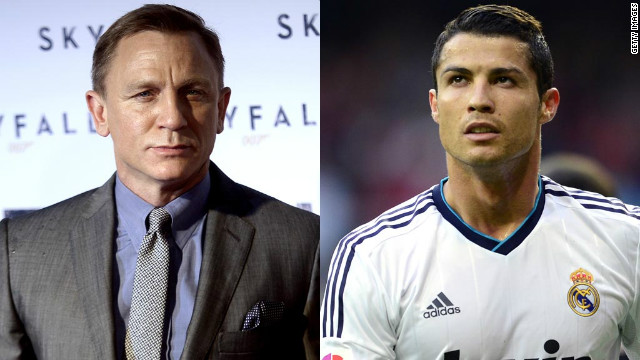 The Real Ronaldo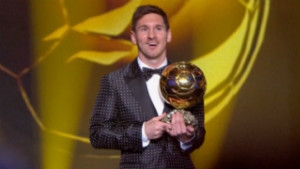 Messi claims fourth Ballon d'Or
In Italy, Napoli moved to within three points of league leaders Juventus after recording an impressive 2-1 win at Parma.
Edinson Cavani scored his 18th goal of the season in the 85th minute to end Parma's unbeaten home run.
Marek Hamsik's opener was cancelled out by an own-goal from Paolo Cannavaro, but Cavani popped up with five minutes remaining to seal the win.
Inter sits in fourth place following a 2-2 draw at home to Torino in the day's late game.
Christian Chivu and Esteban Cambiasso were on target for the home side, but two goals from Riccardo Meggiorini earned Torino a point.
Sneijder quits Inter for Galatasaray
Elsewhere, Milan claimed its 11th league win of the season with 1-0 victory at Atalanta courtesy of Stephan El Shaarawy's first-half strike.
Milan is now up to fifth in the league, 11 points behind league leaders Juventus but coach Massimiliano Allegri appeared unmoved by his team's victory.
He told reporters: "This changes nothing. Today the boys played well but didn't seal the match and we were under threat till the very end.
"We're on the right road but we need to keep winning. Let's see how we're doing at the end of February and, above all, at the end of March."
Meanwhile, Mauro Icardi scored four as Sampdoria crushed Pescara 6-0 with Eder and Pedro Obiang also on target.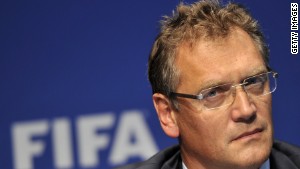 Jerome Valcke: Match-fixing a 'disease'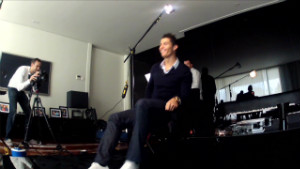 Ronaldo's best ever goal?
Cagliari grabbed a late goal through Thiago Ribeiro to earn a 1-1 draw at home to Palermo, who had taken the lead through Josip Ilicic.
Milan's Boateng takes stand over racism
Bottom club Siena suffered another defeat after going down 1-0 to Udinese following Luis Muriel's 36th minute strike.
In the day's early kick off, Bolgona and Roma put on a six-goal thriller as each team took a point from an enthralling 3-3 draw.
Guardiola agrees three-year deal with Bayern
In Germany, Bayern Munich went 11 points clear at the top of the Bundesliga with a 2-0 win in the south German derby at 10-man VfB Stuttgart.
Croatia striker Mario Mandzukic and Germany's Thomas Mueller were both on target as Bayern eased to victory.
Elsewhere, Hamburg overcame Werder Bremen 3-2 in the north German derby, while fourth placed Eintracht Frankfurt claimed a 2-1 home win over Hoffenheim.
There was disappointment for Schalke after it was held to a 0-0 draw by relegation threatened Augsburg.
In France, Paris Saint-Germain stayed top of the table with a 1-0 win over Lille courtesy of an own-goal from Aurelien Chedjou.
Bordeaux gained a 1-0 win at Nice thanks to Henri Saivet's 58th minute strike, while Saint Etienne eased to a 3-0 win over Bastia.