STORY HIGHLIGHTS
A massive fire at the Kiss nightclub in southern Brazil killed more than 200 people on Sunday
Nightclub infernos have claimed hundreds of lives over the years
In 2009 fireworks triggered a fire and panic at a nightclub in Perm, Russia, killing 156 people
(CNN) -- Early Sunday, a massive fire at the Kiss nightclub in southern Brazil killed more than 200 people. Nightclub infernos have claimed hundreds of lives over the years. Here are some of the worst in recent memory:
Are you there? Share photos, videos
August 2012
A fire that swept through a popular nightclub on the Thai island of Phuket killed four people early August 17.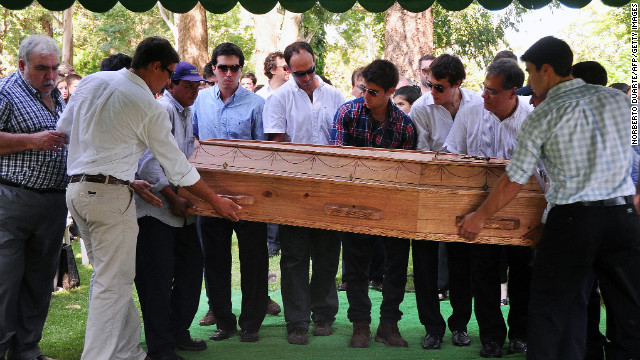 Relatives and friends of Paraguayan student Guido Britez, 21, who died in a fire at the Kiss nightclub in Brazil, carry his coffin during the funeral in Asuncion on Tuesday, January 29. More than 230 people died and more than 120 were injured early Sunday when a fire tore through the nightclub packed with university students in southern Brazil, police said.
Guido Britez's family attends the funeral on January 29.
Mauro Hoffman, co-owner of the Kiss nightclub, is taken into custody by police in Santa Maria, Brazil, on Monday, January 28.
Residents of Santa Maria, Brazil, hold a march on January 28 to honor the victims of the Kiss nightclub fire and demand justice for them.
Residents march along Rio Branco Avenue on January 28, demanding justice for and to honor the Kiss nightclub fire victims.
A violinist comforts another during the march on January 28.
Demonstrators carry candles through the streets in Santa Maria on January 28.
Soldiers carry the coffin of a victim of the nightclub blaze on January 28.
A priest celebrates Mass in a public square in the center of Santa Maria on January 28.
Mourners cry at the municipal cemetery on January 28.
The entrance to the Kiss nightclub is covered in soot on January 28.
Relatives and friends of one of the victims of the Kiss nightclub fire gather during the funeral at Santa Rita Cemetery in Santa Maria on January 28.
Firefighters stand at the burnt-out entrance of the Kiss nightclub on Sunday, January 27, in Santa Maria, Brazil.
Relatives wait to identify victims at the municipal gymnasium in Santa Maria on January 27.
Relatives of victims weep during a funeral in Santa Maria on January 27.
Relatives pray at the wake of a victim on January 27 in Santa Maria.
Relatives of a victim of a fire that broke out at the Kiss nightclub weep during the funeral in Santa Maria, Brazil, on Sunday, January 27.
A woman weeps on a coffin as relatives of the nightclub fire victims identify bodies.
People console each other during a collective wake for the victims of the nightclub fire.
A coffin decorated with a photograph and image of the Virgin Mary is surrounded by mourners.
Brazilian President Dilma Rousseff, right, consoles relatives of victims of the fire.
Emergency personnel gather outside the burned-out Kiss nightclub in Santa Maria, Brazil. The nightclub is popular with young people, drawing between 2,000 and 3,000 people a night on the weekends.
A firefighter, center, carries a victim away from the blaze.
Residents look on as bodies of victims are transferred from the site of the fire to a municipal sports center.
People cry after a getting news about the deadly fire.
Firefighters work to extinguish the blaze that broke early Sunday.
Victims were dragged out of the nightclub and received preliminary medical treatment on the ground.
Firefighters, onlookers and police gather outside the burned-out club.
A grieving woman talks on her cell phone after the fire.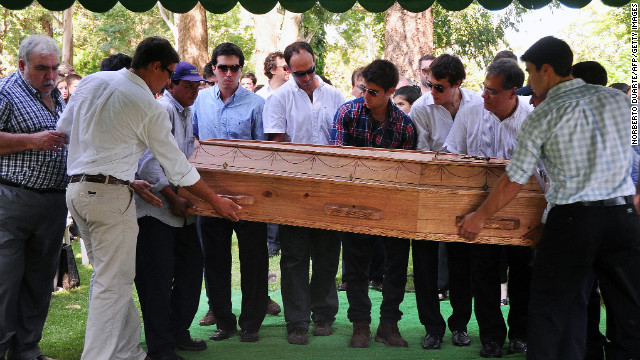 Hundreds dead in Brazil nightclub fire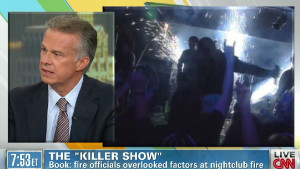 New book examines fatal nightclub fire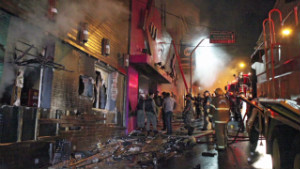 Hundreds dead in Brazil nightclub fire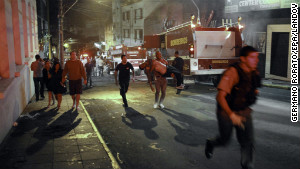 Brazilian reporter: People were running
December 2009
Fireworks triggered a fire and panic on December 5, 2009, at a nightclub in Perm, Russia, killing 156 people. The commercial director of the facility, who was accused of ignoring safety measures, fled Russia to Spain, where he was arrested in September of the following year.
3 arrested in deadly Brazil nightclub fire
January 2009
Fireworks shot off at a birthday party at a Latin-style bar and restaurant in Changle City in China's Fujian province sparked a fire that claimed 15 lives on January 31, 2009.
January 2009
A fire at Bangkok's upscale Santika nightclub broke out while about 1,000 revelers were ringing in the new year. Sixty-four people died in the fire, which led to the arrest of the nightclub's owner.
Opinion: We haven't learned from past mistakes
April 2008
Fourteen concertgoers died in a fire sparked by fireworks that were part of a show at a nightclub in Quito, Ecuador, on April 19, 2008.
December 2004
A December 30, 2004, deadly nightclub fire killed 194 people in Argentina's capital, Buenos Aires. Nearly five years later, the country's Court of Justice sentenced the club owner to 20 years in prison.
February 2003
In perhaps the most widely known nightclub tragedy over the past decade, 100 people died in a fire sparked by pyrotechnics used by the heavy metal band Great White at a nightclub in West Warwick, Rhode Island, on February 21, 2003.
Echoes of the past: Rhode Island victims 'can't help but watch'
December 2002
The cause of the December 1, 2002 fire that killed 47 people in Caracas, Venezuela, never became clear -- firefighters said it could have started in the kitchen, or an electrical short circuit. Many of the victims died of smoke inhalation inside the club.
July 2002
A celebration marking the two-month anniversary of the Utopia club in Lima, Peru, ended in the deaths of 28 people on July 20, 2002. Authorities said the Utopia club had no license to operate, no sprinklers and poorly marked exits.
December 2000
A blaze broke out at a dance hall on Christmas Day in the central city of Luoyang, China, killing 309 people. Most of the victims were revelers suffocated by smoke.
Be ready for emergency at a crowded public gathering