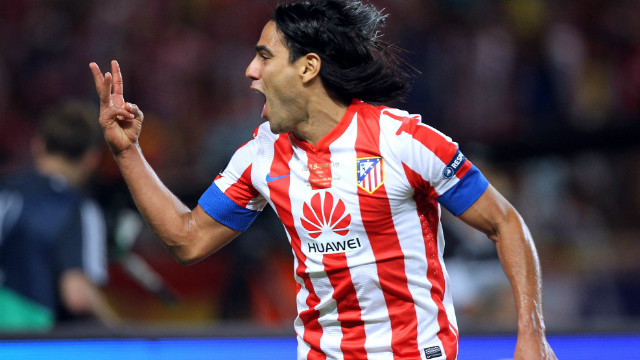 Nicknamed "El Tigre" as a boy by his friends, Radamel Falcao has torn apart defenses all over the world. Atletico paid out $53 million to take him to Spain from Porto in 2011 and he more than repaid that fee, firing 36 goals in his first season and leading the club to the victory in the Europa League.
Falcao's impressive form has seen him mentioned in the same breath as Barcelona magician Lionel Messi. The Colombian scored a wonderful goal at the Camp Nou to open the scoring in December but Messi grabbed two as Barca eased to a 4-1 win.
Atletico is enjoying a successful season with the club second in La Liga, through to the semifinals of the Spanish Cup and also in contention to retain its Europa League title. Falcao has been central to the team's impressive run of form, scoring 18 goals in the league so far this term.
Falcao hopes to lead the line for Colombia at the 2014 World Cup in Brazil. His nation has not appeared at the finals since 1998 but holds the third of four automatic qualifying places in the South American group.
Falcao and his singer songwriter wife Lorelei Taron are both in the celebrity spotlight. It's a role to which the player has had to grow accustomed since becoming a worldwide phenomenon.
The Tiger
Deadly duo
Star man
World Cup dream
Celebrity status
STORY HIGHLIGHTS
Radamel Falcao, known as "El Tigre," is one of the world's most lethal strikers
Colombian fired Spanish club Atletico Madrid to Europa League glory last season
The 26-year-old, a pro since age 13, is the son of a former professional footballer
Falcao scored 36 goals last year and has 18 in La Liga so far this season
(CNN) -- The tiger is one of wildlife's most endangered species, but there's one big cat which refuses to be tamed.
Meet Radamel Falcao -- or "El Tigre" as his friends nicknamed him after watching him terrorize defenders on the streets of Colombia as a child.
From making his professional debut at just 13 to running top-class defenders ragged, this is one Tiger who hasn't changed his stripes since bursting onto the scene in Europe with Porto and Atletico Madrid.
"I think that every person specializes in what they know best and as a young kid, I liked scoring goals," he told CNN.
"Later, I realized that's what I was best at and I went perfecting that aspect to give the best of myself to my team in the position I played, which was striker."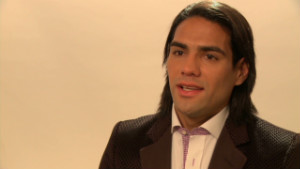 'El Tigre' Falcao on the hunt for goals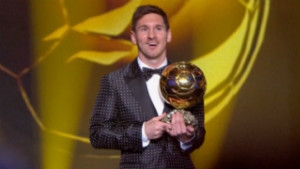 Messi claims fourth Ballon d'Or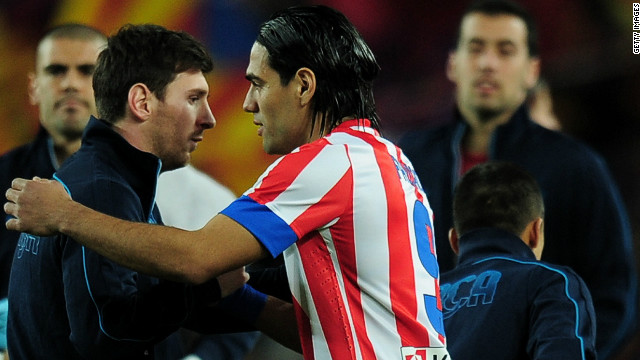 Lionel Messi and Radamel Falcao have both set La Liga alight this season with a number of stunning strikes. Messi had scored 88 goals in 2012 going into the clash, while Falcao had netted 16 times in the league this season ahead of the game at Camp Nou.
Barcelona's forward Pedro Rodriguez and Atletico's Filipe Luis go in for a challenge as La Liga's top two went head-to-head. Barca had taken an incredible 43 points from a possible 45, winning 14 of their 15 league games to lead Atletico by six points.
After hitting the woodwork early on and firing an effort wide of the post, Falcao finally put Atletico ahead on 30 minutes. The in-form striker nipped in between Barcelona's central defenders before lifting the ball over the goalkeeper to make it 1-0.
Falcao runs away to celebrate at a stunned Camp Nou as Atletico takes the lead with their third opportunity of a pulsating first-half.
Adriano's stunning curling effort brings Barcelona level with nine minutes of the first-half remaining. The full-back turned on to his left-foot before sending an unstoppable strike into the top corner of the Atletico net to make it 1-1.
With halftime approaching, Sergio Busquets pounces inside the penalty area to fire home his first goal of the season after Atletico failed to clear its lines.
Messi curls home Barca's third and his 89th of 2012 on 57 minutes to seal victory and stretch the team's lead at the top of La Liga.
Messi celebrates with fellow goalscorers Busquets and Adriano as Barca move into a 3-1 lead at Camp Nou.
Messi latches onto a defensive mistake and grabs his 90th goal of 2012 to make it 4-1 and send Barca nine points clear of Atletico at the summit.
Messi celebrates after scoring his 25th league goal of the season and 34th overall. It's also the sixth league game in a row which Messi has scored twice.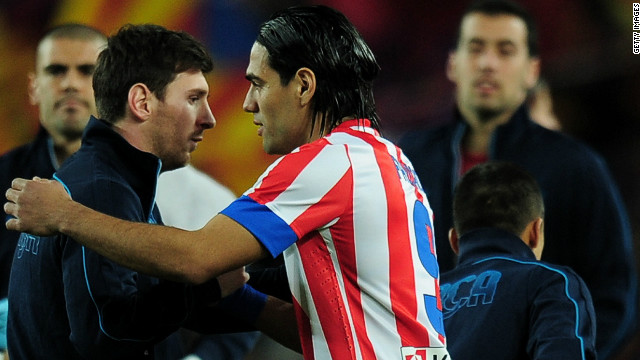 Messi vs. Falcao
Constantly on the prowl for goals, the 26-year-old is one of football's most wanted transfer targets, with several top European clubs waiting to poach him from Atletico.
He moved to Spain in a €40 million ($53 million) deal from Porto in 2011, and scored 36 goals in his debut season in La Liga including two in the Europa League final against Athletic Bilbao.
His stunning hat-trick in the demolition of European champions Chelsea at the 2012 Super Cup Final underlined to those not au fait with Spanish football just how deadly he can be.
Atletico thrash Chelsea in Super Cup
Falcao then went on a streak which saw him score in 11 consecutive games for club and country between August and late October.
With 18 goals in La Liga this season, the vultures are circling the Vicente Calderon once again, with Real Madrid, Chelsea and Manchester City all hovering.
But Falcao insists he is happy with life at Atletico and says he has no thoughts of moving on -- at least not yet.
"I have three years left on my contract with the club and my reality is that this contract ties me down for a few more seasons," Falcao said.
"Afterwards though, I don't know what's going to happen in the future as it's in the hands of the people responsible for deciding the future of the players on Atletico.
"I simply give the best of myself for the team, for this really good season that we're having. We have a lot of objectives/goals in our sight and I hope that we can achieve them."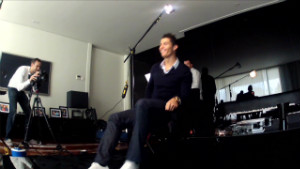 Ronaldo's best ever goal?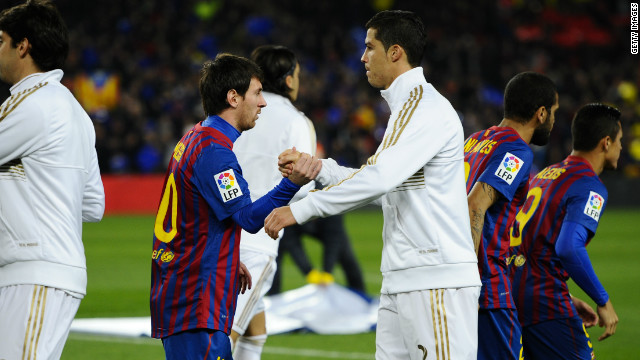 Barcelona's Lionel Messi (left) and Real Madrid's Cristiano Ronaldo (right) -- widely considered the two best players in the world -- shake hands before the 'El Classico' derby between Spain's two biggest clubs. But is the huge wealth of Barca and Real damaging the rest of Spanish football?
Real Madrid manager Jose Mourinho (left) and Barcelona manager Tito Vilanova (right) shake hands at the derby between the two clubs. Real's revenue is $695 million, $42 million more than Barca and $526 million more than that of Valencia.
Barcelona's Andres Iniesta, Lionel Messi and Real Madrid's Cristiano Ronaldo were all nominated for the prestigious Balon d'Or award this year. The last time the Barca-Real league monopoly was broken was in 2004 when Rafael Benitez's Valencia won La Liga.
Atletico Madrid striker Radamel Falcao is arguably the best striker in the world, but the Colombian is likely to be sold at the end of the season.
Real Oviedo fans show their support for the club in the Estadio Carlos Tartiere with a banner reading "For the future of Real Oviedo". The third-tier club's financial problems are so great that they have turned to their fans for help, offering them the right to buy shares in Oviedo.
The Real Oviedo team huddle on the pitch before taking on Real Madrid's reserve team in Asturias. Oviedo need to raise $2.4 million to save the club.
Real Oviedo fans hold up banner as they march through the city on their way to the league match to protest against the possible closure of the club due to financial difficulties.
The Spanish financial crisis has led to a raft of anti-austerity measures. Protests against cuts have been seen on the streets of Madrid, where a minority of protesters have been involved in violent clashes with the police.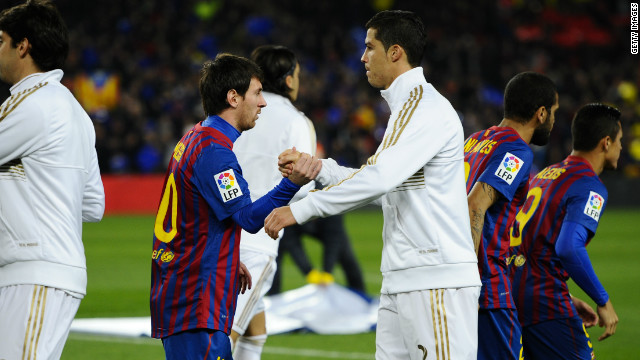 Spanish football hit by sponsorship cutbacks
Falcao has emerged as one of the world's top goalscorers since making the move to Porto from Argentina's River Plate in July 2009.
It was in Portugal that he came to prominence, scoring 34 goals including the winner in the final of the 2011 Europa League to help the club pull off a quadruple haul of trophies.
His goalscoring feats in the continent's second-tier competition, in which he scored a record 17 goals, earned him a move to Spain where he has led the line for Atletico with his predatory instincts causing havoc for defenses across Europe.
Can Falcao help Atletico Madrid reign in Spain?
It is a skill which he honed as a youngster, spending many hours on the practice fields in a bid to perfect the art of one of football's hardest arts -- scoring goals.
Ever since he ran around the streets barefoot, covered with scratches and blood, Falcao's desire has been to reach the very top.
His father played club football in Colombia, and there was never a doubt in Falcao's mind what he wanted to achieve in life.
Incredibly, he made his professional debut for Deportivo Pereira at the age of just 13, making him the youngest player to ever appear professionally in Colombian football.
At the age of 14 he moved to Argentina to pursue his dream of becoming a professional footballer. It was there that he flourished, establishing himself as one of the most exciting players at River Plate.
After overcoming a serious knee injury in 2006, he returned to lead River Plate to the Clausura title and earn a move to Europe with Porto.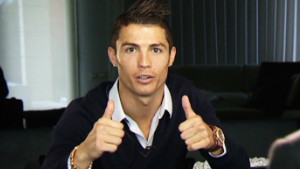 A day in the life of Cristiano Ronaldo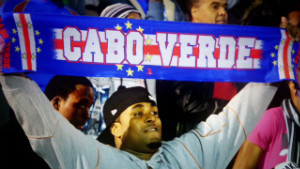 Tiny island makes football history
It was the realization of a dream for a player which had begun life with one simple dream -- to become one of the best striker's on the planet.
Fantasy football: Pedro Pinto's team of 2012
"Thanks to lots of training and hard work, I was able to succeed and be able to shine above other players of my age," Falcao said.
"This is work that took a long time, many years in terms of knowing the position, the development of my abilities and also the talent and potential that I was born with.
"Through lots of training, I went along perfecting it, along with knowing the team that I play with, both Atletico Madrid and my national team, which allowed my good development as a striker."
While league and cup success with Atletico remains his priority, the opportunity to lead Colombia into battle at the 2014 World Cup is high up on the agenda.
Falcao on fire as Atletico Madrid win Europa League
Colombia has not appeared at the World Cup finals since 1998, but is third in the South American qualifying section. The top four of the nine competing nations will automatically qualify for Brazil, while the fifth-placed team goes into a playoff against an Asia confederation side.
Falcao who has scored five goals in six qualifying games, wants the latest generation of Colombian talent to write their own records and emerge from the shadow of former great players such as Carlos Valderrama and Faustino Asprilla.
"We're forming quite a strong team and hopefully we can manage to qualify for the World Cup and for the next few World Cups and bring lots of other triumphs and victories home," he said.
"I don't like comparisons too much -- we simply want to write our own history and hope that it's important for our country."