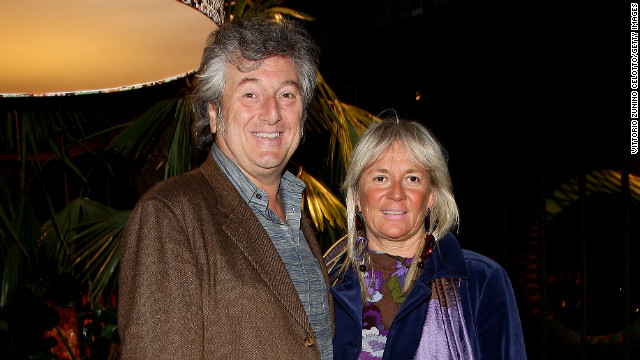 A small plane carrying Italian fashion director Vittorio Missoni and his wife, Maurizia Castiglioni, has been missing off the coast of Venezuela since Friday, January 4. The couple is pictured in Milan, Italy, in 2010.
From left: Vittorio, Rosita (his mother), Angela (his sister), Ottavio (his father) and Luca (his brother) acknowledge applause on the catwalk at the end of the Missoni collection during the last day of Milan's 2004 spring/summer fashion week on October 5, 2003. The show marked 50 years since the company was founded by Ottavio (nicknamed "Tai ") and Rosita and 50 years since they married. Vittorio Missoni and his siblings took over the brand in 1996.
Models walk down the runway at the Missoni show during Milan Fashion Week on February 23, 2005. The private company is based in Milan and one of the premier fashion houses.
Vittorio Missoni and his sister, Angela, pose with actor John Travolta at the Venice Film Festival in 2004.
A model walks the runway during Missoni fashion show during Milan Fashion Week on June 21, 2008. The high-end fashion label is known for its patterned knitwear and signature zigzag stripe.
Vittorio, his sister Angela and her daughter Margherita accept an award on the catwalk after their show during the Audi Fashion Festival in Singapore on May 13, 2011.
Missoni partnered with Target in 2011 to produce a more budget-friendly collection. A Target pop-up store is seen in New York on September 8, 2011.
Vittorio Missoni attends the Missoni Loves Leaves cocktail party during Milan Design Week on April 16, 2012. The Missoni brand has expanded from apparel to housewares, a fragrance line and a chain of hotels.
Italian fashion boss Missoni
Italian fashion boss Missoni
Italian fashion boss Missoni
Italian fashion boss Missoni
Italian fashion boss Missoni
Italian fashion boss Missoni
Italian fashion boss Missoni
Italian fashion boss Missoni