STORY HIGHLIGHTS
Rafael De Oliveira carried Pamella Vedovotto to safety
He was among the more 230 people killed at the Kiss nightclub
Vedovotto calls De Oliveira her guardian angel
"I don't have words to thank him," she says
Santa Maria, Brazil (CNN) -- Pamella Vedovotto flips through a newspaper looking for the name of a man she calls her guardian angel.
Rafael De Oliveira carried her to safety when a fire ripped through a nightclub in this southern Brazilian city early Sunday morning.
"I don't have words to thank him," Vedovotto told CNN during an interview at her small home on the outskirts of town. "If it weren't for him, I would be in with all of those people who died. He gave me a new life."
De Oliveira, a university student, is in the newspaper's list of dead.
Be ready for emergency at a crowded public gathering
Early Sunday, the Kiss nightclub was packed with about 2,000 revelers, well above official capacity.
Vedovotto, a 19-year-old high school student, was at the club for a friend's birthday party.
A fire broke out during a pyrotechnic display just after 2 a.m. Panicked clubgoers ran for the exit as the air filled with smoke.
Harrowing stories emerge from nightclub's ashes
Vedovotto tried to run, but she was pushed against a metal barrier, unable to breathe.
"A girl fell under the barrier and everyone was pushing," she said. "Her neck was snapped backwards and she fell dead on the floor," the student said, breaking into sobs.
"Everyone was shouting help, God get me out of here. It was hell, get me out of here."
A man, who she later would discover was De Oliveira, grabbed her and carried her toward the door. She says he pulled her yellow dress up over her face so she wouldn't breathe in the smoke.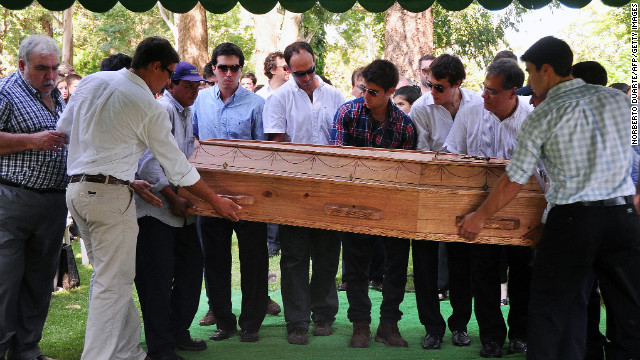 Relatives and friends of Paraguayan student Guido Britez, 21, who died in a fire at the Kiss nightclub in Brazil, carry his coffin during the funeral in Asuncion on Tuesday, January 29. More than 230 people died and more than 120 were injured early Sunday when a fire tore through the nightclub packed with university students in southern Brazil, police said.
Guido Britez's family attends the funeral on January 29.
Mauro Hoffman, co-owner of the Kiss nightclub, is taken into custody by police in Santa Maria, Brazil, on Monday, January 28.
Residents of Santa Maria, Brazil, hold a march on January 28 to honor the victims of the Kiss nightclub fire and demand justice for them.
Residents march along Rio Branco Avenue on January 28, demanding justice for and to honor the Kiss nightclub fire victims.
A violinist comforts another during the march on January 28.
Demonstrators carry candles through the streets in Santa Maria on January 28.
Soldiers carry the coffin of a victim of the nightclub blaze on January 28.
A priest celebrates Mass in a public square in the center of Santa Maria on January 28.
Mourners cry at the municipal cemetery on January 28.
The entrance to the Kiss nightclub is covered in soot on January 28.
Relatives and friends of one of the victims of the Kiss nightclub fire gather during the funeral at Santa Rita Cemetery in Santa Maria on January 28.
Firefighters stand at the burnt-out entrance of the Kiss nightclub on Sunday, January 27, in Santa Maria, Brazil.
Relatives wait to identify victims at the municipal gymnasium in Santa Maria on January 27.
Relatives of victims weep during a funeral in Santa Maria on January 27.
Relatives pray at the wake of a victim on January 27 in Santa Maria.
Relatives of a victim of a fire that broke out at the Kiss nightclub weep during the funeral in Santa Maria, Brazil, on Sunday, January 27.
A woman weeps on a coffin as relatives of the nightclub fire victims identify bodies.
People console each other during a collective wake for the victims of the nightclub fire.
A coffin decorated with a photograph and image of the Virgin Mary is surrounded by mourners.
Brazilian President Dilma Rousseff, right, consoles relatives of victims of the fire.
Emergency personnel gather outside the burned-out Kiss nightclub in Santa Maria, Brazil. The nightclub is popular with young people, drawing between 2,000 and 3,000 people a night on the weekends.
A firefighter, center, carries a victim away from the blaze.
Residents look on as bodies of victims are transferred from the site of the fire to a municipal sports center.
People cry after a getting news about the deadly fire.
Firefighters work to extinguish the blaze that broke early Sunday.
Victims were dragged out of the nightclub and received preliminary medical treatment on the ground.
Firefighters, onlookers and police gather outside the burned-out club.
A grieving woman talks on her cell phone after the fire.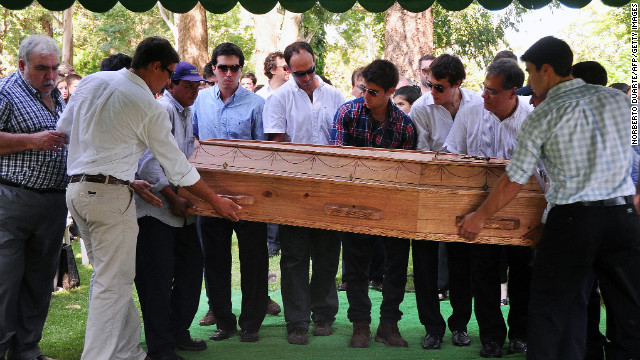 Hundreds dead in Brazil nightclub fire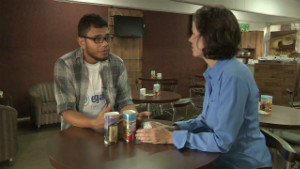 Brazilian teacher: We lost 4 students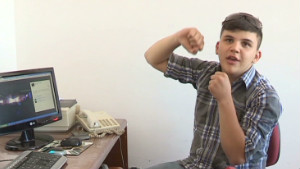 Brazil fire survivor: Total desperation
"There were all these people on the floor, shouting for help, and we stepped on them, all these girls in high heels."
Vedovotto said things got worse when they got close to the exit. Security guards didn't realize there was a fire and closed the doors, probably thinking revelers were trying to get out without paying their bills, she said.
"Then they opened the doors again. But when they opened them there were already a bunch of people on the floor, screaming."
Brazil nightclub fire: 'Like a war zone' with bodies piled
More than 230 people were killed that night. Most died from smoke inhalation and many were trampled.
Rescue workers had to tear down walls to reach survivors and get to the bodies.
Police have since arrested two club owners and two members of the band whose pyrotechnic show, police believe, may have started the fire.
Vedovotto said she has no sympathy for them.
"Everyone is dead; everyone is dead because of them," she said. "They should rot in jail. They didn't lose anyone."
But it's the thought of De Oliveira that troubles her the most.
Monday, Vedovotto went to the makeshift morgue where bodies were laid. She found his coffin and met his parents.
"I asked for their forgiveness for not keeping him from going back in," she said. "I could have grabbed him. I could have stopped him."
Deadly blazes: Nightclub tragedies in recent history