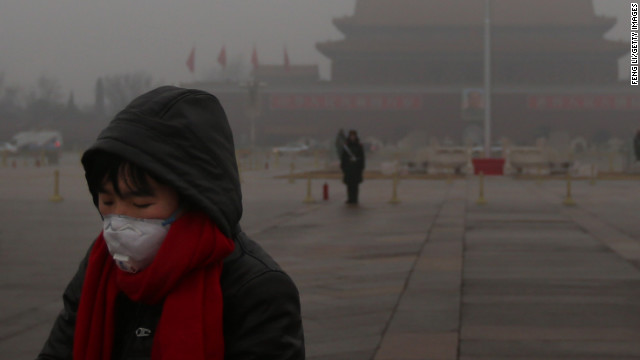 A pedestrian wears a mask at Tiananmen Square as protection from severe pollution on Thursday, January 31, 2013, in Beijing. It's the fourth time this year that a heavy blanket of smog has affected eastern China, including the capital. The air quality has reached hazardous levels, and residents were encouraged to avoid outdoor activities.
Watch a video explaining the hazardous smog.
Japanese tourists take photos from Jingshan Park as smog continues to shroud Beijing on January 31. The smog also forced the cancellation of airline flights and highway closures in parts of Beijing, Chinese state media reported.
Tourists visit smog-shrouded Tiananmen Square.
A small child wears a panda mask at Tiananmen Square.
Chinese tourists look at the barely visible historic buildings in Jingshan Park.
A child slips on frozen pavement in Tiananmen Square.
Heavy smog reduces visibility in Jilin, China, northeast of Beijing, on Wednesday, January 30.
Residential buildings and cars can be made out through the smog in Beijing on January 30.
Skyscrapers in Beijing can be seen through severe smog on January 30.
The pollution forces residents of Beijing to wear masks as they ride the bus on January 30.
A man wearing a mask rides a bicycle as hazardous smog blankets Beijing on Tuesday, January 29.
Beijing residents wear masks as they ride through the pollution on January 29.
A little girl wears a cartoon mask on January 29 at Tiananmen Square to protect herself from pollution.
Beijing residents walk by the Bird Nest in Olympic Park on January 29.
Cars travel through the smog on Wednesday, January 23, when the pollution hit serious levels.
A tourist and her daughter visit Tiananmen Square during dangerous levels of air pollution on January 23.
A man walks through trees on January 23.
People ride the Beijing subway on January 23.
A video screen in Tiananmen Square shows blue skies amid the heavy smog on January 23.
A woman wears a mask and rides her bike on January 23.
Forbidden City disappears in the fog on Wednesday, January 16.
Air pollution hangs over the skyline as the sun rises over the central business district in Beijing on Monday, January 14.
Nurses attend to a baby in the hospital for the flu in Beijing on Sunday, January 13. A Beijing pediatric hospital says it has treated a record 9,000 children this month for respiratory illnesses, most of which doctors and patients blame on the smog, Xinhua reported.
A row of intravenous drips are prepared for parents taking their kids to the hospital for flu treatment on January 13.
Pedestrians cross a street on January 13.
The sunlight reflects off a building in Beijing on Saturday, January 12.
Hazardous smog over Beijing
Hazardous smog over Beijing
Hazardous smog over Beijing
Hazardous smog over Beijing
Hazardous smog over Beijing
Hazardous smog over Beijing
Hazardous smog over Beijing
Hazardous smog over Beijing
Hazardous smog over Beijing
Hazardous smog over Beijing
Hazardous smog over Beijing
Hazardous smog over Beijing
Hazardous smog over Beijing
Hazardous smog over Beijing
Hazardous smog over Beijing
Hazardous smog over Beijing
Hazardous smog over Beijing
Hazardous smog over Beijing
Hazardous smog over Beijing
Hazardous smog over Beijing
Hazardous smog over Beijing
Hazardous smog over Beijing
Hazardous smog over Beijing
Hazardous smog over Beijing
Hazardous smog over Beijing
Hazardous smog over Beijing