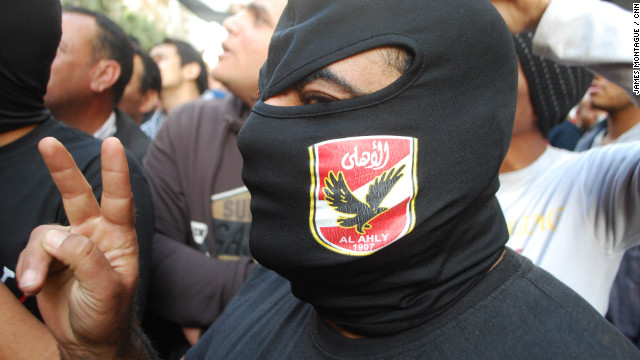 On January 26 a courtroom in Cairo passed down 21 death sentences to fans of Al Masry soccer club for their role in the deaths of 72 supporters of Al Ahly, Egypt's biggest club from Cairo, during a match last February.
Some 15,000 fans of Al Ahly, many members of the club's Ahlawy ultras group, gathered in front of a billboard displaying pictures of the dead at the team's training ground to hear the verdict.
The news of the death sentences sparked wild celebrations among the supporters.
Smoke filled the air as flares and fireworks were set off.
Many of the fans had come armed with homemade pistols, expecting the judgment to go against them.
The jubilant fans were let into the club, where they held a rally on the training pitch.
Many of the victims' families were also there, holding pictures of loved ones. Here one young fan holds a portrait of his best friend, who died in Port Said.
The Ahlawy played a crucial role in Egypt's two-year-old revolution. Graffiti honoring them and the dead can be seen throughout Egypt. This piece of graffiti next to Tahrir Square shows a line of police, each with the former dictator Hosni Mubarak's face. The acronym ACAB stands for "All Cops Are Bastards."
Meanwhile, in Port Said, the announcement sparked violence that led to the deaths of more than 30 people and the imposition of a curfew by President Morsy. A protest was organized to break the curfew. Here a protester carries a picture of Morsy blowing bubbles.
The army was called onto the streets. Many in Port Said blamed the police for the deaths and greeted the army as heroes, kissing soldiers as they passed.
A cross section of Port Said society attended, including several hundred women. The 9 p.m. curfew came and went. The protesters stayed on the streets.
At the center of the protest was Al Masry's biggest ultras group, the Green Eagles. Many deny involvement in last February's Port Said tragedy.
The protest was ended when police fired automatic weapons. One protester was killed.
The following day, after the protest, burnt out cars remained in the street.
A defaced election campaign poster for President Morsy found nearby.
Outside a mosque next to Port Said's soccer stadium, a crowd gathered for the funeral of a protester killed the previous night. Dozens of men crowded around to show their injuries sustained during the protest, as well as spent bullet casings.
The stadium was only a few hundred meters away. It was here that more than 70 Al Ahly fans were killed. The stadium is closed with little prospect of any soccer returning here for a long while, even though the pitch had been freshly mowed. Al Masry has been temporarily banned from soccer when the league eventually restarts.
Inside, the stands have been left virtually untouched since the tragedy last February.
Behind the mask
Scales of justice
Moment of truth
Fans celebrate
Armed and ready
Rally at the club
Portrait of the dead
ACAB
Down with Morsi
Army in control
Port Said women protest
Al Masry ultras
The sound of machine guns
Aftermath
Protest
Shots fired
Empty stands
Harrowing reminder
STORY HIGHLIGHTS
Chaos erupted in Egypt after 21 people were sentenced to death following a football riot
More than 70 people died after match in Port Said between local club Al Masry and Al Ahly
Egyptian league was suspended and has yet to restart due to threats of further violence
Verdicts for 52 other defendants who were arrested after riot is expected March 9
(CNN) -- The faces of more than 70 young men and boys bore down on the crowd of thousands outside Al Ahly's training complex in Cairo.
As many as 15,000 members of the Ahlawy, the organized ultras fan group of Egypt's most popular soccer club, had gathered here early for the news they, and the country, had been waiting almost a year to hear.
At 10 a.m. a judge was to deliver a verdict on one of the darkest moments in the history of the game.
It happened on February 1, 2012, when more than 70 -- those young men and boys whose faces now appear on a billboard high above the entrance of the club -- lost their lives after a match in the Mediterranean city of Port Said, against local club Al Masry.
Most of the dead were crushed when the Al Masry fans stormed the pitch.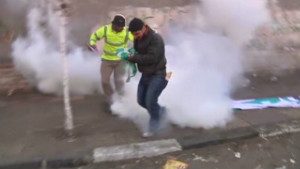 Egypt verdict causes deadly clashes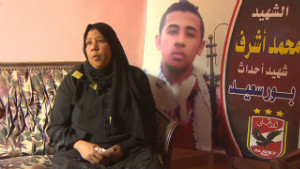 Egypt's football fans demand justice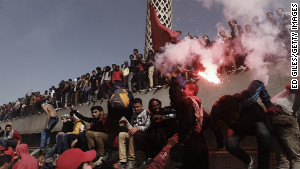 Tensions high in Port Said, Egypt
The players sprinted for their lives, finding sanctuary in the dressing room. And then the floodlights went out.
When the lights came back on 10 minutes later, the dead lay piled in a tunnel, in front of a locked, metal gate that had prevented escape before it collapsed under the weight of bodies.
Direct action
Seventy-three people were arrested, many accused of murder. They were mostly Al Masry fans, but included several members of the security forces.
The man allegedly responsible for cutting the power to the lights was also arrested. The Ahlawy suspected that a hidden hand was at work.
There were conspiracy theories, many asked questions: was this just a football rivalry gone very wrong? Or did police allow the violence as payback against the ultras for their part in the revolution?
Read: Clashes erupt after Egypt court sentences
The Ahlawy had played a crucial role in the revolution. They were an organized group of tens of the thousands of young men willing to fight the police -- as they had both inside and out of Egypt's soccer stadiums for the previous four years -- to make their voices heard.
The authorities denied any collusion. It was a tragic accident, they said. Hooliganism and ineptitude, no more, no less, no hidden hand.
But many of the Ahlawy fans were not convinced. The Egyptian soccer league was canceled and the Ahlawy waged a successful direct action campaign to prevent its restart until justice had been served.
The young men waited for the verdict on Saturday. Several had come armed, in anticipation of a further postponement or, worst still, a not guilty verdict. Some carried clubs, others homemade pistols and double-barreled sawn-off shotguns.
Tear gas
At 10 a.m. the judge rose on national television and delivered his verdict. Twenty-one of the accused were sentenced to death. The verdicts for the remaining defendants are expected March 9.
The news swept through the crowd, reducing those in its path to tears of joy; teenagers who had lost friends, mothers who had lost sons, wives who had lost husbands.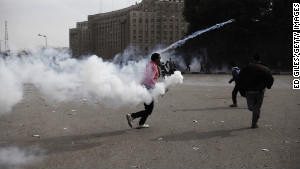 New, deadly violence in Egypt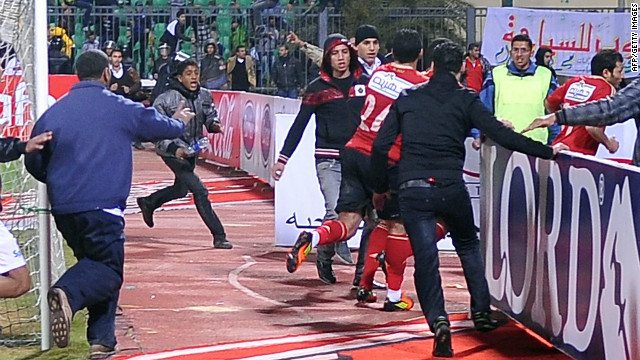 Al-Masry fans chase Al-Ahly players during riots that erupted after the football match.
Egyptian football fans rush on to the field during the clashes.
Flares are thrown in the stadium as tension builds throughout the game.
An Egyptian policeman intervenes as people try to separate rival football fans.
Egyptians gather outside the train station in Cairo as they wait for the arrival of people wounded at the match in Port Said.
Egyptian soldiers help a wounded football Al-Ahly fan after he arrived in Cairo on a military plane.
An Al-Masry fan invades the pitch during the match in Port Said.
Egyptians drive past Port Said Stadium, home of Al-Masry, on February 2, 2012.
A wounded Al-Masry fan is escorted by a medic and a friend following the clashes.
Egyptian medics wheel the body of a victim into a morgue in Cairo on February 2, 2012.
Egyptian women mourn victims of the riot at a morgue in Cairo on February 2.
Egyptian investigators inspect damage at the football stadium in Port Said on Thursday.
Family members and mourners gather at Cairo's railway station as they receive the bodies of football fans killed during clashes between rival fans in Port Said.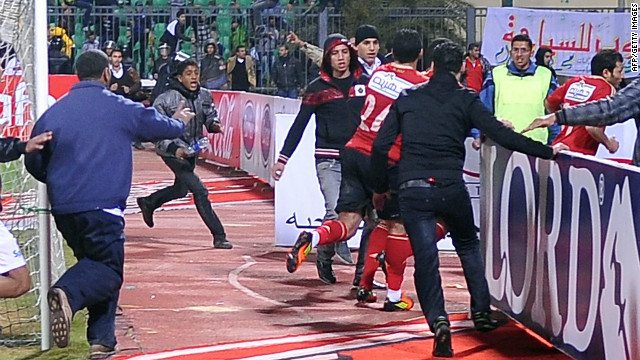 Scores dead in Egypt soccer riot
"It's a very good decision by the court," said Mihai, a member of the Ahlawy who had come to hear the verdict. As with all the ultras, he declined to give his last name.
The guns that had been brought in anticipation of violence were fired into the sky in celebration.
One fan fired an automatic pistol until it jammed. He inspected the piece of failing, unfamiliar equipment. Unable to fix it, he tucked it into his belt and jumped into the sea of celebrating men.
"We hope it will be a perfect ending for this story. We have been waiting for this for so long. For 21 to get executed is a very good decision. So now we wait for the police decision. For sure it wasn't just them that made this," Mihai said.
Back in February, with the raw memories of Port Said just a few weeks old, the Ahlawy had demanded that those responsible should be put to death.
With the court verdict, they received their wish. Justice, they believed, had been served. At least partially.
"The police will be (put to) trial on March 9," said Mohamed, a founding member of the Ahlawy.
The previous night -- on the Egyptian revolution's anniversary -- Cairo was blanketed in tear gas as protesters roamed the streets surrounding Tahrir Square, venting their anger at President Mohamed Morsy and what they see as a lack of any real reforms.
Many, including the Ahlawy, expected further confrontations after the verdict.
But as the crowd moved inside the complex, holding a rally on the club's main soccer pitch, it became clear that no fighting would take place that day.
"I feel satisfied that some of those who committed what we suffered a year ago are going to face what they deserve," said Ahmed, another founding member of the Ahlawy who believed that the right decision had been made.
"It's a strong verdict but they don't deserve less than a strong verdict. Nobody ever wants to see someone dying but when someone kills he deserves a death sentence. He deserves that his life is taken. I don't see a way the police can get away with this."
Port Said ignited
Not everyone was happy, especially those who saw the verdict as a potential springboard to challenge Morsy, whom many of the Ahlawy view as no different from Hosni Mubarak, the former dictator who ruled Egypt for almost 30 years.
"They are giving us something of a painkiller to take out the anger from the young lads -- for me it is not enough," said Hassan, an Ahly fan standing on the training ground pitch.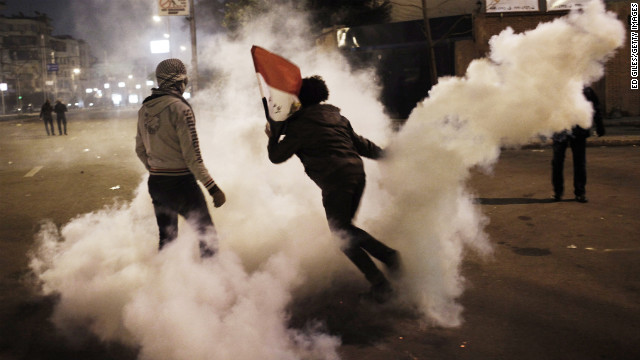 An Egyptian protester throws a tear gas canister toward riot police during clashes outside the Egyptian presidential palace on Friday, February 1, in Cairo. Egypt has been embroiled in violence since last week, the two-year anniversary of an uprising that led to the ouster of then-President Hosni Mubarak.
A protester holds a smoke flare outside the presidential palace on February 1.
The entrance of Egypt's presidential palace in Cairo is in flames February 1, as protesters battle security forces.
A protester faces off against riot police during clashes near Cairo's Tahrir Square on Wednesday, January 30.
A police officer fires a tear gas canister during clashes with protesters near Tahrir Square on January 30.
Police in plainclothes detain a youth suspected of being a member of the Black Bloc opposition group during a demonstration on January 30 in Cairo.
A protester sprays water into the eyes of a man after his exposure to tear gas during clashes with police near Cairo's Tahrir Square on Tuesday, January 29.
The lobby of Cairo's Semiramis InterContinental Hotel is full of debris on January 29 after protesters stormed the entrance.
An Egyptian man takes part in a rally in Port Said on January 29. Protests in Port Said and nearby cities along the Suez Canal are symbolic because that region was among the first where the Mubarak regime lost control during the 2011 unrest, analysts say.
Mourners carry the coffins of six people killed in clashes after the soccer riot ruling in Port Said on Monday, January 28. Rage exploded when a judge sentenced to death 21 residents of Port Said for roles in a deadly 2012 soccer riot.
Egyptians walk past destroyed cars in Port Said on January 28 following the funeral of those killed in clashes.
A riot police officer clashes with a protester near Cairo's Tahrir Square on January 28.
A protester throws a tear gas canister toward riot police in Cairo's Tahrir Square on Sunday, January 27.
Egyptian policemen and relatives on January 27 gather upon the arrival of the coffins of their colleagues killed in the violence one day earlier in Cairo.
A protester throws a rock toward opposing demonstrators on January 27 in Cairo.
Egyptian protesters throw stones toward riot police on January 27 in Tahrir Square.
An Egyptian protester runs with a live tear gas canister toward Egyptian riot police on Saturday, January 26, in Cairo.
Egyptian fans of Al-Ahly football club celebrate outside the club's headquarters in Cairo on January 26.
Egyptian fans of Al-Ahly football club celebrate outside the club's headquarters in Cairo on January 26.
Egyptian protesters stand by the burning door of a school building on January 26, in Cairo.
An Egyptian protester carries an injured boy away from clashes with Egyptian riot police on January 26, in Cairo.
Egyptians climb over a fence at the Al-Ahly home stadium on January 26 in Cairo.
An Egyptian fan of Al-Ahly football club fires celebratory shots in the air and lights a flare as club supporters celebrate outside its headquarters in Cairo on January 26.
A protester throws a rock at riot police on January 26, in Cairo.
A fan of Al-Ahly football club lights a flare as club supporters celebrate on January 26 in Cairo.
Al-Ahly football club supporters celebrate outside the club's headquarters in Cairo on January 26.
Al-Ahly football club supporters celebrate on January 26.
Smoke billows from a burning vehicle set on fire by Egyptian protesters outside the Port Said prison on January 26.
Egyptians react after the sentencing in Port Said on January 26.
An Al-Ahly soccer fan swings a live flare above his head on January 26 in Cairo.
An Egyptian protester tries to carry an injured man away from clashes with riot police on January 26, in Cairo.
Egyptian fans of Al-Ahly football club rally outside the club's headquarters in Cairo on January 26.
An Egyptian protester runs away from a cloud of tear gas fired by Egyptian riot police on January 26, in Cairo.
Relatives of victims killed during the 2012 Port Said soccer game react after the verdict of the court, at a courthouse in Cairo, on January 26.
Relatives and friends of Egyptian protesters who were killed in Suez during clashes with riot police Friday, load a body onto an ambulance outside the morgue in Suez on January 26.
A fan of Al-Ahly football club lights a flare as club supporters celebrate outside its headquarters in Cairo on January 26.
Two protesters stand on top of a piece of furniture while riot police watch from a nearby rooftop in Cairo.
A protester throws a rock at riot police in Cairo.
An Egyptian protester walks through a cloud of tear gas fired by Egyptian riot police.
An "Ahly-Ultra" soccer fan holds a smoke flare above his head in Cairo.
A protester walks through a damaged school building.
A protester removes the net from a basketball goal in a Cairo schoolyard.
Protesters and football fans clash with riot police near Egypt's interior ministry.
Protesters and fans of Al-Masry football club take part in a demonstration in front of the prison in Port Said.
Egyptian protesters and fans of Al-Masry football club wave their club colors as they take part in a demonstration in front of the prison in the Egyptian Suez Canal city of Port Said on Friday, January 25, calling for the prisoners who are suspected of killing 74 fans of Al-Ahly club during a football match in February 2012 not to be transferred to Cairo to attend their trial. A judge sentenced 21 people to death for their roles in the riot last year.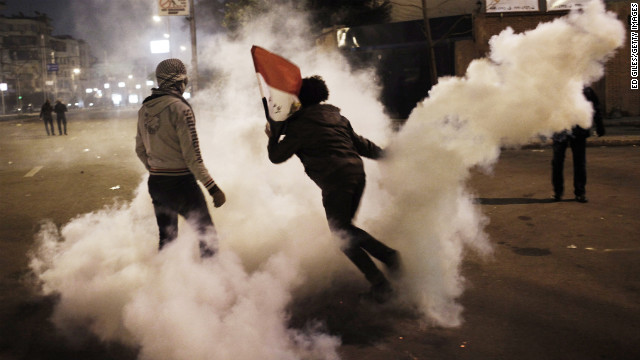 Photos: Egypt unstable after days of protest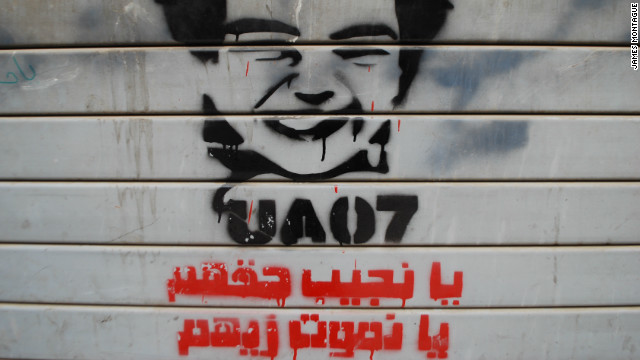 The 2011-12 Egyptian revolution thrust an unlikely group of young people into the country's political conscience: organized groups of soccer fans called "ultras."
Groups of well organized soccer fans, numbering several thousand, came to prominence during the Battle of the Camels in Tahrir Square. Graffiti eulogizing the ultras covered most of the nearby walls.
Emboldened by their success, groups of ultras would attend and lead many of the post-Mubarak protests in Cairo against the military regime.
The most prominent group was the Ahlawy, the ultras of Al Ahly, Egypt's biggest and most successful club.
The Ahlawy was formed in 2007 as a way of showing better organized support for the team. But it soon became much more.
Such were their numbers that security was tight. Members would be arrested and revolutionary, anti-regime chants could be heard from the stands.
Post Mubarak in 2011, soccer returned to Egypt after a brief suspension of the league. In the security vacuum violence grew. In February this year, 74 fans of Al Ahly, many of them Ahlawy members, died in Port Said after they were attacked by rival fans in the stands.
The ultra groups claim that the deaths weren't the result of thuggery, as claimed by the authorities, but planned by the military as pay-back for their role in the revolution. The trial of over 70 people allegedly involved is ongoing.
Marches were held across Egypt to honor the dead. Here a member of the Ahlawy leads marchers in song in the northern city of Alexandria. The soccer league was canceled. In their aim to achieve justice for the dead, the Ahlawy has launched a successful direct action campaign against the restart of the soccer league until the trial of those accused of the Port Said tragedy is completed.
The lack of competitive soccer is just one of the many problems that has faced Egyptian national team coach Bob Bradley. The former coach of the U.S. men's team has been charged with taking Egypt to Brazil for the 2014 World Cup.
His first competitive match was a World Cup qualifier earlier this year. Fears of violence were so high, the match was played without fans in a remote military stadium outside Alexandria.
Despite the revolution and despite the team having played little or no football, Egypt won their first two World Cup qualifying matches.
Even more incredible has been the performance of Al Ahly in the African Champions League. Despite having no league, and having to play all their home games behind closed doors, the team has reached the two -leg final and is hoping for a seventh title overall.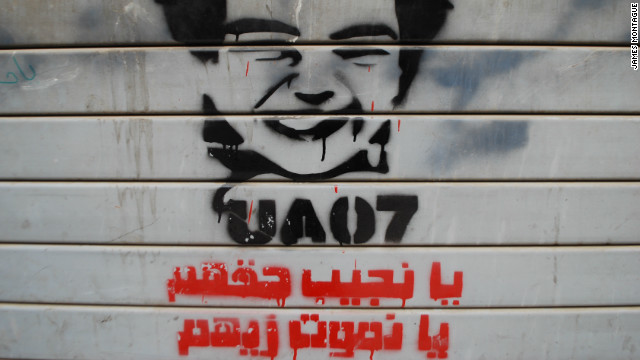 Egypt's soccer revolutionaries
"All the other political movements and parties were looking at what was going to happen today. Everyone had their hopes for the ultras and now they have given us this painkiller and it has lost its momentum of something really happening against the new regime," he added.
But what had -- if only temporarily -- calmed the Ahlawy, it ignited Port Said.
The verdicts were greeted with astonishment, disbelief, and anger by Al Masry's fans and the families of the 73 accused who had gathered outside the prison in Port Said where the suspects were held.
Like the Ahlawy supporters in Cairo, they too had come prepared. Two policemen were shot dead as the relatives tried to storm the prison. The police fired back. At least 30 people were killed in clashes. Among them was a former Al Masry player.
President Morsy addressed the nation and announced a 30-day curfew, from 9 p.m. until 6 a.m. in the cities worst effected by the violence.
A few hours before the first curfew was due to fall, a storm rolled into Port Said. The streets were empty, the skies dark and pregnant with rain as 9 p.m. approached.
The only sound was the faint, periodic burst of gunfire. It emanated from near the Al Arab police station by the sea.
Smoldering barricades
On approaching it, the dead streets suddenly came alive, as if the entire energy of the city had been focused on one point. Barricades made from burning tires separated the police from groups of young men, exchanging rocks for gunfire.
The clashes had followed the funeral of more protesters, killed the day after the violence outside the prison.
"There are some injuries here," a member of the Red Crescent said as he sheltered from the gunfire in a side street. Ambulances flew by, their sirens blaring.
"We've seen gun bullets from the government. In four days we have seen more than 450 (injured)."
The prospects of a hastily arranged march to defy Morsy's curfew, looked bleak.
But at 8.30 p.m. a crowd of thousands gathered near the same spot the Red Crescent had been waiting to ferry the injured to hospital. They marched through the smoldering barricades towards where the gunfire had previously come from.
Now the army, not the police, was in charge.
Armored personnel carriers and armed troops were stationed on street corners and outside important military and civilian buildings.
At its core were the fans of Al Masry ultras group the Green Eagles. But they were by no means alone. The marchers had come from all sections of Port Said. Several hundred women marched together, denouncing Morsy and Cairo.
The curfew came and went, the crowd mocking its passing. "It's 9 o'clock!" they chanted as they passed the stationed troops.
But there was no animosity towards the army. The police was the enemy. Protesters took it in turns to hug and kiss the young soldiers.
Few would readily admit to being Al Masry fans, nor say whether they were there on that fateful night almost a year ago that set in motion this chain of deadly events.
Vendetta
What they would say is that they believed a miscarriage of justice had taken place, that Morsy had sacrificed Port Said to prevent chaos in Cairo, that traditional antipathy towards Port Said was at play.
"People are truly sure that these people (the 21 sentenced to death) didn't kill anyone. We didn't do it and they (the Ahlawy) don't believe we didn't do this," said Tariq Youssef, a 32-year-old accountant who was on the march with a friend.
"Al Masry will not be back for five years. I'm a big Masry fan. But I can't go anywhere. All the supporters for the big teams in Cairo or anywhere believe that Al Masry supporters did this."
For Tariq, admitting to being an Al Masry supporter outside of Port Said was impossible.
"They say, 'You killed them the Ahly supporters. You are like a terrorist.' Nobody believes us we didn't do anything here. There will be no football in the next five years."
As the march moved back towards the place it had started, machine gun fire rang out once again.
This time it was all around the march, front and back. The crowd scattered. A protester had been shot dead at the back of the march, next to the Al Arab police station.
"In three days we have lost 21 people, judged to be executed, and also about 39 murdered and many injured so there is no family which have not lost a friend, a colleague, a neighbor.
"You can consider this a sort of vendetta between the people and the police," said Muhammad el Agiery, an English tutor who had stayed until the end.
"People are going to stay out all of the night, every day for a month. They reject and refuse the curfew imposed by Morsy," he added.
The next morning the storm was gone and the sun was shining. But the cycle of violence continues. Another funeral march will begin, another barricade will likely be set on fire, and another curfew broken.