Monster ride: Surfer catches 'world's biggest wave'
January 30, 2013 -- Updated 0739 GMT (1539 HKT)
STORY HIGHLIGHTS
Garret McNamara's wave believed to be 100 feet high
Small Portuguese fishing village has some of the world's most dangerous surf
Giant swells generated by unique deep water canyons
(CNN) -- He is but a dot in the ocean, gathering speed and rapidly rising as a mammoth wall of water expands below and behind him.
Simultaneously fearsome and awesome, this may be the moment Hawaiian rider Garret McNamara on Monday broke his own record for the largest wave ever surfed.
Caught off the coast of the small fishing village of Nazaré, Portugal, the monster wave was reported to be more than 100 feet high, or 30.5 meters.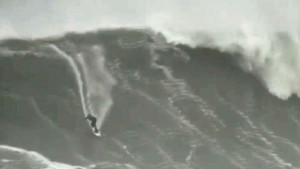 Anderson Cooper interviews McNamara
"It was just this endless drop and my feet were popping out of the straps," McNamara told CNN's Anderson Cooper. "It was like my whole body was shattering. It was really difficult."
If accurate, the wave towers over his 2011 surf of a 78-footer (24 meter) at the same location. Nazaré officials have requested an impartial verification of a possible new world record.
Thanks to one of the only deep water canyons in the world that connects to shore, Praia do Norte -- the north beach of Nazaré -- sees abnormally large waves.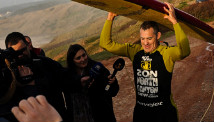 McNamara: "One of the hardest, longest drops."
A group of extreme surfers descended on the Portugal coast this past week, providing some amazing experiences for onshore observers and some very social media-friendly video and photos.
McNamara was first invited by the Nazaré Town Hall in 2010 as part of a three-year project to explore the local coast's unique geomorphic phenomenon and to bring more awareness to the area as a destination for big-wave enthusiasts.
Though onlookers were spellbound by McNamara's ride, the surfer said he didn't get that much of a rush.
"I don't know what's wrong with me. There's definitely something wrong," McNamara said in his interview with Cooper.

Today's five most popular stories
Part of complete coverage on
November 24, 2014 -- Updated 0118 GMT (0918 HKT)

These quirky and beautiful subway stops make standing cheek-to-cheek with 45 strangers almost seem fun.
November 21, 2014 -- Updated 1314 GMT (2114 HKT)

Luxury vintage Land Rover tours explore Bedouin backwaters without bashing up precious dunes.
November 20, 2014 -- Updated 0250 GMT (1050 HKT)

Cities around the world have closed the brew gap, but the Oregon city's innovative scene continues to lead the beer parade.
November 19, 2014 -- Updated 2249 GMT (0649 HKT)

From gourmet hotdogs to Sevillian tapas, the food served in these London restaurants is worth lining up for.
November 20, 2014 -- Updated 1545 GMT (2345 HKT)

Plans are underway to build the world's tallest -- and quite possibly most terrifying -- roller coaster at an Orlando, Florida, theme park due to open in 2017.
November 18, 2014 -- Updated 1932 GMT (0332 HKT)

The 7th Annual Cruise Critic Editors' Picks Awards highlight the top cruise lines for North American travelers in 18 categories.
November 19, 2014 -- Updated 0206 GMT (1006 HKT)

Joining the ranks of pilgrims tackling Adam's Peak rewards with a spiritual awakening, or at least a stunning sunrise.
November 18, 2014 -- Updated 1313 GMT (2113 HKT)

Beautifully designed travel document reveals image of Northern Lights when placed under UV light.
November 18, 2014 -- Updated 0525 GMT (1325 HKT)

New concept offering luxury rooms in ancient dwellings helps spare beautiful villages from falling into ruin.
November 21, 2014 -- Updated 2247 GMT (0647 HKT)

Are you the butcher or the cattle? Tainted meat-obsessed fans are following the tracks of their favorite "Walking Dead" survivors.
November 17, 2014 -- Updated 0521 GMT (1321 HKT)

People never cease to find amazing ways to make water more incredible than it already is. Here are some powerful examples