Monster ride: Surfer catches 'world's biggest wave'
January 30, 2013 -- Updated 0739 GMT (1539 HKT)
STORY HIGHLIGHTS
Garret McNamara's wave believed to be 100 feet high
Small Portuguese fishing village has some of the world's most dangerous surf
Giant swells generated by unique deep water canyons
(CNN) -- He is but a dot in the ocean, gathering speed and rapidly rising as a mammoth wall of water expands below and behind him.
Simultaneously fearsome and awesome, this may be the moment Hawaiian rider Garret McNamara on Monday broke his own record for the largest wave ever surfed.
Caught off the coast of the small fishing village of Nazaré, Portugal, the monster wave was reported to be more than 100 feet high, or 30.5 meters.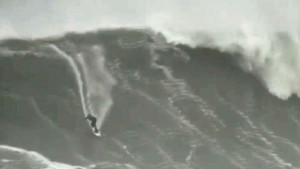 Anderson Cooper interviews McNamara
"It was just this endless drop and my feet were popping out of the straps," McNamara told CNN's Anderson Cooper. "It was like my whole body was shattering. It was really difficult."
If accurate, the wave towers over his 2011 surf of a 78-footer (24 meter) at the same location. Nazaré officials have requested an impartial verification of a possible new world record.
Thanks to one of the only deep water canyons in the world that connects to shore, Praia do Norte -- the north beach of Nazaré -- sees abnormally large waves.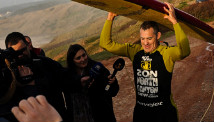 McNamara: "One of the hardest, longest drops."
A group of extreme surfers descended on the Portugal coast this past week, providing some amazing experiences for onshore observers and some very social media-friendly video and photos.
McNamara was first invited by the Nazaré Town Hall in 2010 as part of a three-year project to explore the local coast's unique geomorphic phenomenon and to bring more awareness to the area as a destination for big-wave enthusiasts.
Though onlookers were spellbound by McNamara's ride, the surfer said he didn't get that much of a rush.
"I don't know what's wrong with me. There's definitely something wrong," McNamara said in his interview with Cooper.

Part of complete coverage on
September 23, 2014 -- Updated 0231 GMT (1031 HKT)

Which cities provide the most memorable party times? A self-proclaimed "nightlife connoisseur" names his top 10.
September 22, 2014 -- Updated 0344 GMT (1144 HKT)

Whether you're looking for a post-meeting pint or a wild night out, creativity is on the menu at these hot Hong Kong venues.
September 22, 2014 -- Updated 1416 GMT (2216 HKT)

Artists and migrants are moving out as a once-crumbling neighborhood goes upscale.
September 20, 2014 -- Updated 0502 GMT (1302 HKT)

They irrigate our farms, are an important means of transport and a source of eco-friendly power.
September 19, 2014 -- Updated 0828 GMT (1628 HKT)

Open House festivals allow snooping in homes and landmarks normally closed to public
September 19, 2014 -- Updated 0422 GMT (1222 HKT)

Ancient competitions held and yurt town set up to rejuvenate nomadic cultures.
September 19, 2014 -- Updated 0102 GMT (0902 HKT)
Playful sea lions, fearless boobies and the only ocean-going lizards in the world -- these islands offer amazing experiences for naturalists and tourists alike.
September 18, 2014 -- Updated 1200 GMT (2000 HKT)

A foreign language can be the best aphrodisiac, so we traveled the world in search of the hottest accents.
September 23, 2014 -- Updated 0657 GMT (1457 HKT)

Hidden from the rest of the world for decades, Myanmar's Lethwei boxing is experiencing a revival globally.
September 17, 2014 -- Updated 1117 GMT (1917 HKT)

This aging cargo work whale makes more than 60 flights each week, carrying parts for all of the Airbus programs.
September 15, 2014 -- Updated 0026 GMT (0826 HKT)

Former brothels, public toilets and war bunkers now provide eccentric watering holes for those willing to drink deep.
September 12, 2014 -- Updated 0338 GMT (1138 HKT)

Whether filled with electric blue sulfur flames or hissing lava, these mega mountains offer incredible vistas.

Today's five most popular stories