Monster ride: Surfer catches 'world's biggest wave'
January 30, 2013 -- Updated 0739 GMT (1539 HKT)
STORY HIGHLIGHTS
Garret McNamara's wave believed to be 100 feet high
Small Portuguese fishing village has some of the world's most dangerous surf
Giant swells generated by unique deep water canyons
(CNN) -- He is but a dot in the ocean, gathering speed and rapidly rising as a mammoth wall of water expands below and behind him.
Simultaneously fearsome and awesome, this may be the moment Hawaiian rider Garret McNamara on Monday broke his own record for the largest wave ever surfed.
Caught off the coast of the small fishing village of Nazaré, Portugal, the monster wave was reported to be more than 100 feet high, or 30.5 meters.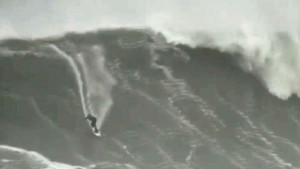 Anderson Cooper interviews McNamara
"It was just this endless drop and my feet were popping out of the straps," McNamara told CNN's Anderson Cooper. "It was like my whole body was shattering. It was really difficult."
If accurate, the wave towers over his 2011 surf of a 78-footer (24 meter) at the same location. Nazaré officials have requested an impartial verification of a possible new world record.
Thanks to one of the only deep water canyons in the world that connects to shore, Praia do Norte -- the north beach of Nazaré -- sees abnormally large waves.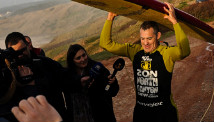 McNamara: "One of the hardest, longest drops."
A group of extreme surfers descended on the Portugal coast this past week, providing some amazing experiences for onshore observers and some very social media-friendly video and photos.
McNamara was first invited by the Nazaré Town Hall in 2010 as part of a three-year project to explore the local coast's unique geomorphic phenomenon and to bring more awareness to the area as a destination for big-wave enthusiasts.
Though onlookers were spellbound by McNamara's ride, the surfer said he didn't get that much of a rush.
"I don't know what's wrong with me. There's definitely something wrong," McNamara said in his interview with Cooper.

Today's five most popular stories
Part of complete coverage on
November 16, 2014 -- Updated 2326 GMT (0726 HKT)

Take a trip to the Chinese town that has more relics than people.
November 13, 2014 -- Updated 1742 GMT (0142 HKT)
You know about reggae and Usain Bolt -- but you probably aren't aware of these other Jamaican superlatives.
November 14, 2014 -- Updated 1152 GMT (1952 HKT)

Artist creates brilliant tribute to Dutch impressionist painter -- a cycle route that glows in the dark
November 14, 2014 -- Updated 0633 GMT (1433 HKT)

European airlines beware: These 320kph trains are upping the travel game with roomy seats and onboard wi-fi.
November 13, 2014 -- Updated 1053 GMT (1853 HKT)
For such a relatively small collection of islands, the UK packs in an phenomenal range of beautiful scenery.
November 12, 2014 -- Updated 2237 GMT (0637 HKT)

Rovos Rail's epic trips out of South Africa pamper passengers with fine dining, vintage comfort and even a bathtub.
November 18, 2014 -- Updated 0137 GMT (0937 HKT)

Self-taught Iranian photographer gains rare access to shoot religious buildings as they've never been seen.
November 11, 2014 -- Updated 0345 GMT (1145 HKT)

The subject of erotica has a way of making people uncomfortable.
November 7, 2014 -- Updated 0037 GMT (0837 HKT)

UK's Heathrow Airport pairs destinations with fragrances to evoke long distance travel. We do too.
November 6, 2014 -- Updated 2100 GMT (0500 HKT)

Bumper cars, a freefall simulator and robot bartenders are just a few of the cool features on Royal Caribbean's new Quantum of the Seas.
November 2, 2014 -- Updated 2258 GMT (0658 HKT)

Up in the mountains and across deep chasms, these bridges are both spectacular and terrifying.