Monster ride: Surfer catches 'world's biggest wave'
January 30, 2013 -- Updated 0739 GMT (1539 HKT)
STORY HIGHLIGHTS
Garret McNamara's wave believed to be 100 feet high
Small Portuguese fishing village has some of the world's most dangerous surf
Giant swells generated by unique deep water canyons
(CNN) -- He is but a dot in the ocean, gathering speed and rapidly rising as a mammoth wall of water expands below and behind him.
Simultaneously fearsome and awesome, this may be the moment Hawaiian rider Garret McNamara on Monday broke his own record for the largest wave ever surfed.
Caught off the coast of the small fishing village of Nazaré, Portugal, the monster wave was reported to be more than 100 feet high, or 30.5 meters.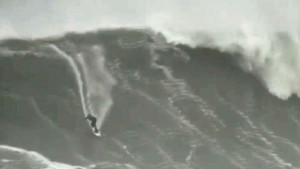 Anderson Cooper interviews McNamara
"It was just this endless drop and my feet were popping out of the straps," McNamara told CNN's Anderson Cooper. "It was like my whole body was shattering. It was really difficult."
If accurate, the wave towers over his 2011 surf of a 78-footer (24 meter) at the same location. Nazaré officials have requested an impartial verification of a possible new world record.
Thanks to one of the only deep water canyons in the world that connects to shore, Praia do Norte -- the north beach of Nazaré -- sees abnormally large waves.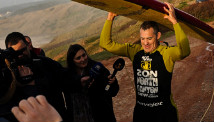 McNamara: "One of the hardest, longest drops."
A group of extreme surfers descended on the Portugal coast this past week, providing some amazing experiences for onshore observers and some very social media-friendly video and photos.
McNamara was first invited by the Nazaré Town Hall in 2010 as part of a three-year project to explore the local coast's unique geomorphic phenomenon and to bring more awareness to the area as a destination for big-wave enthusiasts.
Though onlookers were spellbound by McNamara's ride, the surfer said he didn't get that much of a rush.
"I don't know what's wrong with me. There's definitely something wrong," McNamara said in his interview with Cooper.

Today's five most popular stories
Part of complete coverage on
October 13, 2014 -- Updated 0925 GMT (1725 HKT)

Based on the votes of over 330 industry experts, the 2014 winners include bars from 27 cities in 14 countries.
October 12, 2014 -- Updated 2231 GMT (0631 HKT)

Careening down an active volcano at 95 kph on a thin board? It happens only at Cerro Negro in Nicaragua.
October 10, 2014 -- Updated 1337 GMT (2137 HKT)

Tips and techniques for those who want to turn their vacation into a rewarding family history lesson.
October 9, 2014 -- Updated 1953 GMT (0353 HKT)

From savory power snacks to beloved Indian ice cream, here's how to do Delhi street food right.
October 8, 2014 -- Updated 2208 GMT (0608 HKT)

Long before our traveling friends had Facebook and Instagram to taunt us, they had postcards.
October 8, 2014 -- Updated 0625 GMT (1425 HKT)

After slurping down noodles in 1,000 stores, the "ramen guy" untangles the complex flavors of Japan's diverse dish
October 13, 2014 -- Updated 1655 GMT (0055 HKT)

Mayor of Paris says 125-year-old landmark's new attraction will prove to critics the city still has some magic.
October 10, 2014 -- Updated 0244 GMT (1044 HKT)

These days, some of the best running trails can be found in the world's busiest places.
October 7, 2014 -- Updated 0625 GMT (1425 HKT)

Midlife crisis males have nothing on Bugatti-obsessed brothers behind vast sports car collection.
October 7, 2014 -- Updated 1311 GMT (2111 HKT)

When it comes to air travel, courtesy and common sense are often the first two things to fly out the departure gates.