STORY HIGHLIGHTS
Chuck Hagel testifies before the Senate Armed Services Committee Thursday
The former senator split with the GOP over the war in Iraq
Some feel Hagel is too cool to Israel, not hard enough on Iran
He supported the "Don't Ask, Don't Tell" policy
(CNN) -- When the Senate Armed Services Committee is gaveled into session Thursday, Chuck Hagel is likely to face some sharp questions from many of his old colleagues.
If confirmed as secretary of defense, the one-time infantry sergeant and twice-wounded Vietnam veteran would be the first Pentagon chief to have spent his entire military service in the enlisted ranks. The former Republican senator from Nebraska gets his chance to answer questions Thursday morning during his confirmation hearing, and here are five subjects where he can expect them:
1. Afghanistan
If confirmed, Hagel will be tasked with closing out the longest war in U.S. history, one that has now lasted more than 11 years. He opposed President Barack Obama's decision to send another 30,000 troops into the conflict in 2009, telling the National Journal, "I think we're marking time as we slaughter more young people." The Obama administration now plans to pull combat troops out of Afghanistan by 2014, replacing them with a training mission to advise Afghan forces, steps Hagel will oversee if confirmed.
McCain moves from backer to skeptic on Hagel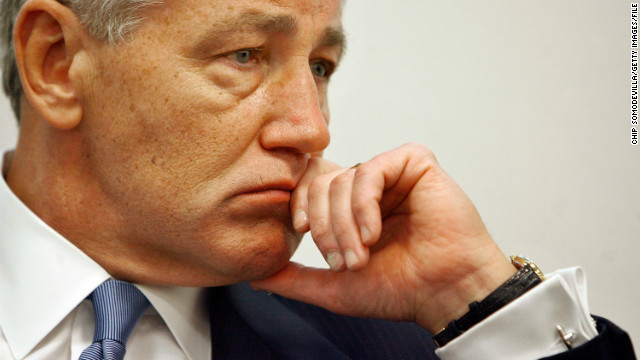 President Barack Obama is nominating Chuck Hagel, a former U.S. senator from Nebraska, to succeed Defense Secretary Leon Panetta. Hagel served in the military during the Vietnam War, leading him later to tell a biographer, "I will do all I can to prevent war." After coming home from Vietnam, Hagel worked briefly as a newscaster, then had a career in business, before entering public service as a Republican senator for 12 years. Here's a look at his military and government career:
Hagel, pictured in uniform in 1968, volunteered for the U.S. Army, serving a yearlong tour.
Hagel, right, perched on top of a M113 armored personnel carrier in 1968.
Hagel was a Republican senator from Nebraska from 1997 to 2009. Here, he testifies before the Senate Commerce Committee during a September 2000 hearing on the marketing of violence to children.
Hagel discusses the McCain-Feingold campaign finance reform bill with then-Sen. Russ Feingold on NBC's ''Meet the Press'' in March 2001.
Joe Biden, left, then a U.S. senator from Delaware, walks with Sen. Richard Lugar, second from right, and Hagel, center, at a hotel in Baghdad in June 2003. The congressional delegation was on a tour of the Iraqi capital the year the Iraq War began.
Hagel chats with Alan Greenspan, then-Federal Reserve chairman, before the start of a Senate Banking, Housing and Urban Affairs Committee hearing in April 2005.
Hagel questions then-U.S. Secretary of State Condoleezza Rice during her February 2006 testimony on Iran before the Senate Foreign Relations Committee.
Hagel comments on a New York Times article during a Senate Foreign Relations Committee's consideration of a resolution on the Iraq War in January 2007. The GOP senator opposed the troop surge in Iraq.
Hagel holds a September 2007 news conference to reintroduce an amendment to the Defense Authorization Bill.
Gen. David Petraeus, center, flies with then-presidential candidate Barack Obama and Hagel on a July 2008 tour in Baghdad. Hagel joined Obama that year on his tour of parts of the Middle East.
Candidate Obama and Hagel tour Jordan's historic Amman Citadel in July 2008.
Hagel presents former President Bill Clinton with the Atlantic Council's Distinguished International Leadership Award in Washington in April 2010.
Hagel, from left, Veterans Affairs Secretary Eric Shinseki and Defense Secretary Leon Panetta attend a Memorial Day event at the Vietnam Veterans Memorial in Washington in May 2012.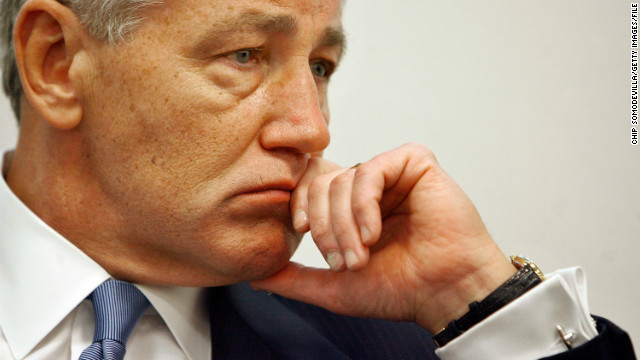 Photos: Chuck Hagel's military, government career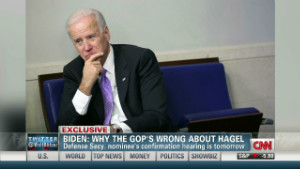 Biden: Why the GOP's wrong about Hagel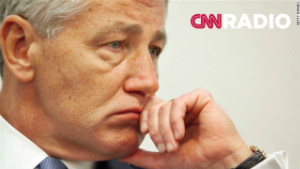 Chuck Hagel's other war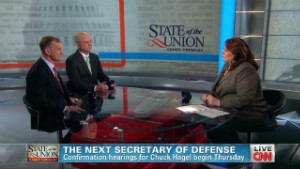 Top generals back Hagel
2. Gays and women in the military
As a senator, Hagel supported the "don't ask, don't tell" policy that kept gays and lesbians from serving openly in the U.S. military. He told The New York Times in 1999, "The U.S. armed forces aren't some social experiment." And the nominee's opponents have seized on his 1998 criticism of a Clinton administration State Department nominee as being "openly, aggressively gay," a remark for which Hagel apologized in December.
Now he's been asked to lead a department that has allowed gays and lesbians since 2011. And he'll be left to implement the plans outgoing Defense Secretary Leon Panetta announced last week to open front-line combat units to women, which allow the generals and admirals to ask for exemptions for certain posts. As defense secretary, Hagel would have to make the final call on those requests.
Hagel to focus on present, not past
3. The Big One
Hagel is among the backers of the "Global Zero" movement, which has called for the complete elimination of nuclear weapons under a worldwide regime of inspections. He was a co-author of a 2011 study by the group that called for reducing the current U.S. arsenal of about 5,000 warheads and bombs to about 900, a force Global Zero says would be enough to deter potential attackers while reducing the risk of proliferation or nuclear terrorism.
That position has raised some eyebrows, since Hagel would be the steward of that American arsenal if confirmed. In a recent statement, Hagel's co-authors say their views and his "are in the U.S. national security interest and squarely in the mainstream," while keeping nuclear stockpiles at Cold War levels aren't. And he's not the only high-profile figure to ultimately endorse the idea of a world without the bomb: Obama held out the same hope in 2009, as have presidents dating back to Ronald Reagan.
Why some conservatives are still going after Hagel
4. Cutting the Pentagon
Within weeks of taking office, Hagel could be forced to implement steep cuts in the Pentagon budget as a result of "sequestration," the automatic spending cuts set up in the deal that ended the 2011 standoff over the federal debt ceiling. At the beginning of the year, Congress voted to put off those cuts for two months.
Panetta has called those across-the-board cuts of about 9.4% "potentially devastating" and urged Congress to find another way to reduce spending. But Hagel has called the defense budget "bloated" and said the Pentagon "needs to be pared down." Look for questions about how Hagel would wield that knife.
Opinion: A reality check for Hagel bashers
5. The Middle East: Iraq, Iran and Israel
This has been the biggest source of criticism for Hagel since Obama picked him to replace Leon Panetta in December and the rawest nerve for the Republicans with whom Hagel broke over the war in Iraq.
Hagel supported the U.S. invasion in 2003. But by 2007, he had come to believe it was a "blunder" and joined Democrats who tried to force the Bush administration to withdraw American troops. "He has long severed his ties with the Republican party," Sen. Lindsey Graham, R-South Carolina, told CNN's "State of the Union."
Republicans have accused him of being too cool to Israel, the leading U.S. ally in the Middle East, and too soft on Iran. Hagel has called for direct talks with the Islamic republic, which Western powers suspect is trying to develop a nuclear bomb, and he complained in 2007 that the "Jewish lobby" in Washington scared lawmakers away from supporting a two-state solution to the Israeli-Palestinian conflict.
But others have rallied around him, including his friend Rabbi Aryeh Azriel of Temple Israel in Omaha, Nebraska. Azriel said Hagel is "definitely a friend of Israel" and "has wonderful, fresh ideas to try to re-engage the discussion about the Middle East."
An Obama administration official working on the senator's confirmation hearing told CNN that Hagel will testify that he believes Iran is a state sponsor of terror; he supports the president's sanctions strategy against Iran and believes all options should be on the table including the military option.
Listen: Chuck Hagel's other war
CNN Pentagon Correspondent Chris Lawrence contributed to this report.